{"id":4977349329036,"title":"DJI Zenmuse H20","handle":"dji-zenmuse-h20","description":"\u003cp\u003eCapture everything up close or from a distance in true living colour. An integrated laser rangefinder (LRF) measures the distance to an object at up to 1200 m away. A powerful integrated payload that unleashes advanced intelligent capabilities.\u003c\/p\u003e\n\u003c!-- split --\u003e \u003c!-- TABS --\u003e\n\u003ch5\u003eProduct Description\u003c\/h5\u003e\n\u003cp\u003e\u003cstrong\u003eAll the Sensors You Need - In One\u003c\/strong\u003e\u003c\/p\u003e\n\u003cp\u003eCapture everything up close or from a distance in true living colour or thermal. An integrated laser rangefinder (LRF) measures the distance to an object at up to 1200 m away. A powerful integrated payload that unleashes advanced intelligent capabilities.\u003c\/p\u003e\n\u003cp\u003e \u003c\/p\u003e\n\u003ctable border=\"1\" cellpadding=\"1\" cellspacing=\"1\"\u003e\n\u003ctbody\u003e\n\u003ctr\u003e\n\u003ctd\u003eZoom Camera\u003c\/td\u003e\n\u003ctd\u003e\n\u003ch4\u003eVISUAL SENSOR\u003c\/h4\u003e\n\u003c\/td\u003e\n\u003ctd\u003e\n\u003ch4\u003eLASER RANGE FINDER\u003c\/h4\u003e\n\u003c\/td\u003e\n\u003ctd\u003e\n\u003ch4\u003eINGRESS PROTECTION\u003c\/h4\u003e\n\u003c\/td\u003e\n\u003c\/tr\u003e\n\u003ctr\u003e\n\u003ctd\u003e20 MP\u003c\/td\u003e\n\u003ctd\u003e12 MP\u003c\/td\u003e\n\u003ctd\u003e3m - 1200m\u003c\/td\u003e\n\u003ctd\u003eLevel IP44 \u003c\/td\u003e\n\u003c\/tr\u003e\n\u003c\/tbody\u003e\n\u003c\/table\u003e\n\u003cp\u003e \u003c\/p\u003e\n\u003ch3\u003e\"H\" FOR HYBRID\u003c\/h3\u003e\n\u003cp\u003eMulti-sensor payloads that bring a whole new meaning to mission efficiency. The unique intelligence and integrated design provide unprecedented aerial imaging capabilities for a range of commercial drone applications.\u003cbr\u003e \u003c\/p\u003e\n\u003cp\u003e \u003c\/p\u003e\n\u003ch3\u003e\u003cb\u003eALL-IN-ONE\u003c\/b\u003e\u003c\/h3\u003e\n\u003cp\u003e\u003cb\u003e\u003cimg alt=\"\" class=\"img-responsive\" src=\"https:\/\/www.ferntech.co.nz\/assets\/images\/H20%20All%20i%20one.jpg\" data-gtm-vis-first-on-screen-11032289_23=\"92467\" data-gtm-vis-total-visible-time-11032289_23=\"500\" data-gtm-vis-has-fired-11032289_23=\"1\"\u003e\u003c\/b\u003e\u003c\/p\u003e\n\u003cp\u003e \u003c\/p\u003e\n\u003ch3\u003e\u003cb\u003eINTELLIGENT WAYS TO COLLECT DATA\u003c\/b\u003e\u003c\/h3\u003e\n\u003cp\u003e \u003c\/p\u003e\n\u003cp\u003e\u003cimg alt=\"\" class=\"img-responsive\" src=\"https:\/\/www.ferntech.co.nz\/assets\/images\/H20%20Intelligent%20Ways%20to%20Collect%20Data.jpg\" data-gtm-vis-first-on-screen-11032289_23=\"92882\" data-gtm-vis-total-visible-time-11032289_23=\"500\" data-gtm-vis-has-fired-11032289_23=\"1\"\u003e\u003c\/p\u003e\n\u003cp\u003e \u003c\/p\u003e\n\u003ch3\u003eAI SPOT-CHECK\u003c\/h3\u003e\n\u003cp\u003eAutomate routine inspections and capture consistent results every time. Onboard AI recognizes the pre-marked subject of interest in subsequent automated missions to ensure consistent framing.\u003c\/p\u003e\n\u003ch4\u003e \u003c\/h4\u003e\n\u003ch3\u003eHIGH-RES GRID PHOTO\u003c\/h3\u003e\n\u003cp\u003eFrame an area of interest in wide camera view, and the zoom camera will automatically capture a set of 20 MP images of the area. These images are stored together with an overview image that can be viewed in greater detail.\u003c\/p\u003e\n\u003cp\u003e \u003c\/p\u003e\n\u003ch3\u003eAPPLICATION\u003c\/h3\u003e\n\u003cp\u003e\u003cimg alt=\"\" class=\"img-responsive\" src=\"https:\/\/www.ferntech.co.nz\/assets\/images\/M300%20RTK%20Industry%20Applications(1).jpg\" data-gtm-vis-first-on-screen-11032289_23=\"93402\" data-gtm-vis-total-visible-time-11032289_23=\"500\" data-gtm-vis-has-fired-11032289_23=\"1\"\u003e\u003c\/p\u003e\n\u003cp\u003e \u003c\/p\u003e\n\u003ch5\u003eProduct Specifications\u003c\/h5\u003e\n\u003ch2\u003ePRODUCT SPECIFICATIONS\u003c\/h2\u003e\n\u003ch3\u003eGENERAL\u003c\/h3\u003e\n\u003cp\u003e\u003cstrong\u003eWeight: \u003c\/strong\u003eZenmuse H20: 678±5 g\u003cbr\u003e\u003cstrong\u003eDimensions:\u003c\/strong\u003e Zenmuse H20: 150×114×151 mm\u003cbr\u003e\u003cstrong\u003eIngress Protection Rating:\u003c\/strong\u003e IP44\u003cbr\u003e\u003cstrong\u003eOperating Temperature:\u003c\/strong\u003e -20° to 50° C (Temperature Measurement is only available between -10° to 50° C)\u003cbr\u003e\u003cstrong\u003eStorage Temperature:\u003c\/strong\u003e -20° to 60° C\u003cbr\u003e\u003cstrong\u003eLaser Safety:\u003c\/strong\u003e Class 1M (IEC 60825-1:2014)\u003cbr\u003e\u003cstrong\u003eSupported Aircraft:\u003c\/strong\u003e Matrice 300 RTK\u003c\/p\u003e\n\u003cp\u003e \u003c\/p\u003e\n\u003ch3\u003eGIMBAL\u003c\/h3\u003e\n\u003cp\u003e\u003cstrong\u003eAngular Vibration Range:\u003c\/strong\u003e ±0.01°\u003cbr\u003e\u003cstrong\u003eMount: \u003c\/strong\u003eDetachable\u003cbr\u003e\u003cstrong\u003eControllable Range\u003c\/strong\u003e\u003cbr\u003ePitch: -120° to +30°\u003cbr\u003eYaw: ±320°\u003cbr\u003e\u003cstrong\u003eMechanical Range\u003c\/strong\u003e\u003cbr\u003ePitch: -132.5° to +42.5°\u003cbr\u003eYaw: ±330°\u003cbr\u003eRoll: -90° to +60°\u003c\/p\u003e\n\u003cp\u003e \u003c\/p\u003e\n\u003ch3\u003eZOOM CAMERA\u003c\/h3\u003e\n\u003cp\u003e\u003cstrong\u003eSensor:\u003c\/strong\u003e 1\/1.7\" CMOS, 20 MP\u003cbr\u003e\u003cstrong\u003eLens\u003c\/strong\u003e\u003cbr\u003eDFOV: 66.6°-4°\u003cbr\u003eFocal length: 6.83-119.94 mm (equivalent: 31.7-556.2 mm)\u003cbr\u003eAperture: f\/2.8-f\/11 (normal), f\/1.6-f\/11 (night scene)\u003cbr\u003eFocus: 1 m to ∞ (wide), 8 m to ∞ (telephoto)\u003cbr\u003e\u003cstrong\u003eFocus Mode:\u003c\/strong\u003e MF\/AF-C\/AF-S\u003cbr\u003e\u003cstrong\u003eExposure Mode:\u003c\/strong\u003e Auto, Manual\u003cbr\u003e\u003cstrong\u003eExposure Compensation:\u003c\/strong\u003e ±3.0 (1\/3 increments)\u003cbr\u003e\u003cstrong\u003eMetering Mode:\u003c\/strong\u003e Spot metering, Center-weighted metering\u003cbr\u003e\u003cstrong\u003eAE LOCK:\u003c\/strong\u003e Supported\u003cbr\u003e\u003cstrong\u003eElectronic Shutter Speed:\u003c\/strong\u003e 1 ~ 1\/8000 s\u003cbr\u003e\u003cstrong\u003eISO Range\u003c\/strong\u003e\u003cbr\u003eVideo: 100 - 25600\u003cbr\u003ePhoto: 100 - 25600\u003cbr\u003e\u003cstrong\u003eVideo Resolution\u003c\/strong\u003e\u003cbr\u003e3840x2160@30fps, 1920x1080@30fps\u003cbr\u003e\u003cstrong\u003eVideo Format:\u003c\/strong\u003e MP4\u003cbr\u003e\u003cstrong\u003eVideo subtitles:\u003c\/strong\u003e Supported\u003cbr\u003e\u003cstrong\u003ePhoto Size:\u003c\/strong\u003e 5184 × 3888\u003cbr\u003e\u003cstrong\u003ePhoto Format:\u003c\/strong\u003e JPEG\u003c\/p\u003e\n\u003cp\u003e \u003c\/p\u003e\n\u003ch3\u003eWIDE CAMERA\u003c\/h3\u003e\n\u003cp\u003e\u003cstrong\u003eSensor:\u003c\/strong\u003e 1\/2.3\" CMOS, 12 MP\u003cbr\u003eLens\u003cbr\u003eDFOV: 82.9°\u003cbr\u003eFocal length: 4.5 mm (equivalent: 24 mm)\u003cbr\u003eAperture: f\/2.8\u003cbr\u003eFocus: 1 m to ∞\u003cbr\u003e\u003cstrong\u003eExposure Mode:\u003c\/strong\u003e Auto\u003cbr\u003e\u003cstrong\u003eExposure Compensation:\u003c\/strong\u003e ±3.0 (1\/3 increments)\u003cbr\u003e\u003cstrong\u003eMetering Mode:\u003c\/strong\u003e Spot metering, Center-weighted metering\u003cbr\u003e\u003cstrong\u003eAE LOCK:\u003c\/strong\u003e Supported\u003cbr\u003e\u003cstrong\u003eShutter Speed:\u003c\/strong\u003e 1 ~ 1\/8000\u003cbr\u003e\u003cstrong\u003eISO Range\u003c\/strong\u003e\u003cbr\u003eVideo: 100 - 25600\u003cbr\u003ePhoto: 100 - 25600\u003cbr\u003e\u003cstrong\u003eVideo Resolution:\u003c\/strong\u003e 1920×1080@30fps\u003cbr\u003e\u003cstrong\u003eVideo Format:\u003c\/strong\u003e MP4\u003cbr\u003e\u003cstrong\u003eVideo subtitles: \u003c\/strong\u003eSupported\u003cbr\u003e\u003cstrong\u003ePhoto Size:\u003c\/strong\u003e 4056 x 3040\u003cbr\u003e\u003cstrong\u003ePhoto Format:\u003c\/strong\u003e JPEG\u003c\/p\u003e\n\u003cp\u003e \u003c\/p\u003e\n\u003ch3\u003eLASER RANGEFINDER\u003c\/h3\u003e\n\u003cp\u003e\u003cstrong\u003eWavelength:\u003c\/strong\u003e 905 nm\u003cbr\u003e\u003cstrong\u003eMeasurement range:\u003c\/strong\u003e 3-1200 m (to a vertical surface with ≥12m diameter and 20% reflection rate)\u003cbr\u003e\u003cstrong\u003eMeasurement accuracy\u003c\/strong\u003e\u003cbr\u003e± (0.2 m + D×0.15%)\u003cbr\u003eD is the distance to a vertical surface\u003c\/p\u003e\n\u003cp\u003e \u003c\/p\u003e\n\u003ch3\u003eFEATURES\u003c\/h3\u003e\n\u003cp\u003e\u003cstrong\u003eHybrid Optical Zoom:\u003c\/strong\u003e 23×\u003cbr\u003e\u003cstrong\u003eMax. Zoom:\u003c\/strong\u003e 200×\u003cbr\u003e\u003cstrong\u003eOne-Click Capture\u003c\/strong\u003e\u003cbr\u003eOne-click to save the video or picture of 3 cameras (zoom, wide and thermal camera) simultaneously\u003cbr\u003e\u003cstrong\u003ePoint to Aim\u003c\/strong\u003e\u003cbr\u003eDouble click on the wide\/thermal camera view, then the system will automatically move the gimbal to focus on the point of interest\u003cbr\u003e\u003cstrong\u003eHigh-Res Grid Photo\u003c\/strong\u003e\u003cbr\u003eFrame an area of interest in wide camera view, and the zoom camera will automatically capture a set of 20 MP images of the area. These images are stored together with an overview image that can be viewed in greater detail.\u003cbr\u003e\u003cstrong\u003eNight Scene:\u003c\/strong\u003e Supported (zoom camera)\u003cbr\u003e\u003cstrong\u003eTimestamp:\u003c\/strong\u003e Including GPS, date, and time\u003c\/p\u003e\n\u003cp\u003e \u003c\/p\u003e\n\u003ch3\u003eSTORAGE\u003c\/h3\u003e\n\u003cp\u003e\u003cstrong\u003eSupported SD Card:\u003c\/strong\u003e MicroSD card (Max capacity: 128 GB, UHS-1 Speed Grade 3 required)\u003cbr\u003e\u003cstrong\u003eSupported File Systems:\u003c\/strong\u003e FAT32 (≤ 32 GB), exFAT (\u0026gt; 32 GB)\u003cbr\u003e\u003cstrong\u003eRecommended Micro SD Cards\u003c\/strong\u003e\u003cbr\u003eTOSHIBA EXCERIA PRO 32GB micro SD HC II\u003cbr\u003eSanDisk_Extreme PRO_32GB_3_A1_micro SD V30 HC I\u003cbr\u003eTOSHIBA EXCERIA PRO 64GB micro SD XC II\u003cbr\u003eSanDisk_Extreme PRO_64GB_3_A2_micro SD V30 XC I\u003cbr\u003eSAMSUNG_EVO_128GB_micro SD 3 XC I\u003cbr\u003eTOSHIBA EXCERIA M303E 32GB micro SD HC I\u003cbr\u003eTOSHIBA EXCERIA M303E 64GB micro SD XC I\u003cbr\u003eTOSHIBA EXCERIA M303E 64GB micro SD XC I\u003cbr\u003eTOSHIBA EXCERIA M303 128GB micro SD XC I\u003cbr\u003eSAMSUNG_EVO_64GB_micro SD 3 XC I\u003c\/p\u003e\n\u003cp\u003e \u003c\/p\u003e\n\u003ch5\u003eIn The Box\u003c\/h5\u003e\n\u003ch2\u003eIN THE BOX\u003c\/h2\u003e\n\u003cdiv\u003eGimbal and Camera x 1\u003c\/div\u003e\n\u003cp\u003e \u003c\/p\u003e\n\u003c!-- \/TABS --\u003e","published_at":"2020-05-09T09:42:02+12:00","created_at":"2020-05-09T09:44:34+12:00","vendor":"DJI","type":"Drone","tags":["H20","not-on-sale"],"price":0,"price_min":0,"price_max":0,"available":true,"price_varies":false,"compare_at_price":null,"compare_at_price_min":0,"compare_at_price_max":0,"compare_at_price_varies":false,"variants":[{"id":33601282244748,"title":"Default Title","option1":"Default Title","option2":null,"option3":null,"sku":"H20","requires_shipping":true,"taxable":true,"featured_image":null,"available":true,"name":"DJI Zenmuse H20","public_title":null,"options":["Default Title"],"price":0,"weight":0,"compare_at_price":null,"inventory_management":null,"barcode":""}],"images":["\/\/cdn.shopify.com\/s\/files\/1\/0266\/5231\/1627\/products\/H20.jpg?v=1588974275","\/\/cdn.shopify.com\/s\/files\/1\/0266\/5231\/1627\/products\/H201.jpg?v=1588974276"],"featured_image":"\/\/cdn.shopify.com\/s\/files\/1\/0266\/5231\/1627\/products\/H20.jpg?v=1588974275","options":["Title"],"media":[{"alt":null,"id":8341323513996,"position":1,"preview_image":{"aspect_ratio":1.5,"height":480,"width":720,"src":"https:\/\/cdn.shopify.com\/s\/files\/1\/0266\/5231\/1627\/products\/H20.jpg?v=1588974275"},"aspect_ratio":1.5,"height":480,"media_type":"image","src":"https:\/\/cdn.shopify.com\/s\/files\/1\/0266\/5231\/1627\/products\/H20.jpg?v=1588974275","width":720},{"alt":null,"id":8341323546764,"position":2,"preview_image":{"aspect_ratio":1.5,"height":480,"width":720,"src":"https:\/\/cdn.shopify.com\/s\/files\/1\/0266\/5231\/1627\/products\/H201.jpg?v=1588974276"},"aspect_ratio":1.5,"height":480,"media_type":"image","src":"https:\/\/cdn.shopify.com\/s\/files\/1\/0266\/5231\/1627\/products\/H201.jpg?v=1588974276","width":720}],"content":"\u003cp\u003eCapture everything up close or from a distance in true living colour. An integrated laser rangefinder (LRF) measures the distance to an object at up to 1200 m away. A powerful integrated payload that unleashes advanced intelligent capabilities.\u003c\/p\u003e\n\u003c!-- split --\u003e \u003c!-- TABS --\u003e\n\u003ch5\u003eProduct Description\u003c\/h5\u003e\n\u003cp\u003e\u003cstrong\u003eAll the Sensors You Need - In One\u003c\/strong\u003e\u003c\/p\u003e\n\u003cp\u003eCapture everything up close or from a distance in true living colour or thermal. An integrated laser rangefinder (LRF) measures the distance to an object at up to 1200 m away. A powerful integrated payload that unleashes advanced intelligent capabilities.\u003c\/p\u003e\n\u003cp\u003e \u003c\/p\u003e\n\u003ctable border=\"1\" cellpadding=\"1\" cellspacing=\"1\"\u003e\n\u003ctbody\u003e\n\u003ctr\u003e\n\u003ctd\u003eZoom Camera\u003c\/td\u003e\n\u003ctd\u003e\n\u003ch4\u003eVISUAL SENSOR\u003c\/h4\u003e\n\u003c\/td\u003e\n\u003ctd\u003e\n\u003ch4\u003eLASER RANGE FINDER\u003c\/h4\u003e\n\u003c\/td\u003e\n\u003ctd\u003e\n\u003ch4\u003eINGRESS PROTECTION\u003c\/h4\u003e\n\u003c\/td\u003e\n\u003c\/tr\u003e\n\u003ctr\u003e\n\u003ctd\u003e20 MP\u003c\/td\u003e\n\u003ctd\u003e12 MP\u003c\/td\u003e\n\u003ctd\u003e3m - 1200m\u003c\/td\u003e\n\u003ctd\u003eLevel IP44 \u003c\/td\u003e\n\u003c\/tr\u003e\n\u003c\/tbody\u003e\n\u003c\/table\u003e\n\u003cp\u003e \u003c\/p\u003e\n\u003ch3\u003e\"H\" FOR HYBRID\u003c\/h3\u003e\n\u003cp\u003eMulti-sensor payloads that bring a whole new meaning to mission efficiency. The unique intelligence and integrated design provide unprecedented aerial imaging capabilities for a range of commercial drone applications.\u003cbr\u003e \u003c\/p\u003e\n\u003cp\u003e \u003c\/p\u003e\n\u003ch3\u003e\u003cb\u003eALL-IN-ONE\u003c\/b\u003e\u003c\/h3\u003e\n\u003cp\u003e\u003cb\u003e\u003cimg alt=\"\" class=\"img-responsive\" src=\"https:\/\/www.ferntech.co.nz\/assets\/images\/H20%20All%20i%20one.jpg\" data-gtm-vis-first-on-screen-11032289_23=\"92467\" data-gtm-vis-total-visible-time-11032289_23=\"500\" data-gtm-vis-has-fired-11032289_23=\"1\"\u003e\u003c\/b\u003e\u003c\/p\u003e\n\u003cp\u003e \u003c\/p\u003e\n\u003ch3\u003e\u003cb\u003eINTELLIGENT WAYS TO COLLECT DATA\u003c\/b\u003e\u003c\/h3\u003e\n\u003cp\u003e \u003c\/p\u003e\n\u003cp\u003e\u003cimg alt=\"\" class=\"img-responsive\" src=\"https:\/\/www.ferntech.co.nz\/assets\/images\/H20%20Intelligent%20Ways%20to%20Collect%20Data.jpg\" data-gtm-vis-first-on-screen-11032289_23=\"92882\" data-gtm-vis-total-visible-time-11032289_23=\"500\" data-gtm-vis-has-fired-11032289_23=\"1\"\u003e\u003c\/p\u003e\n\u003cp\u003e \u003c\/p\u003e\n\u003ch3\u003eAI SPOT-CHECK\u003c\/h3\u003e\n\u003cp\u003eAutomate routine inspections and capture consistent results every time. Onboard AI recognizes the pre-marked subject of interest in subsequent automated missions to ensure consistent framing.\u003c\/p\u003e\n\u003ch4\u003e \u003c\/h4\u003e\n\u003ch3\u003eHIGH-RES GRID PHOTO\u003c\/h3\u003e\n\u003cp\u003eFrame an area of interest in wide camera view, and the zoom camera will automatically capture a set of 20 MP images of the area. These images are stored together with an overview image that can be viewed in greater detail.\u003c\/p\u003e\n\u003cp\u003e \u003c\/p\u003e\n\u003ch3\u003eAPPLICATION\u003c\/h3\u003e\n\u003cp\u003e\u003cimg alt=\"\" class=\"img-responsive\" src=\"https:\/\/www.ferntech.co.nz\/assets\/images\/M300%20RTK%20Industry%20Applications(1).jpg\" data-gtm-vis-first-on-screen-11032289_23=\"93402\" data-gtm-vis-total-visible-time-11032289_23=\"500\" data-gtm-vis-has-fired-11032289_23=\"1\"\u003e\u003c\/p\u003e\n\u003cp\u003e \u003c\/p\u003e\n\u003ch5\u003eProduct Specifications\u003c\/h5\u003e\n\u003ch2\u003ePRODUCT SPECIFICATIONS\u003c\/h2\u003e\n\u003ch3\u003eGENERAL\u003c\/h3\u003e\n\u003cp\u003e\u003cstrong\u003eWeight: \u003c\/strong\u003eZenmuse H20: 678±5 g\u003cbr\u003e\u003cstrong\u003eDimensions:\u003c\/strong\u003e Zenmuse H20: 150×114×151 mm\u003cbr\u003e\u003cstrong\u003eIngress Protection Rating:\u003c\/strong\u003e IP44\u003cbr\u003e\u003cstrong\u003eOperating Temperature:\u003c\/strong\u003e -20° to 50° C (Temperature Measurement is only available between -10° to 50° C)\u003cbr\u003e\u003cstrong\u003eStorage Temperature:\u003c\/strong\u003e -20° to 60° C\u003cbr\u003e\u003cstrong\u003eLaser Safety:\u003c\/strong\u003e Class 1M (IEC 60825-1:2014)\u003cbr\u003e\u003cstrong\u003eSupported Aircraft:\u003c\/strong\u003e Matrice 300 RTK\u003c\/p\u003e\n\u003cp\u003e \u003c\/p\u003e\n\u003ch3\u003eGIMBAL\u003c\/h3\u003e\n\u003cp\u003e\u003cstrong\u003eAngular Vibration Range:\u003c\/strong\u003e ±0.01°\u003cbr\u003e\u003cstrong\u003eMount: \u003c\/strong\u003eDetachable\u003cbr\u003e\u003cstrong\u003eControllable Range\u003c\/strong\u003e\u003cbr\u003ePitch: -120° to +30°\u003cbr\u003eYaw: ±320°\u003cbr\u003e\u003cstrong\u003eMechanical Range\u003c\/strong\u003e\u003cbr\u003ePitch: -132.5° to +42.5°\u003cbr\u003eYaw: ±330°\u003cbr\u003eRoll: -90° to +60°\u003c\/p\u003e\n\u003cp\u003e \u003c\/p\u003e\n\u003ch3\u003eZOOM CAMERA\u003c\/h3\u003e\n\u003cp\u003e\u003cstrong\u003eSensor:\u003c\/strong\u003e 1\/1.7\" CMOS, 20 MP\u003cbr\u003e\u003cstrong\u003eLens\u003c\/strong\u003e\u003cbr\u003eDFOV: 66.6°-4°\u003cbr\u003eFocal length: 6.83-119.94 mm (equivalent: 31.7-556.2 mm)\u003cbr\u003eAperture: f\/2.8-f\/11 (normal), f\/1.6-f\/11 (night scene)\u003cbr\u003eFocus: 1 m to ∞ (wide), 8 m to ∞ (telephoto)\u003cbr\u003e\u003cstrong\u003eFocus Mode:\u003c\/strong\u003e MF\/AF-C\/AF-S\u003cbr\u003e\u003cstrong\u003eExposure Mode:\u003c\/strong\u003e Auto, Manual\u003cbr\u003e\u003cstrong\u003eExposure Compensation:\u003c\/strong\u003e ±3.0 (1\/3 increments)\u003cbr\u003e\u003cstrong\u003eMetering Mode:\u003c\/strong\u003e Spot metering, Center-weighted metering\u003cbr\u003e\u003cstrong\u003eAE LOCK:\u003c\/strong\u003e Supported\u003cbr\u003e\u003cstrong\u003eElectronic Shutter Speed:\u003c\/strong\u003e 1 ~ 1\/8000 s\u003cbr\u003e\u003cstrong\u003eISO Range\u003c\/strong\u003e\u003cbr\u003eVideo: 100 - 25600\u003cbr\u003ePhoto: 100 - 25600\u003cbr\u003e\u003cstrong\u003eVideo Resolution\u003c\/strong\u003e\u003cbr\u003e3840x2160@30fps, 1920x1080@30fps\u003cbr\u003e\u003cstrong\u003eVideo Format:\u003c\/strong\u003e MP4\u003cbr\u003e\u003cstrong\u003eVideo subtitles:\u003c\/strong\u003e Supported\u003cbr\u003e\u003cstrong\u003ePhoto Size:\u003c\/strong\u003e 5184 × 3888\u003cbr\u003e\u003cstrong\u003ePhoto Format:\u003c\/strong\u003e JPEG\u003c\/p\u003e\n\u003cp\u003e \u003c\/p\u003e\n\u003ch3\u003eWIDE CAMERA\u003c\/h3\u003e\n\u003cp\u003e\u003cstrong\u003eSensor:\u003c\/strong\u003e 1\/2.3\" CMOS, 12 MP\u003cbr\u003eLens\u003cbr\u003eDFOV: 82.9°\u003cbr\u003eFocal length: 4.5 mm (equivalent: 24 mm)\u003cbr\u003eAperture: f\/2.8\u003cbr\u003eFocus: 1 m to ∞\u003cbr\u003e\u003cstrong\u003eExposure Mode:\u003c\/strong\u003e Auto\u003cbr\u003e\u003cstrong\u003eExposure Compensation:\u003c\/strong\u003e ±3.0 (1\/3 increments)\u003cbr\u003e\u003cstrong\u003eMetering Mode:\u003c\/strong\u003e Spot metering, Center-weighted metering\u003cbr\u003e\u003cstrong\u003eAE LOCK:\u003c\/strong\u003e Supported\u003cbr\u003e\u003cstrong\u003eShutter Speed:\u003c\/strong\u003e 1 ~ 1\/8000\u003cbr\u003e\u003cstrong\u003eISO Range\u003c\/strong\u003e\u003cbr\u003eVideo: 100 - 25600\u003cbr\u003ePhoto: 100 - 25600\u003cbr\u003e\u003cstrong\u003eVideo Resolution:\u003c\/strong\u003e 1920×1080@30fps\u003cbr\u003e\u003cstrong\u003eVideo Format:\u003c\/strong\u003e MP4\u003cbr\u003e\u003cstrong\u003eVideo subtitles: \u003c\/strong\u003eSupported\u003cbr\u003e\u003cstrong\u003ePhoto Size:\u003c\/strong\u003e 4056 x 3040\u003cbr\u003e\u003cstrong\u003ePhoto Format:\u003c\/strong\u003e JPEG\u003c\/p\u003e\n\u003cp\u003e \u003c\/p\u003e\n\u003ch3\u003eLASER RANGEFINDER\u003c\/h3\u003e\n\u003cp\u003e\u003cstrong\u003eWavelength:\u003c\/strong\u003e 905 nm\u003cbr\u003e\u003cstrong\u003eMeasurement range:\u003c\/strong\u003e 3-1200 m (to a vertical surface with ≥12m diameter and 20% reflection rate)\u003cbr\u003e\u003cstrong\u003eMeasurement accuracy\u003c\/strong\u003e\u003cbr\u003e± (0.2 m + D×0.15%)\u003cbr\u003eD is the distance to a vertical surface\u003c\/p\u003e\n\u003cp\u003e \u003c\/p\u003e\n\u003ch3\u003eFEATURES\u003c\/h3\u003e\n\u003cp\u003e\u003cstrong\u003eHybrid Optical Zoom:\u003c\/strong\u003e 23×\u003cbr\u003e\u003cstrong\u003eMax. Zoom:\u003c\/strong\u003e 200×\u003cbr\u003e\u003cstrong\u003eOne-Click Capture\u003c\/strong\u003e\u003cbr\u003eOne-click to save the video or picture of 3 cameras (zoom, wide and thermal camera) simultaneously\u003cbr\u003e\u003cstrong\u003ePoint to Aim\u003c\/strong\u003e\u003cbr\u003eDouble click on the wide\/thermal camera view, then the system will automatically move the gimbal to focus on the point of interest\u003cbr\u003e\u003cstrong\u003eHigh-Res Grid Photo\u003c\/strong\u003e\u003cbr\u003eFrame an area of interest in wide camera view, and the zoom camera will automatically capture a set of 20 MP images of the area. These images are stored together with an overview image that can be viewed in greater detail.\u003cbr\u003e\u003cstrong\u003eNight Scene:\u003c\/strong\u003e Supported (zoom camera)\u003cbr\u003e\u003cstrong\u003eTimestamp:\u003c\/strong\u003e Including GPS, date, and time\u003c\/p\u003e\n\u003cp\u003e \u003c\/p\u003e\n\u003ch3\u003eSTORAGE\u003c\/h3\u003e\n\u003cp\u003e\u003cstrong\u003eSupported SD Card:\u003c\/strong\u003e MicroSD card (Max capacity: 128 GB, UHS-1 Speed Grade 3 required)\u003cbr\u003e\u003cstrong\u003eSupported File Systems:\u003c\/strong\u003e FAT32 (≤ 32 GB), exFAT (\u0026gt; 32 GB)\u003cbr\u003e\u003cstrong\u003eRecommended Micro SD Cards\u003c\/strong\u003e\u003cbr\u003eTOSHIBA EXCERIA PRO 32GB micro SD HC II\u003cbr\u003eSanDisk_Extreme PRO_32GB_3_A1_micro SD V30 HC I\u003cbr\u003eTOSHIBA EXCERIA PRO 64GB micro SD XC II\u003cbr\u003eSanDisk_Extreme PRO_64GB_3_A2_micro SD V30 XC I\u003cbr\u003eSAMSUNG_EVO_128GB_micro SD 3 XC I\u003cbr\u003eTOSHIBA EXCERIA M303E 32GB micro SD HC I\u003cbr\u003eTOSHIBA EXCERIA M303E 64GB micro SD XC I\u003cbr\u003eTOSHIBA EXCERIA M303E 64GB micro SD XC I\u003cbr\u003eTOSHIBA EXCERIA M303 128GB micro SD XC I\u003cbr\u003eSAMSUNG_EVO_64GB_micro SD 3 XC I\u003c\/p\u003e\n\u003cp\u003e \u003c\/p\u003e\n\u003ch5\u003eIn The Box\u003c\/h5\u003e\n\u003ch2\u003eIN THE BOX\u003c\/h2\u003e\n\u003cdiv\u003eGimbal and Camera x 1\u003c\/div\u003e\n\u003cp\u003e \u003c\/p\u003e\n\u003c!-- \/TABS --\u003e"}
DJI Zenmuse H20
All the Sensors You Need - In One
Capture everything up close or from a distance in true living colour or thermal. An integrated laser rangefinder (LRF) measures the distance to an object at up to 1200 m away. A powerful integrated payload that unleashes advanced intelligent capabilities.
| | | | |
| --- | --- | --- | --- |
| Zoom Camera | VISUAL SENSOR | LASER RANGE FINDER | INGRESS PROTECTION |
| 20 MP | 12 MP | 3m - 1200m | Level IP44  |
"H" FOR HYBRID
Multi-sensor payloads that bring a whole new meaning to mission efficiency. The unique intelligence and integrated design provide unprecedented aerial imaging capabilities for a range of commercial drone applications.
 
ALL-IN-ONE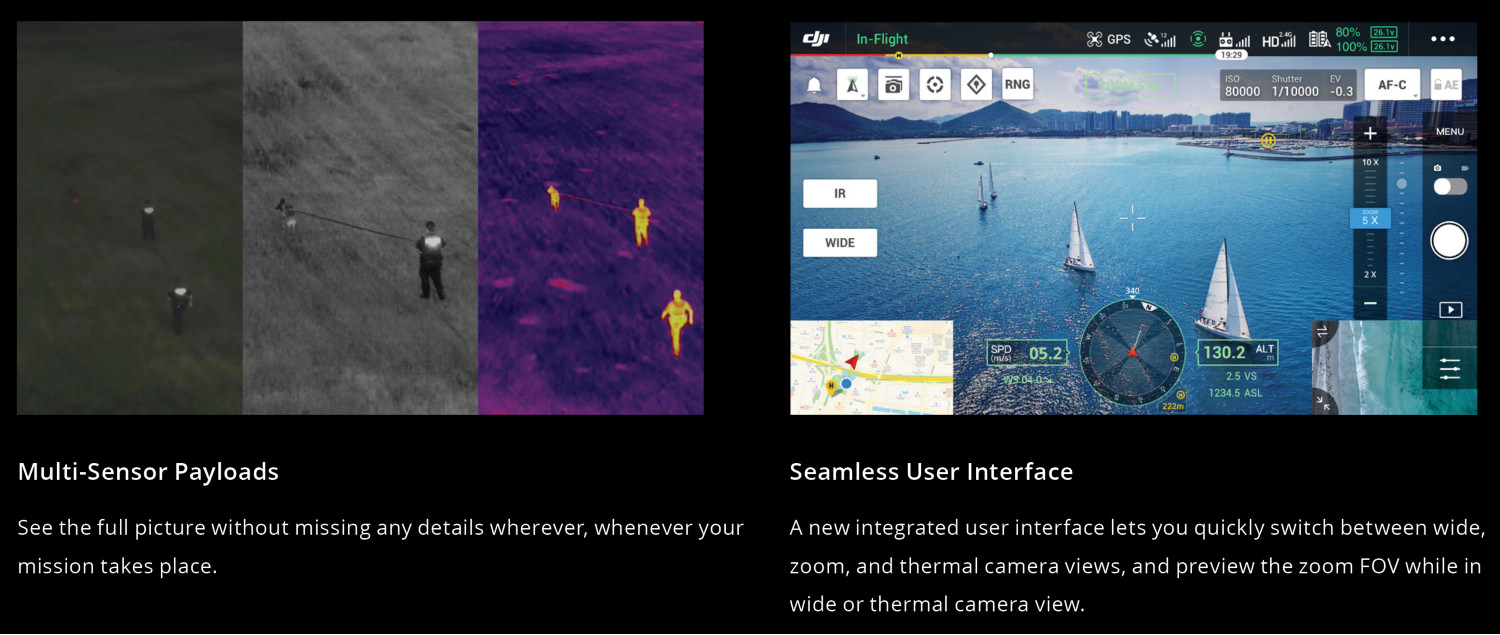 INTELLIGENT WAYS TO COLLECT DATA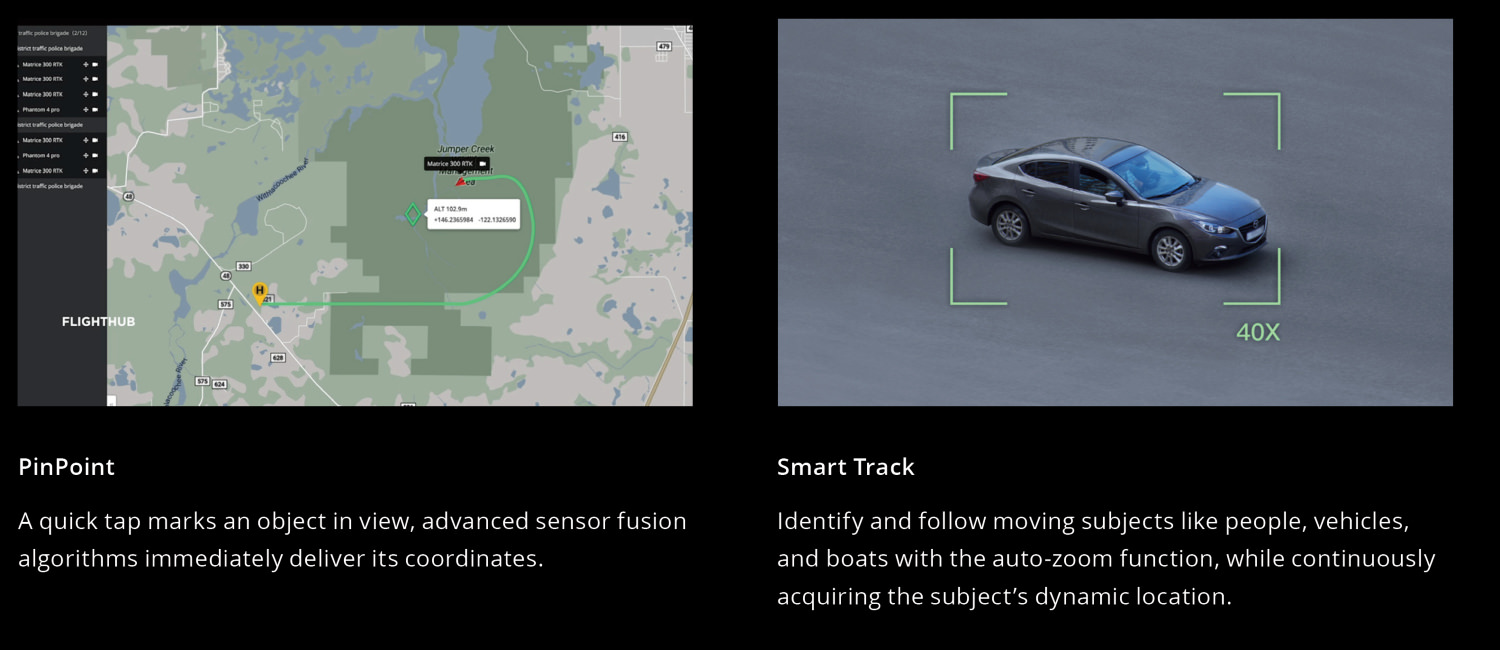 AI SPOT-CHECK
Automate routine inspections and capture consistent results every time. Onboard AI recognizes the pre-marked subject of interest in subsequent automated missions to ensure consistent framing.
HIGH-RES GRID PHOTO
Frame an area of interest in wide camera view, and the zoom camera will automatically capture a set of 20 MP images of the area. These images are stored together with an overview image that can be viewed in greater detail.
APPLICATION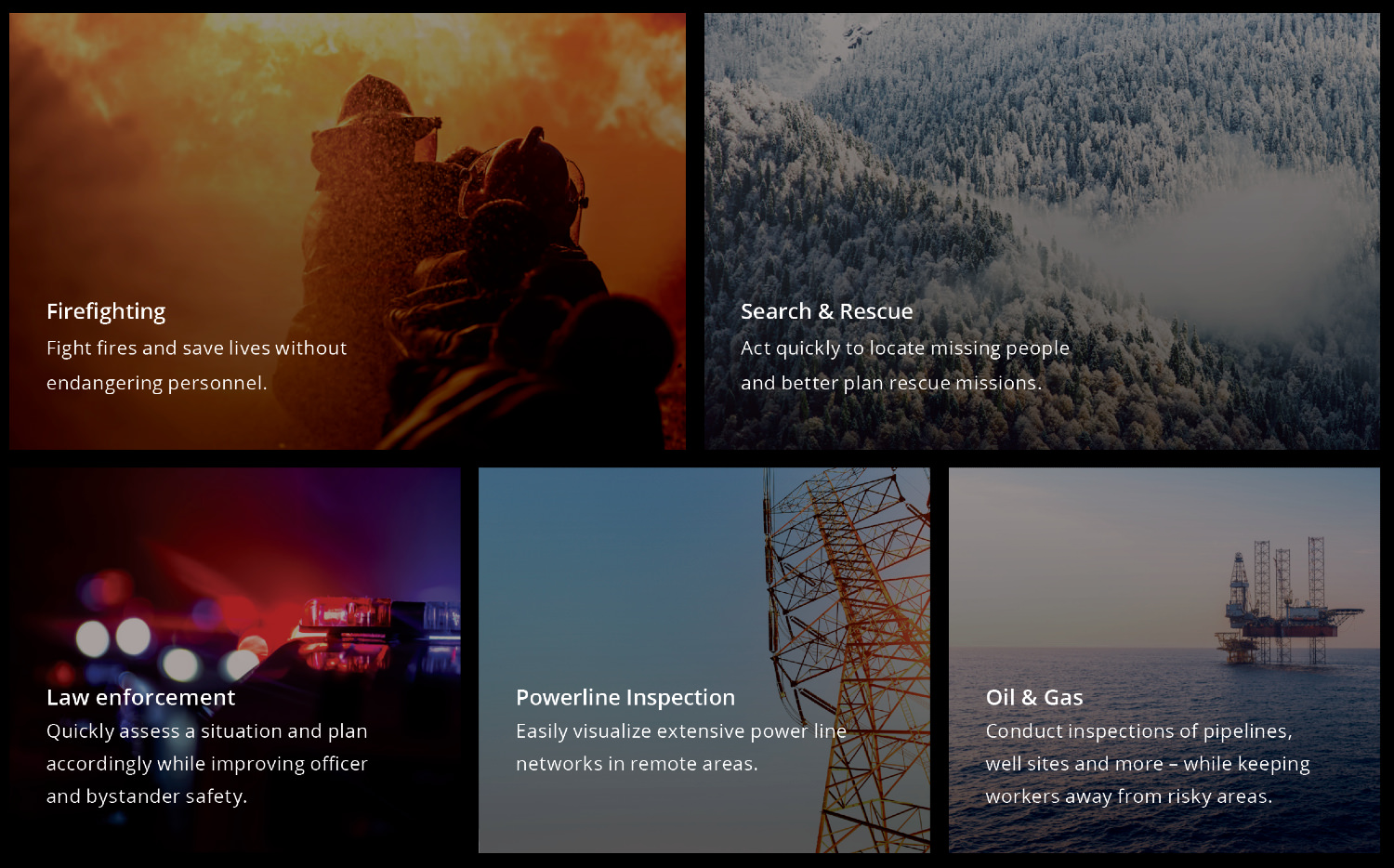 PRODUCT SPECIFICATIONS
GENERAL
Weight: Zenmuse H20: 678±5 g
Dimensions: Zenmuse H20: 150×114×151 mm
Ingress Protection Rating: IP44
Operating Temperature: -20° to 50° C (Temperature Measurement is only available between -10° to 50° C)
Storage Temperature: -20° to 60° C
Laser Safety: Class 1M (IEC 60825-1:2014)
Supported Aircraft: Matrice 300 RTK
GIMBAL
Angular Vibration Range: ±0.01°
Mount: Detachable
Controllable Range
Pitch: -120° to +30°
Yaw: ±320°
Mechanical Range
Pitch: -132.5° to +42.5°
Yaw: ±330°
Roll: -90° to +60°
ZOOM CAMERA
Sensor: 1/1.7" CMOS, 20 MP
Lens
DFOV: 66.6°-4°
Focal length: 6.83-119.94 mm (equivalent: 31.7-556.2 mm)
Aperture: f/2.8-f/11 (normal), f/1.6-f/11 (night scene)
Focus: 1 m to ∞ (wide), 8 m to ∞ (telephoto)
Focus Mode: MF/AF-C/AF-S
Exposure Mode: Auto, Manual
Exposure Compensation: ±3.0 (1/3 increments)
Metering Mode: Spot metering, Center-weighted metering
AE LOCK: Supported
Electronic Shutter Speed: 1 ~ 1/8000 s
ISO Range
Video: 100 - 25600
Photo: 100 - 25600
Video Resolution
3840x2160@30fps, 1920x1080@30fps
Video Format: MP4
Video subtitles: Supported
Photo Size: 5184 × 3888
Photo Format: JPEG
WIDE CAMERA
Sensor: 1/2.3" CMOS, 12 MP
Lens
DFOV: 82.9°
Focal length: 4.5 mm (equivalent: 24 mm)
Aperture: f/2.8
Focus: 1 m to ∞
Exposure Mode: Auto
Exposure Compensation: ±3.0 (1/3 increments)
Metering Mode: Spot metering, Center-weighted metering
AE LOCK: Supported
Shutter Speed: 1 ~ 1/8000
ISO Range
Video: 100 - 25600
Photo: 100 - 25600
Video Resolution: 1920×1080@30fps
Video Format: MP4
Video subtitles: Supported
Photo Size: 4056 x 3040
Photo Format: JPEG
LASER RANGEFINDER
Wavelength: 905 nm
Measurement range: 3-1200 m (to a vertical surface with ≥12m diameter and 20% reflection rate)
Measurement accuracy
± (0.2 m + D×0.15%)
D is the distance to a vertical surface
FEATURES
Hybrid Optical Zoom: 23×
Max. Zoom: 200×
One-Click Capture
One-click to save the video or picture of 3 cameras (zoom, wide and thermal camera) simultaneously
Point to Aim
Double click on the wide/thermal camera view, then the system will automatically move the gimbal to focus on the point of interest
High-Res Grid Photo
Frame an area of interest in wide camera view, and the zoom camera will automatically capture a set of 20 MP images of the area. These images are stored together with an overview image that can be viewed in greater detail.
Night Scene: Supported (zoom camera)
Timestamp: Including GPS, date, and time
STORAGE
Supported SD Card: MicroSD card (Max capacity: 128 GB, UHS-1 Speed Grade 3 required)
Supported File Systems: FAT32 (≤ 32 GB), exFAT (> 32 GB)
Recommended Micro SD Cards
TOSHIBA EXCERIA PRO 32GB micro SD HC II
SanDisk_Extreme PRO_32GB_3_A1_micro SD V30 HC I
TOSHIBA EXCERIA PRO 64GB micro SD XC II
SanDisk_Extreme PRO_64GB_3_A2_micro SD V30 XC I
SAMSUNG_EVO_128GB_micro SD 3 XC I
TOSHIBA EXCERIA M303E 32GB micro SD HC I
TOSHIBA EXCERIA M303E 64GB micro SD XC I
TOSHIBA EXCERIA M303E 64GB micro SD XC I
TOSHIBA EXCERIA M303 128GB micro SD XC I
SAMSUNG_EVO_64GB_micro SD 3 XC I
IN THE BOX
Gimbal and Camera x 1