{"id":5611095752858,"title":"Sonic Discovery Electric Bike - Blue","handle":"sonic-discovery-electric-bike-blue","description":"The Sonic Discovery series e-MTB offers a unique solution to the challenge of the weekly commute, while presenting unlimited potential for your next weekend ride. This discovery features a short wheelbase geometry, front XDT shocks, lightweight 6061 Alloy frame and disc brakes. \n\u003cp\u003e \u003c\/p\u003e\n\u003cp\u003e\u003cspan style=\"color: #ff2a00;\"\u003eAvailability: Usually Ships in 1-3 Days\u003c\/span\u003e\u003c\/p\u003e\n\u003c!-- split --\u003e \u003c!-- TABS --\u003e\n\u003ch5\u003eProduct Description\u003c\/h5\u003e\n\u003cp\u003eThe Sonic Discovery series e-MTB offers a unique solution to the challenge of the weekly commute, while presenting unlimited potential for your next weekend ride. This discovery features a short wheelbase geometry, front XDT shocks, lightweight 6061 Alloy frame and disc brakes. With this combination it has the agile handling and stopping power to make it equally adept for dealing with savage urban potholes or flying down technical single trails. With the advanced 250W N Drive system you can dial in the level that your pedalling efforts are amplified. Those hills you least look forward to will become favourites – might even find yourself getting some air as you reach the peak! The Discovery series comes equipped with Shimano 7-speed SIS-Index gears and derailleur, and a high performance VELO saddle. Front and rear hydraulic disc brakes and low-profile dual rubber compound 26" Maxxis Pace tyres offer serious control. The Sonic Discovery electric bike takes advantage of the latest lithium-ion technology with its 36V 10Ah battery that combines with the brushless motor to provide serious power on tap, coupled with an impressive range of up to 40km. As you ride, the good-sized LCD clearly displays the details you need; Speed, Power Assistance Level, Distance and Battery Charge, and for night riding the LED headlight provides illumination. The XDT front forks are adjustable and feature lock out. And, when you're done, the battery is easily removed for a recharge. A true synergy of technology, power and passion, the Sonic Discovery series redefines the e-bike market for quality and value.\u003c\/p\u003e\n\u003cp\u003e\u003cimg src=\"https:\/\/cdn.shopify.com\/s\/files\/1\/0266\/5231\/1627\/files\/bike_chart_480x480.png?v=1597202269\" alt=\"\" width=\"580\" height=\"279\"\u003e\u003c\/p\u003e\n\u003cp\u003e \u003c\/p\u003e\n\u003ch5\u003eProduct Specifications\u003c\/h5\u003e\n\u003cdiv class=\"spec_content\"\u003e\n\u003cul\u003e\n\u003cli\u003e\u003cstrong\u003ePowerful 250W N Drive Brushless System\u003c\/strong\u003e\u003c\/li\u003e\n\u003cli\u003e\u003cstrong\u003eEasily removable 36V 10Ah Li-ion battery\u003c\/strong\u003e\u003c\/li\u003e\n\u003cli\u003e\u003cstrong\u003eLarge \u003cspan class=\"caps\"\u003eLCD\u003c\/span\u003e Display \u003c\/strong\u003e\u003c\/li\u003e\n\u003cli\u003e\u003cstrong\u003e35kmh \u003c\/strong\u003e\u003c\/li\u003e\n\u003cli\u003e\u003cstrong\u003eUp to 50km on a single charge \u003c\/strong\u003e\u003c\/li\u003e\n\u003cli\u003e\u003cstrong\u003e27.5 inch wheels\u003c\/strong\u003e\u003c\/li\u003e\n\u003cli\u003e\n\u003cstrong\u003eShimano 7-speed \u003cspan class=\"caps\"\u003eSIS\u003c\/span\u003e-Index Gears and \u003c\/strong\u003e\u003cb\u003eDerailleur\u003c\/b\u003e\n\u003c\/li\u003e\n\u003cli\u003e\u003cstrong\u003eLow Profile \u003cspan class=\"caps\"\u003eMAXXIS\u003c\/span\u003e Pace tyres\u003c\/strong\u003e\u003c\/li\u003e\n\u003cli\u003e\u003cstrong\u003eLightweight 6061 Alloy frame\u003c\/strong\u003e\u003c\/li\u003e\n\u003cli\u003e\u003cstrong\u003eHigh performance \u003cspan class=\"caps\"\u003eVELO\u003c\/span\u003e saddle\u003c\/strong\u003e\u003c\/li\u003e\n\u003cli\u003e\u003cstrong\u003e\u003cspan class=\"caps\"\u003eXDT\u003c\/span\u003e Adjustable front wheel shocks with lockout\u003c\/strong\u003e\u003c\/li\u003e\n\u003cli\u003e\u003cstrong\u003eFront and Rear Disc Brakes\u003c\/strong\u003e\u003c\/li\u003e\n\u003c\/ul\u003e\n\u003c\/div\u003e\n\u003cdiv class=\"spec_chart\"\u003e\u003cimg src=\"https:\/\/www.blacksheeptrading.co.nz\/wp-content\/themes\/velo-child\/images\/bike_spec.png\"\u003e\u003c\/div\u003e\n\u003cp\u003e \u003c\/p\u003e\n\u003ch5\u003eShipping\u003cbr\u003e\n\u003c\/h5\u003e\n\u003cp\u003eThese \u003cspan\u003ebikes are to be collected from your local Strait NZ depot, this way we can keep costs down.\u003c\/span\u003e\u003c\/p\u003e\n\u003cp\u003e \u003c\/p\u003e\n\u003c!-- \/TABS --\u003e","published_at":"2020-08-12T15:24:59+12:00","created_at":"2020-08-12T15:24:59+12:00","vendor":"Sonic","type":"E-Bike","tags":["Sonic E-Bike"],"price":179900,"price_min":179900,"price_max":179900,"available":true,"price_varies":false,"compare_at_price":null,"compare_at_price_min":0,"compare_at_price_max":0,"compare_at_price_varies":false,"variants":[{"id":35689599729818,"title":"Default Title","option1":"Default Title","option2":null,"option3":null,"sku":"BST040","requires_shipping":true,"taxable":true,"featured_image":null,"available":true,"name":"Sonic Discovery Electric Bike - Blue","public_title":null,"options":["Default Title"],"price":179900,"weight":0,"compare_at_price":null,"inventory_management":"shopify","barcode":""}],"images":["\/\/cdn.shopify.com\/s\/files\/1\/0266\/5231\/1627\/products\/DiscoveryBlue.jpg?v=1597202725"],"featured_image":"\/\/cdn.shopify.com\/s\/files\/1\/0266\/5231\/1627\/products\/DiscoveryBlue.jpg?v=1597202725","options":["Title"],"media":[{"alt":null,"id":10720201998490,"position":1,"preview_image":{"aspect_ratio":1.5,"height":400,"width":600,"src":"https:\/\/cdn.shopify.com\/s\/files\/1\/0266\/5231\/1627\/products\/DiscoveryBlue.jpg?v=1597202725"},"aspect_ratio":1.5,"height":400,"media_type":"image","src":"https:\/\/cdn.shopify.com\/s\/files\/1\/0266\/5231\/1627\/products\/DiscoveryBlue.jpg?v=1597202725","width":600}],"content":"The Sonic Discovery series e-MTB offers a unique solution to the challenge of the weekly commute, while presenting unlimited potential for your next weekend ride. This discovery features a short wheelbase geometry, front XDT shocks, lightweight 6061 Alloy frame and disc brakes. \n\u003cp\u003e \u003c\/p\u003e\n\u003cp\u003e\u003cspan style=\"color: #ff2a00;\"\u003eAvailability: Usually Ships in 1-3 Days\u003c\/span\u003e\u003c\/p\u003e\n\u003c!-- split --\u003e \u003c!-- TABS --\u003e\n\u003ch5\u003eProduct Description\u003c\/h5\u003e\n\u003cp\u003eThe Sonic Discovery series e-MTB offers a unique solution to the challenge of the weekly commute, while presenting unlimited potential for your next weekend ride. This discovery features a short wheelbase geometry, front XDT shocks, lightweight 6061 Alloy frame and disc brakes. With this combination it has the agile handling and stopping power to make it equally adept for dealing with savage urban potholes or flying down technical single trails. With the advanced 250W N Drive system you can dial in the level that your pedalling efforts are amplified. Those hills you least look forward to will become favourites – might even find yourself getting some air as you reach the peak! The Discovery series comes equipped with Shimano 7-speed SIS-Index gears and derailleur, and a high performance VELO saddle. Front and rear hydraulic disc brakes and low-profile dual rubber compound 26" Maxxis Pace tyres offer serious control. The Sonic Discovery electric bike takes advantage of the latest lithium-ion technology with its 36V 10Ah battery that combines with the brushless motor to provide serious power on tap, coupled with an impressive range of up to 40km. As you ride, the good-sized LCD clearly displays the details you need; Speed, Power Assistance Level, Distance and Battery Charge, and for night riding the LED headlight provides illumination. The XDT front forks are adjustable and feature lock out. And, when you're done, the battery is easily removed for a recharge. A true synergy of technology, power and passion, the Sonic Discovery series redefines the e-bike market for quality and value.\u003c\/p\u003e\n\u003cp\u003e\u003cimg src=\"https:\/\/cdn.shopify.com\/s\/files\/1\/0266\/5231\/1627\/files\/bike_chart_480x480.png?v=1597202269\" alt=\"\" width=\"580\" height=\"279\"\u003e\u003c\/p\u003e\n\u003cp\u003e \u003c\/p\u003e\n\u003ch5\u003eProduct Specifications\u003c\/h5\u003e\n\u003cdiv class=\"spec_content\"\u003e\n\u003cul\u003e\n\u003cli\u003e\u003cstrong\u003ePowerful 250W N Drive Brushless System\u003c\/strong\u003e\u003c\/li\u003e\n\u003cli\u003e\u003cstrong\u003eEasily removable 36V 10Ah Li-ion battery\u003c\/strong\u003e\u003c\/li\u003e\n\u003cli\u003e\u003cstrong\u003eLarge \u003cspan class=\"caps\"\u003eLCD\u003c\/span\u003e Display \u003c\/strong\u003e\u003c\/li\u003e\n\u003cli\u003e\u003cstrong\u003e35kmh \u003c\/strong\u003e\u003c\/li\u003e\n\u003cli\u003e\u003cstrong\u003eUp to 50km on a single charge \u003c\/strong\u003e\u003c\/li\u003e\n\u003cli\u003e\u003cstrong\u003e27.5 inch wheels\u003c\/strong\u003e\u003c\/li\u003e\n\u003cli\u003e\n\u003cstrong\u003eShimano 7-speed \u003cspan class=\"caps\"\u003eSIS\u003c\/span\u003e-Index Gears and \u003c\/strong\u003e\u003cb\u003eDerailleur\u003c\/b\u003e\n\u003c\/li\u003e\n\u003cli\u003e\u003cstrong\u003eLow Profile \u003cspan class=\"caps\"\u003eMAXXIS\u003c\/span\u003e Pace tyres\u003c\/strong\u003e\u003c\/li\u003e\n\u003cli\u003e\u003cstrong\u003eLightweight 6061 Alloy frame\u003c\/strong\u003e\u003c\/li\u003e\n\u003cli\u003e\u003cstrong\u003eHigh performance \u003cspan class=\"caps\"\u003eVELO\u003c\/span\u003e saddle\u003c\/strong\u003e\u003c\/li\u003e\n\u003cli\u003e\u003cstrong\u003e\u003cspan class=\"caps\"\u003eXDT\u003c\/span\u003e Adjustable front wheel shocks with lockout\u003c\/strong\u003e\u003c\/li\u003e\n\u003cli\u003e\u003cstrong\u003eFront and Rear Disc Brakes\u003c\/strong\u003e\u003c\/li\u003e\n\u003c\/ul\u003e\n\u003c\/div\u003e\n\u003cdiv class=\"spec_chart\"\u003e\u003cimg src=\"https:\/\/www.blacksheeptrading.co.nz\/wp-content\/themes\/velo-child\/images\/bike_spec.png\"\u003e\u003c\/div\u003e\n\u003cp\u003e \u003c\/p\u003e\n\u003ch5\u003eShipping\u003cbr\u003e\n\u003c\/h5\u003e\n\u003cp\u003eThese \u003cspan\u003ebikes are to be collected from your local Strait NZ depot, this way we can keep costs down.\u003c\/span\u003e\u003c\/p\u003e\n\u003cp\u003e \u003c\/p\u003e\n\u003c!-- \/TABS --\u003e"}
Sonic Discovery Electric Bike - Blue
Sonic Discovery Electric Bike - Blue
The Sonic Discovery series e-MTB offers a unique solution to the challenge of the weekly commute, while presenting unlimited potential for your next weekend ride. This discovery features a short wheelbase geometry, front XDT shocks, lightweight 6061 Alloy frame and disc brakes. With this combination it has the agile handling and stopping power to make it equally adept for dealing with savage urban potholes or flying down technical single trails. With the advanced 250W N Drive system you can dial in the level that your pedalling efforts are amplified. Those hills you least look forward to will become favourites – might even find yourself getting some air as you reach the peak! The Discovery series comes equipped with Shimano 7-speed SIS-Index gears and derailleur, and a high performance VELO saddle. Front and rear hydraulic disc brakes and low-profile dual rubber compound 26" Maxxis Pace tyres offer serious control. The Sonic Discovery electric bike takes advantage of the latest lithium-ion technology with its 36V 10Ah battery that combines with the brushless motor to provide serious power on tap, coupled with an impressive range of up to 40km. As you ride, the good-sized LCD clearly displays the details you need; Speed, Power Assistance Level, Distance and Battery Charge, and for night riding the LED headlight provides illumination. The XDT front forks are adjustable and feature lock out. And, when you're done, the battery is easily removed for a recharge. A true synergy of technology, power and passion, the Sonic Discovery series redefines the e-bike market for quality and value.
Powerful 250W N Drive Brushless System
Easily removable 36V 10Ah Li-ion battery
Large 

LCD

Display
35kmh
Up to 50km on a single charge
27.5 inch wheels
Shimano 7-speed 

SIS

-Index Gears and Derailleur
Low Profile 

MAXXIS

 Pace tyres
Lightweight 6061 Alloy frame
High performance 

VELO

 saddle

XDT

 Adjustable front wheel shocks with lockout
Front and Rear Disc Brakes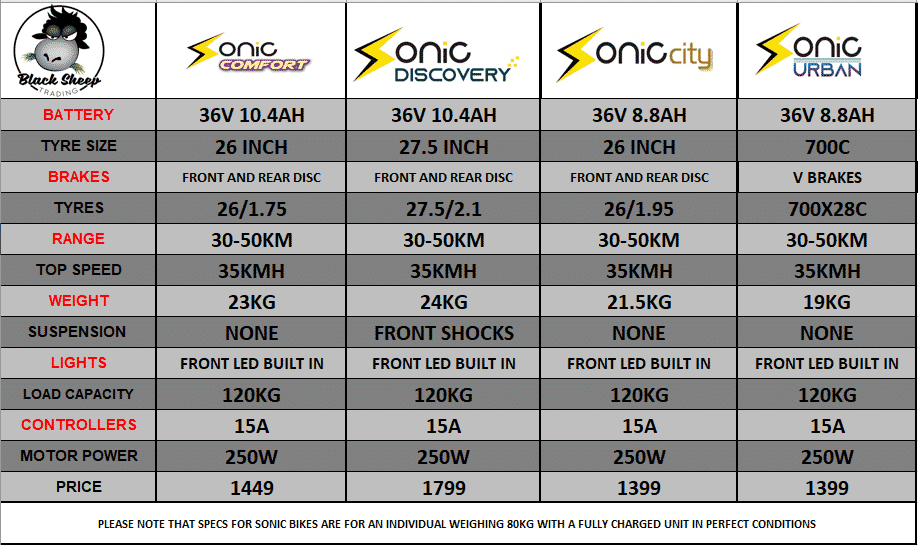 These bikes are to be collected from your local Strait NZ depot, this way we can keep costs down.