{"id":5611117838490,"title":"Sonic City Electric Bike - Blue","handle":"sonic-city-electric-bike-blue","description":"The Sonic City series electric bicycle is a smart, stylish, eco-friendly solution to the challenges of commuting. From the convenient step-through design, to the soft ergonomic handlebars and the wide comfortable padded riding saddle, the City was designed with you in mind. The City's tyres have a grip pattern that ensures a smooth ride while also providing the assured ride you need on slippery surfaces.\n\u003cp\u003e \u003c\/p\u003e\n\u003cp\u003e\u003cspan style=\"color: #ff2a00;\"\u003eAvailability: Pre-Order\u003c\/span\u003e\u003c\/p\u003e\n\u003c!-- split --\u003e \u003c!-- TABS --\u003e\n\u003ch5\u003eProduct Description\u003c\/h5\u003e\n\u003cp\u003eThe Sonic City series electric bicycle is a smart, stylish, eco-friendly solution to the challenges of commuting. From the convenient step-through design, to the soft ergonomic handlebars and the wide comfortable padded riding saddle, the City was designed with you in mind. The City's tyres have a grip pattern that ensures a smooth ride while also providing the assured ride you need on slippery surfaces. Unlike some e-bikes the City electric bike focuses on simplicity. The controls are intentionally basic, because what else do you really need other than power assistance level and battery charge indication? Any other details you might want can be recorded far more awesomely by apps like Strava, than any bike could.Gear changes are a dream thanks to Shimano SIS-Index series 7 speed gears. What this means is that gone are the days of imprecise gear changes. The Vista's gears simply 'click' into place with the push of the lever. With the Sonic City you have the option of travelling as higher speeds than you might normally ride at. Importantly, the City series comes equipped with front and rear hydraulic disc brakes which provide superior stopping power. The City also has a horn and LED light that provides brilliant path illumination to further complete the package. Say no to traffic congestion, reduce your carbon footprint and spend your money on more exciting things than petrol or public transport fares! With the sensible combination of pedalling assistance, mudflaps and convenient step-through design the City series e-bike is truly designed for the rider to arrive in style.\u003c\/p\u003e\n\u003cp\u003e\u003cimg src=\"https:\/\/cdn.shopify.com\/s\/files\/1\/0266\/5231\/1627\/files\/bike_chart_480x480.png?v=1597202269\" alt=\"\" width=\"557\" height=\"268\"\u003e\u003c\/p\u003e\n\u003ch5\u003eProduct Specifications\u003c\/h5\u003e\n\u003cdiv class=\"spec_content\"\u003e\n\u003cul\u003e\n\u003cli\u003e\u003cspan\u003e\u003cstrong\u003eConvenient Step-through design\u003c\/strong\u003e\u003c\/span\u003e\u003c\/li\u003e\n\u003cli\u003e\u003cspan\u003e\u003cstrong\u003eHybrid tyres for a smooth ride\u003c\/strong\u003e\u003c\/span\u003e\u003c\/li\u003e\n\u003cli\u003e\u003cspan\u003e\u003cstrong\u003eEasily removable 36V 8.8Ah Li-ion battery\u003c\/strong\u003e\u003c\/span\u003e\u003c\/li\u003e\n\u003cli\u003e\u003cspan\u003e\u003cstrong\u003eUp to 40km on a single charge\u003c\/strong\u003e\u003c\/span\u003e\u003c\/li\u003e\n\u003cli\u003e\u003cspan\u003e\u003cstrong\u003eLightweight 6061 Alloy frame\u003c\/strong\u003e\u003c\/span\u003e\u003c\/li\u003e\n\u003cli\u003e\u003cspan\u003e\u003cstrong\u003eBright \u003cspan class=\"caps\"\u003eLED\u003c\/span\u003e headlight\u003c\/strong\u003e\u003c\/span\u003e\u003c\/li\u003e\n\u003cli\u003e\u003cspan\u003e\u003cstrong\u003e3 Speed LCD display \u003c\/strong\u003e\u003c\/span\u003e\u003c\/li\u003e\n\u003cli\u003e\u003cspan\u003e\u003cstrong\u003e35kmh \u003c\/strong\u003e\u003c\/span\u003e\u003c\/li\u003e\n\u003cli\u003e\u003cspan\u003e\u003cstrong\u003e26 inch wheels \u003c\/strong\u003e\u003c\/span\u003e\u003c\/li\u003e\n\u003cli\u003e\u003cspan\u003e\u003cstrong\u003eAluminium mechanical disc brakes \u003c\/strong\u003e\u003c\/span\u003e\u003c\/li\u003e\n\u003c\/ul\u003e\n\u003cspan\u003e\u003cspan class=\"caps\"\u003eSIZE\u003c\/span\u003e \u0026amp; \u003cspan class=\"caps\"\u003eWEIGHT\u003c\/span\u003e\u003c\/span\u003e\n\u003cul\u003e\n\u003cli\u003e\u003cspan\u003e\u003cstrong\u003eCarton Weight:\u003c\/strong\u003e 26kg\u003c\/span\u003e\u003c\/li\u003e\n\u003cli\u003e\u003cspan\u003e\u003cstrong\u003eCarton Dimensions (L x W x H):\u003c\/strong\u003e 134 × 24 × 72cm\u003c\/span\u003e\u003c\/li\u003e\n\u003cli\u003e\u003cspan\u003e\u003cstrong\u003eProduct Weight:\u003c\/strong\u003e 21kg\u003c\/span\u003e\u003c\/li\u003e\n\u003cli\u003e\u003cspan\u003e\u003cstrong\u003eProduct Dimensions (L x H):\u003c\/strong\u003e  176 × 110cm\u003c\/span\u003e\u003c\/li\u003e\n\u003c\/ul\u003e\n\u003c\/div\u003e\n\u003cdiv class=\"spec_chart\"\u003e\u003cimg src=\"https:\/\/www.blacksheeptrading.co.nz\/wp-content\/themes\/velo-child\/images\/bike_spec.png\"\u003e\u003c\/div\u003e\n\u003ch5\u003eShipping\u003cbr\u003e\n\u003c\/h5\u003e\n\u003cp\u003eThese \u003cspan\u003ebikes are to be collected from your local Strait NZ depot, this way we can keep costs down.\u003c\/span\u003e\u003c\/p\u003e\n\u003c!-- \/TABS --\u003e","published_at":"2020-08-12T15:35:17+12:00","created_at":"2020-08-12T15:35:16+12:00","vendor":"Sonic","type":"E-Bike","tags":["Sonic E-Bike"],"price":139900,"price_min":139900,"price_max":139900,"available":true,"price_varies":false,"compare_at_price":null,"compare_at_price_min":0,"compare_at_price_max":0,"compare_at_price_varies":false,"variants":[{"id":35689745350810,"title":"Default Title","option1":"Default Title","option2":null,"option3":null,"sku":"BST048","requires_shipping":true,"taxable":true,"featured_image":null,"available":true,"name":"Sonic City Electric Bike - Blue","public_title":null,"options":["Default Title"],"price":139900,"weight":0,"compare_at_price":null,"inventory_management":"shopify","barcode":""}],"images":["\/\/cdn.shopify.com\/s\/files\/1\/0266\/5231\/1627\/products\/SonicCityBlue.jpg?v=1597203317"],"featured_image":"\/\/cdn.shopify.com\/s\/files\/1\/0266\/5231\/1627\/products\/SonicCityBlue.jpg?v=1597203317","options":["Title"],"media":[{"alt":null,"id":10720294535322,"position":1,"preview_image":{"aspect_ratio":1.503,"height":183,"width":275,"src":"https:\/\/cdn.shopify.com\/s\/files\/1\/0266\/5231\/1627\/products\/SonicCityBlue.jpg?v=1597203317"},"aspect_ratio":1.503,"height":183,"media_type":"image","src":"https:\/\/cdn.shopify.com\/s\/files\/1\/0266\/5231\/1627\/products\/SonicCityBlue.jpg?v=1597203317","width":275}],"content":"The Sonic City series electric bicycle is a smart, stylish, eco-friendly solution to the challenges of commuting. From the convenient step-through design, to the soft ergonomic handlebars and the wide comfortable padded riding saddle, the City was designed with you in mind. The City's tyres have a grip pattern that ensures a smooth ride while also providing the assured ride you need on slippery surfaces.\n\u003cp\u003e \u003c\/p\u003e\n\u003cp\u003e\u003cspan style=\"color: #ff2a00;\"\u003eAvailability: Pre-Order\u003c\/span\u003e\u003c\/p\u003e\n\u003c!-- split --\u003e \u003c!-- TABS --\u003e\n\u003ch5\u003eProduct Description\u003c\/h5\u003e\n\u003cp\u003eThe Sonic City series electric bicycle is a smart, stylish, eco-friendly solution to the challenges of commuting. From the convenient step-through design, to the soft ergonomic handlebars and the wide comfortable padded riding saddle, the City was designed with you in mind. The City's tyres have a grip pattern that ensures a smooth ride while also providing the assured ride you need on slippery surfaces. Unlike some e-bikes the City electric bike focuses on simplicity. The controls are intentionally basic, because what else do you really need other than power assistance level and battery charge indication? Any other details you might want can be recorded far more awesomely by apps like Strava, than any bike could.Gear changes are a dream thanks to Shimano SIS-Index series 7 speed gears. What this means is that gone are the days of imprecise gear changes. The Vista's gears simply 'click' into place with the push of the lever. With the Sonic City you have the option of travelling as higher speeds than you might normally ride at. Importantly, the City series comes equipped with front and rear hydraulic disc brakes which provide superior stopping power. The City also has a horn and LED light that provides brilliant path illumination to further complete the package. Say no to traffic congestion, reduce your carbon footprint and spend your money on more exciting things than petrol or public transport fares! With the sensible combination of pedalling assistance, mudflaps and convenient step-through design the City series e-bike is truly designed for the rider to arrive in style.\u003c\/p\u003e\n\u003cp\u003e\u003cimg src=\"https:\/\/cdn.shopify.com\/s\/files\/1\/0266\/5231\/1627\/files\/bike_chart_480x480.png?v=1597202269\" alt=\"\" width=\"557\" height=\"268\"\u003e\u003c\/p\u003e\n\u003ch5\u003eProduct Specifications\u003c\/h5\u003e\n\u003cdiv class=\"spec_content\"\u003e\n\u003cul\u003e\n\u003cli\u003e\u003cspan\u003e\u003cstrong\u003eConvenient Step-through design\u003c\/strong\u003e\u003c\/span\u003e\u003c\/li\u003e\n\u003cli\u003e\u003cspan\u003e\u003cstrong\u003eHybrid tyres for a smooth ride\u003c\/strong\u003e\u003c\/span\u003e\u003c\/li\u003e\n\u003cli\u003e\u003cspan\u003e\u003cstrong\u003eEasily removable 36V 8.8Ah Li-ion battery\u003c\/strong\u003e\u003c\/span\u003e\u003c\/li\u003e\n\u003cli\u003e\u003cspan\u003e\u003cstrong\u003eUp to 40km on a single charge\u003c\/strong\u003e\u003c\/span\u003e\u003c\/li\u003e\n\u003cli\u003e\u003cspan\u003e\u003cstrong\u003eLightweight 6061 Alloy frame\u003c\/strong\u003e\u003c\/span\u003e\u003c\/li\u003e\n\u003cli\u003e\u003cspan\u003e\u003cstrong\u003eBright \u003cspan class=\"caps\"\u003eLED\u003c\/span\u003e headlight\u003c\/strong\u003e\u003c\/span\u003e\u003c\/li\u003e\n\u003cli\u003e\u003cspan\u003e\u003cstrong\u003e3 Speed LCD display \u003c\/strong\u003e\u003c\/span\u003e\u003c\/li\u003e\n\u003cli\u003e\u003cspan\u003e\u003cstrong\u003e35kmh \u003c\/strong\u003e\u003c\/span\u003e\u003c\/li\u003e\n\u003cli\u003e\u003cspan\u003e\u003cstrong\u003e26 inch wheels \u003c\/strong\u003e\u003c\/span\u003e\u003c\/li\u003e\n\u003cli\u003e\u003cspan\u003e\u003cstrong\u003eAluminium mechanical disc brakes \u003c\/strong\u003e\u003c\/span\u003e\u003c\/li\u003e\n\u003c\/ul\u003e\n\u003cspan\u003e\u003cspan class=\"caps\"\u003eSIZE\u003c\/span\u003e \u0026amp; \u003cspan class=\"caps\"\u003eWEIGHT\u003c\/span\u003e\u003c\/span\u003e\n\u003cul\u003e\n\u003cli\u003e\u003cspan\u003e\u003cstrong\u003eCarton Weight:\u003c\/strong\u003e 26kg\u003c\/span\u003e\u003c\/li\u003e\n\u003cli\u003e\u003cspan\u003e\u003cstrong\u003eCarton Dimensions (L x W x H):\u003c\/strong\u003e 134 × 24 × 72cm\u003c\/span\u003e\u003c\/li\u003e\n\u003cli\u003e\u003cspan\u003e\u003cstrong\u003eProduct Weight:\u003c\/strong\u003e 21kg\u003c\/span\u003e\u003c\/li\u003e\n\u003cli\u003e\u003cspan\u003e\u003cstrong\u003eProduct Dimensions (L x H):\u003c\/strong\u003e  176 × 110cm\u003c\/span\u003e\u003c\/li\u003e\n\u003c\/ul\u003e\n\u003c\/div\u003e\n\u003cdiv class=\"spec_chart\"\u003e\u003cimg src=\"https:\/\/www.blacksheeptrading.co.nz\/wp-content\/themes\/velo-child\/images\/bike_spec.png\"\u003e\u003c\/div\u003e\n\u003ch5\u003eShipping\u003cbr\u003e\n\u003c\/h5\u003e\n\u003cp\u003eThese \u003cspan\u003ebikes are to be collected from your local Strait NZ depot, this way we can keep costs down.\u003c\/span\u003e\u003c\/p\u003e\n\u003c!-- \/TABS --\u003e"}
Sonic City Electric Bike - Blue
Sonic City Electric Bike - Blue
The Sonic City series electric bicycle is a smart, stylish, eco-friendly solution to the challenges of commuting. From the convenient step-through design, to the soft ergonomic handlebars and the wide comfortable padded riding saddle, the City was designed with you in mind. The City's tyres have a grip pattern that ensures a smooth ride while also providing the assured ride you need on slippery surfaces. Unlike some e-bikes the City electric bike focuses on simplicity. The controls are intentionally basic, because what else do you really need other than power assistance level and battery charge indication? Any other details you might want can be recorded far more awesomely by apps like Strava, than any bike could.Gear changes are a dream thanks to Shimano SIS-Index series 7 speed gears. What this means is that gone are the days of imprecise gear changes. The Vista's gears simply 'click' into place with the push of the lever. With the Sonic City you have the option of travelling as higher speeds than you might normally ride at. Importantly, the City series comes equipped with front and rear hydraulic disc brakes which provide superior stopping power. The City also has a horn and LED light that provides brilliant path illumination to further complete the package. Say no to traffic congestion, reduce your carbon footprint and spend your money on more exciting things than petrol or public transport fares! With the sensible combination of pedalling assistance, mudflaps and convenient step-through design the City series e-bike is truly designed for the rider to arrive in style.
Convenient Step-through design
Hybrid tyres for a smooth ride
Easily removable 36V 8.8Ah Li-ion battery
Up to 40km on a single charge
Lightweight 6061 Alloy frame
Bright 

LED

headlight
3 Speed LCD display
35kmh
26 inch wheels
Aluminium mechanical disc brakes 
SIZE

 & 

WEIGHT
Carton Weight: 26kg
Carton Dimensions (L x W x H): 134 × 24 × 72cm
Product Weight: 21kg
Product Dimensions (L x H):  176 × 110cm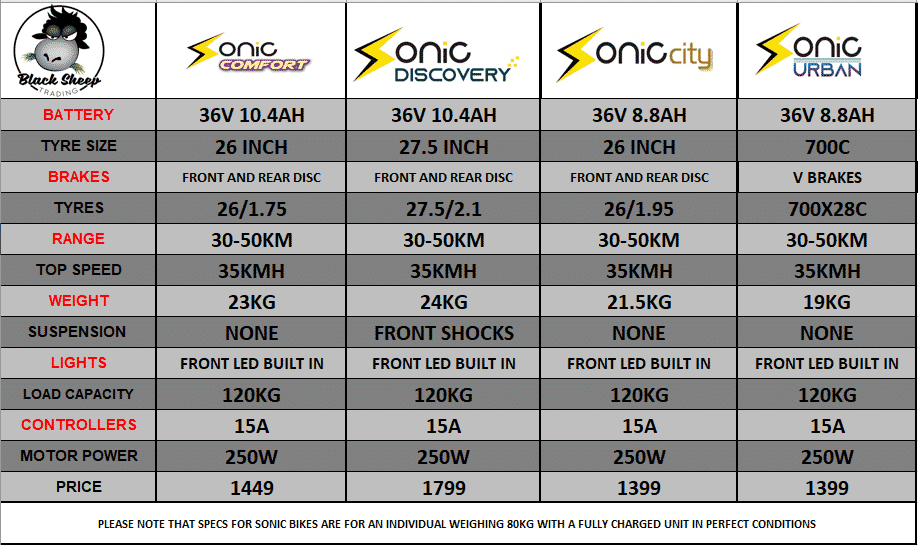 These bikes are to be collected from your local Strait NZ depot, this way we can keep costs down.