{"id":6797367083162,"title":"QYSEA FIFISH V6 Underwater ROV","handle":"qysea-fifish-v6-underwater-robot","description":"\u003cmeta charset=\"UTF-8\"\u003e\n\u003cul class=\"canshu clear\" data-mce-fragment=\"1\"\u003e\n\u003cli data-mce-fragment=\"1\"\u003e\u003cspan data-mce-fragment=\"1\"\u003e6 Degrees of Freedom\u003c\/span\u003e\u003c\/li\u003e\n\u003cli data-mce-fragment=\"1\"\u003e\u003cspan data-mce-fragment=\"1\"\u003eFIFISH Posture Lock™\u003c\/span\u003e\u003c\/li\u003e\n\u003cli data-mce-fragment=\"1\"\u003e\u003cspan data-mce-fragment=\"1\"\u003eHead Tracking\u003c\/span\u003e\u003c\/li\u003e\n\u003cli data-mce-fragment=\"1\"\u003e\u003cspan data-mce-fragment=\"1\"\u003e100m Depth Rating\u003c\/span\u003e\u003c\/li\u003e\n\u003cli data-mce-fragment=\"1\"\u003e\u003cspan data-mce-fragment=\"1\"\u003eSlow motion at 240 fps\u003c\/span\u003e\u003c\/li\u003e\n\u003cli data-mce-fragment=\"1\"\u003e\u003cspan data-mce-fragment=\"1\"\u003e12 Megapixels\u003c\/span\u003e\u003c\/li\u003e\n\u003cli data-mce-fragment=\"1\"\u003e\u003cspan data-mce-fragment=\"1\"\u003e4K UHD Camera\u003c\/span\u003e\u003c\/li\u003e\n\u003cli data-mce-fragment=\"1\"\u003e\u003cspan data-mce-fragment=\"1\"\u003e166° FOV\u003c\/span\u003e\u003c\/li\u003e\n\u003cli data-mce-fragment=\"1\"\u003e\u003cspan data-mce-fragment=\"1\"\u003eRAW in DNG Format\u003c\/span\u003e\u003c\/li\u003e\n\u003cli data-mce-fragment=\"1\"\u003e\u003cspan data-mce-fragment=\"1\"\u003eQuick Charge\u003c\/span\u003e\u003c\/li\u003e\n\u003cli data-mce-fragment=\"1\"\u003e\u003cspan data-mce-fragment=\"1\"\u003e4000 Lumen LED\u003c\/span\u003e\u003c\/li\u003e\n\u003cli data-mce-fragment=\"1\"\u003e\u003cspan data-mce-fragment=\"1\"\u003eCCT 5500 K\u003c\/span\u003e\u003c\/li\u003e\n\u003c\/ul\u003e\n\u003cp\u003e \u003c\/p\u003e\n\u003cp\u003e\u003cspan style=\"color: #ff2a00;\"\u003eAvailability: Back Order - ETA End of June\u003c\/span\u003e\u003c\/p\u003e\n\u003c!-- split --\u003e \u003c!-- TABS --\u003e\n\u003ch5\u003eProduct Description\u003c\/h5\u003e\n\u003cp\u003e\u003cimg src=\"https:\/\/www.qysea.com\/store\/res\/v6img\/f36488a88ca029b1.jpg\" title=\"NP1\" alt=\"NP1\"\u003e\u003c\/p\u003e\n\u003cp\u003e\u003cimg src=\"https:\/\/www.qysea.com\/store\/res\/v6img\/ea219edfb3c79c43.jpg\" title=\"NP2\"\u003e\u003c\/p\u003e\n\u003cp\u003e\u003cimg src=\"https:\/\/www.qysea.com\/store\/res\/v6img\/01e28c62e2253133.jpg\" title=\"NP3\"\u003e\u003c\/p\u003e\n\u003cp\u003e\u003cimg src=\"https:\/\/www.qysea.com\/store\/res\/v6img\/248c7c3e2802e9a5.jpg\" title=\"NP4.5\" alt=\"NP4.5\"\u003e\u003cbr\u003e\u003c\/p\u003e\n\u003cp\u003e\u003cimg src=\"https:\/\/www.qysea.com\/store\/res\/v6img\/e78a51a475a50005.jpg\" title=\"NP5.5\" alt=\"NP5.5\"\u003e\u003c\/p\u003e\n\u003cp\u003e\u003cimg src=\"https:\/\/www.qysea.com\/store\/res\/v6img\/74182409aca2889e.jpg\" title=\"NP6.5\" alt=\"NP6.5\"\u003e\u003c\/p\u003e\n\u003cp\u003e\u003cimg src=\"https:\/\/www.qysea.com\/store\/res\/v6img\/27e69f2eef4a2712.jpg\" title=\"NP7\"\u003e\u003c\/p\u003e\n\u003cp\u003e\u003cimg src=\"https:\/\/www.qysea.com\/store\/res\/v6img\/653dd077ebb445e2.jpg\" title=\"NP8\"\u003e\u003c\/p\u003e\n\u003cp\u003e\u003cbr\u003e\u003c\/p\u003e\n\u003cp\u003e\u003cimg src=\"https:\/\/www.qysea.com\/store\/res\/v6img\/e795dacafc53e3d5.jpg\" title=\"NP9V2\" alt=\"NP9V2\"\u003e\u003c\/p\u003e\n\u003cp\u003e \u003c\/p\u003e\n\u003ch5\u003eProduct Specifications\u003c\/h5\u003e\n\u003cdiv class=\"sep-v6-spec\"\u003e\n\u003cdiv class=\"sep-container\"\u003e\n\u003cdiv class=\"info\"\u003e\n\u003cdiv class=\"title\"\u003eFIFISH V6 Specifications\u003c\/div\u003e\n\u003ctable\u003e\n\u003ctbody\u003e\n\u003ctr\u003e\n\u003ctd\u003eOmni-directional\u003c\/td\u003e\n\u003ctd\u003eDepth Rating\u003c\/td\u003e\n\u003c\/tr\u003e\n\u003ctr\u003e\n\u003ctd\u003e6 DOF\u003c\/td\u003e\n\u003ctd\u003e100 m (328 ft)\u003c\/td\u003e\n\u003c\/tr\u003e\n\u003ctr\u003e\n\u003ctd\u003e4 UHD Camera\u003c\/td\u003e\n\u003ctd\u003eUltra Wide-Angle Lens\u003c\/td\u003e\n\u003c\/tr\u003e\n\u003ctr\u003e\n\u003ctd\u003e12 Megapixels\u003c\/td\u003e\n\u003ctd\u003e166° FOV\u003c\/td\u003e\n\u003c\/tr\u003e\n\u003ctr\u003e\n\u003ctd\u003eRAW image\u003c\/td\u003e\n\u003ctd\u003eSlow Motion\u003c\/td\u003e\n\u003c\/tr\u003e\n\u003ctr\u003e\n\u003ctd\u003eDNG\u003c\/td\u003e\n\u003ctd\u003e120 fps\u003c\/td\u003e\n\u003c\/tr\u003e\n\u003c\/tbody\u003e\n\u003c\/table\u003e\n\u003cbr\u003e\n\u003c\/div\u003e\n\u003c\/div\u003e\n\u003c\/div\u003e\n\u003cdiv class=\"commonweb prdtparams-wrapper\"\u003e\n\u003cdiv class=\"detail-size clearfix params-item\"\u003e\n\u003ch3 class=\"m-dt\"\u003eSize\u003c\/h3\u003e\n\u003cdiv class=\"sizethumb\"\u003e\u003cimg alt=\"Size\" title=\"Size\" src=\"https:\/\/www.qysea.com\/uploads\/image\/20190408\/14\/size.jpg\"\u003e\u003c\/div\u003e\n\u003c\/div\u003e\n\u003cdiv class=\"row clearfix\"\u003e\n\u003cdiv class=\"col-md-6\"\u003e\n\u003cdiv class=\"performance clearfix params-item\"\u003e\n\u003ch3 class=\"m-dt\"\u003eROV\u003c\/h3\u003e\n\u003cdiv class=\"detailtable\"\u003e\n\u003ctable\u003e\n\u003ctbody\u003e\n\u003ctr\u003e\n\u003ctd\u003eDimension\u003c\/td\u003e\n\u003ctd colspan=\"2\"\u003e383 mm*331 mm\u003cspan\u003e*\u003c\/span\u003e143 mm (15 in\u003cspan\u003e*\u003c\/span\u003e13 in\u003cspan\u003e*\u003c\/span\u003e5 5\/8 in)\u003c\/td\u003e\n\u003c\/tr\u003e\n\u003ctr\u003e\n\u003ctd\u003eWeight\u003c\/td\u003e\n\u003ctd colspan=\"2\"\u003e3.9 kg (8 5\/8 lbs)\u003c\/td\u003e\n\u003c\/tr\u003e\n\u003ctr\u003e\n\u003ctd\u003eThrusters\u003c\/td\u003e\n\u003ctd colspan=\"2\"\u003e6 (4\u003cspan\u003e*\u003c\/span\u003eVector + 2\u003cspan\u003e*\u003c\/span\u003eHorizontal)\u003c\/td\u003e\n\u003c\/tr\u003e\n\u003ctr\u003e\n\u003ctd rowspan=\"14\"\u003eManeuverability\u003c\/td\u003e\n\u003ctd colspan=\"2\"\u003e6 DOF (Degree of Freedom):\u003c\/td\u003e\n\u003c\/tr\u003e\n\u003ctr\u003e\n\u003ctd rowspan=\"13\" colspan=\"2\"\u003eMoving: left \u0026amp; right, up \u0026amp; down, forward \u0026amp; backward, Rotation: 360° pitch, 360° roll, 360° yaw\u003cbr\u003e\u003cimg align=\"\" title=\"rov\" height=\"225\" width=\"340\" alt=\"rov\" src=\"https:\/\/www.qysea.com\/uploads\/image\/20190408\/16\/rov.jpg\"\u003e\u003cbr\u003e\n\u003c\/td\u003e\n\u003c\/tr\u003e\n\u003ctr\u003e\u003c\/tr\u003e\n\u003ctr\u003e\u003c\/tr\u003e\n\u003ctr\u003e\u003c\/tr\u003e\n\u003ctr\u003e\u003c\/tr\u003e\n\u003ctr\u003e\u003c\/tr\u003e\n\u003ctr\u003e\u003c\/tr\u003e\n\u003ctr\u003e\u003c\/tr\u003e\n\u003ctr\u003e\u003c\/tr\u003e\n\u003ctr\u003e\u003c\/tr\u003e\n\u003ctr\u003e\u003c\/tr\u003e\n\u003ctr\u003e\u003c\/tr\u003e\n\u003ctr\u003e\u003c\/tr\u003e\n\u003ctr\u003e\n\u003ctd\u003ePosture Lock™ \u003csup\u003e[1]\u003c\/sup\u003e\n\u003c\/td\u003e\n\u003ctd colspan=\"2\"\u003eAble to lock the ± 0.1° pitch angle or ± 0.1° roll angle and moving in any direction (See note 1)\u003c\/td\u003e\n\u003c\/tr\u003e\n\u003ctr\u003e\n\u003ctd\u003eHovering Accuracy\u003c\/td\u003e\n\u003ctd colspan=\"2\"\u003eAble to keep the ROV suspending in ± 1 cm\u003c\/td\u003e\n\u003c\/tr\u003e\n\u003ctr\u003e\n\u003ctd\u003eSpeed\u003c\/td\u003e\n\u003ctd colspan=\"2\"\u003eMaximum 3 knots (1.5 m\/s) in still water\u003c\/td\u003e\n\u003c\/tr\u003e\n\u003ctr\u003e\n\u003ctd\u003eDepth Rating\u003c\/td\u003e\n\u003ctd colspan=\"2\"\u003e100 m (328 ft)\u003c\/td\u003e\n\u003c\/tr\u003e\n\u003ctr\u003e\n\u003ctd\u003eOperating Temperature Range\u003csup\u003e[2]\u003c\/sup\u003e\n\u003c\/td\u003e\n\u003ctd colspan=\"2\"\u003e-10 °C ~ 60 °C (14 °F ~ 140 °F)\u003c\/td\u003e\n\u003c\/tr\u003e\n\u003ctr\u003e\n\u003ctd rowspan=\"4\"\u003eBattery\u003c\/td\u003e\n\u003ctd\u003eRated Capacity\u003c\/td\u003e\n\u003ctd\u003e9000 mAh \/ 97.2Wh\u003c\/td\u003e\n\u003c\/tr\u003e\n\u003c\/tbody\u003e\n\u003c\/table\u003e\n\u003cbr\u003e\u003cbr\u003e\n\u003c\/div\u003e\n\u003c\/div\u003e\n\u003cdiv class=\"controller clearfix params-item\"\u003e\n\u003ch3 class=\"m-dt\"\u003eRemote Controller\u003c\/h3\u003e\n\u003cdiv class=\"detailtable\"\u003e\n\u003ctable\u003e\n\u003ctbody\u003e\n\u003ctr\u003e\n\u003ctd\u003eWireless\u003c\/td\u003e\n\u003ctd\u003eWi-Fi supported\u003c\/td\u003e\n\u003c\/tr\u003e\n\u003ctr\u003e\n\u003ctd\u003eBattery Life\u003c\/td\u003e\n\u003ctd\u003eUp to 4 hours\u003c\/td\u003e\n\u003c\/tr\u003e\n\u003ctr\u003e\n\u003ctd\u003eCopy\u003c\/td\u003e\n\u003ctd\u003eMicro SD card Slot\u003c\/td\u003e\n\u003c\/tr\u003e\n\u003ctr\u003e\n\u003ctd\u003e\u0026amp; Download\u003c\/td\u003e\n\u003ctd\u003eFormat in FAT32 (no greater than 32GB)\u003cbr\u003eFormat in EXFAT (no greater than 64GB)\u003c\/td\u003e\n\u003c\/tr\u003e\n\u003c\/tbody\u003e\n\u003c\/table\u003e\n\u003cbr\u003e\n\u003c\/div\u003e\n\u003c\/div\u003e\n\u003cdiv class=\"charger clearfix params-item\"\u003e\n\u003ch3 class=\"m-dt\"\u003eTether\u003c\/h3\u003e\n\u003cdiv class=\"detailtable\"\u003e\n\u003ctable\u003e\n\u003ctbody\u003e\n\u003ctr\u003e\n\u003ctd rowspan=\"2\"\u003eLength\u003c\/td\u003e\n\u003ctd\u003eStandard 100 m (328 ft) on Spool\u003c\/td\u003e\n\u003c\/tr\u003e\n\u003ctr\u003e\n\u003ctd\u003eCustomized Accepted\u003c\/td\u003e\n\u003c\/tr\u003e\n\u003ctr\u003e\n\u003ctd\u003eBreaking Force\u003c\/td\u003e\n\u003ctd\u003e80 kgf\u003c\/td\u003e\n\u003c\/tr\u003e\n\u003c\/tbody\u003e\n\u003c\/table\u003e\n\u003cbr\u003e\n\u003c\/div\u003e\n\u003c\/div\u003e\n\u003cdiv class=\"performance clearfix params-item\"\u003e\n\u003ch3 class=\"m-dt\"\u003eAPP\u003c\/h3\u003e\n\u003cdiv class=\"detailtable\"\u003e\n\u003ctable\u003e\n\u003ctbody\u003e\n\u003ctr\u003e\n\u003ctd rowspan=\"4\"\u003e\u003cspan\u003eSystem\u003c\/span\u003e\u003c\/td\u003e\n\u003ctd\u003e\u003cspan\u003eiOS 10.0.0 or later\u003c\/span\u003e\u003c\/td\u003e\n\u003c\/tr\u003e\n\u003ctr\u003e\n\u003ctd\u003e\u003cspan\u003eCompatible with iPhone 6S or later\u003c\/span\u003e\u003c\/td\u003e\n\u003c\/tr\u003e\n\u003ctr\u003e\n\u003ctd\u003e\u003cspan\u003eAndroid 5.0 or later\u003c\/span\u003e\u003c\/td\u003e\n\u003c\/tr\u003e\n\u003ctr\u003e\n\u003ctd\u003e\u003cspan\u003eCompatible with Samsung S7 or later, Huawei Mate 9 or later, Mi Mix 2 or later\u003c\/span\u003e\u003c\/td\u003e\n\u003c\/tr\u003e\n\u003ctr\u003e\n\u003ctd rowspan=\"2\"\u003e\u003cspan\u003eLIVE-Streaming\u003c\/span\u003e\u003c\/td\u003e\n\u003ctd\u003e\u003cspan\u003e720P, 25\/30fps\u003c\/span\u003e\u003c\/td\u003e\n\u003c\/tr\u003e\n\u003ctr\u003e\n\u003ctd\u003e\u003cspan\u003e480P, 25\/30fps\u003c\/span\u003e\u003c\/td\u003e\n\u003c\/tr\u003e\n\u003ctr\u003e\n\u003ctd\u003e\u003cspan\u003eStream User NO.\u003c\/span\u003e\u003c\/td\u003e\n\u003ctd\u003e\u003cspan\u003eMax 2 Devices\u003c\/span\u003e\u003c\/td\u003e\n\u003c\/tr\u003e\n\u003c\/tbody\u003e\n\u003c\/table\u003e\n\u003c\/div\u003e\n\u003c\/div\u003e\n\u003c\/div\u003e\n\u003cdiv class=\"col-md-6\"\u003e\n\u003cdiv class=\"lights clearfix params-item\"\u003e\n\u003ch3 class=\"m-dt\"\u003eCamera\u003c\/h3\u003e\n\u003cdiv class=\"detailtable\"\u003e\n\u003ctable\u003e\n\u003ctbody\u003e\n\u003ctr\u003e\n\u003ctd rowspan=\"20\"\u003eCamera\u003c\/td\u003e\n\u003ctd rowspan=\"3\"\u003eSensor\u003c\/td\u003e\n\u003ctd colspan=\"2\"\u003e1\/2.3" SONY CMOS\u003c\/td\u003e\n\u003c\/tr\u003e\n\u003ctr\u003e\n\u003ctd\u003eEffective Pixels\u003c\/td\u003e\n\u003ctd\u003e12MP\u003c\/td\u003e\n\u003c\/tr\u003e\n\u003ctr\u003e\n\u003ctd\u003eISO Range\u003c\/td\u003e\n\u003ctd\u003e100-6400 in Auto \/ Manual\u003c\/td\u003e\n\u003c\/tr\u003e\n\u003ctr\u003e\n\u003ctd rowspan=\"3\"\u003eLens\u003c\/td\u003e\n\u003ctd\u003eField of View\u003c\/td\u003e\n\u003ctd\u003e166°\u003c\/td\u003e\n\u003c\/tr\u003e\n\u003ctr\u003e\n\u003ctd\u003eAperture\u003c\/td\u003e\n\u003ctd\u003ef\/2.5\u003c\/td\u003e\n\u003c\/tr\u003e\n\u003ctr\u003e\n\u003ctd\u003eMinimum Focusing Distance\u003c\/td\u003e\n\u003ctd\u003e0.4 m\u003c\/td\u003e\n\u003c\/tr\u003e\n\u003ctr\u003e\n\u003ctd\u003eElectronic\u003c\/td\u003e\n\u003ctd rowspan=\"2\" colspan=\"2\"\u003e5~1\/5000 second\u003c\/td\u003e\n\u003c\/tr\u003e\n\u003ctr\u003e\n\u003ctd\u003eShutter Speed\u003c\/td\u003e\n\u003c\/tr\u003e\n\u003ctr\u003e\n\u003ctd\u003eBurst shooting\u003c\/td\u003e\n\u003ctd colspan=\"2\"\u003e1 \/ 3 \/ 5 \/ 7 \/ 10 frames\u003c\/td\u003e\n\u003c\/tr\u003e\n\u003ctr\u003e\n\u003ctd\u003eWhite Balance\u003c\/td\u003e\n\u003ctd colspan=\"2\"\u003e2500K ~ 8000K\u003c\/td\u003e\n\u003c\/tr\u003e\n\u003ctr\u003e\n\u003ctd\u003e(WB)\u003c\/td\u003e\n\u003ctd colspan=\"2\"\u003eAuto \/ Manual\u003c\/td\u003e\n\u003c\/tr\u003e\n\u003ctr\u003e\n\u003ctd\u003eExposure Compensation\u003c\/td\u003e\n\u003ctd colspan=\"2\"\u003e- 3 EV ~ + 3 EV\u003c\/td\u003e\n\u003c\/tr\u003e\n\u003ctr\u003e\n\u003ctd\u003ePhoto Resolution\u003c\/td\u003e\n\u003ctd colspan=\"2\"\u003e4:3: 4000 x 3000\u003c\/td\u003e\n\u003c\/tr\u003e\n\u003ctr\u003e\n\u003ctd\u003ePhoto Format\u003c\/td\u003e\n\u003ctd colspan=\"2\"\u003eJPEG, DNG\u003c\/td\u003e\n\u003c\/tr\u003e\n\u003ctr\u003e\n\u003ctd rowspan=\"3\"\u003eVideo Resolution\u003c\/td\u003e\n\u003ctd colspan=\"2\"\u003e4K UHD: 25\/30 fps\u003c\/td\u003e\n\u003c\/tr\u003e\n\u003ctr\u003e\n\u003ctd colspan=\"2\"\u003e1080P FHD: 25\/30\/50\/60\/100\/120 fps\u003c\/td\u003e\n\u003c\/tr\u003e\n\u003ctr\u003e\n\u003ctd colspan=\"2\"\u003e720P HD: 25\/30\/50\/60\/100\/120\/200\/240 fps\u003c\/td\u003e\n\u003c\/tr\u003e\n\u003ctr\u003e\n\u003ctd\u003eVideo Format\u003c\/td\u003e\n\u003ctd colspan=\"2\"\u003eMPEG4- AVC\/H.264, HEVC\/H.265\u003c\/td\u003e\n\u003c\/tr\u003e\n\u003ctr\u003e\n\u003ctd\u003eStabilization\u003c\/td\u003e\n\u003ctd colspan=\"2\"\u003eEIS (Electronic Image Stabilization)\u003c\/td\u003e\n\u003c\/tr\u003e\n\u003ctr\u003e\n\u003ctd\u003eInternal Storage\u003c\/td\u003e\n\u003ctd colspan=\"2\"\u003e64 GB standard\u003c\/td\u003e\n\u003c\/tr\u003e\n\u003ctr\u003e\n\u003ctd rowspan=\"5\"\u003eLED Beams\u003c\/td\u003e\n\u003ctd\u003eBrightness\u003c\/td\u003e\n\u003ctd colspan=\"2\"\u003e4000 lumen\u003c\/td\u003e\n\u003c\/tr\u003e\n\u003ctr\u003e\n\u003ctd\u003eCCT\u003c\/td\u003e\n\u003ctd colspan=\"2\"\u003e5500 K (\u003cspan\u003eCorrelated Color Temperature)\u003c\/span\u003e\n\u003c\/td\u003e\n\u003c\/tr\u003e\n\u003ctr\u003e\n\u003ctd\u003eBeam Angle\u003c\/td\u003e\n\u003ctd colspan=\"2\"\u003e120°\u003c\/td\u003e\n\u003c\/tr\u003e\n\u003ctr\u003e\n\u003ctd\u003eDimming\u003c\/td\u003e\n\u003ctd colspan=\"2\"\u003e3\u003c\/td\u003e\n\u003c\/tr\u003e\n\u003c\/tbody\u003e\n\u003c\/table\u003e\n\u003cbr\u003e\n\u003c\/div\u003e\n\u003c\/div\u003e\n\u003cdiv class=\"tether clearfix params-item\"\u003e\n\u003ch3 class=\"m-dt\"\u003eCharger\/AC Adapter\u003c\/h3\u003e\n\u003cdiv class=\"detailtable\"\u003e\n\u003ctable\u003e\n\u003ctbody\u003e\n\u003ctr\u003e\n\u003ctd rowspan=\"2\"\u003eROV\u003c\/td\u003e\n\u003ctd\u003eInput: 100-240 V, 50\/60 Hz,1.3 A MAX\u003c\/td\u003e\n\u003c\/tr\u003e\n\u003ctr\u003e\n\u003ctd\u003eOutput: 12.9 V ⎓ 6A\u003c\/td\u003e\n\u003c\/tr\u003e\n\u003ctr\u003e\n\u003ctd rowspan=\"2\"\u003eRC\u003c\/td\u003e\n\u003ctd\u003eInput: 100-240 V, 50\/60 Hz,0.5 A MAX\u003c\/td\u003e\n\u003c\/tr\u003e\n\u003ctr\u003e\n\u003ctd\u003eOutput: 5 V ⎓ 3A\u003c\/td\u003e\n\u003c\/tr\u003e\n\u003c\/tbody\u003e\n\u003c\/table\u003e\n\u003cbr\u003e\n\u003c\/div\u003e\n\u003c\/div\u003e\n\u003cdiv class=\"charger clearfix params-item\"\u003e\n\u003ch3 class=\"m-dt\"\u003eSpool\u003c\/h3\u003e\n\u003cdiv class=\"detailtable\"\u003e\n\u003ctable\u003e\n\u003ctbody\u003e\n\u003ctr\u003e\n\u003ctd\u003eDimension\u003c\/td\u003e\n\u003ctd\u003e\u003c\/td\u003e\n\u003c\/tr\u003e\n\u003ctr\u003e\n\u003ctd\u003eFoldable handle\u003c\/td\u003e\n\u003ctd\u003e\u003c\/td\u003e\n\u003c\/tr\u003e\n\u003ctr\u003e\n\u003ctd rowspan=\"2\"\u003eCapability\u003c\/td\u003e\n\u003ctd rowspan=\"2\"\u003eHold up to 100 m tether (328ft)\u003c\/td\u003e\n\u003c\/tr\u003e\n\u003ctr\u003e\u003c\/tr\u003e\n\u003c\/tbody\u003e\n\u003c\/table\u003e\n\u003c\/div\u003e\n\u003c\/div\u003e\n\u003c\/div\u003e\n\u003cdiv class=\"col-md-12\"\u003e\n\u003cdiv class=\"charger clearfix params-item\"\u003e\n\u003cdiv class=\"detailtable\"\u003e\n\u003cbr\u003e\u003cbr\u003eNote1: Posture Lock™ is the Shenzhen Qi Yuan Science Technology Co., Ltd. patented Sensing Algorithm. \u003cbr\u003eNote2: \u003cbr\u003e   a) The design operating temperature range is -10 to 60 ºC (14 to 140 ºF). Please make sure every part is in such condition.\u003cbr\u003e   Tips: Extreme conditions, such as, High Mountains, Antarctica, Arctic Circle. Keep the ROV in the room temperature to start and turn on, then deploy immediately into water. Have a cabin or sleeping bag to keep the spool, remote controller and smart devices in working conditions.\u003cbr\u003e   b) Battery charging shall be in the 10 to 45 ºC (50 to 113 ºF).\u003c\/div\u003e\n\u003c\/div\u003e\n\u003c\/div\u003e\n\u003c\/div\u003e\n\u003c\/div\u003e\n\u003cp\u003e \u003c\/p\u003e\n\u003ch5\u003eWarranty\u003c\/h5\u003e\n\u003cp\u003eWarranty - 12 Months\u003c\/p\u003e\n\u003cp\u003e \u003c\/p\u003e\n\u003ch5\u003eIn The Box\u003c\/h5\u003e\n\u003ctable\u003e\n\u003cthead\u003e\n\u003ctr\u003e\n\u003cth colspan=\"2\"\u003eAccessories list\u003c\/th\u003e\n\u003cth\u003eQuantity\u003c\/th\u003e\n\u003c\/tr\u003e\n\u003c\/thead\u003e\n\u003ctbody\u003e\n\u003ctr\u003e\n\u003ctd\u003e\u003cimg height=\"200\" width=\"200\" src=\"https:\/\/www.qysea.com\/store\/res\/201907\/07\/4fedca6ee628b950.jpg\" alt=\"\"\u003e\u003c\/td\u003e\n\u003ctd\u003eFIFISH V6 Underwater Robot\u003c\/td\u003e\n\u003ctd\u003e×1\u003c\/td\u003e\n\u003c\/tr\u003e\n\u003ctr\u003e\n\u003ctd\u003e\u003cimg height=\"205\" width=\"205\" src=\"https:\/\/www.qysea.com\/store\/res\/201905\/22\/5c974cd6a8422d7b.jpg\" alt=\"\"\u003e\u003c\/td\u003e\n\u003ctd\u003eRemote Controller\u003c\/td\u003e\n\u003ctd\u003e×1\u003c\/td\u003e\n\u003c\/tr\u003e\n\u003ctr\u003e\n\u003ctd\u003e\u003cimg height=\"185\" width=\"185\" src=\"https:\/\/www.qysea.com\/store\/res\/202006\/11\/a24482fa5d018c62.jpg\" alt=\"\"\u003e\u003c\/td\u003e\n\u003ctd\u003e100M Tether With Reel\u003c\/td\u003e\n\u003ctd\u003e×1\u003c\/td\u003e\n\u003c\/tr\u003e\n\u003ctr\u003e\n\u003ctd\u003e\u003cimg height=\"131\" width=\"197\" src=\"https:\/\/www.qysea.com\/store\/res\/202101\/04\/bccf6c685447bd93.jpg\" alt=\"\"\u003e\u003c\/td\u003e\n\u003ctd\u003eVR headtracking box\u003c\/td\u003e\n\u003ctd\u003e×1\u003c\/td\u003e\n\u003c\/tr\u003e\n\u003ctr\u003e\n\u003ctd\u003e\u003cimg height=\"202\" width=\"202\" src=\"https:\/\/www.qysea.com\/store\/res\/201905\/22\/22c22800a81172b9.jpg\" alt=\"\"\u003e\u003c\/td\u003e\n\u003ctd\u003eUnderwater Robot Charger\u003c\/td\u003e\n\u003ctd\u003e×1\u003c\/td\u003e\n\u003c\/tr\u003e\n\u003ctr\u003e\n\u003ctd\u003e\u003cimg height=\"191\" width=\"191\" src=\"https:\/\/www.qysea.com\/store\/res\/201907\/07\/e492ea108f804a89.jpg\" alt=\"\"\u003e\u003c\/td\u003e\n\u003ctd\u003eRemote Control Charger\u003c\/td\u003e\n\u003ctd\u003e×1\u003c\/td\u003e\n\u003c\/tr\u003e\n\u003c\/tbody\u003e\n\u003c\/table\u003e\n\u003cp\u003e \u003c\/p\u003e\n\u003c!-- \/TABS --\u003e","published_at":"2021-06-08T17:17:43+12:00","created_at":"2021-06-08T17:17:41+12:00","vendor":"QYSEA","type":"Drone","tags":["FIFISH","not-on-sale"],"price":329900,"price_min":329900,"price_max":329900,"available":true,"price_varies":false,"compare_at_price":null,"compare_at_price_min":0,"compare_at_price_max":0,"compare_at_price_varies":false,"variants":[{"id":40067218309274,"title":"Default Title","option1":"Default Title","option2":null,"option3":null,"sku":"FIFISH V6","requires_shipping":true,"taxable":true,"featured_image":null,"available":true,"name":"QYSEA FIFISH V6 Underwater ROV","public_title":null,"options":["Default Title"],"price":329900,"weight":0,"compare_at_price":null,"inventory_management":"shopify","barcode":""}],"images":["\/\/cdn.shopify.com\/s\/files\/1\/0266\/5231\/1627\/products\/61PdwMTGWkL._AC_SL1500.jpg?v=1628151413","\/\/cdn.shopify.com\/s\/files\/1\/0266\/5231\/1627\/products\/61nGGp8LX6L._AC_SL1500.jpg?v=1628151414","\/\/cdn.shopify.com\/s\/files\/1\/0266\/5231\/1627\/products\/61GDzJqxtIL._AC_SL1500.jpg?v=1628151414","\/\/cdn.shopify.com\/s\/files\/1\/0266\/5231\/1627\/products\/61HEmWZuhpL._AC_SL1500.jpg?v=1628151414","\/\/cdn.shopify.com\/s\/files\/1\/0266\/5231\/1627\/products\/717pIGeUEfL._AC_SL1500.jpg?v=1628151414","\/\/cdn.shopify.com\/s\/files\/1\/0266\/5231\/1627\/products\/61R7_NwHBCL._AC_SL1500.jpg?v=1628151414","\/\/cdn.shopify.com\/s\/files\/1\/0266\/5231\/1627\/products\/71kn1DOCsmL._AC_SL1500.jpg?v=1628151415","\/\/cdn.shopify.com\/s\/files\/1\/0266\/5231\/1627\/products\/71N2ePg9JeL._AC_SL1500.jpg?v=1628151415"],"featured_image":"\/\/cdn.shopify.com\/s\/files\/1\/0266\/5231\/1627\/products\/61PdwMTGWkL._AC_SL1500.jpg?v=1628151413","options":["Title"],"media":[{"alt":"QYSEA FIFISH V6 Underwater ROV - Actiontech","id":21893680529562,"position":1,"preview_image":{"aspect_ratio":1.39,"height":879,"width":1222,"src":"https:\/\/cdn.shopify.com\/s\/files\/1\/0266\/5231\/1627\/products\/61PdwMTGWkL._AC_SL1500.jpg?v=1628151413"},"aspect_ratio":1.39,"height":879,"media_type":"image","src":"https:\/\/cdn.shopify.com\/s\/files\/1\/0266\/5231\/1627\/products\/61PdwMTGWkL._AC_SL1500.jpg?v=1628151413","width":1222},{"alt":"QYSEA FIFISH V6 Underwater ROV - Actiontech","id":21893680496794,"position":2,"preview_image":{"aspect_ratio":1.707,"height":724,"width":1236,"src":"https:\/\/cdn.shopify.com\/s\/files\/1\/0266\/5231\/1627\/products\/61nGGp8LX6L._AC_SL1500.jpg?v=1628151414"},"aspect_ratio":1.707,"height":724,"media_type":"image","src":"https:\/\/cdn.shopify.com\/s\/files\/1\/0266\/5231\/1627\/products\/61nGGp8LX6L._AC_SL1500.jpg?v=1628151414","width":1236},{"alt":"QYSEA FIFISH V6 Underwater ROV - Actiontech","id":21893680431258,"position":3,"preview_image":{"aspect_ratio":2.355,"height":637,"width":1500,"src":"https:\/\/cdn.shopify.com\/s\/files\/1\/0266\/5231\/1627\/products\/61GDzJqxtIL._AC_SL1500.jpg?v=1628151414"},"aspect_ratio":2.355,"height":637,"media_type":"image","src":"https:\/\/cdn.shopify.com\/s\/files\/1\/0266\/5231\/1627\/products\/61GDzJqxtIL._AC_SL1500.jpg?v=1628151414","width":1500},{"alt":"QYSEA FIFISH V6 Underwater ROV - Actiontech","id":21893680464026,"position":4,"preview_image":{"aspect_ratio":2.65,"height":548,"width":1452,"src":"https:\/\/cdn.shopify.com\/s\/files\/1\/0266\/5231\/1627\/products\/61HEmWZuhpL._AC_SL1500.jpg?v=1628151414"},"aspect_ratio":2.65,"height":548,"media_type":"image","src":"https:\/\/cdn.shopify.com\/s\/files\/1\/0266\/5231\/1627\/products\/61HEmWZuhpL._AC_SL1500.jpg?v=1628151414","width":1452},{"alt":"QYSEA FIFISH V6 Underwater ROV - Actiontech","id":21893680660634,"position":5,"preview_image":{"aspect_ratio":2.113,"height":710,"width":1500,"src":"https:\/\/cdn.shopify.com\/s\/files\/1\/0266\/5231\/1627\/products\/717pIGeUEfL._AC_SL1500.jpg?v=1628151414"},"aspect_ratio":2.113,"height":710,"media_type":"image","src":"https:\/\/cdn.shopify.com\/s\/files\/1\/0266\/5231\/1627\/products\/717pIGeUEfL._AC_SL1500.jpg?v=1628151414","width":1500},{"alt":"QYSEA FIFISH V6 Underwater ROV - Actiontech","id":21893680562330,"position":6,"preview_image":{"aspect_ratio":1.171,"height":1177,"width":1378,"src":"https:\/\/cdn.shopify.com\/s\/files\/1\/0266\/5231\/1627\/products\/61R7_NwHBCL._AC_SL1500.jpg?v=1628151414"},"aspect_ratio":1.171,"height":1177,"media_type":"image","src":"https:\/\/cdn.shopify.com\/s\/files\/1\/0266\/5231\/1627\/products\/61R7_NwHBCL._AC_SL1500.jpg?v=1628151414","width":1378},{"alt":"QYSEA FIFISH V6 Underwater ROV - Actiontech","id":21893680595098,"position":7,"preview_image":{"aspect_ratio":0.89,"height":1500,"width":1335,"src":"https:\/\/cdn.shopify.com\/s\/files\/1\/0266\/5231\/1627\/products\/71kn1DOCsmL._AC_SL1500.jpg?v=1628151415"},"aspect_ratio":0.89,"height":1500,"media_type":"image","src":"https:\/\/cdn.shopify.com\/s\/files\/1\/0266\/5231\/1627\/products\/71kn1DOCsmL._AC_SL1500.jpg?v=1628151415","width":1335},{"alt":"QYSEA FIFISH V6 Underwater ROV - Actiontech","id":21893680627866,"position":8,"preview_image":{"aspect_ratio":2.044,"height":734,"width":1500,"src":"https:\/\/cdn.shopify.com\/s\/files\/1\/0266\/5231\/1627\/products\/71N2ePg9JeL._AC_SL1500.jpg?v=1628151415"},"aspect_ratio":2.044,"height":734,"media_type":"image","src":"https:\/\/cdn.shopify.com\/s\/files\/1\/0266\/5231\/1627\/products\/71N2ePg9JeL._AC_SL1500.jpg?v=1628151415","width":1500}],"content":"\u003cmeta charset=\"UTF-8\"\u003e\n\u003cul class=\"canshu clear\" data-mce-fragment=\"1\"\u003e\n\u003cli data-mce-fragment=\"1\"\u003e\u003cspan data-mce-fragment=\"1\"\u003e6 Degrees of Freedom\u003c\/span\u003e\u003c\/li\u003e\n\u003cli data-mce-fragment=\"1\"\u003e\u003cspan data-mce-fragment=\"1\"\u003eFIFISH Posture Lock™\u003c\/span\u003e\u003c\/li\u003e\n\u003cli data-mce-fragment=\"1\"\u003e\u003cspan data-mce-fragment=\"1\"\u003eHead Tracking\u003c\/span\u003e\u003c\/li\u003e\n\u003cli data-mce-fragment=\"1\"\u003e\u003cspan data-mce-fragment=\"1\"\u003e100m Depth Rating\u003c\/span\u003e\u003c\/li\u003e\n\u003cli data-mce-fragment=\"1\"\u003e\u003cspan data-mce-fragment=\"1\"\u003eSlow motion at 240 fps\u003c\/span\u003e\u003c\/li\u003e\n\u003cli data-mce-fragment=\"1\"\u003e\u003cspan data-mce-fragment=\"1\"\u003e12 Megapixels\u003c\/span\u003e\u003c\/li\u003e\n\u003cli data-mce-fragment=\"1\"\u003e\u003cspan data-mce-fragment=\"1\"\u003e4K UHD Camera\u003c\/span\u003e\u003c\/li\u003e\n\u003cli data-mce-fragment=\"1\"\u003e\u003cspan data-mce-fragment=\"1\"\u003e166° FOV\u003c\/span\u003e\u003c\/li\u003e\n\u003cli data-mce-fragment=\"1\"\u003e\u003cspan data-mce-fragment=\"1\"\u003eRAW in DNG Format\u003c\/span\u003e\u003c\/li\u003e\n\u003cli data-mce-fragment=\"1\"\u003e\u003cspan data-mce-fragment=\"1\"\u003eQuick Charge\u003c\/span\u003e\u003c\/li\u003e\n\u003cli data-mce-fragment=\"1\"\u003e\u003cspan data-mce-fragment=\"1\"\u003e4000 Lumen LED\u003c\/span\u003e\u003c\/li\u003e\n\u003cli data-mce-fragment=\"1\"\u003e\u003cspan data-mce-fragment=\"1\"\u003eCCT 5500 K\u003c\/span\u003e\u003c\/li\u003e\n\u003c\/ul\u003e\n\u003cp\u003e \u003c\/p\u003e\n\u003cp\u003e\u003cspan style=\"color: #ff2a00;\"\u003eAvailability: Back Order - ETA End of June\u003c\/span\u003e\u003c\/p\u003e\n\u003c!-- split --\u003e \u003c!-- TABS --\u003e\n\u003ch5\u003eProduct Description\u003c\/h5\u003e\n\u003cp\u003e\u003cimg src=\"https:\/\/www.qysea.com\/store\/res\/v6img\/f36488a88ca029b1.jpg\" title=\"NP1\" alt=\"NP1\"\u003e\u003c\/p\u003e\n\u003cp\u003e\u003cimg src=\"https:\/\/www.qysea.com\/store\/res\/v6img\/ea219edfb3c79c43.jpg\" title=\"NP2\"\u003e\u003c\/p\u003e\n\u003cp\u003e\u003cimg src=\"https:\/\/www.qysea.com\/store\/res\/v6img\/01e28c62e2253133.jpg\" title=\"NP3\"\u003e\u003c\/p\u003e\n\u003cp\u003e\u003cimg src=\"https:\/\/www.qysea.com\/store\/res\/v6img\/248c7c3e2802e9a5.jpg\" title=\"NP4.5\" alt=\"NP4.5\"\u003e\u003cbr\u003e\u003c\/p\u003e\n\u003cp\u003e\u003cimg src=\"https:\/\/www.qysea.com\/store\/res\/v6img\/e78a51a475a50005.jpg\" title=\"NP5.5\" alt=\"NP5.5\"\u003e\u003c\/p\u003e\n\u003cp\u003e\u003cimg src=\"https:\/\/www.qysea.com\/store\/res\/v6img\/74182409aca2889e.jpg\" title=\"NP6.5\" alt=\"NP6.5\"\u003e\u003c\/p\u003e\n\u003cp\u003e\u003cimg src=\"https:\/\/www.qysea.com\/store\/res\/v6img\/27e69f2eef4a2712.jpg\" title=\"NP7\"\u003e\u003c\/p\u003e\n\u003cp\u003e\u003cimg src=\"https:\/\/www.qysea.com\/store\/res\/v6img\/653dd077ebb445e2.jpg\" title=\"NP8\"\u003e\u003c\/p\u003e\n\u003cp\u003e\u003cbr\u003e\u003c\/p\u003e\n\u003cp\u003e\u003cimg src=\"https:\/\/www.qysea.com\/store\/res\/v6img\/e795dacafc53e3d5.jpg\" title=\"NP9V2\" alt=\"NP9V2\"\u003e\u003c\/p\u003e\n\u003cp\u003e \u003c\/p\u003e\n\u003ch5\u003eProduct Specifications\u003c\/h5\u003e\n\u003cdiv class=\"sep-v6-spec\"\u003e\n\u003cdiv class=\"sep-container\"\u003e\n\u003cdiv class=\"info\"\u003e\n\u003cdiv class=\"title\"\u003eFIFISH V6 Specifications\u003c\/div\u003e\n\u003ctable\u003e\n\u003ctbody\u003e\n\u003ctr\u003e\n\u003ctd\u003eOmni-directional\u003c\/td\u003e\n\u003ctd\u003eDepth Rating\u003c\/td\u003e\n\u003c\/tr\u003e\n\u003ctr\u003e\n\u003ctd\u003e6 DOF\u003c\/td\u003e\n\u003ctd\u003e100 m (328 ft)\u003c\/td\u003e\n\u003c\/tr\u003e\n\u003ctr\u003e\n\u003ctd\u003e4 UHD Camera\u003c\/td\u003e\n\u003ctd\u003eUltra Wide-Angle Lens\u003c\/td\u003e\n\u003c\/tr\u003e\n\u003ctr\u003e\n\u003ctd\u003e12 Megapixels\u003c\/td\u003e\n\u003ctd\u003e166° FOV\u003c\/td\u003e\n\u003c\/tr\u003e\n\u003ctr\u003e\n\u003ctd\u003eRAW image\u003c\/td\u003e\n\u003ctd\u003eSlow Motion\u003c\/td\u003e\n\u003c\/tr\u003e\n\u003ctr\u003e\n\u003ctd\u003eDNG\u003c\/td\u003e\n\u003ctd\u003e120 fps\u003c\/td\u003e\n\u003c\/tr\u003e\n\u003c\/tbody\u003e\n\u003c\/table\u003e\n\u003cbr\u003e\n\u003c\/div\u003e\n\u003c\/div\u003e\n\u003c\/div\u003e\n\u003cdiv class=\"commonweb prdtparams-wrapper\"\u003e\n\u003cdiv class=\"detail-size clearfix params-item\"\u003e\n\u003ch3 class=\"m-dt\"\u003eSize\u003c\/h3\u003e\n\u003cdiv class=\"sizethumb\"\u003e\u003cimg alt=\"Size\" title=\"Size\" src=\"https:\/\/www.qysea.com\/uploads\/image\/20190408\/14\/size.jpg\"\u003e\u003c\/div\u003e\n\u003c\/div\u003e\n\u003cdiv class=\"row clearfix\"\u003e\n\u003cdiv class=\"col-md-6\"\u003e\n\u003cdiv class=\"performance clearfix params-item\"\u003e\n\u003ch3 class=\"m-dt\"\u003eROV\u003c\/h3\u003e\n\u003cdiv class=\"detailtable\"\u003e\n\u003ctable\u003e\n\u003ctbody\u003e\n\u003ctr\u003e\n\u003ctd\u003eDimension\u003c\/td\u003e\n\u003ctd colspan=\"2\"\u003e383 mm*331 mm\u003cspan\u003e*\u003c\/span\u003e143 mm (15 in\u003cspan\u003e*\u003c\/span\u003e13 in\u003cspan\u003e*\u003c\/span\u003e5 5\/8 in)\u003c\/td\u003e\n\u003c\/tr\u003e\n\u003ctr\u003e\n\u003ctd\u003eWeight\u003c\/td\u003e\n\u003ctd colspan=\"2\"\u003e3.9 kg (8 5\/8 lbs)\u003c\/td\u003e\n\u003c\/tr\u003e\n\u003ctr\u003e\n\u003ctd\u003eThrusters\u003c\/td\u003e\n\u003ctd colspan=\"2\"\u003e6 (4\u003cspan\u003e*\u003c\/span\u003eVector + 2\u003cspan\u003e*\u003c\/span\u003eHorizontal)\u003c\/td\u003e\n\u003c\/tr\u003e\n\u003ctr\u003e\n\u003ctd rowspan=\"14\"\u003eManeuverability\u003c\/td\u003e\n\u003ctd colspan=\"2\"\u003e6 DOF (Degree of Freedom):\u003c\/td\u003e\n\u003c\/tr\u003e\n\u003ctr\u003e\n\u003ctd rowspan=\"13\" colspan=\"2\"\u003eMoving: left \u0026amp; right, up \u0026amp; down, forward \u0026amp; backward, Rotation: 360° pitch, 360° roll, 360° yaw\u003cbr\u003e\u003cimg align=\"\" title=\"rov\" height=\"225\" width=\"340\" alt=\"rov\" src=\"https:\/\/www.qysea.com\/uploads\/image\/20190408\/16\/rov.jpg\"\u003e\u003cbr\u003e\n\u003c\/td\u003e\n\u003c\/tr\u003e\n\u003ctr\u003e\u003c\/tr\u003e\n\u003ctr\u003e\u003c\/tr\u003e\n\u003ctr\u003e\u003c\/tr\u003e\n\u003ctr\u003e\u003c\/tr\u003e\n\u003ctr\u003e\u003c\/tr\u003e\n\u003ctr\u003e\u003c\/tr\u003e\n\u003ctr\u003e\u003c\/tr\u003e\n\u003ctr\u003e\u003c\/tr\u003e\n\u003ctr\u003e\u003c\/tr\u003e\n\u003ctr\u003e\u003c\/tr\u003e\n\u003ctr\u003e\u003c\/tr\u003e\n\u003ctr\u003e\u003c\/tr\u003e\n\u003ctr\u003e\n\u003ctd\u003ePosture Lock™ \u003csup\u003e[1]\u003c\/sup\u003e\n\u003c\/td\u003e\n\u003ctd colspan=\"2\"\u003eAble to lock the ± 0.1° pitch angle or ± 0.1° roll angle and moving in any direction (See note 1)\u003c\/td\u003e\n\u003c\/tr\u003e\n\u003ctr\u003e\n\u003ctd\u003eHovering Accuracy\u003c\/td\u003e\n\u003ctd colspan=\"2\"\u003eAble to keep the ROV suspending in ± 1 cm\u003c\/td\u003e\n\u003c\/tr\u003e\n\u003ctr\u003e\n\u003ctd\u003eSpeed\u003c\/td\u003e\n\u003ctd colspan=\"2\"\u003eMaximum 3 knots (1.5 m\/s) in still water\u003c\/td\u003e\n\u003c\/tr\u003e\n\u003ctr\u003e\n\u003ctd\u003eDepth Rating\u003c\/td\u003e\n\u003ctd colspan=\"2\"\u003e100 m (328 ft)\u003c\/td\u003e\n\u003c\/tr\u003e\n\u003ctr\u003e\n\u003ctd\u003eOperating Temperature Range\u003csup\u003e[2]\u003c\/sup\u003e\n\u003c\/td\u003e\n\u003ctd colspan=\"2\"\u003e-10 °C ~ 60 °C (14 °F ~ 140 °F)\u003c\/td\u003e\n\u003c\/tr\u003e\n\u003ctr\u003e\n\u003ctd rowspan=\"4\"\u003eBattery\u003c\/td\u003e\n\u003ctd\u003eRated Capacity\u003c\/td\u003e\n\u003ctd\u003e9000 mAh \/ 97.2Wh\u003c\/td\u003e\n\u003c\/tr\u003e\n\u003c\/tbody\u003e\n\u003c\/table\u003e\n\u003cbr\u003e\u003cbr\u003e\n\u003c\/div\u003e\n\u003c\/div\u003e\n\u003cdiv class=\"controller clearfix params-item\"\u003e\n\u003ch3 class=\"m-dt\"\u003eRemote Controller\u003c\/h3\u003e\n\u003cdiv class=\"detailtable\"\u003e\n\u003ctable\u003e\n\u003ctbody\u003e\n\u003ctr\u003e\n\u003ctd\u003eWireless\u003c\/td\u003e\n\u003ctd\u003eWi-Fi supported\u003c\/td\u003e\n\u003c\/tr\u003e\n\u003ctr\u003e\n\u003ctd\u003eBattery Life\u003c\/td\u003e\n\u003ctd\u003eUp to 4 hours\u003c\/td\u003e\n\u003c\/tr\u003e\n\u003ctr\u003e\n\u003ctd\u003eCopy\u003c\/td\u003e\n\u003ctd\u003eMicro SD card Slot\u003c\/td\u003e\n\u003c\/tr\u003e\n\u003ctr\u003e\n\u003ctd\u003e\u0026amp; Download\u003c\/td\u003e\n\u003ctd\u003eFormat in FAT32 (no greater than 32GB)\u003cbr\u003eFormat in EXFAT (no greater than 64GB)\u003c\/td\u003e\n\u003c\/tr\u003e\n\u003c\/tbody\u003e\n\u003c\/table\u003e\n\u003cbr\u003e\n\u003c\/div\u003e\n\u003c\/div\u003e\n\u003cdiv class=\"charger clearfix params-item\"\u003e\n\u003ch3 class=\"m-dt\"\u003eTether\u003c\/h3\u003e\n\u003cdiv class=\"detailtable\"\u003e\n\u003ctable\u003e\n\u003ctbody\u003e\n\u003ctr\u003e\n\u003ctd rowspan=\"2\"\u003eLength\u003c\/td\u003e\n\u003ctd\u003eStandard 100 m (328 ft) on Spool\u003c\/td\u003e\n\u003c\/tr\u003e\n\u003ctr\u003e\n\u003ctd\u003eCustomized Accepted\u003c\/td\u003e\n\u003c\/tr\u003e\n\u003ctr\u003e\n\u003ctd\u003eBreaking Force\u003c\/td\u003e\n\u003ctd\u003e80 kgf\u003c\/td\u003e\n\u003c\/tr\u003e\n\u003c\/tbody\u003e\n\u003c\/table\u003e\n\u003cbr\u003e\n\u003c\/div\u003e\n\u003c\/div\u003e\n\u003cdiv class=\"performance clearfix params-item\"\u003e\n\u003ch3 class=\"m-dt\"\u003eAPP\u003c\/h3\u003e\n\u003cdiv class=\"detailtable\"\u003e\n\u003ctable\u003e\n\u003ctbody\u003e\n\u003ctr\u003e\n\u003ctd rowspan=\"4\"\u003e\u003cspan\u003eSystem\u003c\/span\u003e\u003c\/td\u003e\n\u003ctd\u003e\u003cspan\u003eiOS 10.0.0 or later\u003c\/span\u003e\u003c\/td\u003e\n\u003c\/tr\u003e\n\u003ctr\u003e\n\u003ctd\u003e\u003cspan\u003eCompatible with iPhone 6S or later\u003c\/span\u003e\u003c\/td\u003e\n\u003c\/tr\u003e\n\u003ctr\u003e\n\u003ctd\u003e\u003cspan\u003eAndroid 5.0 or later\u003c\/span\u003e\u003c\/td\u003e\n\u003c\/tr\u003e\n\u003ctr\u003e\n\u003ctd\u003e\u003cspan\u003eCompatible with Samsung S7 or later, Huawei Mate 9 or later, Mi Mix 2 or later\u003c\/span\u003e\u003c\/td\u003e\n\u003c\/tr\u003e\n\u003ctr\u003e\n\u003ctd rowspan=\"2\"\u003e\u003cspan\u003eLIVE-Streaming\u003c\/span\u003e\u003c\/td\u003e\n\u003ctd\u003e\u003cspan\u003e720P, 25\/30fps\u003c\/span\u003e\u003c\/td\u003e\n\u003c\/tr\u003e\n\u003ctr\u003e\n\u003ctd\u003e\u003cspan\u003e480P, 25\/30fps\u003c\/span\u003e\u003c\/td\u003e\n\u003c\/tr\u003e\n\u003ctr\u003e\n\u003ctd\u003e\u003cspan\u003eStream User NO.\u003c\/span\u003e\u003c\/td\u003e\n\u003ctd\u003e\u003cspan\u003eMax 2 Devices\u003c\/span\u003e\u003c\/td\u003e\n\u003c\/tr\u003e\n\u003c\/tbody\u003e\n\u003c\/table\u003e\n\u003c\/div\u003e\n\u003c\/div\u003e\n\u003c\/div\u003e\n\u003cdiv class=\"col-md-6\"\u003e\n\u003cdiv class=\"lights clearfix params-item\"\u003e\n\u003ch3 class=\"m-dt\"\u003eCamera\u003c\/h3\u003e\n\u003cdiv class=\"detailtable\"\u003e\n\u003ctable\u003e\n\u003ctbody\u003e\n\u003ctr\u003e\n\u003ctd rowspan=\"20\"\u003eCamera\u003c\/td\u003e\n\u003ctd rowspan=\"3\"\u003eSensor\u003c\/td\u003e\n\u003ctd colspan=\"2\"\u003e1\/2.3" SONY CMOS\u003c\/td\u003e\n\u003c\/tr\u003e\n\u003ctr\u003e\n\u003ctd\u003eEffective Pixels\u003c\/td\u003e\n\u003ctd\u003e12MP\u003c\/td\u003e\n\u003c\/tr\u003e\n\u003ctr\u003e\n\u003ctd\u003eISO Range\u003c\/td\u003e\n\u003ctd\u003e100-6400 in Auto \/ Manual\u003c\/td\u003e\n\u003c\/tr\u003e\n\u003ctr\u003e\n\u003ctd rowspan=\"3\"\u003eLens\u003c\/td\u003e\n\u003ctd\u003eField of View\u003c\/td\u003e\n\u003ctd\u003e166°\u003c\/td\u003e\n\u003c\/tr\u003e\n\u003ctr\u003e\n\u003ctd\u003eAperture\u003c\/td\u003e\n\u003ctd\u003ef\/2.5\u003c\/td\u003e\n\u003c\/tr\u003e\n\u003ctr\u003e\n\u003ctd\u003eMinimum Focusing Distance\u003c\/td\u003e\n\u003ctd\u003e0.4 m\u003c\/td\u003e\n\u003c\/tr\u003e\n\u003ctr\u003e\n\u003ctd\u003eElectronic\u003c\/td\u003e\n\u003ctd rowspan=\"2\" colspan=\"2\"\u003e5~1\/5000 second\u003c\/td\u003e\n\u003c\/tr\u003e\n\u003ctr\u003e\n\u003ctd\u003eShutter Speed\u003c\/td\u003e\n\u003c\/tr\u003e\n\u003ctr\u003e\n\u003ctd\u003eBurst shooting\u003c\/td\u003e\n\u003ctd colspan=\"2\"\u003e1 \/ 3 \/ 5 \/ 7 \/ 10 frames\u003c\/td\u003e\n\u003c\/tr\u003e\n\u003ctr\u003e\n\u003ctd\u003eWhite Balance\u003c\/td\u003e\n\u003ctd colspan=\"2\"\u003e2500K ~ 8000K\u003c\/td\u003e\n\u003c\/tr\u003e\n\u003ctr\u003e\n\u003ctd\u003e(WB)\u003c\/td\u003e\n\u003ctd colspan=\"2\"\u003eAuto \/ Manual\u003c\/td\u003e\n\u003c\/tr\u003e\n\u003ctr\u003e\n\u003ctd\u003eExposure Compensation\u003c\/td\u003e\n\u003ctd colspan=\"2\"\u003e- 3 EV ~ + 3 EV\u003c\/td\u003e\n\u003c\/tr\u003e\n\u003ctr\u003e\n\u003ctd\u003ePhoto Resolution\u003c\/td\u003e\n\u003ctd colspan=\"2\"\u003e4:3: 4000 x 3000\u003c\/td\u003e\n\u003c\/tr\u003e\n\u003ctr\u003e\n\u003ctd\u003ePhoto Format\u003c\/td\u003e\n\u003ctd colspan=\"2\"\u003eJPEG, DNG\u003c\/td\u003e\n\u003c\/tr\u003e\n\u003ctr\u003e\n\u003ctd rowspan=\"3\"\u003eVideo Resolution\u003c\/td\u003e\n\u003ctd colspan=\"2\"\u003e4K UHD: 25\/30 fps\u003c\/td\u003e\n\u003c\/tr\u003e\n\u003ctr\u003e\n\u003ctd colspan=\"2\"\u003e1080P FHD: 25\/30\/50\/60\/100\/120 fps\u003c\/td\u003e\n\u003c\/tr\u003e\n\u003ctr\u003e\n\u003ctd colspan=\"2\"\u003e720P HD: 25\/30\/50\/60\/100\/120\/200\/240 fps\u003c\/td\u003e\n\u003c\/tr\u003e\n\u003ctr\u003e\n\u003ctd\u003eVideo Format\u003c\/td\u003e\n\u003ctd colspan=\"2\"\u003eMPEG4- AVC\/H.264, HEVC\/H.265\u003c\/td\u003e\n\u003c\/tr\u003e\n\u003ctr\u003e\n\u003ctd\u003eStabilization\u003c\/td\u003e\n\u003ctd colspan=\"2\"\u003eEIS (Electronic Image Stabilization)\u003c\/td\u003e\n\u003c\/tr\u003e\n\u003ctr\u003e\n\u003ctd\u003eInternal Storage\u003c\/td\u003e\n\u003ctd colspan=\"2\"\u003e64 GB standard\u003c\/td\u003e\n\u003c\/tr\u003e\n\u003ctr\u003e\n\u003ctd rowspan=\"5\"\u003eLED Beams\u003c\/td\u003e\n\u003ctd\u003eBrightness\u003c\/td\u003e\n\u003ctd colspan=\"2\"\u003e4000 lumen\u003c\/td\u003e\n\u003c\/tr\u003e\n\u003ctr\u003e\n\u003ctd\u003eCCT\u003c\/td\u003e\n\u003ctd colspan=\"2\"\u003e5500 K (\u003cspan\u003eCorrelated Color Temperature)\u003c\/span\u003e\n\u003c\/td\u003e\n\u003c\/tr\u003e\n\u003ctr\u003e\n\u003ctd\u003eBeam Angle\u003c\/td\u003e\n\u003ctd colspan=\"2\"\u003e120°\u003c\/td\u003e\n\u003c\/tr\u003e\n\u003ctr\u003e\n\u003ctd\u003eDimming\u003c\/td\u003e\n\u003ctd colspan=\"2\"\u003e3\u003c\/td\u003e\n\u003c\/tr\u003e\n\u003c\/tbody\u003e\n\u003c\/table\u003e\n\u003cbr\u003e\n\u003c\/div\u003e\n\u003c\/div\u003e\n\u003cdiv class=\"tether clearfix params-item\"\u003e\n\u003ch3 class=\"m-dt\"\u003eCharger\/AC Adapter\u003c\/h3\u003e\n\u003cdiv class=\"detailtable\"\u003e\n\u003ctable\u003e\n\u003ctbody\u003e\n\u003ctr\u003e\n\u003ctd rowspan=\"2\"\u003eROV\u003c\/td\u003e\n\u003ctd\u003eInput: 100-240 V, 50\/60 Hz,1.3 A MAX\u003c\/td\u003e\n\u003c\/tr\u003e\n\u003ctr\u003e\n\u003ctd\u003eOutput: 12.9 V ⎓ 6A\u003c\/td\u003e\n\u003c\/tr\u003e\n\u003ctr\u003e\n\u003ctd rowspan=\"2\"\u003eRC\u003c\/td\u003e\n\u003ctd\u003eInput: 100-240 V, 50\/60 Hz,0.5 A MAX\u003c\/td\u003e\n\u003c\/tr\u003e\n\u003ctr\u003e\n\u003ctd\u003eOutput: 5 V ⎓ 3A\u003c\/td\u003e\n\u003c\/tr\u003e\n\u003c\/tbody\u003e\n\u003c\/table\u003e\n\u003cbr\u003e\n\u003c\/div\u003e\n\u003c\/div\u003e\n\u003cdiv class=\"charger clearfix params-item\"\u003e\n\u003ch3 class=\"m-dt\"\u003eSpool\u003c\/h3\u003e\n\u003cdiv class=\"detailtable\"\u003e\n\u003ctable\u003e\n\u003ctbody\u003e\n\u003ctr\u003e\n\u003ctd\u003eDimension\u003c\/td\u003e\n\u003ctd\u003e\u003c\/td\u003e\n\u003c\/tr\u003e\n\u003ctr\u003e\n\u003ctd\u003eFoldable handle\u003c\/td\u003e\n\u003ctd\u003e\u003c\/td\u003e\n\u003c\/tr\u003e\n\u003ctr\u003e\n\u003ctd rowspan=\"2\"\u003eCapability\u003c\/td\u003e\n\u003ctd rowspan=\"2\"\u003eHold up to 100 m tether (328ft)\u003c\/td\u003e\n\u003c\/tr\u003e\n\u003ctr\u003e\u003c\/tr\u003e\n\u003c\/tbody\u003e\n\u003c\/table\u003e\n\u003c\/div\u003e\n\u003c\/div\u003e\n\u003c\/div\u003e\n\u003cdiv class=\"col-md-12\"\u003e\n\u003cdiv class=\"charger clearfix params-item\"\u003e\n\u003cdiv class=\"detailtable\"\u003e\n\u003cbr\u003e\u003cbr\u003eNote1: Posture Lock™ is the Shenzhen Qi Yuan Science Technology Co., Ltd. patented Sensing Algorithm. \u003cbr\u003eNote2: \u003cbr\u003e   a) The design operating temperature range is -10 to 60 ºC (14 to 140 ºF). Please make sure every part is in such condition.\u003cbr\u003e   Tips: Extreme conditions, such as, High Mountains, Antarctica, Arctic Circle. Keep the ROV in the room temperature to start and turn on, then deploy immediately into water. Have a cabin or sleeping bag to keep the spool, remote controller and smart devices in working conditions.\u003cbr\u003e   b) Battery charging shall be in the 10 to 45 ºC (50 to 113 ºF).\u003c\/div\u003e\n\u003c\/div\u003e\n\u003c\/div\u003e\n\u003c\/div\u003e\n\u003c\/div\u003e\n\u003cp\u003e \u003c\/p\u003e\n\u003ch5\u003eWarranty\u003c\/h5\u003e\n\u003cp\u003eWarranty - 12 Months\u003c\/p\u003e\n\u003cp\u003e \u003c\/p\u003e\n\u003ch5\u003eIn The Box\u003c\/h5\u003e\n\u003ctable\u003e\n\u003cthead\u003e\n\u003ctr\u003e\n\u003cth colspan=\"2\"\u003eAccessories list\u003c\/th\u003e\n\u003cth\u003eQuantity\u003c\/th\u003e\n\u003c\/tr\u003e\n\u003c\/thead\u003e\n\u003ctbody\u003e\n\u003ctr\u003e\n\u003ctd\u003e\u003cimg height=\"200\" width=\"200\" src=\"https:\/\/www.qysea.com\/store\/res\/201907\/07\/4fedca6ee628b950.jpg\" alt=\"\"\u003e\u003c\/td\u003e\n\u003ctd\u003eFIFISH V6 Underwater Robot\u003c\/td\u003e\n\u003ctd\u003e×1\u003c\/td\u003e\n\u003c\/tr\u003e\n\u003ctr\u003e\n\u003ctd\u003e\u003cimg height=\"205\" width=\"205\" src=\"https:\/\/www.qysea.com\/store\/res\/201905\/22\/5c974cd6a8422d7b.jpg\" alt=\"\"\u003e\u003c\/td\u003e\n\u003ctd\u003eRemote Controller\u003c\/td\u003e\n\u003ctd\u003e×1\u003c\/td\u003e\n\u003c\/tr\u003e\n\u003ctr\u003e\n\u003ctd\u003e\u003cimg height=\"185\" width=\"185\" src=\"https:\/\/www.qysea.com\/store\/res\/202006\/11\/a24482fa5d018c62.jpg\" alt=\"\"\u003e\u003c\/td\u003e\n\u003ctd\u003e100M Tether With Reel\u003c\/td\u003e\n\u003ctd\u003e×1\u003c\/td\u003e\n\u003c\/tr\u003e\n\u003ctr\u003e\n\u003ctd\u003e\u003cimg height=\"131\" width=\"197\" src=\"https:\/\/www.qysea.com\/store\/res\/202101\/04\/bccf6c685447bd93.jpg\" alt=\"\"\u003e\u003c\/td\u003e\n\u003ctd\u003eVR headtracking box\u003c\/td\u003e\n\u003ctd\u003e×1\u003c\/td\u003e\n\u003c\/tr\u003e\n\u003ctr\u003e\n\u003ctd\u003e\u003cimg height=\"202\" width=\"202\" src=\"https:\/\/www.qysea.com\/store\/res\/201905\/22\/22c22800a81172b9.jpg\" alt=\"\"\u003e\u003c\/td\u003e\n\u003ctd\u003eUnderwater Robot Charger\u003c\/td\u003e\n\u003ctd\u003e×1\u003c\/td\u003e\n\u003c\/tr\u003e\n\u003ctr\u003e\n\u003ctd\u003e\u003cimg height=\"191\" width=\"191\" src=\"https:\/\/www.qysea.com\/store\/res\/201907\/07\/e492ea108f804a89.jpg\" alt=\"\"\u003e\u003c\/td\u003e\n\u003ctd\u003eRemote Control Charger\u003c\/td\u003e\n\u003ctd\u003e×1\u003c\/td\u003e\n\u003c\/tr\u003e\n\u003c\/tbody\u003e\n\u003c\/table\u003e\n\u003cp\u003e \u003c\/p\u003e\n\u003c!-- \/TABS --\u003e"}
QYSEA FIFISH V6 Underwater ROV
QYSEA FIFISH V6 Underwater ROV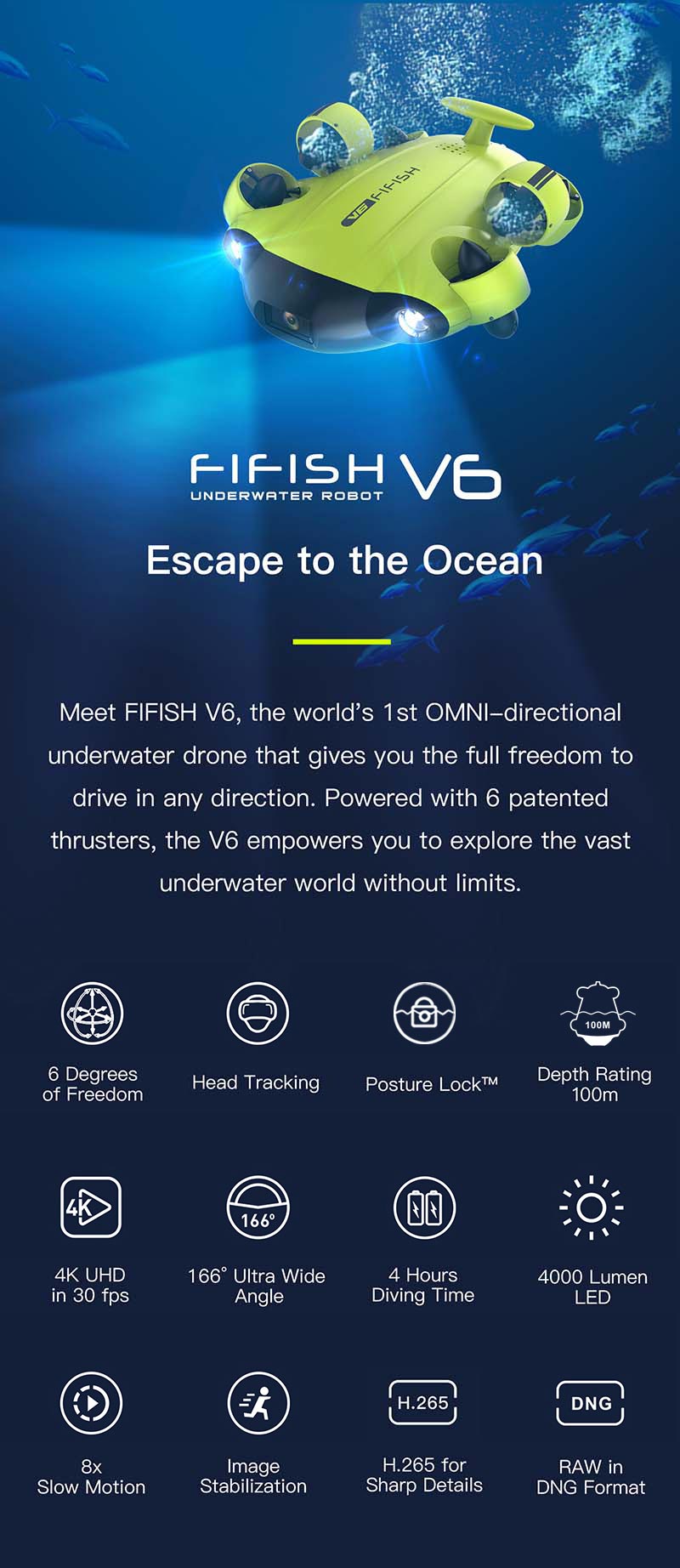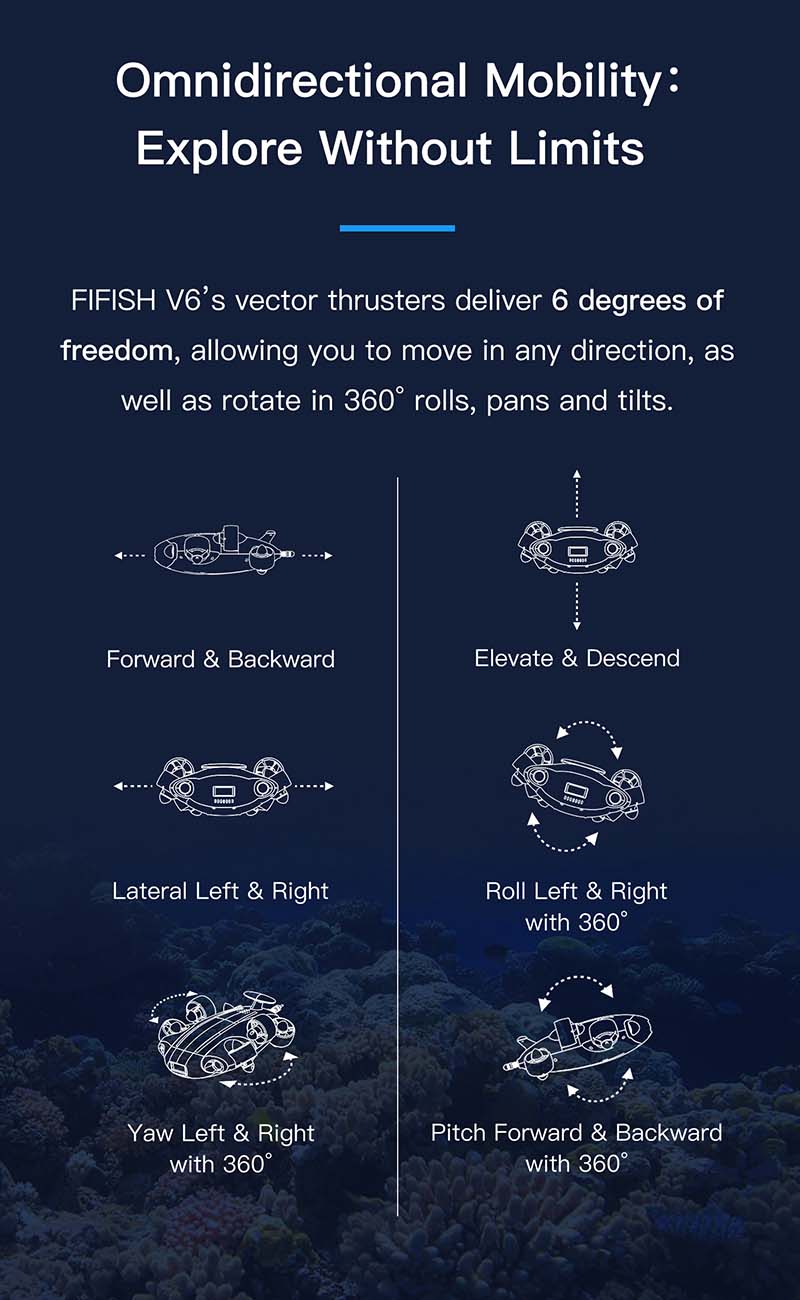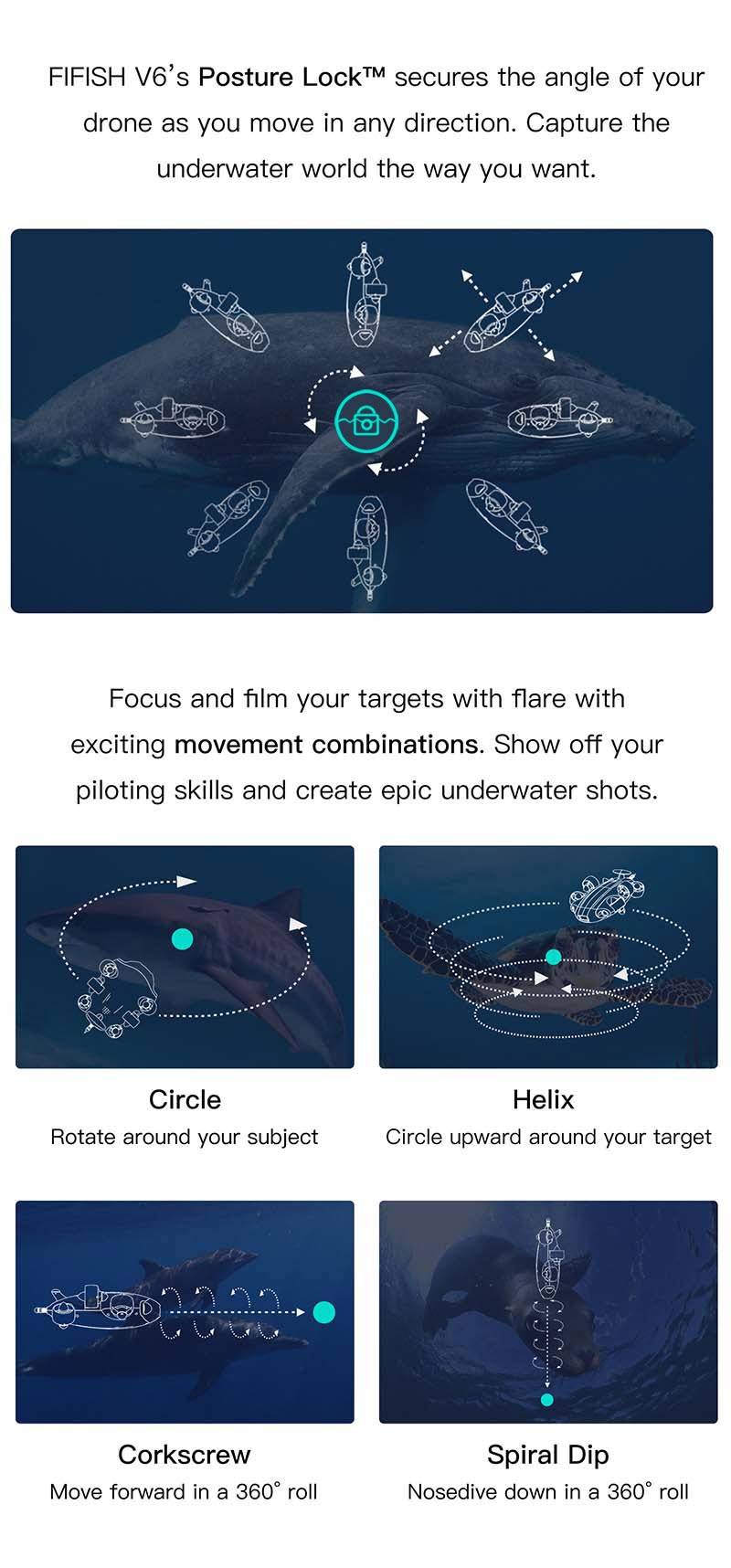 FIFISH V6 Specifications
| | |
| --- | --- |
| Omni-directional | Depth Rating |
| 6 DOF | 100 m (328 ft) |
| 4 UHD Camera | Ultra Wide-Angle Lens |
| 12 Megapixels | 166° FOV |
| RAW image | Slow Motion |
| DNG | 120 fps |
Size
ROV
Dimension
383 mm*331 mm

*

143 mm (15 in

*

13 in

*

5 5/8 in)
Weight
3.9 kg (8 5/8 lbs)
Thrusters
6 (4

*

Vector + 2

*

Horizontal)
Maneuverability
6 DOF (Degree of Freedom):
Moving: left & right, up & down, forward & backward, Rotation: 360° pitch, 360° roll, 360° yaw


Posture Lock™ [1]
Able to lock the ± 0.1° pitch angle or ± 0.1° roll angle and moving in any direction (See note 1)
Hovering Accuracy
Able to keep the ROV suspending in ± 1 cm
Speed
Maximum 3 knots (1.5 m/s) in still water
Depth Rating
100 m (328 ft)
Operating Temperature Range[2]
-10 °C ~ 60 °C (14 °F ~ 140 °F)
Battery
Rated Capacity
9000 mAh / 97.2Wh
Remote Controller
Wireless
Wi-Fi supported
Battery Life
Up to 4 hours
Copy
Micro SD card Slot
& Download
Format in FAT32 (no greater than 32GB)
Format in EXFAT (no greater than 64GB)
Tether
Length
Standard 100 m (328 ft) on Spool
Customized Accepted
Breaking Force
80 kgf
APP
System

iOS 10.0.0 or later

Compatible with iPhone 6S or later

Android 5.0 or later

Compatible with Samsung S7 or later, Huawei Mate 9 or later, Mi Mix 2 or later

LIVE-Streaming

720P, 25/30fps

480P, 25/30fps

Stream User NO.

Max 2 Devices
Camera
Camera
Sensor
1/2.3" SONY CMOS
Effective Pixels
12MP
ISO Range
100-6400 in Auto / Manual
Lens
Field of View
166°
Aperture
f/2.5
Minimum Focusing Distance
0.4 m
Electronic
5~1/5000 second
Shutter Speed
Burst shooting
1 / 3 / 5 / 7 / 10 frames
White Balance
2500K ~ 8000K
(WB)
Auto / Manual
Exposure Compensation
- 3 EV ~ + 3 EV
Photo Resolution
4:3: 4000 x 3000
Photo Format
JPEG, DNG
Video Resolution
4K UHD: 25/30 fps
1080P FHD: 25/30/50/60/100/120 fps
720P HD: 25/30/50/60/100/120/200/240 fps
Video Format
MPEG4- AVC/H.264, HEVC/H.265
Stabilization
EIS (Electronic Image Stabilization)
Internal Storage
64 GB standard
LED Beams
Brightness
4000 lumen
CCT
5500 K (

Correlated Color Temperature)

Beam Angle
120°
Dimming
3
Charger/AC Adapter
ROV
Input: 100-240 V, 50/60 Hz,1.3 A MAX
Output: 12.9 V ⎓ 6A
RC
Input: 100-240 V, 50/60 Hz,0.5 A MAX
Output: 5 V ⎓ 3A
Spool
Dimension
Foldable handle
Capability
Hold up to 100 m tether (328ft)


Note1: Posture Lock™ is the Shenzhen Qi Yuan Science Technology Co., Ltd. patented Sensing Algorithm.
Note2:
   a) The design operating temperature range is -10 to 60 ºC (14 to 140 ºF). Please make sure every part is in such condition.
   Tips: Extreme conditions, such as, High Mountains, Antarctica, Arctic Circle. Keep the ROV in the room temperature to start and turn on, then deploy immediately into water. Have a cabin or sleeping bag to keep the spool, remote controller and smart devices in working conditions.
   b) Battery charging shall be in the 10 to 45 ºC (50 to 113 ºF).
Accessories list
Quantity
FIFISH V6 Underwater Robot
×1
Remote Controller
×1
100M Tether With Reel
×1
VR headtracking box
×1
Underwater Robot Charger
×1
Remote Control Charger
×1