{"id":4185916801164,"title":"INSTA360 TITIAN","handle":"insta360-titian","description":"\u003cp\u003eThe Insta360 Titan is built for cinematic quality virtual reality. The Insta360 Titan can capture 2D 360 virtual reality photos, video up to 11k resolution with 10-bit-colour and VR video.\u003c\/p\u003e\n\u003cp\u003e \u003c\/p\u003e\n\u003cp\u003e\u003cspan style=\"color: #ff2a00;\"\u003eAvailability: Special Order\u003c\/span\u003e\u003c\/p\u003e\n\u003c!-- split --\u003e \u003c!-- TABS --\u003e\n\u003ch5\u003eProduct Description\u003c\/h5\u003e\n\u003cp\u003e\u003cimg alt=\"\" class=\"img-responsive\" src=\"https:\/\/www.ferntech.co.nz\/assets\/images\/Insta360%20Titan%20features%20jpg.jpg\" data-gtm-vis-first-on-screen-11032289_23=\"188539\" data-gtm-vis-total-visible-time-11032289_23=\"500\" data-gtm-vis-has-fired-11032289_23=\"1\"\u003e\u003c\/p\u003e\n\u003cp\u003eThe Insta360 Titan is built for cinematic quality virtual reality. The Insta360 Titan can capture 2D 360 virtual reality photos, video up to 11k resolution with 10-bit-colour and VR video up to 4k. \u003c\/p\u003e\n\u003cp\u003e \u003c\/p\u003e\n\u003cp\u003e\u003cimg alt=\"\" class=\"img-responsive\" src=\"https:\/\/www.ferntech.co.nz\/assets\/images\/Insta360%20Titan%20Micro%20Four%20Thirds.jpg\" data-gtm-vis-first-on-screen-11032289_23=\"191790\" data-gtm-vis-total-visible-time-11032289_23=\"500\" data-gtm-vis-has-fired-11032289_23=\"1\"\u003e\u003c\/p\u003e\n\u003cp\u003eThe Insta 360 Titan features 8 x Micro Four-Thirds sensors, which are the largest available in any unibody VR camera. They maximize Titan's image quality, dynamic range, low-light performance and colour depth, raising the bar for high-end VR capture. It also has unparalleled clarity, offering 11k resolution and ample 3.3-micron pixels. That's seven times higher than 4K. Titan is the first unibody VR camera to shoot at 11K mono and 10K 3D. \u003c\/p\u003e\n\u003cp\u003eThe Titan's optical features include eight 200° fisheye lenses, adjustable shutter speed, and an ISO range of 100 to 6400. Video is captured up to 10560 x 620 at 30 fps in 11K 2D resolution in MP4 format. H.265\/H.264 compression is supported in-camera, and ProRes 422HQ is available when post-stitching. An HDR (high dynamic range) function provides crisp, natural-looking lighting even in poorly or unevenly lit settings. High-speed frame rates are available up to 120 fps and the still mode includes raw, JPEG, DNG, burst, and time-lapse options.\u003c\/p\u003e\n\u003cp\u003e \u003c\/p\u003e\n\u003cp\u003e\u003cimg alt=\"\" class=\"img-responsive\" src=\"https:\/\/www.ferntech.co.nz\/assets\/images\/Insta360%20Titan%20color%20depth%20description.png\" data-gtm-vis-first-on-screen-11032289_23=\"193192\" data-gtm-vis-total-visible-time-11032289_23=\"500\" data-gtm-vis-has-fired-11032289_23=\"1\"\u003e\u003c\/p\u003e\n\u003cp\u003eTitan also supports shooting in 10 Bit colour, allowing for billions of colour combinations and surgical accuracy. This combined with a 9-axis gyro and advanced FlowState Stabilization means that dynamic shots come out perfectly stable. No gimbal needed.\u003c\/p\u003e\n\u003cp\u003e \u003c\/p\u003e\n\u003ch4\u003eHIGHLIGHTS \u003c\/h4\u003e\n\u003cp\u003eEight Micro Four Thirds sensors, 11K 2D and 10K 3D video resolution, 11K 2D\/3D photo resolution, and eight f\/3.2 fisheye lenses with 200° angle of view\u003cbr\u003e12-stop exposure range; 100 to 6400 ISO range; multiple exposures, photo, and white balance modes; crisp, noise-free low-light performance\u003cbr\u003eEight microSD card slots record in-camera for each lens, plus one additional SD card slot; up to V30 or UHS-I read\/write speeds are recommended, and all cards are required to be installed for operation\u003cbr\u003eRecord video with post-processing stitching up to 10560 x 5280 at 30 fps (11K 2D), 9600 x 9600 at 30 fps (10K 3D), and real-time\/in-camera stitching up to 3840 x 3840 at 30 fps (4K 3D); H264 and H265 in-camera and ProRes 422HQ formats\u003cbr\u003eCapture real-time\/in-camera and post-stitched HDR JPG\/DNG photos up to 10560 x 5280 (11K 2D) and 10560 x 10560 (11K 3D)\u003cbr\u003eFour mono microphones record AAC ambisonic audio\u003cbr\u003eAdditional features: 9-axis gyroscope, FlowState stabilisation system, Optical Flow and Template stitching, 2.4 GHz Wi-Fi, live stream modes with a built-in server, iLog video modes, 10000mAh battery\u003c\/p\u003e\n\u003cp\u003e \u003c\/p\u003e\n\u003ch5\u003eProduct Specifications\u003c\/h5\u003e\n\u003ch2\u003ePRODUCT SPECIFICATIONS\u003c\/h2\u003e\n\u003cp\u003e\u003cstrong\u003eDiameter: \u003c\/strong\u003eΦ228mm\u003cbr\u003e\u003cstrong\u003eMaterial: \u003c\/strong\u003eAluminum alloy\u003cbr\u003e\u003cstrong\u003eLenses: \u003c\/strong\u003e8 x 200° F3.2 fisheye lenses\u003c\/p\u003e\n\u003cp\u003e\u003cstrong\u003ePhotos\u003c\/strong\u003e\u003cbr\u003e\u003cstrong\u003eReal-time \/ Post-processing Stitching:\u003c\/strong\u003e\u003cbr\u003e10560 x 5280 (11K 2D) \u003cbr\u003e10560 x 10560 (11K 3D)\u003c\/p\u003e\n\u003cp\u003e\u003cstrong\u003eVideo\u003cbr\u003ePost-processing Stitching:\u003c\/strong\u003e\u003cbr\u003e10560 x 5280 @30fps (11K 2D)\u003cbr\u003e9600 x 9600 @30fps (10K 3D)\u003cbr\u003e7680 x 7680 @50fps\u003cbr\u003e7680 x 3840 @60fps\u003cbr\u003e5248 x 2624 @120fps\u003c\/p\u003e\n\u003cp\u003e\u003cstrong\u003e10-Bit Video:\u003c\/strong\u003e\u003cbr\u003e7680 x 7680 @30fps (8K 3D)\u003cbr\u003e7680 x 3840 @30fps (8K 2D)\u003c\/p\u003e\n\u003cp\u003e\u003cstrong\u003eReal-time Stitching:\u003c\/strong\u003e\u003cbr\u003e3840 x 3840 @30fps (4K 3D) \u003cbr\u003e3840 x 1920 @30fps (4K 2D)\u003c\/p\u003e\n\u003cp\u003e\u003cstrong\u003ePhoto Files: \u003c\/strong\u003eJPEG \/ DNG\u003cbr\u003e\u003cstrong\u003eVideo Files: \u003c\/strong\u003eMP4\u003cbr\u003e\u003cstrong\u003eVideo Coding\u003c\/strong\u003e: H264 and H265 in-camera, Pro RES 422 HQ is available when post stitching.\u003c\/p\u003e\n\u003cp\u003e\u003cstrong\u003eLive-streaming Modes\u003cbr\u003eBuilt-in server \/ Custom server \/ HDMI output:\u003c\/strong\u003e\u003cbr\u003e3840 x 1920 @30 fps ( 4K 2D livestream ) can store 8K 3D video while livestreaming.\u003cbr\u003e3840 x 3840 @30 fps ( 4K 3D livestream ) can store 8K 3D video while livestreaming.\u003cbr\u003eNote: Simultaneous live-streaming + recording is supported.\u003cbr\u003e\u003cstrong\u003eLive-streaming Protocol: \u003c\/strong\u003ertsp, rtmp, hls, rtmps\u003c\/p\u003e\n\u003cp\u003e\u003cstrong\u003eStorage Specification:\u003c\/strong\u003e 9 × Full-size SD Cards\u003cbr\u003e\u003cstrong\u003eISO Range: \u003c\/strong\u003e100~6400\u003cbr\u003e\u003cstrong\u003eExposure Modes: \u003c\/strong\u003eAuto, Manual, Lens-by-Lens Custom, Shutter Priority (photo only), ISO Priority (photo only), Set ISO Upper Limit (video only).\u003cbr\u003e\u003cstrong\u003eWhite Balance Modes: \u003c\/strong\u003eAutomatic, manual\u003cbr\u003e\u003cstrong\u003ePhoto Modes: \u003c\/strong\u003eSingle shot \/ Burst (10 continuous shots) \/ Timelapse \/\u003cbr\u003eAEB (Auto Exposure Bracket, optional 3, 5, 7, and 9 photos for in-camera HDR photos)\u003cbr\u003eNote: Both RAW and JPG can be selected for simultaneous shooting for synthetic HDR photos and all other photo modes.\u003cbr\u003e\u003cstrong\u003eVideo Modes: \u003c\/strong\u003eStandard (i-Log is available) \/ Binning (i-Log is available)\u003c\/p\u003e\n\u003cp\u003e\u003cstrong\u003eBitrate Per Lens: \u003c\/strong\u003eUp to 180Mbps\u003cbr\u003e\u003cstrong\u003ePower: \u003c\/strong\u003e19V 9A adapter\u003cbr\u003e\u003cstrong\u003eBattery Capacity:\u003c\/strong\u003e 10000mAh removable battery\u003cbr\u003e\u003cstrong\u003eOperating Temperature: \u003c\/strong\u003e0 - 40℃\u003cbr\u003e\u003cstrong\u003eStorage Temperature: \u003c\/strong\u003e-20 - 40℃\u003c\/p\u003e\n\u003cp\u003e\u003cstrong\u003eWiFi Specifications\u003cbr\u003eWiFi Specifications:\u003c\/strong\u003e 802.11 b\/g\/n, 2.4GHz. Signal range is about 20 meters in open space. Max preview framerate of 30 FPS, supported in roughly a 5-meter range.\u003c\/p\u003e\n\u003cp\u003e\u003cstrong\u003eAntennae:\u003c\/strong\u003e GPS signal antenna + WiFi signal antenna\u003cbr\u003e\u003cstrong\u003eEthernet Port: \u003c\/strong\u003eYes\u003cbr\u003e\u003cstrong\u003eVideo Transmission: \u003c\/strong\u003eInsta360 Farsight provides ground-to-ground range of up to 300 meters and ground-to-air range of up to 1000 meters, with 30 FPS preview.\u003c\/p\u003e\n\u003cp\u003e\u003cstrong\u003eAudio:\u003c\/strong\u003e 4 Mono Microphones\u003cbr\u003e\u003cstrong\u003eAudio Coding Format: \u003c\/strong\u003eAAC\u003cbr\u003e\u003cstrong\u003eSpatial Audio: \u003c\/strong\u003eAmbisonic\u003cbr\u003e\u003cstrong\u003eGyroscope: \u003c\/strong\u003eUltra-precise 9-axis gyroscope\u003cbr\u003e\u003cstrong\u003eStabilization: \u003c\/strong\u003eFlowState Stabilization\u003cbr\u003e\u003cstrong\u003eStitching: \u003c\/strong\u003eOptical Flow \/ Template\u003cbr\u003e\u003cstrong\u003eExposure Range: \u003c\/strong\u003e12 Stops\u003cbr\u003e\u003cstrong\u003eSupported Operating Systems: \u003c\/strong\u003eWindows \/ Mac \/ iOS \/ Android\u003cbr\u003e\u003cstrong\u003eWeight:\u003c\/strong\u003e 5.5kg\u003c\/p\u003e\n\u003cp\u003e \u003c\/p\u003e\n\u003ch5\u003e\u003c\/h5\u003e\n\u003cp\u003e \u003c\/p\u003e\n\u003ch5\u003eIn The Box\u003c\/h5\u003e\n\u003ch2\u003eIN THE BOX\u003c\/h2\u003e\n\u003cp\u003eInsta360 Titan x 1\u003cbr\u003eTrolley Case x 1\u003cbr\u003eRechargeable Lithium Polymer Battery x 1\u003cbr\u003eTitan DC Adapter x 1\u003cbr\u003eTitan AC Cable x 1\u003cbr\u003eProtective Lens Cover x 1\u003cbr\u003eUSB2.0 to 100Mbps Ethernet Network Adapter x 1\u003cbr\u003eUSB Type-C Cable x 1\u003cbr\u003e1\/4" to 1\/4" Adapter x 1\u003cbr\u003eAntenna x 2\u003c\/p\u003e\n\u003cp\u003e \u003c\/p\u003e\n\u003c!-- \/TABS --\u003e","published_at":"2019-10-09T17:03:58+13:00","created_at":"2019-10-09T17:08:38+13:00","vendor":"Insta360","type":"Camera","tags":["Insta360","not-on-sale"],"price":3019900,"price_min":3019900,"price_max":3019900,"available":true,"price_varies":false,"compare_at_price":null,"compare_at_price_min":0,"compare_at_price_max":0,"compare_at_price_varies":false,"variants":[{"id":30474447126668,"title":"Default Title","option1":"Default Title","option2":null,"option3":null,"sku":"INSTA360TITAN","requires_shipping":true,"taxable":true,"featured_image":null,"available":true,"name":"INSTA360 TITIAN","public_title":null,"options":["Default Title"],"price":3019900,"weight":0,"compare_at_price":null,"inventory_management":null,"barcode":""}],"images":["\/\/cdn.shopify.com\/s\/files\/1\/0266\/5231\/1627\/products\/INSTA360TITAN.jpg?v=1628150696","\/\/cdn.shopify.com\/s\/files\/1\/0266\/5231\/1627\/products\/INSTA360TITAN_1.jpg?v=1628150696","\/\/cdn.shopify.com\/s\/files\/1\/0266\/5231\/1627\/products\/INSTA360TITAN_2.jpg?v=1628150697","\/\/cdn.shopify.com\/s\/files\/1\/0266\/5231\/1627\/products\/INSTA360TITAN_3.jpg?v=1628150697"],"featured_image":"\/\/cdn.shopify.com\/s\/files\/1\/0266\/5231\/1627\/products\/INSTA360TITAN.jpg?v=1628150696","options":["Title"],"media":[{"alt":"INSTA360 TITIAN - Actiontech","id":4058106265740,"position":1,"preview_image":{"aspect_ratio":1.501,"height":533,"width":800,"src":"https:\/\/cdn.shopify.com\/s\/files\/1\/0266\/5231\/1627\/products\/INSTA360TITAN.jpg?v=1628150696"},"aspect_ratio":1.501,"height":533,"media_type":"image","src":"https:\/\/cdn.shopify.com\/s\/files\/1\/0266\/5231\/1627\/products\/INSTA360TITAN.jpg?v=1628150696","width":800},{"alt":"INSTA360 TITIAN - Actiontech","id":4058106298508,"position":2,"preview_image":{"aspect_ratio":1.5,"height":480,"width":720,"src":"https:\/\/cdn.shopify.com\/s\/files\/1\/0266\/5231\/1627\/products\/INSTA360TITAN_1.jpg?v=1628150696"},"aspect_ratio":1.5,"height":480,"media_type":"image","src":"https:\/\/cdn.shopify.com\/s\/files\/1\/0266\/5231\/1627\/products\/INSTA360TITAN_1.jpg?v=1628150696","width":720},{"alt":"INSTA360 TITIAN - Actiontech","id":4058106331276,"position":3,"preview_image":{"aspect_ratio":1.5,"height":480,"width":720,"src":"https:\/\/cdn.shopify.com\/s\/files\/1\/0266\/5231\/1627\/products\/INSTA360TITAN_2.jpg?v=1628150697"},"aspect_ratio":1.5,"height":480,"media_type":"image","src":"https:\/\/cdn.shopify.com\/s\/files\/1\/0266\/5231\/1627\/products\/INSTA360TITAN_2.jpg?v=1628150697","width":720},{"alt":"INSTA360 TITIAN - Actiontech","id":4058106364044,"position":4,"preview_image":{"aspect_ratio":1.5,"height":480,"width":720,"src":"https:\/\/cdn.shopify.com\/s\/files\/1\/0266\/5231\/1627\/products\/INSTA360TITAN_3.jpg?v=1628150697"},"aspect_ratio":1.5,"height":480,"media_type":"image","src":"https:\/\/cdn.shopify.com\/s\/files\/1\/0266\/5231\/1627\/products\/INSTA360TITAN_3.jpg?v=1628150697","width":720}],"content":"\u003cp\u003eThe Insta360 Titan is built for cinematic quality virtual reality. The Insta360 Titan can capture 2D 360 virtual reality photos, video up to 11k resolution with 10-bit-colour and VR video.\u003c\/p\u003e\n\u003cp\u003e \u003c\/p\u003e\n\u003cp\u003e\u003cspan style=\"color: #ff2a00;\"\u003eAvailability: Special Order\u003c\/span\u003e\u003c\/p\u003e\n\u003c!-- split --\u003e \u003c!-- TABS --\u003e\n\u003ch5\u003eProduct Description\u003c\/h5\u003e\n\u003cp\u003e\u003cimg alt=\"\" class=\"img-responsive\" src=\"https:\/\/www.ferntech.co.nz\/assets\/images\/Insta360%20Titan%20features%20jpg.jpg\" data-gtm-vis-first-on-screen-11032289_23=\"188539\" data-gtm-vis-total-visible-time-11032289_23=\"500\" data-gtm-vis-has-fired-11032289_23=\"1\"\u003e\u003c\/p\u003e\n\u003cp\u003eThe Insta360 Titan is built for cinematic quality virtual reality. The Insta360 Titan can capture 2D 360 virtual reality photos, video up to 11k resolution with 10-bit-colour and VR video up to 4k. \u003c\/p\u003e\n\u003cp\u003e \u003c\/p\u003e\n\u003cp\u003e\u003cimg alt=\"\" class=\"img-responsive\" src=\"https:\/\/www.ferntech.co.nz\/assets\/images\/Insta360%20Titan%20Micro%20Four%20Thirds.jpg\" data-gtm-vis-first-on-screen-11032289_23=\"191790\" data-gtm-vis-total-visible-time-11032289_23=\"500\" data-gtm-vis-has-fired-11032289_23=\"1\"\u003e\u003c\/p\u003e\n\u003cp\u003eThe Insta 360 Titan features 8 x Micro Four-Thirds sensors, which are the largest available in any unibody VR camera. They maximize Titan's image quality, dynamic range, low-light performance and colour depth, raising the bar for high-end VR capture. It also has unparalleled clarity, offering 11k resolution and ample 3.3-micron pixels. That's seven times higher than 4K. Titan is the first unibody VR camera to shoot at 11K mono and 10K 3D. \u003c\/p\u003e\n\u003cp\u003eThe Titan's optical features include eight 200° fisheye lenses, adjustable shutter speed, and an ISO range of 100 to 6400. Video is captured up to 10560 x 620 at 30 fps in 11K 2D resolution in MP4 format. H.265\/H.264 compression is supported in-camera, and ProRes 422HQ is available when post-stitching. An HDR (high dynamic range) function provides crisp, natural-looking lighting even in poorly or unevenly lit settings. High-speed frame rates are available up to 120 fps and the still mode includes raw, JPEG, DNG, burst, and time-lapse options.\u003c\/p\u003e\n\u003cp\u003e \u003c\/p\u003e\n\u003cp\u003e\u003cimg alt=\"\" class=\"img-responsive\" src=\"https:\/\/www.ferntech.co.nz\/assets\/images\/Insta360%20Titan%20color%20depth%20description.png\" data-gtm-vis-first-on-screen-11032289_23=\"193192\" data-gtm-vis-total-visible-time-11032289_23=\"500\" data-gtm-vis-has-fired-11032289_23=\"1\"\u003e\u003c\/p\u003e\n\u003cp\u003eTitan also supports shooting in 10 Bit colour, allowing for billions of colour combinations and surgical accuracy. This combined with a 9-axis gyro and advanced FlowState Stabilization means that dynamic shots come out perfectly stable. No gimbal needed.\u003c\/p\u003e\n\u003cp\u003e \u003c\/p\u003e\n\u003ch4\u003eHIGHLIGHTS \u003c\/h4\u003e\n\u003cp\u003eEight Micro Four Thirds sensors, 11K 2D and 10K 3D video resolution, 11K 2D\/3D photo resolution, and eight f\/3.2 fisheye lenses with 200° angle of view\u003cbr\u003e12-stop exposure range; 100 to 6400 ISO range; multiple exposures, photo, and white balance modes; crisp, noise-free low-light performance\u003cbr\u003eEight microSD card slots record in-camera for each lens, plus one additional SD card slot; up to V30 or UHS-I read\/write speeds are recommended, and all cards are required to be installed for operation\u003cbr\u003eRecord video with post-processing stitching up to 10560 x 5280 at 30 fps (11K 2D), 9600 x 9600 at 30 fps (10K 3D), and real-time\/in-camera stitching up to 3840 x 3840 at 30 fps (4K 3D); H264 and H265 in-camera and ProRes 422HQ formats\u003cbr\u003eCapture real-time\/in-camera and post-stitched HDR JPG\/DNG photos up to 10560 x 5280 (11K 2D) and 10560 x 10560 (11K 3D)\u003cbr\u003eFour mono microphones record AAC ambisonic audio\u003cbr\u003eAdditional features: 9-axis gyroscope, FlowState stabilisation system, Optical Flow and Template stitching, 2.4 GHz Wi-Fi, live stream modes with a built-in server, iLog video modes, 10000mAh battery\u003c\/p\u003e\n\u003cp\u003e \u003c\/p\u003e\n\u003ch5\u003eProduct Specifications\u003c\/h5\u003e\n\u003ch2\u003ePRODUCT SPECIFICATIONS\u003c\/h2\u003e\n\u003cp\u003e\u003cstrong\u003eDiameter: \u003c\/strong\u003eΦ228mm\u003cbr\u003e\u003cstrong\u003eMaterial: \u003c\/strong\u003eAluminum alloy\u003cbr\u003e\u003cstrong\u003eLenses: \u003c\/strong\u003e8 x 200° F3.2 fisheye lenses\u003c\/p\u003e\n\u003cp\u003e\u003cstrong\u003ePhotos\u003c\/strong\u003e\u003cbr\u003e\u003cstrong\u003eReal-time \/ Post-processing Stitching:\u003c\/strong\u003e\u003cbr\u003e10560 x 5280 (11K 2D) \u003cbr\u003e10560 x 10560 (11K 3D)\u003c\/p\u003e\n\u003cp\u003e\u003cstrong\u003eVideo\u003cbr\u003ePost-processing Stitching:\u003c\/strong\u003e\u003cbr\u003e10560 x 5280 @30fps (11K 2D)\u003cbr\u003e9600 x 9600 @30fps (10K 3D)\u003cbr\u003e7680 x 7680 @50fps\u003cbr\u003e7680 x 3840 @60fps\u003cbr\u003e5248 x 2624 @120fps\u003c\/p\u003e\n\u003cp\u003e\u003cstrong\u003e10-Bit Video:\u003c\/strong\u003e\u003cbr\u003e7680 x 7680 @30fps (8K 3D)\u003cbr\u003e7680 x 3840 @30fps (8K 2D)\u003c\/p\u003e\n\u003cp\u003e\u003cstrong\u003eReal-time Stitching:\u003c\/strong\u003e\u003cbr\u003e3840 x 3840 @30fps (4K 3D) \u003cbr\u003e3840 x 1920 @30fps (4K 2D)\u003c\/p\u003e\n\u003cp\u003e\u003cstrong\u003ePhoto Files: \u003c\/strong\u003eJPEG \/ DNG\u003cbr\u003e\u003cstrong\u003eVideo Files: \u003c\/strong\u003eMP4\u003cbr\u003e\u003cstrong\u003eVideo Coding\u003c\/strong\u003e: H264 and H265 in-camera, Pro RES 422 HQ is available when post stitching.\u003c\/p\u003e\n\u003cp\u003e\u003cstrong\u003eLive-streaming Modes\u003cbr\u003eBuilt-in server \/ Custom server \/ HDMI output:\u003c\/strong\u003e\u003cbr\u003e3840 x 1920 @30 fps ( 4K 2D livestream ) can store 8K 3D video while livestreaming.\u003cbr\u003e3840 x 3840 @30 fps ( 4K 3D livestream ) can store 8K 3D video while livestreaming.\u003cbr\u003eNote: Simultaneous live-streaming + recording is supported.\u003cbr\u003e\u003cstrong\u003eLive-streaming Protocol: \u003c\/strong\u003ertsp, rtmp, hls, rtmps\u003c\/p\u003e\n\u003cp\u003e\u003cstrong\u003eStorage Specification:\u003c\/strong\u003e 9 × Full-size SD Cards\u003cbr\u003e\u003cstrong\u003eISO Range: \u003c\/strong\u003e100~6400\u003cbr\u003e\u003cstrong\u003eExposure Modes: \u003c\/strong\u003eAuto, Manual, Lens-by-Lens Custom, Shutter Priority (photo only), ISO Priority (photo only), Set ISO Upper Limit (video only).\u003cbr\u003e\u003cstrong\u003eWhite Balance Modes: \u003c\/strong\u003eAutomatic, manual\u003cbr\u003e\u003cstrong\u003ePhoto Modes: \u003c\/strong\u003eSingle shot \/ Burst (10 continuous shots) \/ Timelapse \/\u003cbr\u003eAEB (Auto Exposure Bracket, optional 3, 5, 7, and 9 photos for in-camera HDR photos)\u003cbr\u003eNote: Both RAW and JPG can be selected for simultaneous shooting for synthetic HDR photos and all other photo modes.\u003cbr\u003e\u003cstrong\u003eVideo Modes: \u003c\/strong\u003eStandard (i-Log is available) \/ Binning (i-Log is available)\u003c\/p\u003e\n\u003cp\u003e\u003cstrong\u003eBitrate Per Lens: \u003c\/strong\u003eUp to 180Mbps\u003cbr\u003e\u003cstrong\u003ePower: \u003c\/strong\u003e19V 9A adapter\u003cbr\u003e\u003cstrong\u003eBattery Capacity:\u003c\/strong\u003e 10000mAh removable battery\u003cbr\u003e\u003cstrong\u003eOperating Temperature: \u003c\/strong\u003e0 - 40℃\u003cbr\u003e\u003cstrong\u003eStorage Temperature: \u003c\/strong\u003e-20 - 40℃\u003c\/p\u003e\n\u003cp\u003e\u003cstrong\u003eWiFi Specifications\u003cbr\u003eWiFi Specifications:\u003c\/strong\u003e 802.11 b\/g\/n, 2.4GHz. Signal range is about 20 meters in open space. Max preview framerate of 30 FPS, supported in roughly a 5-meter range.\u003c\/p\u003e\n\u003cp\u003e\u003cstrong\u003eAntennae:\u003c\/strong\u003e GPS signal antenna + WiFi signal antenna\u003cbr\u003e\u003cstrong\u003eEthernet Port: \u003c\/strong\u003eYes\u003cbr\u003e\u003cstrong\u003eVideo Transmission: \u003c\/strong\u003eInsta360 Farsight provides ground-to-ground range of up to 300 meters and ground-to-air range of up to 1000 meters, with 30 FPS preview.\u003c\/p\u003e\n\u003cp\u003e\u003cstrong\u003eAudio:\u003c\/strong\u003e 4 Mono Microphones\u003cbr\u003e\u003cstrong\u003eAudio Coding Format: \u003c\/strong\u003eAAC\u003cbr\u003e\u003cstrong\u003eSpatial Audio: \u003c\/strong\u003eAmbisonic\u003cbr\u003e\u003cstrong\u003eGyroscope: \u003c\/strong\u003eUltra-precise 9-axis gyroscope\u003cbr\u003e\u003cstrong\u003eStabilization: \u003c\/strong\u003eFlowState Stabilization\u003cbr\u003e\u003cstrong\u003eStitching: \u003c\/strong\u003eOptical Flow \/ Template\u003cbr\u003e\u003cstrong\u003eExposure Range: \u003c\/strong\u003e12 Stops\u003cbr\u003e\u003cstrong\u003eSupported Operating Systems: \u003c\/strong\u003eWindows \/ Mac \/ iOS \/ Android\u003cbr\u003e\u003cstrong\u003eWeight:\u003c\/strong\u003e 5.5kg\u003c\/p\u003e\n\u003cp\u003e \u003c\/p\u003e\n\u003ch5\u003e\u003c\/h5\u003e\n\u003cp\u003e \u003c\/p\u003e\n\u003ch5\u003eIn The Box\u003c\/h5\u003e\n\u003ch2\u003eIN THE BOX\u003c\/h2\u003e\n\u003cp\u003eInsta360 Titan x 1\u003cbr\u003eTrolley Case x 1\u003cbr\u003eRechargeable Lithium Polymer Battery x 1\u003cbr\u003eTitan DC Adapter x 1\u003cbr\u003eTitan AC Cable x 1\u003cbr\u003eProtective Lens Cover x 1\u003cbr\u003eUSB2.0 to 100Mbps Ethernet Network Adapter x 1\u003cbr\u003eUSB Type-C Cable x 1\u003cbr\u003e1\/4" to 1\/4" Adapter x 1\u003cbr\u003eAntenna x 2\u003c\/p\u003e\n\u003cp\u003e \u003c\/p\u003e\n\u003c!-- \/TABS --\u003e"}
INSTA360 TITIAN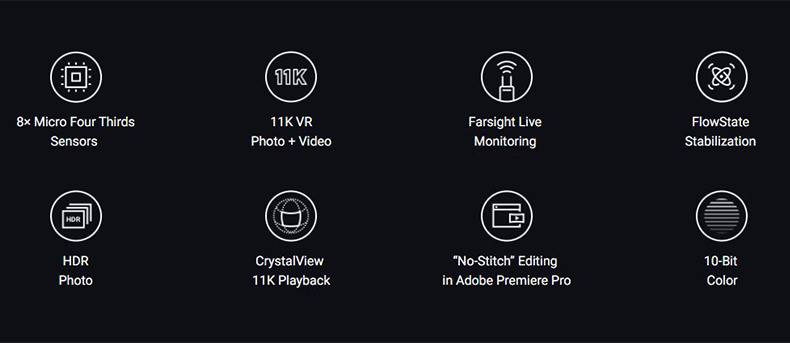 The Insta360 Titan is built for cinematic quality virtual reality. The Insta360 Titan can capture 2D 360 virtual reality photos, video up to 11k resolution with 10-bit-colour and VR video up to 4k.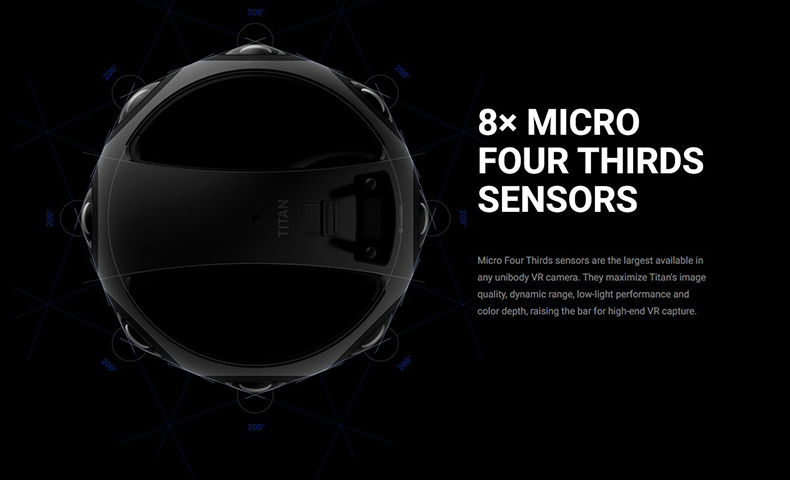 The Insta 360 Titan features 8 x Micro Four-Thirds sensors, which are the largest available in any unibody VR camera. They maximize Titan's image quality, dynamic range, low-light performance and colour depth, raising the bar for high-end VR capture. It also has unparalleled clarity, offering 11k resolution and ample 3.3-micron pixels. That's seven times higher than 4K. Titan is the first unibody VR camera to shoot at 11K mono and 10K 3D. 
The Titan's optical features include eight 200° fisheye lenses, adjustable shutter speed, and an ISO range of 100 to 6400. Video is captured up to 10560 x 620 at 30 fps in 11K 2D resolution in MP4 format. H.265/H.264 compression is supported in-camera, and ProRes 422HQ is available when post-stitching. An HDR (high dynamic range) function provides crisp, natural-looking lighting even in poorly or unevenly lit settings. High-speed frame rates are available up to 120 fps and the still mode includes raw, JPEG, DNG, burst, and time-lapse options.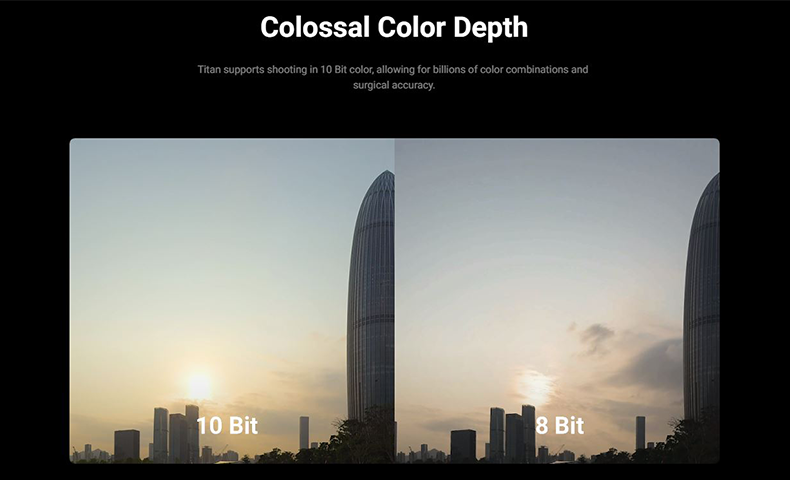 Titan also supports shooting in 10 Bit colour, allowing for billions of colour combinations and surgical accuracy. This combined with a 9-axis gyro and advanced FlowState Stabilization means that dynamic shots come out perfectly stable. No gimbal needed.
HIGHLIGHTS 
Eight Micro Four Thirds sensors, 11K 2D and 10K 3D video resolution, 11K 2D/3D photo resolution, and eight f/3.2 fisheye lenses with 200° angle of view
12-stop exposure range; 100 to 6400 ISO range; multiple exposures, photo, and white balance modes; crisp, noise-free low-light performance
Eight microSD card slots record in-camera for each lens, plus one additional SD card slot; up to V30 or UHS-I read/write speeds are recommended, and all cards are required to be installed for operation
Record video with post-processing stitching up to 10560 x 5280 at 30 fps (11K 2D), 9600 x 9600 at 30 fps (10K 3D), and real-time/in-camera stitching up to 3840 x 3840 at 30 fps (4K 3D); H264 and H265 in-camera and ProRes 422HQ formats
Capture real-time/in-camera and post-stitched HDR JPG/DNG photos up to 10560 x 5280 (11K 2D) and 10560 x 10560 (11K 3D)
Four mono microphones record AAC ambisonic audio
Additional features: 9-axis gyroscope, FlowState stabilisation system, Optical Flow and Template stitching, 2.4 GHz Wi-Fi, live stream modes with a built-in server, iLog video modes, 10000mAh battery
PRODUCT SPECIFICATIONS
Diameter: Φ228mm
Material: Aluminum alloy
Lenses: 8 x 200° F3.2 fisheye lenses
Photos
Real-time / Post-processing Stitching:
10560 x 5280 (11K 2D) 
10560 x 10560 (11K 3D)
Video
Post-processing Stitching:
10560 x 5280 @30fps (11K 2D)
9600 x 9600 @30fps (10K 3D)
7680 x 7680 @50fps
7680 x 3840 @60fps
5248 x 2624 @120fps
10-Bit Video:
7680 x 7680 @30fps (8K 3D)
7680 x 3840 @30fps (8K 2D)
Real-time Stitching:
3840 x 3840 @30fps (4K 3D) 
3840 x 1920 @30fps (4K 2D)
Photo Files: JPEG / DNG
Video Files: MP4
Video Coding: H264 and H265 in-camera, Pro RES 422 HQ is available when post stitching.
Live-streaming Modes
Built-in server / Custom server / HDMI output:
3840 x 1920 @30 fps ( 4K 2D livestream ) can store 8K 3D video while livestreaming.
3840 x 3840 @30 fps ( 4K 3D livestream ) can store 8K 3D video while livestreaming.
Note: Simultaneous live-streaming + recording is supported.
Live-streaming Protocol: rtsp, rtmp, hls, rtmps
Storage Specification: 9 × Full-size SD Cards
ISO Range: 100~6400
Exposure Modes: Auto, Manual, Lens-by-Lens Custom, Shutter Priority (photo only), ISO Priority (photo only), Set ISO Upper Limit (video only).
White Balance Modes: Automatic, manual
Photo Modes: Single shot / Burst (10 continuous shots) / Timelapse /
AEB (Auto Exposure Bracket, optional 3, 5, 7, and 9 photos for in-camera HDR photos)
Note: Both RAW and JPG can be selected for simultaneous shooting for synthetic HDR photos and all other photo modes.
Video Modes: Standard (i-Log is available) / Binning (i-Log is available)
Bitrate Per Lens: Up to 180Mbps
Power: 19V 9A adapter
Battery Capacity: 10000mAh removable battery
Operating Temperature: 0 - 40℃
Storage Temperature: -20 - 40℃
WiFi Specifications
WiFi Specifications: 802.11 b/g/n, 2.4GHz. Signal range is about 20 meters in open space. Max preview framerate of 30 FPS, supported in roughly a 5-meter range.
Antennae: GPS signal antenna + WiFi signal antenna
Ethernet Port: Yes
Video Transmission: Insta360 Farsight provides ground-to-ground range of up to 300 meters and ground-to-air range of up to 1000 meters, with 30 FPS preview.
Audio: 4 Mono Microphones
Audio Coding Format: AAC
Spatial Audio: Ambisonic
Gyroscope: Ultra-precise 9-axis gyroscope
Stabilization: FlowState Stabilization
Stitching: Optical Flow / Template
Exposure Range: 12 Stops
Supported Operating Systems: Windows / Mac / iOS / Android
Weight: 5.5kg
IN THE BOX
Insta360 Titan x 1
Trolley Case x 1
Rechargeable Lithium Polymer Battery x 1
Titan DC Adapter x 1
Titan AC Cable x 1
Protective Lens Cover x 1
USB2.0 to 100Mbps Ethernet Network Adapter x 1
USB Type-C Cable x 1
1/4" to 1/4" Adapter x 1
Antenna x 2