{"id":7288111530138,"title":"Insta360 ONE RS 4K Edition","handle":"insta360-one-rs-4k-edition","description":"\u003cmeta charset=\"UTF-8\"\u003e\n\u003cp data-mce-fragment=\"1\"\u003eThe next-gen action cam that's built to adapt. More lenses, more power, more possibilities.\u003c\/p\u003e\n\u003cp\u003e \u003c\/p\u003e\n\u003cp\u003e\u003cspan style=\"color: #ff2a00;\"\u003eAvailability: Pre Order \u003c\/span\u003e\u003c\/p\u003e\n\u003c!-- split --\u003e \u003c!-- TABS --\u003e\n\u003ch5\u003eProduct Description\u003c\/h5\u003e\n\u003ch2\u003eFEATURES\u003c\/h2\u003e\n\u003cul\u003e\n\u003cli\u003eCore module with a touchscreen live-view display\u003c\/li\u003e\n\u003cli\u003e4K Boost Lens with FlowState Stabilization\u003c\/li\u003e\n\u003cli\u003eBattery Base\u003c\/li\u003e\n\u003cli\u003eThree microphones for crisp audio\u003c\/li\u003e\n\u003cli\u003eMounting frame with heat-dissipating design and wind resistance\u003c\/li\u003e\n\u003cli\u003eiOS\/Android companion app\u003c\/li\u003e\n\u003c\/ul\u003e\n\u003cp\u003e \u003c\/p\u003e\n\u003cp\u003e\u003cimg data-gtm-vis-has-fired-11032289_23=\"1\" data-gtm-vis-total-visible-time-11032289_23=\"500\" data-gtm-vis-first-on-screen-11032289_23=\"62165\" src=\"https:\/\/www.ferntech.co.nz\/assets\/images\/4%20Build%20-%20Front.png\" alt=\"\"\u003e\u003c\/p\u003e\n\u003cp\u003e \u003c\/p\u003e\n\u003ch3\u003e4K BOOST LENS\u003c\/h3\u003e\n\u003cp\u003eZero in on the action with the 4K Boost Lens. Rugged and durable, with a new 1\/2\" 48MP image sensor for more detailed 4K 60fps videos and 48MP photos.\u003c\/p\u003e\n\u003cul\u003e\n\u003cli\u003e48MP Photos: 4x more megapixels. Capture the extra detail those picture-perfect moments deserve, with better colours and lighting.\u003c\/li\u003e\n\u003cli\u003e6K Widescreen Mode: Shoot ultra-detailed 6K footage that would look right at home in a Hollywood movie, with a classic 2.35:1 ratio for widescreen viewing.\u003c\/li\u003e\n\u003c\/ul\u003e\n\u003cp\u003e \u003c\/p\u003e\n\u003ch3\u003e \u003c\/h3\u003e\n\u003ch3\u003eINVISIBLE SELFIE STICK COMPATIBLE\u003c\/h3\u003e\n\u003cp\u003eDon't ruin the view with an ugly selfie stick! The 360 Lens makes the Invisible Selfie Stick (sold separately) totally disappear from your shots for impossible drone-like footage. Magic!\u003c\/p\u003e\n\u003cp\u003e \u003c\/p\u003e\n\u003cp\u003e \u003c\/p\u003e\n\u003ch3\u003eTHIRD-PERSON VIEW\u003c\/h3\u003e\n\u003cp\u003eDoing something epic but nobody around to help you take the shot? Capture insane third-person perspectives with the Invisible Selfie Stick. Guaranteed to get people asking \"how did you film that?!\"\u003c\/p\u003e\n\u003cp\u003e \u003c\/p\u003e\n\u003cp\u003e\u003cimg src=\"https:\/\/www.ferntech.co.nz\/assets\/images\/MXGP_02.jpg\" alt=\"\"\u003e\u003c\/p\u003e\n\u003cp\u003e \u003c\/p\u003e\n\u003ch3\u003eFLOWSTATE STABILISATION.\u003c\/h3\u003e\n\u003cp\u003eSmooth image stabilisation, no matter what lens you use. The powerful RS Core now delivers FlowState stabilisation in camera when paired with the wide-angle lenses. No editing needed.\u003c\/p\u003e\n\u003cp\u003e \u003c\/p\u003e\n\u003cp\u003e \u003c\/p\u003e\n\u003cp\u003e\u003cimg src=\"https:\/\/www.ferntech.co.nz\/assets\/images\/Horizon%20Lock.jpg\" alt=\"\"\u003e\u003c\/p\u003e\n\u003cp\u003e \u003c\/p\u003e\n\u003ch3\u003eHORIZON LOCK.\u003c\/h3\u003e\n\u003cp\u003ePerfectly level shots, no matter how much you tilt your cam. All three lenses support 360° horizon levelling.\u003c\/p\u003e\n\u003cp\u003e \u003c\/p\u003e\n\u003cp\u003e \u003c\/p\u003e\n\u003ch3\u003eACTIVE HDR\u003c\/h3\u003e\n\u003cp\u003eAn innovative new HDR video mode for action sports. Active HDR on the 4K Boost Lens keeps your video stabilised as you move, while keeping details in the highlights and shadows for more vibrant footage.\u003c\/p\u003e\n\u003cp\u003e \u003c\/p\u003e\n\u003cp\u003e\u003cimg src=\"https:\/\/www.ferntech.co.nz\/assets\/images\/Diving.jpg\" alt=\"\"\u003e\u003c\/p\u003e\n\u003cp\u003e \u003c\/p\u003e\n\u003ch3\u003eWATERPROOF TO 5M\u003c\/h3\u003e\n\u003cp\u003eInsta360 ONE RS is waterproof to 5 metres when assembled (all components are locked together and secured in the Mounting Bracket). Dunk your action cam underwater without a worry.\u003c\/p\u003e\n\u003cp\u003e \u003c\/p\u003e\n\u003cp\u003e \u003c\/p\u003e\n\u003ch3\u003eRUGGED DESIGN\u003c\/h3\u003e\n\u003cp\u003eHigh performance connectors and a unique structural design enable a reliable connection between the mods, even at the height of the action.\u003c\/p\u003e\n\u003cp\u003e \u003c\/p\u003e\n\u003cp\u003e \u003c\/p\u003e\n\u003ch3\u003eFASTER WIFI\u003c\/h3\u003e\n\u003cp\u003eTransfer and edit your files faster in the Insta360 app, thanks to all-new hardware in the Core.\u003c\/p\u003e\n\u003cp\u003e \u003c\/p\u003e\n\u003cp\u003e \u003c\/p\u003e\n\u003ch3\u003eCRISPER AUDIO\u003c\/h3\u003e\n\u003cp\u003eThe RS Core now has an additional mic to help capture the audio you do want, and a Wind Noise Reduction algorithm to remove the noise you don't.\u003c\/p\u003e\n\u003cp\u003e \u003c\/p\u003e\n\u003cp\u003e \u003c\/p\u003e\n\u003ch3\u003eINSTANT ZOOM\u003c\/h3\u003e\n\u003cp\u003eDigitally zoom in up to 2.7x on a subject while you record—no need to set up your shot in advance.\u003c\/p\u003e\n\u003cp\u003e \u003c\/p\u003e\n\u003cp\u003e \u003c\/p\u003e\n\u003ch3\u003eQUICK MENU\u003c\/h3\u003e\n\u003cp\u003eAccess all your favourite shooting presets in one place with just a tap. Change modes on the go to keep up with the action.\u003c\/p\u003e\n\u003cp\u003e \u003c\/p\u003e\n\u003cp\u003e\u003cimg data-gtm-vis-total-visible-time-11032289_23=\"100\" data-gtm-vis-first-on-screen-11032289_23=\"77048\" src=\"https:\/\/www.ferntech.co.nz\/assets\/images\/Ski0.jpg\" alt=\"\"\u003e\u003c\/p\u003e\n\u003cp\u003e \u003c\/p\u003e\n\u003ch3\u003eINSTA360 APP\u003c\/h3\u003e\n\u003cp\u003ePowerful editing tools at your fingertips. Let AI do the work with auto editing tools and templates, or dial in on your edit with a host of manual controls.\u003c\/p\u003e\n\u003cp\u003e \u003c\/p\u003e\n\u003cp\u003e \u003c\/p\u003e\n\u003ch3\u003eEDIT LIKE A PRO ON DESKTOP.\u003c\/h3\u003e\n\u003cp\u003eInsta360 Studio's new look makes editing on desktop easier. Or, jump right into your edit with the Adobe Premiere Pro plugin's no-stitch workflow.\u003c\/p\u003e\n\u003cp\u003e \u003c\/p\u003e\n\u003cp\u003e \u003c\/p\u003e\n\u003ch3\u003eLIVE STREAMING\u003c\/h3\u003e\n\u003cp\u003eShare your adventures as you experience them with the 360 Lens. Reframe to control the perspective yourself or immerse your audience with 360° live streaming.\u003c\/p\u003e\n\u003cp\u003e \u003c\/p\u003e\n\u003cp\u003e \u003c\/p\u003e\n\u003ch3\u003eWEBCAM\u003c\/h3\u003e\n\u003cp\u003eWhether working from home or in the office, connect any of the lenses to your computer for ultra-wide, high-res video calls.\u003c\/p\u003e\n\u003cp\u003e \u003c\/p\u003e\n\u003ch5\u003eProduct Specifications\u003c\/h5\u003e\n\u003ch2\u003ePRODUCT SPECIFICATIONS\u003c\/h2\u003e\n\u003cp\u003e\u003cstrong\u003eAperture\u003c\/strong\u003e: F2.4\u003c\/p\u003e\n\u003cp\u003e\u003cstrong\u003e35mm Equivalent Focal Length: \u003c\/strong\u003e16mm\u003c\/p\u003e\n\u003cp\u003e\u003cstrong\u003ePhoto Resolution: \u003c\/strong\u003e8000x6000 (4:3), 8000x4500 (16:9), 4000x3000 (4:3), 4000x2250 (16:9)\u003c\/p\u003e\n\u003cp\u003e\u003cstrong\u003eVideo Resolution: \u003c\/strong\u003e6016x2560@25\/24fps (under 6K Widescreen Mode), 4000x3000@24\/25\/30fps, 3840x2160@24\/25\/30\/50\/60fps, 2720x1530@24\/25\/30\/60\/100fps, 1920x1080@24\/25\/30\/60\/120\/200fps\u003c\/p\u003e\n\u003cp\u003e\u003cstrong\u003ePhoto Format: \u003c\/strong\u003ejpg, RAW (dng) (RAW files require software on PC\/Mac to export.)\u003c\/p\u003e\n\u003cp\u003e\u003cstrong\u003eVideo Format: \u003c\/strong\u003emp4 (For files prefixed with \"PRO_\", please import into app\/Studio to adjust aspect ratio and apply Post FlowState stabilization)\u003c\/p\u003e\n\u003cp\u003e\u003cstrong\u003ePhoto Modes: \u003c\/strong\u003eStandard, HDR, Interval, Night Shot, Starlapse, Burst, PureShot\u003c\/p\u003e\n\u003cp\u003e\u003cstrong\u003eVideo Modes: \u003c\/strong\u003eStandard Video, Slow Motion, Active HDR, Timelapse, TimeShift, Loop Recording, 6K Widescreen FlowState (in-camera stabilization) Post FlowState (in-app stabilization)\u003c\/p\u003e\n\u003cp\u003e\u003cstrong\u003eColor Profiles:\u003c\/strong\u003e Standard, Vivid, LOG\u003c\/p\u003e\n\u003cp\u003e\u003cstrong\u003eWeight:\u003c\/strong\u003e 125.3g\u003c\/p\u003e\n\u003cp\u003e\u003cstrong\u003eDimensions (W x H x D): \u003c\/strong\u003e70.1x49.1x32.6mm\u003c\/p\u003e\n\u003cp\u003e\u003cstrong\u003eRun Time: \u003c\/strong\u003e75 minutes *Tested in lab environment under 4K@60fps FlowState mode\u003c\/p\u003e\n\u003cp\u003e\u003cstrong\u003eVideo Bitrate: \u003c\/strong\u003e100Mbps\u003c\/p\u003e\n\u003cp\u003e\u003cstrong\u003eGyroscope: \u003c\/strong\u003e6-axis Gyroscope\u003c\/p\u003e\n\u003cp\u003e\u003cstrong\u003eLive Streaming:\u003c\/strong\u003e Only available with the 360 camera\u003c\/p\u003e\n\u003cp\u003e\u003cstrong\u003eExposure Value: \u003c\/strong\u003e±4EV\u003c\/p\u003e\n\u003cp\u003e\u003cstrong\u003eISO Range:\u003c\/strong\u003e Photo: 100-6400, Video: 100-6400\u003c\/p\u003e\n\u003cp\u003e\u003cstrong\u003eShutter Speed: \u003c\/strong\u003ePhoto: 1\/8000 - 120s, Video: 1\/8000 - to the limit of frames per second\u003c\/p\u003e\n\u003cp\u003e\u003cstrong\u003eWhite Balance: \u003c\/strong\u003e2000K-10000K\u003c\/p\u003e\n\u003cp\u003e\u003cstrong\u003eAudio Modes:\u003c\/strong\u003e Wind Reduction, Directional Enhancement, Stereo\u003c\/p\u003e\n\u003cp\u003e\u003cstrong\u003eAudio Format:\u003c\/strong\u003e 48 kHz, AAC\u003c\/p\u003e\n\u003cp\u003e\u003cstrong\u003eBluetooth: \u003c\/strong\u003eBLE5.0\u003c\/p\u003e\n\u003cp\u003e\u003cstrong\u003eWi-Fi: \u003c\/strong\u003e5 GHz, 802.11ac (Standard range of approximately 20 meters, max transmission speed of 20MB\/s)\u003c\/p\u003e\n\u003cp\u003e\u003cstrong\u003eUSB: \u003c\/strong\u003eUSB Type-C\u003c\/p\u003e\n\u003cp\u003e*Note: This camera only supports wired connection to Android devices (via Micro-USB or Type-C). It does not support wired connection to iOS devices. Full wireless support is available for both iOS and Android.\u003c\/p\u003e\n\u003cp\u003e\u003cstrong\u003eMicroSD Card:\u003c\/strong\u003e exFAT formatted microSD cards with the UHS-I bus interface and Video Speed Class V30 rating (exactly this class, neither higher or lower) with a max storage of 1TB are recommended.\u003c\/p\u003e\n\u003cp\u003e\u003cstrong\u003eBattery Capacity: \u003c\/strong\u003e1445mAh\u003c\/p\u003e\n\u003cp\u003e\u003cstrong\u003eCharging Method: \u003c\/strong\u003eType-C USB\u003c\/p\u003e\n\u003cp\u003e\u003cstrong\u003eCharging Time:\u003c\/strong\u003e 65 minutes (powered off)\u003c\/p\u003e\n\u003cp\u003e\u003cstrong\u003eOperating Temperature:\u003c\/strong\u003e -4°F to 104°F (-20℃ to 40℃)\u003c\/p\u003e\n\u003cp\u003e \u003c\/p\u003e\n\u003ch5\u003eIn The Box\u003c\/h5\u003e\n\u003ch2\u003eIN THE BOX\u003c\/h2\u003e\n\u003cp\u003eONE RS Core × 1\u003cbr\u003eONE RS Battery × 1\u003cbr\u003eONE RS Mounting Bracket × 1\u003cbr\u003eCharging Cable × 1\u003cbr\u003eLens Cloth × 1\u003cbr\u003e4K Boost Lens × 1\u003c\/p\u003e\n\u003cp\u003e \u003c\/p\u003e\n\u003c!-- \/TABS --\u003e","published_at":"2022-03-24T20:37:15+13:00","created_at":"2022-03-24T20:37:10+13:00","vendor":"Insta360","type":"Action Camera","tags":["Insta360","not-on-sale"],"price":52900,"price_min":52900,"price_max":52900,"available":true,"price_varies":false,"compare_at_price":null,"compare_at_price_min":0,"compare_at_price_max":0,"compare_at_price_varies":false,"variants":[{"id":41779230671002,"title":"Default Title","option1":"Default Title","option2":null,"option3":null,"sku":"INSTA360ONERS4K","requires_shipping":true,"taxable":true,"featured_image":null,"available":true,"name":"Insta360 ONE RS 4K Edition","public_title":null,"options":["Default Title"],"price":52900,"weight":0,"compare_at_price":null,"inventory_management":"shopify","barcode":""}],"images":["\/\/cdn.shopify.com\/s\/files\/1\/0266\/5231\/1627\/products\/INSTA360ONERS4K.jpg?v=1648107431","\/\/cdn.shopify.com\/s\/files\/1\/0266\/5231\/1627\/products\/INSTA360ONERS4K1.jpg?v=1648107434","\/\/cdn.shopify.com\/s\/files\/1\/0266\/5231\/1627\/products\/INSTA360ONERS4K2.jpg?v=1648107435","\/\/cdn.shopify.com\/s\/files\/1\/0266\/5231\/1627\/products\/INSTA360ONERS4K3.jpg?v=1648107435","\/\/cdn.shopify.com\/s\/files\/1\/0266\/5231\/1627\/products\/INSTA360ONERS4K4.jpg?v=1648107435","\/\/cdn.shopify.com\/s\/files\/1\/0266\/5231\/1627\/products\/INSTA360ONERS4K5.jpg?v=1648107435"],"featured_image":"\/\/cdn.shopify.com\/s\/files\/1\/0266\/5231\/1627\/products\/INSTA360ONERS4K.jpg?v=1648107431","options":["Title"],"media":[{"alt":"Insta360 ONE RS 4K Edition - Actiontech","id":25836361777306,"position":1,"preview_image":{"aspect_ratio":1.5,"height":480,"width":720,"src":"https:\/\/cdn.shopify.com\/s\/files\/1\/0266\/5231\/1627\/products\/INSTA360ONERS4K.jpg?v=1648107431"},"aspect_ratio":1.5,"height":480,"media_type":"image","src":"https:\/\/cdn.shopify.com\/s\/files\/1\/0266\/5231\/1627\/products\/INSTA360ONERS4K.jpg?v=1648107431","width":720},{"alt":"Insta360 ONE RS 4K Edition - Actiontech","id":25836361810074,"position":2,"preview_image":{"aspect_ratio":1.5,"height":480,"width":720,"src":"https:\/\/cdn.shopify.com\/s\/files\/1\/0266\/5231\/1627\/products\/INSTA360ONERS4K1.jpg?v=1648107434"},"aspect_ratio":1.5,"height":480,"media_type":"image","src":"https:\/\/cdn.shopify.com\/s\/files\/1\/0266\/5231\/1627\/products\/INSTA360ONERS4K1.jpg?v=1648107434","width":720},{"alt":"Insta360 ONE RS 4K Edition - Actiontech","id":25836361842842,"position":3,"preview_image":{"aspect_ratio":1.5,"height":480,"width":720,"src":"https:\/\/cdn.shopify.com\/s\/files\/1\/0266\/5231\/1627\/products\/INSTA360ONERS4K2.jpg?v=1648107435"},"aspect_ratio":1.5,"height":480,"media_type":"image","src":"https:\/\/cdn.shopify.com\/s\/files\/1\/0266\/5231\/1627\/products\/INSTA360ONERS4K2.jpg?v=1648107435","width":720},{"alt":"Insta360 ONE RS 4K Edition - Actiontech","id":25836361875610,"position":4,"preview_image":{"aspect_ratio":1.5,"height":480,"width":720,"src":"https:\/\/cdn.shopify.com\/s\/files\/1\/0266\/5231\/1627\/products\/INSTA360ONERS4K3.jpg?v=1648107435"},"aspect_ratio":1.5,"height":480,"media_type":"image","src":"https:\/\/cdn.shopify.com\/s\/files\/1\/0266\/5231\/1627\/products\/INSTA360ONERS4K3.jpg?v=1648107435","width":720},{"alt":"Insta360 ONE RS 4K Edition - Actiontech","id":25836361908378,"position":5,"preview_image":{"aspect_ratio":1.5,"height":480,"width":720,"src":"https:\/\/cdn.shopify.com\/s\/files\/1\/0266\/5231\/1627\/products\/INSTA360ONERS4K4.jpg?v=1648107435"},"aspect_ratio":1.5,"height":480,"media_type":"image","src":"https:\/\/cdn.shopify.com\/s\/files\/1\/0266\/5231\/1627\/products\/INSTA360ONERS4K4.jpg?v=1648107435","width":720},{"alt":"Insta360 ONE RS 4K Edition - Actiontech","id":25836361941146,"position":6,"preview_image":{"aspect_ratio":1.5,"height":480,"width":720,"src":"https:\/\/cdn.shopify.com\/s\/files\/1\/0266\/5231\/1627\/products\/INSTA360ONERS4K5.jpg?v=1648107435"},"aspect_ratio":1.5,"height":480,"media_type":"image","src":"https:\/\/cdn.shopify.com\/s\/files\/1\/0266\/5231\/1627\/products\/INSTA360ONERS4K5.jpg?v=1648107435","width":720}],"content":"\u003cmeta charset=\"UTF-8\"\u003e\n\u003cp data-mce-fragment=\"1\"\u003eThe next-gen action cam that's built to adapt. More lenses, more power, more possibilities.\u003c\/p\u003e\n\u003cp\u003e \u003c\/p\u003e\n\u003cp\u003e\u003cspan style=\"color: #ff2a00;\"\u003eAvailability: Pre Order \u003c\/span\u003e\u003c\/p\u003e\n\u003c!-- split --\u003e \u003c!-- TABS --\u003e\n\u003ch5\u003eProduct Description\u003c\/h5\u003e\n\u003ch2\u003eFEATURES\u003c\/h2\u003e\n\u003cul\u003e\n\u003cli\u003eCore module with a touchscreen live-view display\u003c\/li\u003e\n\u003cli\u003e4K Boost Lens with FlowState Stabilization\u003c\/li\u003e\n\u003cli\u003eBattery Base\u003c\/li\u003e\n\u003cli\u003eThree microphones for crisp audio\u003c\/li\u003e\n\u003cli\u003eMounting frame with heat-dissipating design and wind resistance\u003c\/li\u003e\n\u003cli\u003eiOS\/Android companion app\u003c\/li\u003e\n\u003c\/ul\u003e\n\u003cp\u003e \u003c\/p\u003e\n\u003cp\u003e\u003cimg data-gtm-vis-has-fired-11032289_23=\"1\" data-gtm-vis-total-visible-time-11032289_23=\"500\" data-gtm-vis-first-on-screen-11032289_23=\"62165\" src=\"https:\/\/www.ferntech.co.nz\/assets\/images\/4%20Build%20-%20Front.png\" alt=\"\"\u003e\u003c\/p\u003e\n\u003cp\u003e \u003c\/p\u003e\n\u003ch3\u003e4K BOOST LENS\u003c\/h3\u003e\n\u003cp\u003eZero in on the action with the 4K Boost Lens. Rugged and durable, with a new 1\/2\" 48MP image sensor for more detailed 4K 60fps videos and 48MP photos.\u003c\/p\u003e\n\u003cul\u003e\n\u003cli\u003e48MP Photos: 4x more megapixels. Capture the extra detail those picture-perfect moments deserve, with better colours and lighting.\u003c\/li\u003e\n\u003cli\u003e6K Widescreen Mode: Shoot ultra-detailed 6K footage that would look right at home in a Hollywood movie, with a classic 2.35:1 ratio for widescreen viewing.\u003c\/li\u003e\n\u003c\/ul\u003e\n\u003cp\u003e \u003c\/p\u003e\n\u003ch3\u003e \u003c\/h3\u003e\n\u003ch3\u003eINVISIBLE SELFIE STICK COMPATIBLE\u003c\/h3\u003e\n\u003cp\u003eDon't ruin the view with an ugly selfie stick! The 360 Lens makes the Invisible Selfie Stick (sold separately) totally disappear from your shots for impossible drone-like footage. Magic!\u003c\/p\u003e\n\u003cp\u003e \u003c\/p\u003e\n\u003cp\u003e \u003c\/p\u003e\n\u003ch3\u003eTHIRD-PERSON VIEW\u003c\/h3\u003e\n\u003cp\u003eDoing something epic but nobody around to help you take the shot? Capture insane third-person perspectives with the Invisible Selfie Stick. Guaranteed to get people asking \"how did you film that?!\"\u003c\/p\u003e\n\u003cp\u003e \u003c\/p\u003e\n\u003cp\u003e\u003cimg src=\"https:\/\/www.ferntech.co.nz\/assets\/images\/MXGP_02.jpg\" alt=\"\"\u003e\u003c\/p\u003e\n\u003cp\u003e \u003c\/p\u003e\n\u003ch3\u003eFLOWSTATE STABILISATION.\u003c\/h3\u003e\n\u003cp\u003eSmooth image stabilisation, no matter what lens you use. The powerful RS Core now delivers FlowState stabilisation in camera when paired with the wide-angle lenses. No editing needed.\u003c\/p\u003e\n\u003cp\u003e \u003c\/p\u003e\n\u003cp\u003e \u003c\/p\u003e\n\u003cp\u003e\u003cimg src=\"https:\/\/www.ferntech.co.nz\/assets\/images\/Horizon%20Lock.jpg\" alt=\"\"\u003e\u003c\/p\u003e\n\u003cp\u003e \u003c\/p\u003e\n\u003ch3\u003eHORIZON LOCK.\u003c\/h3\u003e\n\u003cp\u003ePerfectly level shots, no matter how much you tilt your cam. All three lenses support 360° horizon levelling.\u003c\/p\u003e\n\u003cp\u003e \u003c\/p\u003e\n\u003cp\u003e \u003c\/p\u003e\n\u003ch3\u003eACTIVE HDR\u003c\/h3\u003e\n\u003cp\u003eAn innovative new HDR video mode for action sports. Active HDR on the 4K Boost Lens keeps your video stabilised as you move, while keeping details in the highlights and shadows for more vibrant footage.\u003c\/p\u003e\n\u003cp\u003e \u003c\/p\u003e\n\u003cp\u003e\u003cimg src=\"https:\/\/www.ferntech.co.nz\/assets\/images\/Diving.jpg\" alt=\"\"\u003e\u003c\/p\u003e\n\u003cp\u003e \u003c\/p\u003e\n\u003ch3\u003eWATERPROOF TO 5M\u003c\/h3\u003e\n\u003cp\u003eInsta360 ONE RS is waterproof to 5 metres when assembled (all components are locked together and secured in the Mounting Bracket). Dunk your action cam underwater without a worry.\u003c\/p\u003e\n\u003cp\u003e \u003c\/p\u003e\n\u003cp\u003e \u003c\/p\u003e\n\u003ch3\u003eRUGGED DESIGN\u003c\/h3\u003e\n\u003cp\u003eHigh performance connectors and a unique structural design enable a reliable connection between the mods, even at the height of the action.\u003c\/p\u003e\n\u003cp\u003e \u003c\/p\u003e\n\u003cp\u003e \u003c\/p\u003e\n\u003ch3\u003eFASTER WIFI\u003c\/h3\u003e\n\u003cp\u003eTransfer and edit your files faster in the Insta360 app, thanks to all-new hardware in the Core.\u003c\/p\u003e\n\u003cp\u003e \u003c\/p\u003e\n\u003cp\u003e \u003c\/p\u003e\n\u003ch3\u003eCRISPER AUDIO\u003c\/h3\u003e\n\u003cp\u003eThe RS Core now has an additional mic to help capture the audio you do want, and a Wind Noise Reduction algorithm to remove the noise you don't.\u003c\/p\u003e\n\u003cp\u003e \u003c\/p\u003e\n\u003cp\u003e \u003c\/p\u003e\n\u003ch3\u003eINSTANT ZOOM\u003c\/h3\u003e\n\u003cp\u003eDigitally zoom in up to 2.7x on a subject while you record—no need to set up your shot in advance.\u003c\/p\u003e\n\u003cp\u003e \u003c\/p\u003e\n\u003cp\u003e \u003c\/p\u003e\n\u003ch3\u003eQUICK MENU\u003c\/h3\u003e\n\u003cp\u003eAccess all your favourite shooting presets in one place with just a tap. Change modes on the go to keep up with the action.\u003c\/p\u003e\n\u003cp\u003e \u003c\/p\u003e\n\u003cp\u003e\u003cimg data-gtm-vis-total-visible-time-11032289_23=\"100\" data-gtm-vis-first-on-screen-11032289_23=\"77048\" src=\"https:\/\/www.ferntech.co.nz\/assets\/images\/Ski0.jpg\" alt=\"\"\u003e\u003c\/p\u003e\n\u003cp\u003e \u003c\/p\u003e\n\u003ch3\u003eINSTA360 APP\u003c\/h3\u003e\n\u003cp\u003ePowerful editing tools at your fingertips. Let AI do the work with auto editing tools and templates, or dial in on your edit with a host of manual controls.\u003c\/p\u003e\n\u003cp\u003e \u003c\/p\u003e\n\u003cp\u003e \u003c\/p\u003e\n\u003ch3\u003eEDIT LIKE A PRO ON DESKTOP.\u003c\/h3\u003e\n\u003cp\u003eInsta360 Studio's new look makes editing on desktop easier. Or, jump right into your edit with the Adobe Premiere Pro plugin's no-stitch workflow.\u003c\/p\u003e\n\u003cp\u003e \u003c\/p\u003e\n\u003cp\u003e \u003c\/p\u003e\n\u003ch3\u003eLIVE STREAMING\u003c\/h3\u003e\n\u003cp\u003eShare your adventures as you experience them with the 360 Lens. Reframe to control the perspective yourself or immerse your audience with 360° live streaming.\u003c\/p\u003e\n\u003cp\u003e \u003c\/p\u003e\n\u003cp\u003e \u003c\/p\u003e\n\u003ch3\u003eWEBCAM\u003c\/h3\u003e\n\u003cp\u003eWhether working from home or in the office, connect any of the lenses to your computer for ultra-wide, high-res video calls.\u003c\/p\u003e\n\u003cp\u003e \u003c\/p\u003e\n\u003ch5\u003eProduct Specifications\u003c\/h5\u003e\n\u003ch2\u003ePRODUCT SPECIFICATIONS\u003c\/h2\u003e\n\u003cp\u003e\u003cstrong\u003eAperture\u003c\/strong\u003e: F2.4\u003c\/p\u003e\n\u003cp\u003e\u003cstrong\u003e35mm Equivalent Focal Length: \u003c\/strong\u003e16mm\u003c\/p\u003e\n\u003cp\u003e\u003cstrong\u003ePhoto Resolution: \u003c\/strong\u003e8000x6000 (4:3), 8000x4500 (16:9), 4000x3000 (4:3), 4000x2250 (16:9)\u003c\/p\u003e\n\u003cp\u003e\u003cstrong\u003eVideo Resolution: \u003c\/strong\u003e6016x2560@25\/24fps (under 6K Widescreen Mode), 4000x3000@24\/25\/30fps, 3840x2160@24\/25\/30\/50\/60fps, 2720x1530@24\/25\/30\/60\/100fps, 1920x1080@24\/25\/30\/60\/120\/200fps\u003c\/p\u003e\n\u003cp\u003e\u003cstrong\u003ePhoto Format: \u003c\/strong\u003ejpg, RAW (dng) (RAW files require software on PC\/Mac to export.)\u003c\/p\u003e\n\u003cp\u003e\u003cstrong\u003eVideo Format: \u003c\/strong\u003emp4 (For files prefixed with \"PRO_\", please import into app\/Studio to adjust aspect ratio and apply Post FlowState stabilization)\u003c\/p\u003e\n\u003cp\u003e\u003cstrong\u003ePhoto Modes: \u003c\/strong\u003eStandard, HDR, Interval, Night Shot, Starlapse, Burst, PureShot\u003c\/p\u003e\n\u003cp\u003e\u003cstrong\u003eVideo Modes: \u003c\/strong\u003eStandard Video, Slow Motion, Active HDR, Timelapse, TimeShift, Loop Recording, 6K Widescreen FlowState (in-camera stabilization) Post FlowState (in-app stabilization)\u003c\/p\u003e\n\u003cp\u003e\u003cstrong\u003eColor Profiles:\u003c\/strong\u003e Standard, Vivid, LOG\u003c\/p\u003e\n\u003cp\u003e\u003cstrong\u003eWeight:\u003c\/strong\u003e 125.3g\u003c\/p\u003e\n\u003cp\u003e\u003cstrong\u003eDimensions (W x H x D): \u003c\/strong\u003e70.1x49.1x32.6mm\u003c\/p\u003e\n\u003cp\u003e\u003cstrong\u003eRun Time: \u003c\/strong\u003e75 minutes *Tested in lab environment under 4K@60fps FlowState mode\u003c\/p\u003e\n\u003cp\u003e\u003cstrong\u003eVideo Bitrate: \u003c\/strong\u003e100Mbps\u003c\/p\u003e\n\u003cp\u003e\u003cstrong\u003eGyroscope: \u003c\/strong\u003e6-axis Gyroscope\u003c\/p\u003e\n\u003cp\u003e\u003cstrong\u003eLive Streaming:\u003c\/strong\u003e Only available with the 360 camera\u003c\/p\u003e\n\u003cp\u003e\u003cstrong\u003eExposure Value: \u003c\/strong\u003e±4EV\u003c\/p\u003e\n\u003cp\u003e\u003cstrong\u003eISO Range:\u003c\/strong\u003e Photo: 100-6400, Video: 100-6400\u003c\/p\u003e\n\u003cp\u003e\u003cstrong\u003eShutter Speed: \u003c\/strong\u003ePhoto: 1\/8000 - 120s, Video: 1\/8000 - to the limit of frames per second\u003c\/p\u003e\n\u003cp\u003e\u003cstrong\u003eWhite Balance: \u003c\/strong\u003e2000K-10000K\u003c\/p\u003e\n\u003cp\u003e\u003cstrong\u003eAudio Modes:\u003c\/strong\u003e Wind Reduction, Directional Enhancement, Stereo\u003c\/p\u003e\n\u003cp\u003e\u003cstrong\u003eAudio Format:\u003c\/strong\u003e 48 kHz, AAC\u003c\/p\u003e\n\u003cp\u003e\u003cstrong\u003eBluetooth: \u003c\/strong\u003eBLE5.0\u003c\/p\u003e\n\u003cp\u003e\u003cstrong\u003eWi-Fi: \u003c\/strong\u003e5 GHz, 802.11ac (Standard range of approximately 20 meters, max transmission speed of 20MB\/s)\u003c\/p\u003e\n\u003cp\u003e\u003cstrong\u003eUSB: \u003c\/strong\u003eUSB Type-C\u003c\/p\u003e\n\u003cp\u003e*Note: This camera only supports wired connection to Android devices (via Micro-USB or Type-C). It does not support wired connection to iOS devices. Full wireless support is available for both iOS and Android.\u003c\/p\u003e\n\u003cp\u003e\u003cstrong\u003eMicroSD Card:\u003c\/strong\u003e exFAT formatted microSD cards with the UHS-I bus interface and Video Speed Class V30 rating (exactly this class, neither higher or lower) with a max storage of 1TB are recommended.\u003c\/p\u003e\n\u003cp\u003e\u003cstrong\u003eBattery Capacity: \u003c\/strong\u003e1445mAh\u003c\/p\u003e\n\u003cp\u003e\u003cstrong\u003eCharging Method: \u003c\/strong\u003eType-C USB\u003c\/p\u003e\n\u003cp\u003e\u003cstrong\u003eCharging Time:\u003c\/strong\u003e 65 minutes (powered off)\u003c\/p\u003e\n\u003cp\u003e\u003cstrong\u003eOperating Temperature:\u003c\/strong\u003e -4°F to 104°F (-20℃ to 40℃)\u003c\/p\u003e\n\u003cp\u003e \u003c\/p\u003e\n\u003ch5\u003eIn The Box\u003c\/h5\u003e\n\u003ch2\u003eIN THE BOX\u003c\/h2\u003e\n\u003cp\u003eONE RS Core × 1\u003cbr\u003eONE RS Battery × 1\u003cbr\u003eONE RS Mounting Bracket × 1\u003cbr\u003eCharging Cable × 1\u003cbr\u003eLens Cloth × 1\u003cbr\u003e4K Boost Lens × 1\u003c\/p\u003e\n\u003cp\u003e \u003c\/p\u003e\n\u003c!-- \/TABS --\u003e"}
Insta360 ONE RS 4K Edition
Insta360 ONE RS 4K Edition
FEATURES
Core module with a touchscreen live-view display
4K Boost Lens with FlowState Stabilization
Battery Base
Three microphones for crisp audio
Mounting frame with heat-dissipating design and wind resistance
iOS/Android companion app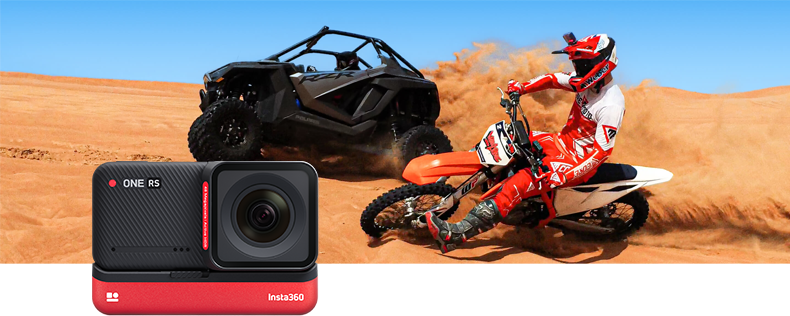 4K BOOST LENS
Zero in on the action with the 4K Boost Lens. Rugged and durable, with a new 1/2" 48MP image sensor for more detailed 4K 60fps videos and 48MP photos.
48MP Photos: 4x more megapixels. Capture the extra detail those picture-perfect moments deserve, with better colours and lighting.
6K Widescreen Mode: Shoot ultra-detailed 6K footage that would look right at home in a Hollywood movie, with a classic 2.35:1 ratio for widescreen viewing.
INVISIBLE SELFIE STICK COMPATIBLE
Don't ruin the view with an ugly selfie stick! The 360 Lens makes the Invisible Selfie Stick (sold separately) totally disappear from your shots for impossible drone-like footage. Magic!
THIRD-PERSON VIEW
Doing something epic but nobody around to help you take the shot? Capture insane third-person perspectives with the Invisible Selfie Stick. Guaranteed to get people asking "how did you film that?!"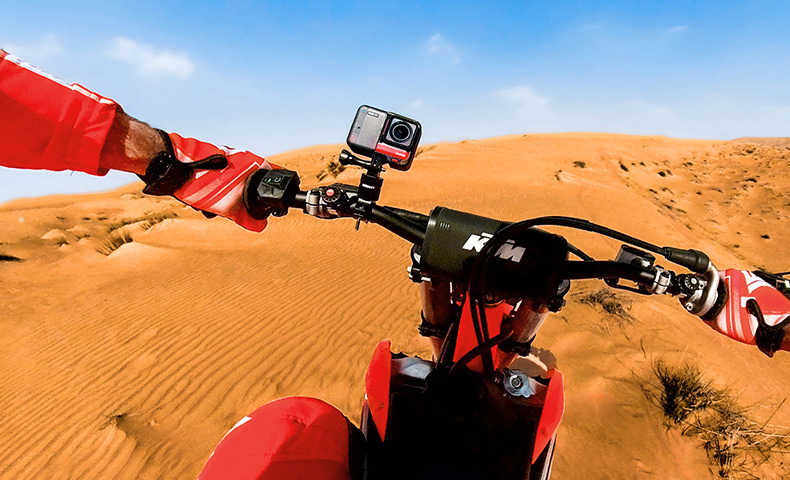 FLOWSTATE STABILISATION.
Smooth image stabilisation, no matter what lens you use. The powerful RS Core now delivers FlowState stabilisation in camera when paired with the wide-angle lenses. No editing needed.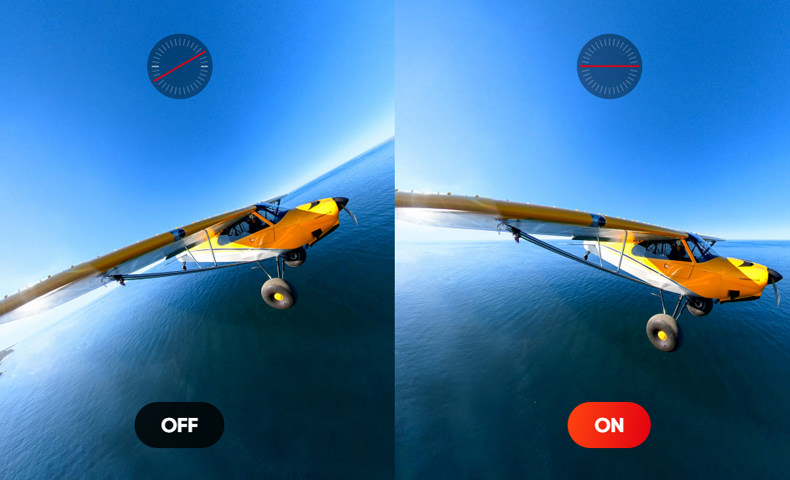 HORIZON LOCK.
Perfectly level shots, no matter how much you tilt your cam. All three lenses support 360° horizon levelling.
ACTIVE HDR
An innovative new HDR video mode for action sports. Active HDR on the 4K Boost Lens keeps your video stabilised as you move, while keeping details in the highlights and shadows for more vibrant footage.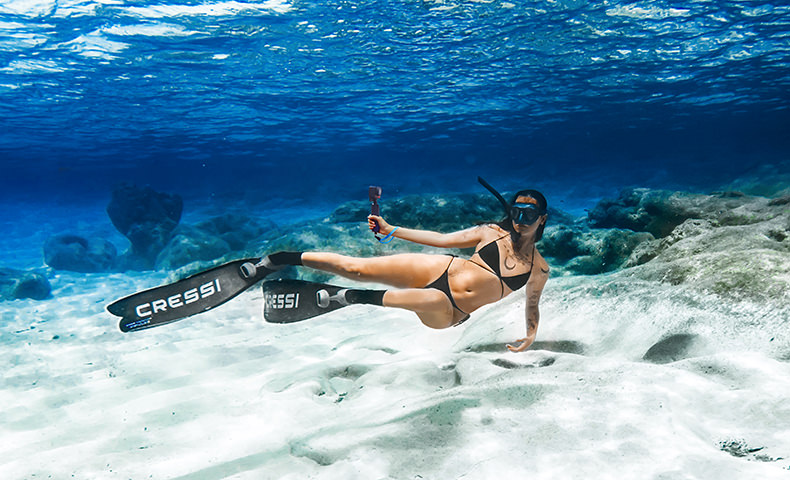 WATERPROOF TO 5M
Insta360 ONE RS is waterproof to 5 metres when assembled (all components are locked together and secured in the Mounting Bracket). Dunk your action cam underwater without a worry.
RUGGED DESIGN
High performance connectors and a unique structural design enable a reliable connection between the mods, even at the height of the action.
FASTER WIFI
Transfer and edit your files faster in the Insta360 app, thanks to all-new hardware in the Core.
CRISPER AUDIO
The RS Core now has an additional mic to help capture the audio you do want, and a Wind Noise Reduction algorithm to remove the noise you don't.
INSTANT ZOOM
Digitally zoom in up to 2.7x on a subject while you record—no need to set up your shot in advance.
QUICK MENU
Access all your favourite shooting presets in one place with just a tap. Change modes on the go to keep up with the action.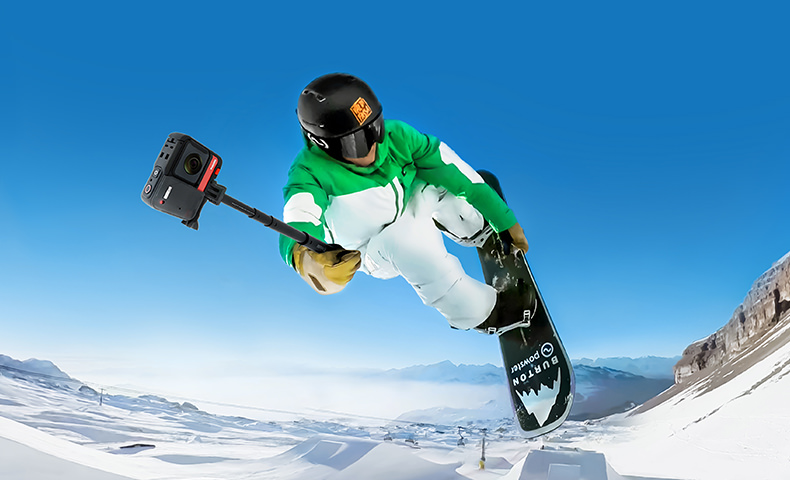 INSTA360 APP
Powerful editing tools at your fingertips. Let AI do the work with auto editing tools and templates, or dial in on your edit with a host of manual controls.
EDIT LIKE A PRO ON DESKTOP.
Insta360 Studio's new look makes editing on desktop easier. Or, jump right into your edit with the Adobe Premiere Pro plugin's no-stitch workflow.
LIVE STREAMING
Share your adventures as you experience them with the 360 Lens. Reframe to control the perspective yourself or immerse your audience with 360° live streaming.
WEBCAM
Whether working from home or in the office, connect any of the lenses to your computer for ultra-wide, high-res video calls.
PRODUCT SPECIFICATIONS
Aperture: F2.4
35mm Equivalent Focal Length: 16mm
Photo Resolution: 8000x6000 (4:3), 8000x4500 (16:9), 4000x3000 (4:3), 4000x2250 (16:9)
Video Resolution: 6016x2560@25/24fps (under 6K Widescreen Mode), 4000x3000@24/25/30fps, 3840x2160@24/25/30/50/60fps, 2720x1530@24/25/30/60/100fps, 1920x1080@24/25/30/60/120/200fps
Photo Format: jpg, RAW (dng) (RAW files require software on PC/Mac to export.)
Video Format: mp4 (For files prefixed with "PRO_", please import into app/Studio to adjust aspect ratio and apply Post FlowState stabilization)
Photo Modes: Standard, HDR, Interval, Night Shot, Starlapse, Burst, PureShot
Video Modes: Standard Video, Slow Motion, Active HDR, Timelapse, TimeShift, Loop Recording, 6K Widescreen FlowState (in-camera stabilization) Post FlowState (in-app stabilization)
Color Profiles: Standard, Vivid, LOG
Weight: 125.3g
Dimensions (W x H x D): 70.1x49.1x32.6mm
Run Time: 75 minutes *Tested in lab environment under 4K@60fps FlowState mode
Video Bitrate: 100Mbps
Gyroscope: 6-axis Gyroscope
Live Streaming: Only available with the 360 camera
Exposure Value: ±4EV
ISO Range: Photo: 100-6400, Video: 100-6400
Shutter Speed: Photo: 1/8000 - 120s, Video: 1/8000 - to the limit of frames per second
White Balance: 2000K-10000K
Audio Modes: Wind Reduction, Directional Enhancement, Stereo
Audio Format: 48 kHz, AAC
Bluetooth: BLE5.0
Wi-Fi: 5 GHz, 802.11ac (Standard range of approximately 20 meters, max transmission speed of 20MB/s)
USB: USB Type-C
*Note: This camera only supports wired connection to Android devices (via Micro-USB or Type-C). It does not support wired connection to iOS devices. Full wireless support is available for both iOS and Android.
MicroSD Card: exFAT formatted microSD cards with the UHS-I bus interface and Video Speed Class V30 rating (exactly this class, neither higher or lower) with a max storage of 1TB are recommended.
Battery Capacity: 1445mAh
Charging Method: Type-C USB
Charging Time: 65 minutes (powered off)
Operating Temperature: -4°F to 104°F (-20℃ to 40℃)
IN THE BOX
ONE RS Core × 1
ONE RS Battery × 1
ONE RS Mounting Bracket × 1
Charging Cable × 1
Lens Cloth × 1
4K Boost Lens × 1