{"id":4164221108364,"title":"Insta360 Invisible Selfie Stick for ONE R \u0026 ONE X","handle":"insta360-invisible-selfie-stick-for-one-x-evo","description":"\u003cp\u003eONE X's perfect companion, automatically concealed in photos and videos by advanced algorithms. Can be used with Bullet-Time Handle to shoot Bullet-Time.\u003c\/p\u003e\n\u003c!-- split --\u003e \u003c!-- TABS --\u003e\n\u003ch5\u003eProduct Description\u003c\/h5\u003e\n\u003cp\u003eONE X's perfect companion, automatically concealed in photos and videos by advanced algorithms. Can be used with Bullet-Time Handle to shoot Bullet-Time.\u003c\/p\u003e\n\u003cp\u003eYou won't see the selfie stock in your shots, giving you unobstructed, impossible angles.\u003c\/p\u003e\n\u003cp\u003e\u003cimg alt=\"\" class=\"img-responsive\" src=\"https:\/\/www.ferntech.co.nz\/assets\/images\/Selfie%20Stick%20Description.JPG\" data-gtm-vis-first-on-screen-11032289_23=\"46248\" data-gtm-vis-total-visible-time-11032289_23=\"500\" data-gtm-vis-has-fired-11032289_23=\"1\"\u003e\u003c\/p\u003e\n\u003cp\u003e \u003c\/p\u003e\n\u003ch2\u003eEASY TO DEPLOY \u003c\/h2\u003e\n\u003cp\u003eTelescoping rod design that deploys with a quick twist and locks in place to secure.\u003c\/p\u003e\n\u003cp\u003e\u003cimg alt=\"\" class=\"img-responsive\" src=\"https:\/\/www.ferntech.co.nz\/assets\/images\/Selfie%20Stick%20Description%202.JPG\" data-gtm-vis-first-on-screen-11032289_23=\"48700\" data-gtm-vis-total-visible-time-11032289_23=\"300\"\u003e\u003c\/p\u003e\n\u003cp\u003e\u003cimg alt=\"\" class=\"img-responsive\" src=\"https:\/\/www.ferntech.co.nz\/assets\/images\/Selfie%20Stick%20Description%203.JPG\" data-gtm-vis-first-on-screen-11032289_23=\"49265\" data-gtm-vis-total-visible-time-11032289_23=\"500\" data-gtm-vis-has-fired-11032289_23=\"1\"\u003e\u003c\/p\u003e\n\u003ch4\u003eHIGHLIGHTS:\u003c\/h4\u003e\n\u003cp\u003eCan be used with the camera individually\u003cbr\u003eCan be used with the camera and sports accessories\u003cbr\u003eBullet-Time Handle doubles as an indoor tabletop tripod.\u003cbr\u003eBundle includes 1x Bullet-Time Tripod Handle and 1x Selfie Stick.\u003c\/p\u003e\n\u003cp\u003e \u003c\/p\u003e\n\u003ch4\u003eCOMPATIBILITY:\u003c\/h4\u003e\n\u003cp\u003eInsta360 ONE X\u003c\/p\u003e\n\u003cp\u003e \u003c\/p\u003e\n\u003cp\u003eNote:\u003c\/p\u003e\n\u003cp\u003eThe Invisible Selfie Stick uses a standard 1\/4\" screw and is specially fortified for use with the\u003cspan\u003e \u003c\/span\u003eBullet Time Handle accessory. Using Bullet Time handle with an unreinforced selfie stick may cause damage to the camera. Please make sure you are using Bullet Time handle with the custom-built selfie stick labelled with \"Designed for Bullet Time\"\u003c\/p\u003e\n\u003c!-- \/TABS --\u003e","published_at":"2019-09-27T20:16:07+12:00","created_at":"2019-09-27T20:32:05+12:00","vendor":"Insta360","type":"Action Camera Accessories","tags":["Insta360","not-on-sale"],"price":2900,"price_min":2900,"price_max":2900,"available":true,"price_varies":false,"compare_at_price":null,"compare_at_price_min":0,"compare_at_price_max":0,"compare_at_price_varies":false,"variants":[{"id":30277744918668,"title":"Default Title","option1":"Default Title","option2":null,"option3":null,"sku":"INSTA360SELFIEONEX","requires_shipping":true,"taxable":true,"featured_image":null,"available":true,"name":"Insta360 Invisible Selfie Stick for ONE R \u0026 ONE X","public_title":null,"options":["Default Title"],"price":2900,"weight":0,"compare_at_price":null,"inventory_management":null,"barcode":"841216100857"}],"images":["\/\/cdn.shopify.com\/s\/files\/1\/0266\/5231\/1627\/products\/Insta360SelfieONEX.jpg?v=1628150626","\/\/cdn.shopify.com\/s\/files\/1\/0266\/5231\/1627\/products\/Insta360SelfieONEX_1.jpg?v=1628150626","\/\/cdn.shopify.com\/s\/files\/1\/0266\/5231\/1627\/products\/Insta360SelfieONEX_2.jpg?v=1628150626"],"featured_image":"\/\/cdn.shopify.com\/s\/files\/1\/0266\/5231\/1627\/products\/Insta360SelfieONEX.jpg?v=1628150626","options":["Title"],"media":[{"alt":"Insta360 Invisible Selfie Stick for ONE R \u0026 ONE X - Actiontech","id":2301329866892,"position":1,"preview_image":{"aspect_ratio":1.5,"height":480,"width":720,"src":"https:\/\/cdn.shopify.com\/s\/files\/1\/0266\/5231\/1627\/products\/Insta360SelfieONEX.jpg?v=1628150626"},"aspect_ratio":1.5,"height":480,"media_type":"image","src":"https:\/\/cdn.shopify.com\/s\/files\/1\/0266\/5231\/1627\/products\/Insta360SelfieONEX.jpg?v=1628150626","width":720},{"alt":"Insta360 Invisible Selfie Stick for ONE R \u0026 ONE X - Actiontech","id":2301329899660,"position":2,"preview_image":{"aspect_ratio":1.5,"height":480,"width":720,"src":"https:\/\/cdn.shopify.com\/s\/files\/1\/0266\/5231\/1627\/products\/Insta360SelfieONEX_1.jpg?v=1628150626"},"aspect_ratio":1.5,"height":480,"media_type":"image","src":"https:\/\/cdn.shopify.com\/s\/files\/1\/0266\/5231\/1627\/products\/Insta360SelfieONEX_1.jpg?v=1628150626","width":720},{"alt":"Insta360 Invisible Selfie Stick for ONE R \u0026 ONE X - Actiontech","id":2301329932428,"position":3,"preview_image":{"aspect_ratio":1.5,"height":480,"width":720,"src":"https:\/\/cdn.shopify.com\/s\/files\/1\/0266\/5231\/1627\/products\/Insta360SelfieONEX_2.jpg?v=1628150626"},"aspect_ratio":1.5,"height":480,"media_type":"image","src":"https:\/\/cdn.shopify.com\/s\/files\/1\/0266\/5231\/1627\/products\/Insta360SelfieONEX_2.jpg?v=1628150626","width":720}],"content":"\u003cp\u003eONE X's perfect companion, automatically concealed in photos and videos by advanced algorithms. Can be used with Bullet-Time Handle to shoot Bullet-Time.\u003c\/p\u003e\n\u003c!-- split --\u003e \u003c!-- TABS --\u003e\n\u003ch5\u003eProduct Description\u003c\/h5\u003e\n\u003cp\u003eONE X's perfect companion, automatically concealed in photos and videos by advanced algorithms. Can be used with Bullet-Time Handle to shoot Bullet-Time.\u003c\/p\u003e\n\u003cp\u003eYou won't see the selfie stock in your shots, giving you unobstructed, impossible angles.\u003c\/p\u003e\n\u003cp\u003e\u003cimg alt=\"\" class=\"img-responsive\" src=\"https:\/\/www.ferntech.co.nz\/assets\/images\/Selfie%20Stick%20Description.JPG\" data-gtm-vis-first-on-screen-11032289_23=\"46248\" data-gtm-vis-total-visible-time-11032289_23=\"500\" data-gtm-vis-has-fired-11032289_23=\"1\"\u003e\u003c\/p\u003e\n\u003cp\u003e \u003c\/p\u003e\n\u003ch2\u003eEASY TO DEPLOY \u003c\/h2\u003e\n\u003cp\u003eTelescoping rod design that deploys with a quick twist and locks in place to secure.\u003c\/p\u003e\n\u003cp\u003e\u003cimg alt=\"\" class=\"img-responsive\" src=\"https:\/\/www.ferntech.co.nz\/assets\/images\/Selfie%20Stick%20Description%202.JPG\" data-gtm-vis-first-on-screen-11032289_23=\"48700\" data-gtm-vis-total-visible-time-11032289_23=\"300\"\u003e\u003c\/p\u003e\n\u003cp\u003e\u003cimg alt=\"\" class=\"img-responsive\" src=\"https:\/\/www.ferntech.co.nz\/assets\/images\/Selfie%20Stick%20Description%203.JPG\" data-gtm-vis-first-on-screen-11032289_23=\"49265\" data-gtm-vis-total-visible-time-11032289_23=\"500\" data-gtm-vis-has-fired-11032289_23=\"1\"\u003e\u003c\/p\u003e\n\u003ch4\u003eHIGHLIGHTS:\u003c\/h4\u003e\n\u003cp\u003eCan be used with the camera individually\u003cbr\u003eCan be used with the camera and sports accessories\u003cbr\u003eBullet-Time Handle doubles as an indoor tabletop tripod.\u003cbr\u003eBundle includes 1x Bullet-Time Tripod Handle and 1x Selfie Stick.\u003c\/p\u003e\n\u003cp\u003e \u003c\/p\u003e\n\u003ch4\u003eCOMPATIBILITY:\u003c\/h4\u003e\n\u003cp\u003eInsta360 ONE X\u003c\/p\u003e\n\u003cp\u003e \u003c\/p\u003e\n\u003cp\u003eNote:\u003c\/p\u003e\n\u003cp\u003eThe Invisible Selfie Stick uses a standard 1\/4\" screw and is specially fortified for use with the\u003cspan\u003e \u003c\/span\u003eBullet Time Handle accessory. Using Bullet Time handle with an unreinforced selfie stick may cause damage to the camera. Please make sure you are using Bullet Time handle with the custom-built selfie stick labelled with \"Designed for Bullet Time\"\u003c\/p\u003e\n\u003c!-- \/TABS --\u003e"}
Insta360 Invisible Selfie Stick for ONE R & ONE X
Insta360 Invisible Selfie Stick for ONE R & ONE X
ONE X's perfect companion, automatically concealed in photos and videos by advanced algorithms. Can be used with Bullet-Time Handle to shoot Bullet-Time.
You won't see the selfie stock in your shots, giving you unobstructed, impossible angles.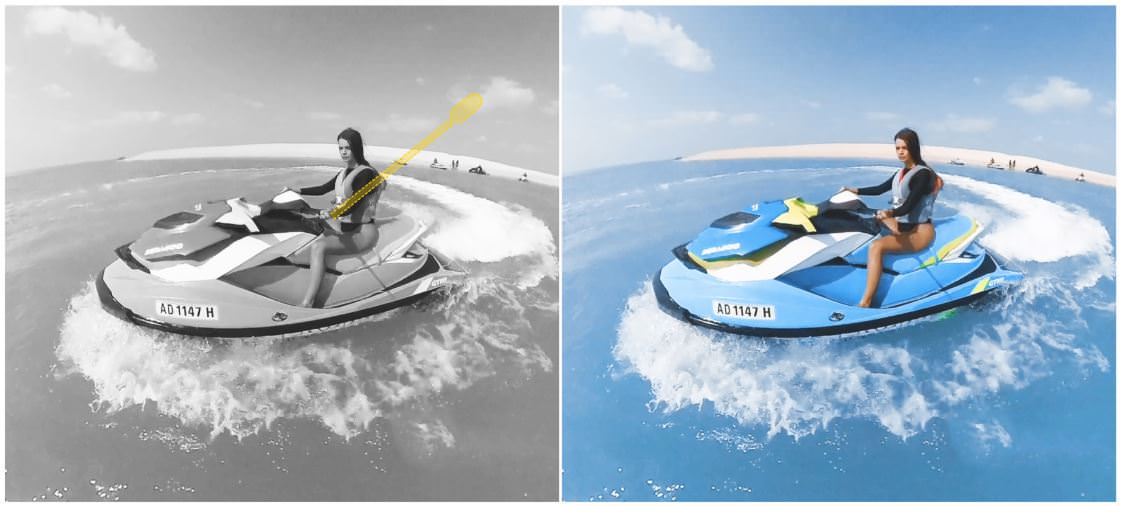 EASY TO DEPLOY 
Telescoping rod design that deploys with a quick twist and locks in place to secure.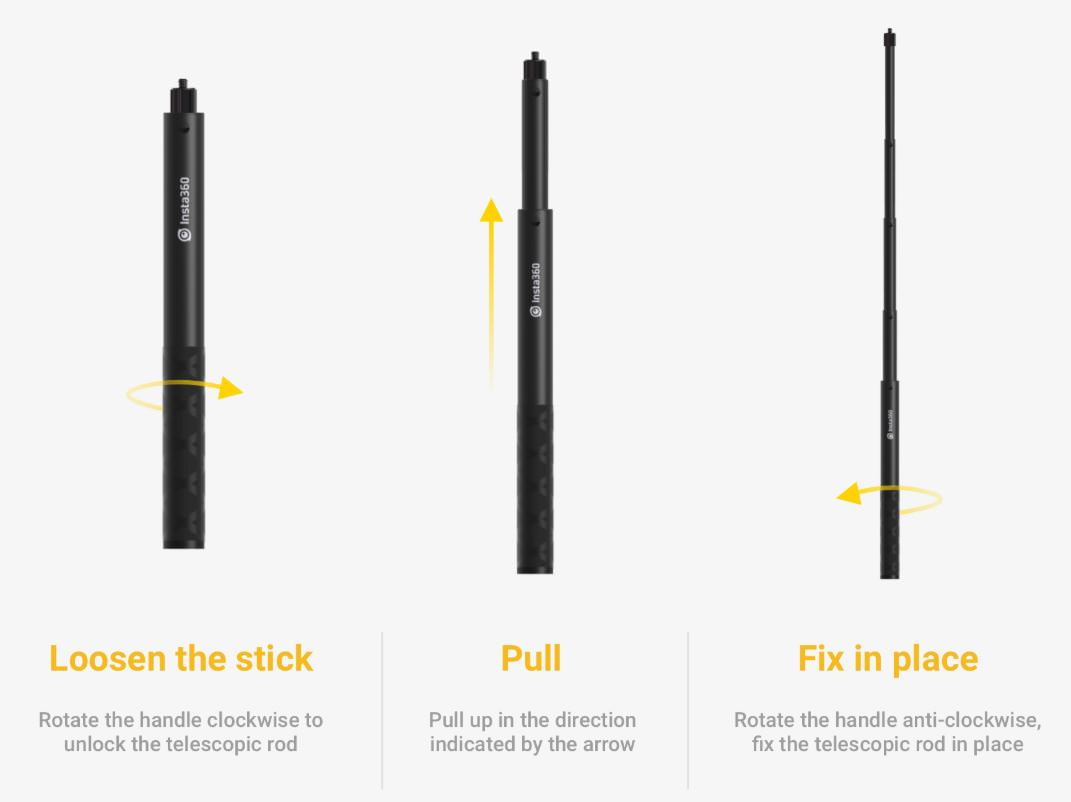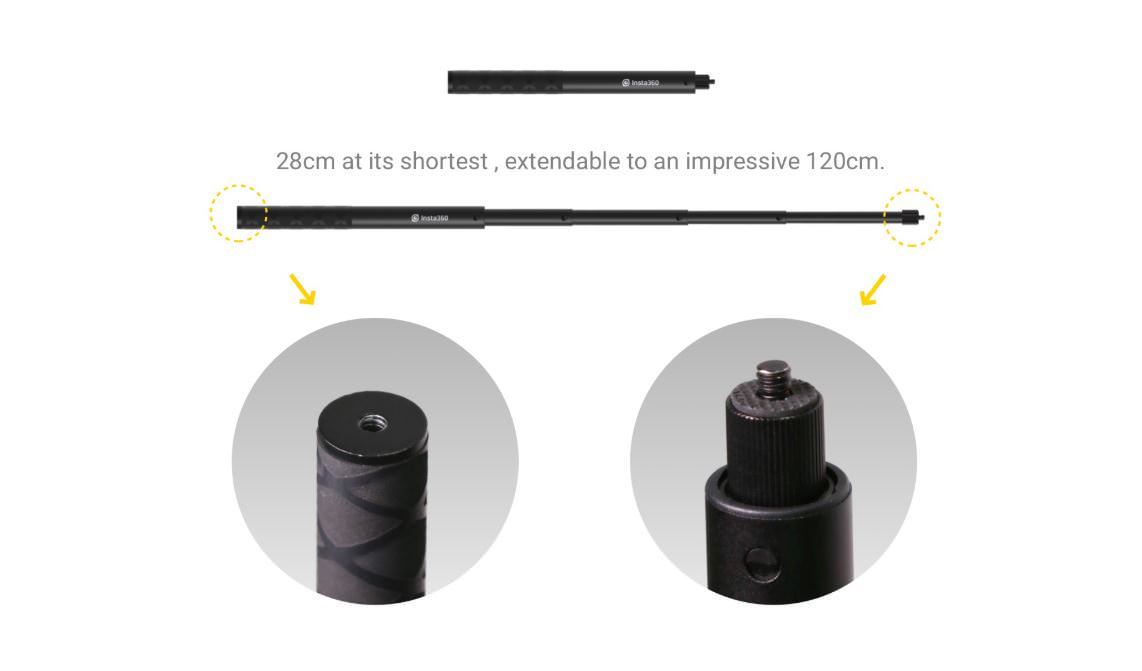 HIGHLIGHTS:
Can be used with the camera individually
Can be used with the camera and sports accessories
Bullet-Time Handle doubles as an indoor tabletop tripod.
Bundle includes 1x Bullet-Time Tripod Handle and 1x Selfie Stick.
COMPATIBILITY:
Insta360 ONE X
Note:
The Invisible Selfie Stick uses a standard 1/4" screw and is specially fortified for use with the Bullet Time Handle accessory. Using Bullet Time handle with an unreinforced selfie stick may cause damage to the camera. Please make sure you are using Bullet Time handle with the custom-built selfie stick labelled with "Designed for Bullet Time"