{"id":5847403757722,"title":"DJI RSC 2 Pro Combo","handle":"dji-rsc-2-pro-combo","description":"\u003cp data-mce-fragment=\"1\"\u003eProfessional-level results are effortless with DJI RSC 2. This compact stabilizer for mirrorless and DSLR cameras features a foldable design and intuitive features, empowering filmmakers, one-man crews, and content creators everywhere.\u003c\/p\u003e\n\u003cp\u003e \u003c\/p\u003e\n\u003cp\u003e\u003cspan style=\"color: #ff2a00;\"\u003e\u003cbr\u003e\u003c\/span\u003e\u003c\/p\u003e\n\u003c!-- split --\u003e \u003c!-- TABS --\u003e\n\u003ch5\u003eProduct Description\u003c\/h5\u003e\n\u003ch2\u003e\u003cimg data-gtm-vis-has-fired-11032289_23=\"1\" data-gtm-vis-total-visible-time-11032289_23=\"500\" data-gtm-vis-first-on-screen-11032289_23=\"40104\" src=\"https:\/\/www.ferntech.co.nz\/assets\/images\/DJI%20RSC%202%20lifestyle.jpg\" alt=\"\"\u003e\u003c\/h2\u003e\n\u003ch2\u003eFOLDABLE, COMPACT, AMAZING\u003c\/h2\u003e\n\u003cp\u003eDJI RSC 2's foldable design means easy transportation and storage, along with expanded shooting options.\u003cbr\u003eGet creative with RSC 2's six configurations, delivering versatility that simplifies even the most complex shots.\u003cbr\u003eWhen folded, RSC 2 is just 7 × 7.5 inches, making it as portable as it is powerful.\u003c\/p\u003e\n\u003ch2\u003e \u003c\/h2\u003e\n\u003ch2\u003eCOMPATIBLE WITH DSLR AND MIRRORLESS CAMERAS\u003c\/h2\u003e\n\u003cp\u003e\u003ca href=\"https:\/\/www.dji.com\/nz\/support\/compatibility\"\u003ehttps:\/\/www.dji.com\/nz\/support\/compatibility\u003c\/a\u003e\u003c\/p\u003e\n\u003cp\u003e \u003c\/p\u003e\n\u003ch2\u003eTITAN: DJI STABILIZATION EVOLVED\u003c\/h2\u003e\n\u003cp\u003eNo one makes camera stabilizers like DJI. Our Titan Stabilization Algorithm captures smoother footage than ever. Need more? SuperSmooth mode compensates for micromovements and increases torque, stabilizing even 100mm zoom lenses.\u003c\/p\u003e\n\u003cp\u003e \u003c\/p\u003e\n\u003ch2\u003eFEEL THE FOCUS\u003c\/h2\u003e\n\u003cp\u003eThe Front Dial offers precise focusing in any scenario and single-handed operation. \u003c\/p\u003e\n\u003cp\u003e \u003c\/p\u003e\n\u003ch2\u003eDUAL-LAYER CAMERA MOUNTING PLATE (MANFROTTO + ARCA)\u003c\/h2\u003e\n\u003cp\u003eThe Manfrotto + Arca dual-layer camera mounting plate is compatible with popular brands.\u003cbr\u003eSwitch to portrait mode with just a tap to bring professional-grade footage to your social media content.\u003c\/p\u003e\n\u003cp\u003e\u003cimg data-gtm-vis-has-fired-11032289_23=\"1\" data-gtm-vis-total-visible-time-11032289_23=\"500\" data-gtm-vis-first-on-screen-11032289_23=\"63911\" src=\"https:\/\/www.ferntech.co.nz\/assets\/images\/DJI%20RSC%202%20Briefcase%20Handle.jpg\" alt=\"\"\u003e\u003c\/p\u003e\n\u003ch2\u003eHANDLE ANY SHOT\u003c\/h2\u003e\n\u003cp\u003e\u003cstrong\u003eDual Handle\u003c\/strong\u003e\u003cbr\u003eGet maximum control for shots that demand it.\u003c\/p\u003e\n\u003cp\u003e\u003cstrong\u003eHand Grip\u003c\/strong\u003e\u003cbr\u003eUse as a tripod and also as a grip extension.\u003c\/p\u003e\n\u003cp\u003e\u003cstrong\u003eNATO\u003c\/strong\u003e\u003cbr\u003eCan be used for a briefcase handle and various other accessories.\u003c\/p\u003e\n\u003cp\u003e\u003cstrong\u003e1\/4-20\" with ARRI Positioning Holes\u003c\/strong\u003e\u003cbr\u003eProvides more possibilities when using RSC 2 in a folded configuration.\u003c\/p\u003e\n\u003cp\u003e\u003cstrong\u003eBuilt-In OLED Screen\u003c\/strong\u003e\u003cbr\u003eA 1-inch built-in OLED screen gives you complete control, right at your fingertips.\u003c\/p\u003e\n\u003cp\u003e\u003cstrong\u003eBattery\u003c\/strong\u003e\u003cbr\u003eCharge less and shoot longer thanks to RSC 2's advanced battery, which provides a 14-hour runtime and supports fast charging.\u003c\/p\u003e\n\u003cp\u003e \u003c\/p\u003e\n\u003ch2\u003eMORE WAYS TO CREATE\u003c\/h2\u003e\n\u003cp\u003e\u003cstrong\u003eTimelapse\u003c\/strong\u003e\u003cbr\u003eCapture the passage of time with a steady frame.\u003c\/p\u003e\n\u003cp\u003e\u003cstrong\u003eRoll 360\u003c\/strong\u003e\u003cbr\u003eSpin your camera for a rolling shot.\u003c\/p\u003e\n\u003cp\u003e\u003cstrong\u003ePanorama \u003c\/strong\u003e\u003cbr\u003eWith a steady pan from the gimbal, create gigapixel panoramas from your camera.\u003c\/p\u003e\n\u003cp\u003e\u003cstrong\u003eLightweight Carrying Case\u003c\/strong\u003e\u003cbr\u003eThis redesigned carrying case has a splash-proof body with dedicated compartments for all RSC 2 parts.\u003c\/p\u003e\n\u003cp\u003e \u003c\/p\u003e\n\u003cp\u003e\u003cstrong\u003eHighlights\u003c\/strong\u003e\u003c\/p\u003e\n\u003cp\u003e1.2kg Weight \/ 3kg Tested Payload \u003cbr\u003e1'' OLED Screen \u003cbr\u003eMax 14hr Fast-Charge Batteries\u003cbr\u003eQuick Switch to Vertical Shooting \u003cbr\u003eTitan Stabilization Algorithm \u003cbr\u003eFoldable Design\u003c\/p\u003e\n\u003cp\u003e \u003c\/p\u003e\n\u003ch5\u003eProduct Specifications\u003c\/h5\u003e\n\u003ch2\u003ePRODUCT SPECIFICATIONS\u003c\/h2\u003e\n\u003ch4\u003ePERIPHERAL \u003c\/h4\u003e\n\u003cdiv\u003e\u003cstrong\u003eAccessory Connections\u003c\/strong\u003e\u003c\/div\u003e\n\u003cdiv\u003eNATO port\u003cbr\u003eM4 Mounting Hole\u003cbr\u003e1\/4"-20 Mounting Hole\u003cbr\u003eCold Shoe Mount\u003cbr\u003eVideo Transmission\/ Follow Focus Motor Port (USB-C)\u003cbr\u003eRSS Camera Control Port (USB-C)\u003c\/div\u003e\n\u003cdiv\u003eFollow Focus Motor Port (USB-C)\u003c\/div\u003e\n\u003cdiv\u003e \u003c\/div\u003e\n\u003cdiv\u003e\u003cstrong\u003eBattery\u003c\/strong\u003e\u003c\/div\u003e\n\u003cdiv\u003eModel: RB2-3400mAh -7.2 V\u003cbr\u003eType: 18650 2S\u003cbr\u003eCapacity: 3400mAh\u003cbr\u003eEnergy: 24.48 Wh\u003cbr\u003eMax Battery Life: 14 hours\u003cbr\u003eCharging time: Approx. 2 hours to fully charge with 18W fast charging (PD and QC 2.0 fast charging protocols are supported)\u003cbr\u003eCharging temperature: 5° to 40° C (41° to 104° F)\u003c\/div\u003e\n\u003cdiv\u003e\u003cstrong\u003eConnections\u003c\/strong\u003e\u003c\/div\u003e\n\u003cdiv\u003eBluetooth 5.0; USB-C\u003c\/div\u003e\n\u003cdiv\u003e\u003cstrong\u003eRonin App Requirements\u003c\/strong\u003e\u003c\/div\u003e\n\u003cdiv\u003eiOS 11 or above;\u003cbr\u003eAndroid 7.0 or above\u003c\/div\u003e\n\u003cdiv\u003e \u003c\/div\u003e\n\u003cdiv\u003e \u003c\/div\u003e\n\u003ch4\u003eWORKING PERFORMANCE\u003c\/h4\u003e\n\u003cdiv\u003e\n\u003cdiv\u003e\u003cstrong\u003eLoad Weight (Reference Value)\u003c\/strong\u003e\u003c\/div\u003e\n\u003cdiv\u003e3.0 kg (Handheld)\u003c\/div\u003e\n\u003cdiv\u003e\u003cstrong\u003eMaximum Controlled Rotation Speed\u003c\/strong\u003e\u003c\/div\u003e\n\u003cdiv\u003ePan axis: 360°\/s \u003c\/div\u003e\n\u003cdiv\u003eTilt axis: 360°\/s\u003c\/div\u003e\n\u003cdiv\u003eRoll axis: 360°\/s\u003c\/div\u003e\n\u003cdiv\u003e\n\u003cstrong\u003eMechanical Range\u003c\/strong\u003e\u003cspan\u003e \u003c\/span\u003e\n\u003c\/div\u003e\n\u003cdiv\u003ePan axis: 360° continuous rotation\u003c\/div\u003e\n\u003cdiv\u003eRoll axis: -240° to +95°\u003c\/div\u003e\n\u003cdiv\u003eTilt axis: -112° to +214°\u003c\/div\u003e\n\u003c\/div\u003e\n\u003cdiv\u003e \u003c\/div\u003e\n\u003ch4\u003eMECHANICAL AND ELECTRICAL CHARACTERISTICS\u003c\/h4\u003e\n\u003cdiv\u003e\n\u003cdiv\u003e\n\u003cstrong\u003eOperating Frequency\u003c\/strong\u003e\u003cspan\u003e \u003c\/span\u003e\n\u003c\/div\u003e\n\u003cdiv\u003e2.4000-2.4835 GHz\u003c\/div\u003e\n\u003cdiv\u003e\n\u003cstrong\u003eTransmission Power\u003c\/strong\u003e\u003cspan\u003e \u003c\/span\u003e\n\u003c\/div\u003e\n\u003cdiv\u003e\u0026lt; 8 dBm\u003c\/div\u003e\n\u003cdiv\u003e\n\u003cstrong\u003eOperating Temperature \u003c\/strong\u003e\u003cspan\u003e \u003c\/span\u003e\n\u003c\/div\u003e\n\u003cdiv\u003e-20° to 45° C (-4° to 113° F)\u003c\/div\u003e\n\u003cdiv\u003e\u003cstrong\u003eWeight\u003c\/strong\u003e\u003c\/div\u003e\n\u003cdiv\u003eGimbal: Approx. 1216 g (including the battery and excluding Quick-Release Plate)\u003c\/div\u003e\n\u003cdiv\u003eQuick-Release Plate (Upper\/Lower) Approx. 102 g\u003c\/div\u003e\n\u003cdiv\u003eExtended Grip\/Tripod (Metal): Approx. 226 g\u003c\/div\u003e\n\u003cdiv\u003eExtended Grip\/Tripod (Plastic): Approx. 160 g\u003c\/div\u003e\n\u003cdiv\u003e\n\u003cstrong\u003eGimbal Dimensions\u003c\/strong\u003e\u003cspan\u003e \u003c\/span\u003e\n\u003c\/div\u003e\n\u003cdiv\u003eFolded: 260×210×75 mm (including the handle)\u003c\/div\u003e\n\u003cdiv\u003eUnfolded: 400×185×175 mm (including the handle and without the Extended Grip\/Tripod)\u003c\/div\u003e\n\u003c\/div\u003e\n\u003cp\u003e \u003c\/p\u003e\n\u003ch5\u003eWarranty\u003c\/h5\u003e\n\u003ch2\u003eWARRANTY DETAILS\u003c\/h2\u003e\n\u003cp\u003eStandard warranty\u003c\/p\u003e\n\u003cp\u003e \u003c\/p\u003e\n\u003ch5\u003eIn The Box\u003c\/h5\u003e\n\u003ch2\u003eIN THE BOX\u003c\/h2\u003e\n\u003cdiv\u003eCarrying Case\u003cspan\u003e \u003c\/span\u003ex\u003cspan\u003e \u003c\/span\u003e1\u003c\/div\u003e\n\u003cdiv\u003eGimbal (Built-In Battery)\u003cspan\u003e \u003c\/span\u003ex\u003cspan\u003e \u003c\/span\u003e1\u003c\/div\u003e\n\u003cdiv\u003eUSB-C Charging Cable (40 cm)\u003cspan\u003e \u003c\/span\u003ex\u003cspan\u003e \u003c\/span\u003e1\u003c\/div\u003e\n\u003cdiv\u003eLens Support\u003cspan\u003e \u003c\/span\u003ex\u003cspan\u003e \u003c\/span\u003e1\u003c\/div\u003e\n\u003cdiv\u003eExtended Grip\/Tripod (Metal)\u003cspan\u003e \u003c\/span\u003ex\u003cspan\u003e \u003c\/span\u003e1\u003c\/div\u003e\n\u003cdiv\u003eQuick-Release Plate (Arca-Swiss\/Manfrotto)\u003cspan\u003e \u003c\/span\u003ex\u003cspan\u003e \u003c\/span\u003e1\u003c\/div\u003e\n\u003cdiv\u003eCamera Riser\u003cspan\u003e \u003c\/span\u003ex\u003cspan\u003e \u003c\/span\u003e1\u003c\/div\u003e\n\u003cdiv\u003ePhone Holder\u003cspan\u003e \u003c\/span\u003ex\u003cspan\u003e \u003c\/span\u003e1\u003c\/div\u003e\n\u003cdiv\u003eFocus Motor\u003cspan\u003e \u003c\/span\u003ex\u003cspan\u003e \u003c\/span\u003e1\u003c\/div\u003e\n\u003cdiv\u003eFocus Motor Rod Mount Kit\u003cspan\u003e \u003c\/span\u003ex\u003cspan\u003e \u003c\/span\u003e1\u003c\/div\u003e\n\u003cdiv\u003eFocus Gear Strip\u003cspan\u003e \u003c\/span\u003ex\u003cspan\u003e \u003c\/span\u003e1\u003c\/div\u003e\n\u003cdiv\u003eImage Transmitter\u003cspan\u003e \u003c\/span\u003ex\u003cspan\u003e \u003c\/span\u003e1\u003c\/div\u003e\n\u003cdiv\u003eCold Shoe to 1\/4''-20 Adapter\u003cspan\u003e \u003c\/span\u003ex\u003cspan\u003e \u003c\/span\u003e1\u003c\/div\u003e\n\u003cdiv\u003eUSB-C Power Cable (20 cm)\u003cspan\u003e \u003c\/span\u003ex\u003cspan\u003e \u003c\/span\u003e1\u003c\/div\u003e\n\u003cdiv\u003eMini-HDMI to HDMI Cable (20 cm)\u003cspan\u003e \u003c\/span\u003ex\u003cspan\u003e \u003c\/span\u003e1\u003c\/div\u003e\n\u003cdiv\u003eMini-HDMI to Mini-HDMI Cable (20 cm)\u003cspan\u003e \u003c\/span\u003ex\u003cspan\u003e \u003c\/span\u003e1\u003c\/div\u003e\n\u003cdiv\u003eMini-HDMI to Micro-HDMI Cable (20 cm)\u003cspan\u003e \u003c\/span\u003ex\u003cspan\u003e \u003c\/span\u003e1\u003c\/div\u003e\n\u003cdiv\u003eMulti-Camera Control Cable (USB-C, 30 cm)\u003cspan\u003e \u003c\/span\u003ex\u003cspan\u003e \u003c\/span\u003e2\u003c\/div\u003e\n\u003cdiv\u003eMulti-Camera Control Cable (Sony Multi, 30 cm)\u003cspan\u003e \u003c\/span\u003ex\u003cspan\u003e \u003c\/span\u003e1\u003c\/div\u003e\n\u003cdiv\u003eMulti-Camera Control Cable (Micro-USB, 30 cm)\u003cspan\u003e \u003c\/span\u003ex\u003cspan\u003e \u003c\/span\u003e1\u003c\/div\u003e\n\u003cdiv\u003eMulti-Camera Control Cable (Mini-USB, 30 cm)\u003cspan\u003e \u003c\/span\u003ex\u003cspan\u003e \u003c\/span\u003e1\u003c\/div\u003e\n\u003cdiv\u003eHook-and-Loop Strap\u003cspan\u003e \u003c\/span\u003ex\u003cspan\u003e \u003c\/span\u003e2\u003c\/div\u003e\n\u003cdiv\u003eD-Ring Camera Mounting Screw 1\/4\"-20\u003cspan\u003e \u003c\/span\u003ex\u003cspan\u003e \u003c\/span\u003e2\u003c\/div\u003e\n\u003cdiv\u003eM4 Screw (10 mm)\u003cspan\u003e \u003c\/span\u003ex\u003cspan\u003e \u003c\/span\u003e6\u003c\/div\u003e\n\u003cdiv\u003eAllen Wrench (3 mm)\u003cspan\u003e \u003c\/span\u003ex\u003cspan\u003e \u003c\/span\u003e1\u003c\/div\u003e\n\u003cdiv\u003eScrew 1\/4\"-20\u003cspan\u003e \u003c\/span\u003ex\u003cspan\u003e \u003c\/span\u003e1\u003c\/div\u003e\n\u003c!-- \/TABS --\u003e","published_at":"2020-10-16T14:22:19+13:00","created_at":"2020-10-16T14:22:19+13:00","vendor":"DJI","type":"Camera Accessory","tags":["not-on-sale","QBDAY","RSC 2"],"price":104900,"price_min":104900,"price_max":104900,"available":true,"price_varies":false,"compare_at_price":119900,"compare_at_price_min":119900,"compare_at_price_max":119900,"compare_at_price_varies":false,"variants":[{"id":36758169387162,"title":"Default Title","option1":"Default Title","option2":null,"option3":null,"sku":"RSC2PC","requires_shipping":true,"taxable":true,"featured_image":null,"available":true,"name":"DJI RSC 2 Pro Combo","public_title":null,"options":["Default Title"],"price":104900,"weight":0,"compare_at_price":119900,"inventory_management":"shopify","barcode":""}],"images":["\/\/cdn.shopify.com\/s\/files\/1\/0266\/5231\/1627\/products\/RSC2PC.jpg?v=1628151033","\/\/cdn.shopify.com\/s\/files\/1\/0266\/5231\/1627\/products\/RSC2PC1.jpg?v=1628151033","\/\/cdn.shopify.com\/s\/files\/1\/0266\/5231\/1627\/products\/RSC2PC2.jpg?v=1628151033","\/\/cdn.shopify.com\/s\/files\/1\/0266\/5231\/1627\/products\/RSC2PC3.jpg?v=1628151033"],"featured_image":"\/\/cdn.shopify.com\/s\/files\/1\/0266\/5231\/1627\/products\/RSC2PC.jpg?v=1628151033","options":["Title"],"media":[{"alt":"DJI RSC 2 Pro Combo - Actiontech","id":11839620448410,"position":1,"preview_image":{"aspect_ratio":1.401,"height":514,"width":720,"src":"https:\/\/cdn.shopify.com\/s\/files\/1\/0266\/5231\/1627\/products\/RSC2PC.jpg?v=1628151033"},"aspect_ratio":1.401,"height":514,"media_type":"image","src":"https:\/\/cdn.shopify.com\/s\/files\/1\/0266\/5231\/1627\/products\/RSC2PC.jpg?v=1628151033","width":720},{"alt":"DJI RSC 2 Pro Combo - Actiontech","id":11839620481178,"position":2,"preview_image":{"aspect_ratio":1.401,"height":514,"width":720,"src":"https:\/\/cdn.shopify.com\/s\/files\/1\/0266\/5231\/1627\/products\/RSC2PC1.jpg?v=1628151033"},"aspect_ratio":1.401,"height":514,"media_type":"image","src":"https:\/\/cdn.shopify.com\/s\/files\/1\/0266\/5231\/1627\/products\/RSC2PC1.jpg?v=1628151033","width":720},{"alt":"DJI RSC 2 Pro Combo - Actiontech","id":11839620513946,"position":3,"preview_image":{"aspect_ratio":1.401,"height":514,"width":720,"src":"https:\/\/cdn.shopify.com\/s\/files\/1\/0266\/5231\/1627\/products\/RSC2PC2.jpg?v=1628151033"},"aspect_ratio":1.401,"height":514,"media_type":"image","src":"https:\/\/cdn.shopify.com\/s\/files\/1\/0266\/5231\/1627\/products\/RSC2PC2.jpg?v=1628151033","width":720},{"alt":"DJI RSC 2 Pro Combo - Actiontech","id":11839620546714,"position":4,"preview_image":{"aspect_ratio":1.5,"height":480,"width":720,"src":"https:\/\/cdn.shopify.com\/s\/files\/1\/0266\/5231\/1627\/products\/RSC2PC3.jpg?v=1628151033"},"aspect_ratio":1.5,"height":480,"media_type":"image","src":"https:\/\/cdn.shopify.com\/s\/files\/1\/0266\/5231\/1627\/products\/RSC2PC3.jpg?v=1628151033","width":720}],"content":"\u003cp data-mce-fragment=\"1\"\u003eProfessional-level results are effortless with DJI RSC 2. This compact stabilizer for mirrorless and DSLR cameras features a foldable design and intuitive features, empowering filmmakers, one-man crews, and content creators everywhere.\u003c\/p\u003e\n\u003cp\u003e \u003c\/p\u003e\n\u003cp\u003e\u003cspan style=\"color: #ff2a00;\"\u003e\u003cbr\u003e\u003c\/span\u003e\u003c\/p\u003e\n\u003c!-- split --\u003e \u003c!-- TABS --\u003e\n\u003ch5\u003eProduct Description\u003c\/h5\u003e\n\u003ch2\u003e\u003cimg data-gtm-vis-has-fired-11032289_23=\"1\" data-gtm-vis-total-visible-time-11032289_23=\"500\" data-gtm-vis-first-on-screen-11032289_23=\"40104\" src=\"https:\/\/www.ferntech.co.nz\/assets\/images\/DJI%20RSC%202%20lifestyle.jpg\" alt=\"\"\u003e\u003c\/h2\u003e\n\u003ch2\u003eFOLDABLE, COMPACT, AMAZING\u003c\/h2\u003e\n\u003cp\u003eDJI RSC 2's foldable design means easy transportation and storage, along with expanded shooting options.\u003cbr\u003eGet creative with RSC 2's six configurations, delivering versatility that simplifies even the most complex shots.\u003cbr\u003eWhen folded, RSC 2 is just 7 × 7.5 inches, making it as portable as it is powerful.\u003c\/p\u003e\n\u003ch2\u003e \u003c\/h2\u003e\n\u003ch2\u003eCOMPATIBLE WITH DSLR AND MIRRORLESS CAMERAS\u003c\/h2\u003e\n\u003cp\u003e\u003ca href=\"https:\/\/www.dji.com\/nz\/support\/compatibility\"\u003ehttps:\/\/www.dji.com\/nz\/support\/compatibility\u003c\/a\u003e\u003c\/p\u003e\n\u003cp\u003e \u003c\/p\u003e\n\u003ch2\u003eTITAN: DJI STABILIZATION EVOLVED\u003c\/h2\u003e\n\u003cp\u003eNo one makes camera stabilizers like DJI. Our Titan Stabilization Algorithm captures smoother footage than ever. Need more? SuperSmooth mode compensates for micromovements and increases torque, stabilizing even 100mm zoom lenses.\u003c\/p\u003e\n\u003cp\u003e \u003c\/p\u003e\n\u003ch2\u003eFEEL THE FOCUS\u003c\/h2\u003e\n\u003cp\u003eThe Front Dial offers precise focusing in any scenario and single-handed operation. \u003c\/p\u003e\n\u003cp\u003e \u003c\/p\u003e\n\u003ch2\u003eDUAL-LAYER CAMERA MOUNTING PLATE (MANFROTTO + ARCA)\u003c\/h2\u003e\n\u003cp\u003eThe Manfrotto + Arca dual-layer camera mounting plate is compatible with popular brands.\u003cbr\u003eSwitch to portrait mode with just a tap to bring professional-grade footage to your social media content.\u003c\/p\u003e\n\u003cp\u003e\u003cimg data-gtm-vis-has-fired-11032289_23=\"1\" data-gtm-vis-total-visible-time-11032289_23=\"500\" data-gtm-vis-first-on-screen-11032289_23=\"63911\" src=\"https:\/\/www.ferntech.co.nz\/assets\/images\/DJI%20RSC%202%20Briefcase%20Handle.jpg\" alt=\"\"\u003e\u003c\/p\u003e\n\u003ch2\u003eHANDLE ANY SHOT\u003c\/h2\u003e\n\u003cp\u003e\u003cstrong\u003eDual Handle\u003c\/strong\u003e\u003cbr\u003eGet maximum control for shots that demand it.\u003c\/p\u003e\n\u003cp\u003e\u003cstrong\u003eHand Grip\u003c\/strong\u003e\u003cbr\u003eUse as a tripod and also as a grip extension.\u003c\/p\u003e\n\u003cp\u003e\u003cstrong\u003eNATO\u003c\/strong\u003e\u003cbr\u003eCan be used for a briefcase handle and various other accessories.\u003c\/p\u003e\n\u003cp\u003e\u003cstrong\u003e1\/4-20\" with ARRI Positioning Holes\u003c\/strong\u003e\u003cbr\u003eProvides more possibilities when using RSC 2 in a folded configuration.\u003c\/p\u003e\n\u003cp\u003e\u003cstrong\u003eBuilt-In OLED Screen\u003c\/strong\u003e\u003cbr\u003eA 1-inch built-in OLED screen gives you complete control, right at your fingertips.\u003c\/p\u003e\n\u003cp\u003e\u003cstrong\u003eBattery\u003c\/strong\u003e\u003cbr\u003eCharge less and shoot longer thanks to RSC 2's advanced battery, which provides a 14-hour runtime and supports fast charging.\u003c\/p\u003e\n\u003cp\u003e \u003c\/p\u003e\n\u003ch2\u003eMORE WAYS TO CREATE\u003c\/h2\u003e\n\u003cp\u003e\u003cstrong\u003eTimelapse\u003c\/strong\u003e\u003cbr\u003eCapture the passage of time with a steady frame.\u003c\/p\u003e\n\u003cp\u003e\u003cstrong\u003eRoll 360\u003c\/strong\u003e\u003cbr\u003eSpin your camera for a rolling shot.\u003c\/p\u003e\n\u003cp\u003e\u003cstrong\u003ePanorama \u003c\/strong\u003e\u003cbr\u003eWith a steady pan from the gimbal, create gigapixel panoramas from your camera.\u003c\/p\u003e\n\u003cp\u003e\u003cstrong\u003eLightweight Carrying Case\u003c\/strong\u003e\u003cbr\u003eThis redesigned carrying case has a splash-proof body with dedicated compartments for all RSC 2 parts.\u003c\/p\u003e\n\u003cp\u003e \u003c\/p\u003e\n\u003cp\u003e\u003cstrong\u003eHighlights\u003c\/strong\u003e\u003c\/p\u003e\n\u003cp\u003e1.2kg Weight \/ 3kg Tested Payload \u003cbr\u003e1'' OLED Screen \u003cbr\u003eMax 14hr Fast-Charge Batteries\u003cbr\u003eQuick Switch to Vertical Shooting \u003cbr\u003eTitan Stabilization Algorithm \u003cbr\u003eFoldable Design\u003c\/p\u003e\n\u003cp\u003e \u003c\/p\u003e\n\u003ch5\u003eProduct Specifications\u003c\/h5\u003e\n\u003ch2\u003ePRODUCT SPECIFICATIONS\u003c\/h2\u003e\n\u003ch4\u003ePERIPHERAL \u003c\/h4\u003e\n\u003cdiv\u003e\u003cstrong\u003eAccessory Connections\u003c\/strong\u003e\u003c\/div\u003e\n\u003cdiv\u003eNATO port\u003cbr\u003eM4 Mounting Hole\u003cbr\u003e1\/4"-20 Mounting Hole\u003cbr\u003eCold Shoe Mount\u003cbr\u003eVideo Transmission\/ Follow Focus Motor Port (USB-C)\u003cbr\u003eRSS Camera Control Port (USB-C)\u003c\/div\u003e\n\u003cdiv\u003eFollow Focus Motor Port (USB-C)\u003c\/div\u003e\n\u003cdiv\u003e \u003c\/div\u003e\n\u003cdiv\u003e\u003cstrong\u003eBattery\u003c\/strong\u003e\u003c\/div\u003e\n\u003cdiv\u003eModel: RB2-3400mAh -7.2 V\u003cbr\u003eType: 18650 2S\u003cbr\u003eCapacity: 3400mAh\u003cbr\u003eEnergy: 24.48 Wh\u003cbr\u003eMax Battery Life: 14 hours\u003cbr\u003eCharging time: Approx. 2 hours to fully charge with 18W fast charging (PD and QC 2.0 fast charging protocols are supported)\u003cbr\u003eCharging temperature: 5° to 40° C (41° to 104° F)\u003c\/div\u003e\n\u003cdiv\u003e\u003cstrong\u003eConnections\u003c\/strong\u003e\u003c\/div\u003e\n\u003cdiv\u003eBluetooth 5.0; USB-C\u003c\/div\u003e\n\u003cdiv\u003e\u003cstrong\u003eRonin App Requirements\u003c\/strong\u003e\u003c\/div\u003e\n\u003cdiv\u003eiOS 11 or above;\u003cbr\u003eAndroid 7.0 or above\u003c\/div\u003e\n\u003cdiv\u003e \u003c\/div\u003e\n\u003cdiv\u003e \u003c\/div\u003e\n\u003ch4\u003eWORKING PERFORMANCE\u003c\/h4\u003e\n\u003cdiv\u003e\n\u003cdiv\u003e\u003cstrong\u003eLoad Weight (Reference Value)\u003c\/strong\u003e\u003c\/div\u003e\n\u003cdiv\u003e3.0 kg (Handheld)\u003c\/div\u003e\n\u003cdiv\u003e\u003cstrong\u003eMaximum Controlled Rotation Speed\u003c\/strong\u003e\u003c\/div\u003e\n\u003cdiv\u003ePan axis: 360°\/s \u003c\/div\u003e\n\u003cdiv\u003eTilt axis: 360°\/s\u003c\/div\u003e\n\u003cdiv\u003eRoll axis: 360°\/s\u003c\/div\u003e\n\u003cdiv\u003e\n\u003cstrong\u003eMechanical Range\u003c\/strong\u003e\u003cspan\u003e \u003c\/span\u003e\n\u003c\/div\u003e\n\u003cdiv\u003ePan axis: 360° continuous rotation\u003c\/div\u003e\n\u003cdiv\u003eRoll axis: -240° to +95°\u003c\/div\u003e\n\u003cdiv\u003eTilt axis: -112° to +214°\u003c\/div\u003e\n\u003c\/div\u003e\n\u003cdiv\u003e \u003c\/div\u003e\n\u003ch4\u003eMECHANICAL AND ELECTRICAL CHARACTERISTICS\u003c\/h4\u003e\n\u003cdiv\u003e\n\u003cdiv\u003e\n\u003cstrong\u003eOperating Frequency\u003c\/strong\u003e\u003cspan\u003e \u003c\/span\u003e\n\u003c\/div\u003e\n\u003cdiv\u003e2.4000-2.4835 GHz\u003c\/div\u003e\n\u003cdiv\u003e\n\u003cstrong\u003eTransmission Power\u003c\/strong\u003e\u003cspan\u003e \u003c\/span\u003e\n\u003c\/div\u003e\n\u003cdiv\u003e\u0026lt; 8 dBm\u003c\/div\u003e\n\u003cdiv\u003e\n\u003cstrong\u003eOperating Temperature \u003c\/strong\u003e\u003cspan\u003e \u003c\/span\u003e\n\u003c\/div\u003e\n\u003cdiv\u003e-20° to 45° C (-4° to 113° F)\u003c\/div\u003e\n\u003cdiv\u003e\u003cstrong\u003eWeight\u003c\/strong\u003e\u003c\/div\u003e\n\u003cdiv\u003eGimbal: Approx. 1216 g (including the battery and excluding Quick-Release Plate)\u003c\/div\u003e\n\u003cdiv\u003eQuick-Release Plate (Upper\/Lower) Approx. 102 g\u003c\/div\u003e\n\u003cdiv\u003eExtended Grip\/Tripod (Metal): Approx. 226 g\u003c\/div\u003e\n\u003cdiv\u003eExtended Grip\/Tripod (Plastic): Approx. 160 g\u003c\/div\u003e\n\u003cdiv\u003e\n\u003cstrong\u003eGimbal Dimensions\u003c\/strong\u003e\u003cspan\u003e \u003c\/span\u003e\n\u003c\/div\u003e\n\u003cdiv\u003eFolded: 260×210×75 mm (including the handle)\u003c\/div\u003e\n\u003cdiv\u003eUnfolded: 400×185×175 mm (including the handle and without the Extended Grip\/Tripod)\u003c\/div\u003e\n\u003c\/div\u003e\n\u003cp\u003e \u003c\/p\u003e\n\u003ch5\u003eWarranty\u003c\/h5\u003e\n\u003ch2\u003eWARRANTY DETAILS\u003c\/h2\u003e\n\u003cp\u003eStandard warranty\u003c\/p\u003e\n\u003cp\u003e \u003c\/p\u003e\n\u003ch5\u003eIn The Box\u003c\/h5\u003e\n\u003ch2\u003eIN THE BOX\u003c\/h2\u003e\n\u003cdiv\u003eCarrying Case\u003cspan\u003e \u003c\/span\u003ex\u003cspan\u003e \u003c\/span\u003e1\u003c\/div\u003e\n\u003cdiv\u003eGimbal (Built-In Battery)\u003cspan\u003e \u003c\/span\u003ex\u003cspan\u003e \u003c\/span\u003e1\u003c\/div\u003e\n\u003cdiv\u003eUSB-C Charging Cable (40 cm)\u003cspan\u003e \u003c\/span\u003ex\u003cspan\u003e \u003c\/span\u003e1\u003c\/div\u003e\n\u003cdiv\u003eLens Support\u003cspan\u003e \u003c\/span\u003ex\u003cspan\u003e \u003c\/span\u003e1\u003c\/div\u003e\n\u003cdiv\u003eExtended Grip\/Tripod (Metal)\u003cspan\u003e \u003c\/span\u003ex\u003cspan\u003e \u003c\/span\u003e1\u003c\/div\u003e\n\u003cdiv\u003eQuick-Release Plate (Arca-Swiss\/Manfrotto)\u003cspan\u003e \u003c\/span\u003ex\u003cspan\u003e \u003c\/span\u003e1\u003c\/div\u003e\n\u003cdiv\u003eCamera Riser\u003cspan\u003e \u003c\/span\u003ex\u003cspan\u003e \u003c\/span\u003e1\u003c\/div\u003e\n\u003cdiv\u003ePhone Holder\u003cspan\u003e \u003c\/span\u003ex\u003cspan\u003e \u003c\/span\u003e1\u003c\/div\u003e\n\u003cdiv\u003eFocus Motor\u003cspan\u003e \u003c\/span\u003ex\u003cspan\u003e \u003c\/span\u003e1\u003c\/div\u003e\n\u003cdiv\u003eFocus Motor Rod Mount Kit\u003cspan\u003e \u003c\/span\u003ex\u003cspan\u003e \u003c\/span\u003e1\u003c\/div\u003e\n\u003cdiv\u003eFocus Gear Strip\u003cspan\u003e \u003c\/span\u003ex\u003cspan\u003e \u003c\/span\u003e1\u003c\/div\u003e\n\u003cdiv\u003eImage Transmitter\u003cspan\u003e \u003c\/span\u003ex\u003cspan\u003e \u003c\/span\u003e1\u003c\/div\u003e\n\u003cdiv\u003eCold Shoe to 1\/4''-20 Adapter\u003cspan\u003e \u003c\/span\u003ex\u003cspan\u003e \u003c\/span\u003e1\u003c\/div\u003e\n\u003cdiv\u003eUSB-C Power Cable (20 cm)\u003cspan\u003e \u003c\/span\u003ex\u003cspan\u003e \u003c\/span\u003e1\u003c\/div\u003e\n\u003cdiv\u003eMini-HDMI to HDMI Cable (20 cm)\u003cspan\u003e \u003c\/span\u003ex\u003cspan\u003e \u003c\/span\u003e1\u003c\/div\u003e\n\u003cdiv\u003eMini-HDMI to Mini-HDMI Cable (20 cm)\u003cspan\u003e \u003c\/span\u003ex\u003cspan\u003e \u003c\/span\u003e1\u003c\/div\u003e\n\u003cdiv\u003eMini-HDMI to Micro-HDMI Cable (20 cm)\u003cspan\u003e \u003c\/span\u003ex\u003cspan\u003e \u003c\/span\u003e1\u003c\/div\u003e\n\u003cdiv\u003eMulti-Camera Control Cable (USB-C, 30 cm)\u003cspan\u003e \u003c\/span\u003ex\u003cspan\u003e \u003c\/span\u003e2\u003c\/div\u003e\n\u003cdiv\u003eMulti-Camera Control Cable (Sony Multi, 30 cm)\u003cspan\u003e \u003c\/span\u003ex\u003cspan\u003e \u003c\/span\u003e1\u003c\/div\u003e\n\u003cdiv\u003eMulti-Camera Control Cable (Micro-USB, 30 cm)\u003cspan\u003e \u003c\/span\u003ex\u003cspan\u003e \u003c\/span\u003e1\u003c\/div\u003e\n\u003cdiv\u003eMulti-Camera Control Cable (Mini-USB, 30 cm)\u003cspan\u003e \u003c\/span\u003ex\u003cspan\u003e \u003c\/span\u003e1\u003c\/div\u003e\n\u003cdiv\u003eHook-and-Loop Strap\u003cspan\u003e \u003c\/span\u003ex\u003cspan\u003e \u003c\/span\u003e2\u003c\/div\u003e\n\u003cdiv\u003eD-Ring Camera Mounting Screw 1\/4\"-20\u003cspan\u003e \u003c\/span\u003ex\u003cspan\u003e \u003c\/span\u003e2\u003c\/div\u003e\n\u003cdiv\u003eM4 Screw (10 mm)\u003cspan\u003e \u003c\/span\u003ex\u003cspan\u003e \u003c\/span\u003e6\u003c\/div\u003e\n\u003cdiv\u003eAllen Wrench (3 mm)\u003cspan\u003e \u003c\/span\u003ex\u003cspan\u003e \u003c\/span\u003e1\u003c\/div\u003e\n\u003cdiv\u003eScrew 1\/4\"-20\u003cspan\u003e \u003c\/span\u003ex\u003cspan\u003e \u003c\/span\u003e1\u003c\/div\u003e\n\u003c!-- \/TABS --\u003e"}
DJI RSC 2 Pro Combo

FOLDABLE, COMPACT, AMAZING
DJI RSC 2's foldable design means easy transportation and storage, along with expanded shooting options.
Get creative with RSC 2's six configurations, delivering versatility that simplifies even the most complex shots.
When folded, RSC 2 is just 7 × 7.5 inches, making it as portable as it is powerful.
COMPATIBLE WITH DSLR AND MIRRORLESS CAMERAS
https://www.dji.com/nz/support/compatibility
TITAN: DJI STABILIZATION EVOLVED
No one makes camera stabilizers like DJI. Our Titan Stabilization Algorithm captures smoother footage than ever. Need more? SuperSmooth mode compensates for micromovements and increases torque, stabilizing even 100mm zoom lenses.
FEEL THE FOCUS
The Front Dial offers precise focusing in any scenario and single-handed operation. 
DUAL-LAYER CAMERA MOUNTING PLATE (MANFROTTO + ARCA)
The Manfrotto + Arca dual-layer camera mounting plate is compatible with popular brands.
Switch to portrait mode with just a tap to bring professional-grade footage to your social media content.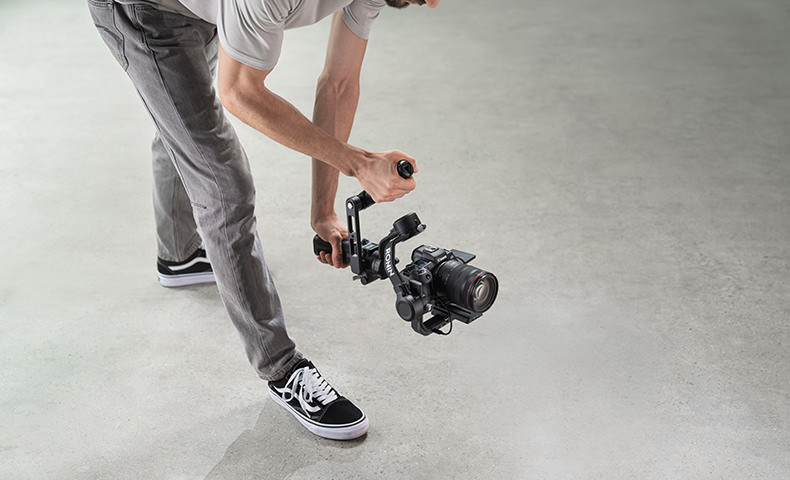 HANDLE ANY SHOT
Dual Handle
Get maximum control for shots that demand it.
Hand Grip
Use as a tripod and also as a grip extension.
NATO
Can be used for a briefcase handle and various other accessories.
1/4-20" with ARRI Positioning Holes
Provides more possibilities when using RSC 2 in a folded configuration.
Built-In OLED Screen
A 1-inch built-in OLED screen gives you complete control, right at your fingertips.
Battery
Charge less and shoot longer thanks to RSC 2's advanced battery, which provides a 14-hour runtime and supports fast charging.
MORE WAYS TO CREATE
Timelapse
Capture the passage of time with a steady frame.
Roll 360
Spin your camera for a rolling shot.
Panorama 
With a steady pan from the gimbal, create gigapixel panoramas from your camera.
Lightweight Carrying Case
This redesigned carrying case has a splash-proof body with dedicated compartments for all RSC 2 parts.
Highlights
1.2kg Weight / 3kg Tested Payload 
1'' OLED Screen 
Max 14hr Fast-Charge Batteries
Quick Switch to Vertical Shooting 
Titan Stabilization Algorithm 
Foldable Design
PRODUCT SPECIFICATIONS
PERIPHERAL 
Accessory Connections
NATO port
M4 Mounting Hole
1/4"-20 Mounting Hole
Cold Shoe Mount
Video Transmission/ Follow Focus Motor Port (USB-C)
RSS Camera Control Port (USB-C)
Follow Focus Motor Port (USB-C)
Battery
Model: RB2-3400mAh -7.2 V
Type: 18650 2S
Capacity: 3400mAh
Energy: 24.48 Wh
Max Battery Life: 14 hours
Charging time: Approx. 2 hours to fully charge with 18W fast charging (PD and QC 2.0 fast charging protocols are supported)
Charging temperature: 5° to 40° C (41° to 104° F)
Connections
Bluetooth 5.0; USB-C
Ronin App Requirements
iOS 11 or above;
Android 7.0 or above
WORKING PERFORMANCE
Load Weight (Reference Value)
3.0 kg (Handheld)
Maximum Controlled Rotation Speed
Pan axis: 360°/s 
Tilt axis: 360°/s
Roll axis: 360°/s
Pan axis: 360° continuous rotation
Roll axis: -240° to +95°
Tilt axis: -112° to +214°
MECHANICAL AND ELECTRICAL CHARACTERISTICS
2.4000-2.4835 GHz
< 8 dBm
-20° to 45° C (-4° to 113° F)
Weight
Gimbal: Approx. 1216 g (including the battery and excluding Quick-Release Plate)
Quick-Release Plate (Upper/Lower) Approx. 102 g
Extended Grip/Tripod (Metal): Approx. 226 g
Extended Grip/Tripod (Plastic): Approx. 160 g
Folded: 260×210×75 mm (including the handle)
Unfolded: 400×185×175 mm (including the handle and without the Extended Grip/Tripod)
WARRANTY DETAILS
Standard warranty
IN THE BOX
Gimbal (Built-In Battery)
x
1
USB-C Charging Cable (40 cm)
x
1
Extended Grip/Tripod (Metal)
x
1
Quick-Release Plate (Arca-Swiss/Manfrotto)
x
1
Focus Motor Rod Mount Kit
x
1
Cold Shoe to 1/4''-20 Adapter
x
1
USB-C Power Cable (20 cm)
x
1
Mini-HDMI to HDMI Cable (20 cm)
x
1
Mini-HDMI to Mini-HDMI Cable (20 cm)
x
1
Mini-HDMI to Micro-HDMI Cable (20 cm)
x
1
Multi-Camera Control Cable (USB-C, 30 cm)
x
2
Multi-Camera Control Cable (Sony Multi, 30 cm)
x
1
Multi-Camera Control Cable (Micro-USB, 30 cm)
x
1
Multi-Camera Control Cable (Mini-USB, 30 cm)
x
1
D-Ring Camera Mounting Screw 1/4"-20
x
2