{"id":5664677560474,"title":"DJI OM 4","handle":"dji-osmo-mobile-4","description":"\u003cp\u003eDJI OM 4 is a foldable stabilizer designed to complement your smartphone, allowing you to start recording right away. Magnetic, ultra-compact, and bursting with easy-to-use features, OM 4 is the ultimate solution for sharing your world.\u003c\/p\u003e\n\u003cp\u003e \u003c\/p\u003e\n\u003cp\u003e\u003cspan color=\"#ff2a00\" style=\"color: #ff2a00;\"\u003e\u003cspan style=\"caret-color: #ff2a00;\"\u003eAvailability: Back Order\u003c\/span\u003e\u003c\/span\u003e\u003c\/p\u003e\n\u003c!-- split --\u003e \u003c!-- TABS --\u003e\n\u003ch5\u003eProduct Description\u003c\/h5\u003e\n\u003cp\u003e \u003c\/p\u003e\n\u003cp\u003e\u003cb\u003eMagnetic Design\u003c\/b\u003e\u003c\/p\u003e\n\u003cp\u003eThe magnetic phone clamp and magnetic ring holder enable effortless capture whenever inspiration strikes. Attach your smartphone to DJI OM 4 instantly, perfect for filming on the go.\u003c\/p\u003e\n\u003cp\u003eMounting and dismounting your mobile device onto a gimbal used to be a hassle due to poor design and balancing requirements. This led many users to forego gimbals as they were worried about missing the moment.\u003c\/p\u003e\n\u003cp\u003eAttaching or detaching your mobile device can be done in the blink of an eye. \"\u003c\/p\u003e\n\u003cp\u003e\u003cb\u003eMagnetic Ring Holder\u003c\/b\u003e\u003c\/p\u003e\n\u003cp\u003eWith a subtle form and a sleek design, the Magnetic Ring Holder won't bother you while using your mobile device.\u003c\/p\u003e\n\u003cp\u003e\u003cimg alt=\"\" class=\"img-responsive\" src=\"https:\/\/www.ferntech.co.nz\/assets\/images\/DJI%20OM%204%207.jpg\" data-gtm-vis-first-on-screen-11032289_23=\"36895\" data-gtm-vis-total-visible-time-11032289_23=\"500\" data-gtm-vis-has-fired-11032289_23=\"1\"\u003e\u003c\/p\u003e\n\u003cp\u003e\u003cbr\u003e\u003cb\u003e3-axis Stabilization Upgraded\u003c\/b\u003e\u003c\/p\u003e\n\u003cp\u003eUsers don't know if they are balancing the gimbal correctly, but with a stronger motor, you can use it even if it's not perfectly balanced.\u003c\/p\u003e\n\u003cp\u003e\u003cbr\u003e\u003cb\u003eFoldable Design\u003c\/b\u003e\u003c\/p\u003e\n\u003cp\u003eThe magnetic phone clamp and the magnetic ring holder can be detached from the gimbal, decreasing its size\u003c\/p\u003e\n\u003cp\u003e\u003cbr\u003e\u003cstrong\u003eGesture Control\u003c\/strong\u003e\u003c\/p\u003e\n\u003cp\u003eNow you can use gesture control to stop recording. This allows users to adjust their composition while tracking instead of only centering it by default.\u003c\/p\u003e\n\u003cp\u003e\u003cstrong\u003eStandby Mode\u003c\/strong\u003e\u003c\/p\u003e\n\u003cp\u003eMobile device can even be removed while the gimbal is in use, and it will enter standby mode automatically. Simply put the mobile device back into place press any button to begin shooting again.\u003c\/p\u003e\n\u003cp\u003e \u003c\/p\u003e\n\u003cp\u003e\u003cstrong\u003eConvenient Compatibility\u003c\/strong\u003e\u003c\/p\u003e\n\u003cp\u003eOM 4 directly controls the shutter of most smartphone cameras and has also been specially optimized for certain brands.\u003c\/p\u003e\n\u003cp\u003e \u003c\/p\u003e\n\u003ch5\u003eProduct Specifications\u003c\/h5\u003e\n\u003ch2\u003ePRODUCT SPECIFICATIONS\u003c\/h2\u003e\n\u003ch3\u003eGENERAL\u003cspan\u003e \u003c\/span\u003e\n\u003c\/h3\u003e\n\u003cdiv\u003e \u003c\/div\u003e\n\u003cdiv\u003e\u003cstrong\u003eDimensions:\u003c\/strong\u003e\u003c\/div\u003e\n\u003cdiv\u003eUnfolded: 276×119.6×103.6 mm\u003c\/div\u003e\n\u003cdiv\u003eFolded: 163×99.5×46.5 mm\"\u003c\/div\u003e\n\u003cdiv\u003eWeight\u003cspan\u003e \u003c\/span\u003e\n\u003c\/div\u003e\n\u003cdiv\u003e\n\u003cstrong\u003eGimbal:\u003c\/strong\u003e 390 g\u003c\/div\u003e\n\u003cdiv\u003e\n\u003cstrong\u003eMagnetic Phone Clamp:\u003c\/strong\u003e 32.6 g\u003c\/div\u003e\n\u003cdiv\u003e\n\u003cstrong\u003eMagnetic Ring Holder:\u003c\/strong\u003e 11.4 g\u003c\/div\u003e\n\u003cdiv\u003e\n\u003cstrong\u003eCompatible Phone Weight:\u003c\/strong\u003e\u003cspan\u003e \u003c\/span\u003e230 ± 60 g\u003c\/div\u003e\n\u003cdiv\u003e\n\u003cstrong\u003eCompatible Phone Thickness:\u003c\/strong\u003e\u003cspan\u003e \u003c\/span\u003e6.9-10 mm\u003c\/div\u003e\n\u003cdiv\u003e\n\u003cstrong\u003eCompatible Phone Width:\u003c\/strong\u003e\u003cspan\u003e \u003c\/span\u003e67-84 mm\u003c\/div\u003e\n\u003cdiv\u003e \u003c\/div\u003e\n\u003ch3\u003eBATTERY \u003cspan\u003e \u003c\/span\u003e\n\u003c\/h3\u003e\n\u003cdiv\u003e\n\u003cstrong\u003eType:\u003c\/strong\u003e\u003cspan\u003e \u003c\/span\u003e18650 Li-ion\u003c\/div\u003e\n\u003cdiv\u003e\n\u003cstrong\u003eCapacity:\u003c\/strong\u003e\u003cspan\u003e \u003c\/span\u003e2450 mAh\u003c\/div\u003e\n\u003cdiv\u003e\n\u003cstrong\u003eEnergy:\u003c\/strong\u003e\u003cspan\u003e \u003c\/span\u003e17.64 Wh\u003c\/div\u003e\n\u003cdiv\u003e\n\u003cstrong\u003eVoltage:\u003c\/strong\u003e\u003cspan\u003e \u003c\/span\u003e7.2 V\u003c\/div\u003e\n\u003cdiv\u003e\n\u003cstrong\u003eCharging Temperature:\u003c\/strong\u003e\u003cspan\u003e \u003c\/span\u003e5 to 40 °C (41 to 104 °F)\u003c\/div\u003e\n\u003cdiv\u003e\n\u003cstrong\u003eOperating Temperature:\u003c\/strong\u003e\u003cspan\u003e \u003c\/span\u003e0 to 40 °C (32 to 104 °F)\u003c\/div\u003e\n\u003cdiv\u003e\n\u003cstrong\u003eOperating Time\u003c\/strong\u003e\u003cspan\u003e\u003cstrong\u003e:\u003c\/strong\u003e \u003c\/span\u003e15 hrs \u003c\/div\u003e\n\u003cdiv\u003e* Under ideal conditions with the gimbal fully balanced.\"\u003c\/div\u003e\n\u003cdiv\u003e\n\u003cstrong\u003eCharging Time\u003c\/strong\u003e\u003cspan\u003e\u003cstrong\u003e:\u003c\/strong\u003e \u003c\/span\u003e2.5 hrs * Measured with a 10W charger.\"\u003c\/div\u003e\n\u003cdiv\u003e\n\u003cstrong\u003eGimbal Charging Port:\u003c\/strong\u003e\u003cspan\u003e \u003c\/span\u003eUSB-C\u003c\/div\u003e\n\u003cdiv\u003e\n\u003cstrong\u003eExternal Device Charging Port:\u003c\/strong\u003e\u003cspan\u003e \u003c\/span\u003eUSB-A\u003c\/div\u003e\n\u003cdiv\u003e\n\u003cstrong\u003eUniversal Mount:\u003c\/strong\u003e\u003cspan\u003e \u003c\/span\u003e1\/4\" Threaded Hole\u003c\/div\u003e\n\u003cdiv\u003e \u003c\/div\u003e\n\u003ch3\u003eGIMBAL\u003cspan\u003e \u003c\/span\u003e\n\u003c\/h3\u003e\n\u003cdiv\u003e\n\u003cstrong\u003eConsumption:\u003c\/strong\u003e\u003cspan\u003e \u003c\/span\u003e1.2 W * Under ideal conditions with the gimbal fully balanced.\u003c\/div\u003e\n\u003cdiv\u003e\n\u003cstrong\u003eMechanical Range\u003cspan\u003e \u003c\/span\u003ePan:\u003c\/strong\u003e -161.2° to 171.95°\u003c\/div\u003e\n\u003cdiv\u003e\n\u003cstrong\u003eRoll:\u003c\/strong\u003e - 136.7° to 198°\u003c\/div\u003e\n\u003cdiv\u003e\n\u003cstrong\u003eTilt:\u003c\/strong\u003e-  106.54° to 235.5°\"\u003c\/div\u003e\n\u003cdiv\u003e\n\u003cstrong\u003eMax Control Speed:\u003c\/strong\u003e\u003cspan\u003e \u003c\/span\u003e120 °\/s\u003c\/div\u003e\n\u003cdiv\u003e\n\u003cstrong\u003eWireless:\u003c\/strong\u003e Model\u003cspan\u003e \u003c\/span\u003eBluetooth Low Energy  5.0\u003c\/div\u003e\n\u003cdiv\u003e \u003c\/div\u003e\n\u003ch3\u003eOTHER\u003cspan\u003e \u003c\/span\u003e\n\u003c\/h3\u003e\n\u003cdiv\u003e\n\u003cstrong\u003eApp:\u003c\/strong\u003e\u003cspan\u003e \u003c\/span\u003eDJI Mimo\u003c\/div\u003e\n\u003cdiv\u003e\u003cstrong\u003eTripod\u003cspan\u003e \u003c\/span\u003eDimensions:\u003c\/strong\u003e\u003c\/div\u003e\n\u003cdiv\u003e\n\u003cstrong\u003eLength:\u003c\/strong\u003e 138 mm\u003c\/div\u003e\n\u003cdiv\u003e\n\u003cstrong\u003eDiameter: \u003c\/strong\u003e32 mm\u003c\/div\u003e\n\u003cdiv\u003e\n\u003cstrong\u003eWeight:\u003c\/strong\u003e\u003cspan\u003e \u003c\/span\u003e72 g\u003c\/div\u003e\n\u003cp\u003e \u003c\/p\u003e\n\u003ch5\u003eWarranty\u003c\/h5\u003e\n\u003ch2\u003eWARRANTY DETAILS\u003c\/h2\u003e\n\u003cp\u003e\u003cstrong\u003eGimbal Camera:\u003c\/strong\u003e 12 Months\u003cbr\u003e\u003cstrong\u003eHandle:\u003c\/strong\u003e 12 Months\u003cbr\u003e\u003cstrong\u003eBattery:\u003c\/strong\u003e 6 Months and Charge Cycle less than 400 Times\u003cbr\u003e\u003cstrong\u003eBattery Charger: \u003c\/strong\u003e12 Months\u003cbr\u003e\u003cstrong\u003eBattery Charging Cable (Osmo Mobile):\u003c\/strong\u003e No Warranty\u003c\/p\u003e\n\u003cp\u003e \u003c\/p\u003e\n\u003ch5\u003eIn The Box\u003c\/h5\u003e\n\u003ch2\u003eIN THE BOX\u003c\/h2\u003e\n\u003cp\u003eMagnetic Ring Holder x 1\u003cbr\u003eMagnetic Phone Clamp x 1\u003cbr\u003eGrip Tripod x 1\u003cbr\u003ePower Cable x 1\u003cbr\u003eStorage Pouch x 1\u003cbr\u003eWrist Strap x 1\u003cbr\u003eManuals x 1\u003c\/p\u003e\n\u003cp\u003e \u003c\/p\u003e\n\u003c!-- \/TABS --\u003e","published_at":"2020-08-27T09:28:56+12:00","created_at":"2020-08-27T09:28:54+12:00","vendor":"DJI","type":"Camera Accessory","tags":["not-on-sale","OM4"],"price":25900,"price_min":25900,"price_max":25900,"available":true,"price_varies":false,"compare_at_price":null,"compare_at_price_min":0,"compare_at_price_max":0,"compare_at_price_varies":false,"variants":[{"id":35919428059290,"title":"Default Title","option1":"Default Title","option2":null,"option3":null,"sku":"OSM4","requires_shipping":true,"taxable":true,"featured_image":null,"available":true,"name":"DJI OM 4","public_title":null,"options":["Default Title"],"price":25900,"weight":0,"compare_at_price":null,"inventory_management":"shopify","barcode":"6958265174643","requires_selling_plan":false,"selling_plan_allocations":[]}],"images":["\/\/cdn.shopify.com\/s\/files\/1\/0266\/5231\/1627\/products\/DJIOM4_1.png?v=1598504803","\/\/cdn.shopify.com\/s\/files\/1\/0266\/5231\/1627\/products\/DJIOM4_2.png?v=1598504803","\/\/cdn.shopify.com\/s\/files\/1\/0266\/5231\/1627\/products\/DJIOM4_3.png?v=1598504803","\/\/cdn.shopify.com\/s\/files\/1\/0266\/5231\/1627\/products\/DJIOM4_4.png?v=1598504803","\/\/cdn.shopify.com\/s\/files\/1\/0266\/5231\/1627\/products\/DJIOM4_5.png?v=1598504803","\/\/cdn.shopify.com\/s\/files\/1\/0266\/5231\/1627\/products\/DJIOM4.jpg?v=1598504803"],"featured_image":"\/\/cdn.shopify.com\/s\/files\/1\/0266\/5231\/1627\/products\/DJIOM4_1.png?v=1598504803","options":["Title"],"media":[{"alt":null,"id":10959077769370,"position":1,"preview_image":{"aspect_ratio":1.778,"height":2880,"width":5120,"src":"https:\/\/cdn.shopify.com\/s\/files\/1\/0266\/5231\/1627\/products\/DJIOM4_1.png?v=1598477338"},"aspect_ratio":1.778,"height":2880,"media_type":"image","src":"https:\/\/cdn.shopify.com\/s\/files\/1\/0266\/5231\/1627\/products\/DJIOM4_1.png?v=1598477338","width":5120},{"alt":null,"id":10959077802138,"position":2,"preview_image":{"aspect_ratio":1.778,"height":2880,"width":5120,"src":"https:\/\/cdn.shopify.com\/s\/files\/1\/0266\/5231\/1627\/products\/DJIOM4_2.png?v=1598477337"},"aspect_ratio":1.778,"height":2880,"media_type":"image","src":"https:\/\/cdn.shopify.com\/s\/files\/1\/0266\/5231\/1627\/products\/DJIOM4_2.png?v=1598477337","width":5120},{"alt":null,"id":10959077834906,"position":3,"preview_image":{"aspect_ratio":1.778,"height":2880,"width":5120,"src":"https:\/\/cdn.shopify.com\/s\/files\/1\/0266\/5231\/1627\/products\/DJIOM4_3.png?v=1598477337"},"aspect_ratio":1.778,"height":2880,"media_type":"image","src":"https:\/\/cdn.shopify.com\/s\/files\/1\/0266\/5231\/1627\/products\/DJIOM4_3.png?v=1598477337","width":5120},{"alt":null,"id":10959077867674,"position":4,"preview_image":{"aspect_ratio":1.778,"height":2880,"width":5120,"src":"https:\/\/cdn.shopify.com\/s\/files\/1\/0266\/5231\/1627\/products\/DJIOM4_4.png?v=1598477338"},"aspect_ratio":1.778,"height":2880,"media_type":"image","src":"https:\/\/cdn.shopify.com\/s\/files\/1\/0266\/5231\/1627\/products\/DJIOM4_4.png?v=1598477338","width":5120},{"alt":null,"id":10959077900442,"position":5,"preview_image":{"aspect_ratio":1.778,"height":2880,"width":5120,"src":"https:\/\/cdn.shopify.com\/s\/files\/1\/0266\/5231\/1627\/products\/DJIOM4_5.png?v=1598477338"},"aspect_ratio":1.778,"height":2880,"media_type":"image","src":"https:\/\/cdn.shopify.com\/s\/files\/1\/0266\/5231\/1627\/products\/DJIOM4_5.png?v=1598477338","width":5120},{"alt":null,"id":10959077965978,"position":6,"preview_image":{"aspect_ratio":1.5,"height":2851,"width":4277,"src":"https:\/\/cdn.shopify.com\/s\/files\/1\/0266\/5231\/1627\/products\/DJIOM4.jpg?v=1598477338"},"aspect_ratio":1.5,"height":2851,"media_type":"image","src":"https:\/\/cdn.shopify.com\/s\/files\/1\/0266\/5231\/1627\/products\/DJIOM4.jpg?v=1598477338","width":4277}],"requires_selling_plan":false,"selling_plan_groups":[],"content":"\u003cp\u003eDJI OM 4 is a foldable stabilizer designed to complement your smartphone, allowing you to start recording right away. Magnetic, ultra-compact, and bursting with easy-to-use features, OM 4 is the ultimate solution for sharing your world.\u003c\/p\u003e\n\u003cp\u003e \u003c\/p\u003e\n\u003cp\u003e\u003cspan color=\"#ff2a00\" style=\"color: #ff2a00;\"\u003e\u003cspan style=\"caret-color: #ff2a00;\"\u003eAvailability: Back Order\u003c\/span\u003e\u003c\/span\u003e\u003c\/p\u003e\n\u003c!-- split --\u003e \u003c!-- TABS --\u003e\n\u003ch5\u003eProduct Description\u003c\/h5\u003e\n\u003cp\u003e \u003c\/p\u003e\n\u003cp\u003e\u003cb\u003eMagnetic Design\u003c\/b\u003e\u003c\/p\u003e\n\u003cp\u003eThe magnetic phone clamp and magnetic ring holder enable effortless capture whenever inspiration strikes. Attach your smartphone to DJI OM 4 instantly, perfect for filming on the go.\u003c\/p\u003e\n\u003cp\u003eMounting and dismounting your mobile device onto a gimbal used to be a hassle due to poor design and balancing requirements. This led many users to forego gimbals as they were worried about missing the moment.\u003c\/p\u003e\n\u003cp\u003eAttaching or detaching your mobile device can be done in the blink of an eye. \"\u003c\/p\u003e\n\u003cp\u003e\u003cb\u003eMagnetic Ring Holder\u003c\/b\u003e\u003c\/p\u003e\n\u003cp\u003eWith a subtle form and a sleek design, the Magnetic Ring Holder won't bother you while using your mobile device.\u003c\/p\u003e\n\u003cp\u003e\u003cimg alt=\"\" class=\"img-responsive\" src=\"https:\/\/www.ferntech.co.nz\/assets\/images\/DJI%20OM%204%207.jpg\" data-gtm-vis-first-on-screen-11032289_23=\"36895\" data-gtm-vis-total-visible-time-11032289_23=\"500\" data-gtm-vis-has-fired-11032289_23=\"1\"\u003e\u003c\/p\u003e\n\u003cp\u003e\u003cbr\u003e\u003cb\u003e3-axis Stabilization Upgraded\u003c\/b\u003e\u003c\/p\u003e\n\u003cp\u003eUsers don't know if they are balancing the gimbal correctly, but with a stronger motor, you can use it even if it's not perfectly balanced.\u003c\/p\u003e\n\u003cp\u003e\u003cbr\u003e\u003cb\u003eFoldable Design\u003c\/b\u003e\u003c\/p\u003e\n\u003cp\u003eThe magnetic phone clamp and the magnetic ring holder can be detached from the gimbal, decreasing its size\u003c\/p\u003e\n\u003cp\u003e\u003cbr\u003e\u003cstrong\u003eGesture Control\u003c\/strong\u003e\u003c\/p\u003e\n\u003cp\u003eNow you can use gesture control to stop recording. This allows users to adjust their composition while tracking instead of only centering it by default.\u003c\/p\u003e\n\u003cp\u003e\u003cstrong\u003eStandby Mode\u003c\/strong\u003e\u003c\/p\u003e\n\u003cp\u003eMobile device can even be removed while the gimbal is in use, and it will enter standby mode automatically. Simply put the mobile device back into place press any button to begin shooting again.\u003c\/p\u003e\n\u003cp\u003e \u003c\/p\u003e\n\u003cp\u003e\u003cstrong\u003eConvenient Compatibility\u003c\/strong\u003e\u003c\/p\u003e\n\u003cp\u003eOM 4 directly controls the shutter of most smartphone cameras and has also been specially optimized for certain brands.\u003c\/p\u003e\n\u003cp\u003e \u003c\/p\u003e\n\u003ch5\u003eProduct Specifications\u003c\/h5\u003e\n\u003ch2\u003ePRODUCT SPECIFICATIONS\u003c\/h2\u003e\n\u003ch3\u003eGENERAL\u003cspan\u003e \u003c\/span\u003e\n\u003c\/h3\u003e\n\u003cdiv\u003e \u003c\/div\u003e\n\u003cdiv\u003e\u003cstrong\u003eDimensions:\u003c\/strong\u003e\u003c\/div\u003e\n\u003cdiv\u003eUnfolded: 276×119.6×103.6 mm\u003c\/div\u003e\n\u003cdiv\u003eFolded: 163×99.5×46.5 mm\"\u003c\/div\u003e\n\u003cdiv\u003eWeight\u003cspan\u003e \u003c\/span\u003e\n\u003c\/div\u003e\n\u003cdiv\u003e\n\u003cstrong\u003eGimbal:\u003c\/strong\u003e 390 g\u003c\/div\u003e\n\u003cdiv\u003e\n\u003cstrong\u003eMagnetic Phone Clamp:\u003c\/strong\u003e 32.6 g\u003c\/div\u003e\n\u003cdiv\u003e\n\u003cstrong\u003eMagnetic Ring Holder:\u003c\/strong\u003e 11.4 g\u003c\/div\u003e\n\u003cdiv\u003e\n\u003cstrong\u003eCompatible Phone Weight:\u003c\/strong\u003e\u003cspan\u003e \u003c\/span\u003e230 ± 60 g\u003c\/div\u003e\n\u003cdiv\u003e\n\u003cstrong\u003eCompatible Phone Thickness:\u003c\/strong\u003e\u003cspan\u003e \u003c\/span\u003e6.9-10 mm\u003c\/div\u003e\n\u003cdiv\u003e\n\u003cstrong\u003eCompatible Phone Width:\u003c\/strong\u003e\u003cspan\u003e \u003c\/span\u003e67-84 mm\u003c\/div\u003e\n\u003cdiv\u003e \u003c\/div\u003e\n\u003ch3\u003eBATTERY \u003cspan\u003e \u003c\/span\u003e\n\u003c\/h3\u003e\n\u003cdiv\u003e\n\u003cstrong\u003eType:\u003c\/strong\u003e\u003cspan\u003e \u003c\/span\u003e18650 Li-ion\u003c\/div\u003e\n\u003cdiv\u003e\n\u003cstrong\u003eCapacity:\u003c\/strong\u003e\u003cspan\u003e \u003c\/span\u003e2450 mAh\u003c\/div\u003e\n\u003cdiv\u003e\n\u003cstrong\u003eEnergy:\u003c\/strong\u003e\u003cspan\u003e \u003c\/span\u003e17.64 Wh\u003c\/div\u003e\n\u003cdiv\u003e\n\u003cstrong\u003eVoltage:\u003c\/strong\u003e\u003cspan\u003e \u003c\/span\u003e7.2 V\u003c\/div\u003e\n\u003cdiv\u003e\n\u003cstrong\u003eCharging Temperature:\u003c\/strong\u003e\u003cspan\u003e \u003c\/span\u003e5 to 40 °C (41 to 104 °F)\u003c\/div\u003e\n\u003cdiv\u003e\n\u003cstrong\u003eOperating Temperature:\u003c\/strong\u003e\u003cspan\u003e \u003c\/span\u003e0 to 40 °C (32 to 104 °F)\u003c\/div\u003e\n\u003cdiv\u003e\n\u003cstrong\u003eOperating Time\u003c\/strong\u003e\u003cspan\u003e\u003cstrong\u003e:\u003c\/strong\u003e \u003c\/span\u003e15 hrs \u003c\/div\u003e\n\u003cdiv\u003e* Under ideal conditions with the gimbal fully balanced.\"\u003c\/div\u003e\n\u003cdiv\u003e\n\u003cstrong\u003eCharging Time\u003c\/strong\u003e\u003cspan\u003e\u003cstrong\u003e:\u003c\/strong\u003e \u003c\/span\u003e2.5 hrs * Measured with a 10W charger.\"\u003c\/div\u003e\n\u003cdiv\u003e\n\u003cstrong\u003eGimbal Charging Port:\u003c\/strong\u003e\u003cspan\u003e \u003c\/span\u003eUSB-C\u003c\/div\u003e\n\u003cdiv\u003e\n\u003cstrong\u003eExternal Device Charging Port:\u003c\/strong\u003e\u003cspan\u003e \u003c\/span\u003eUSB-A\u003c\/div\u003e\n\u003cdiv\u003e\n\u003cstrong\u003eUniversal Mount:\u003c\/strong\u003e\u003cspan\u003e \u003c\/span\u003e1\/4\" Threaded Hole\u003c\/div\u003e\n\u003cdiv\u003e \u003c\/div\u003e\n\u003ch3\u003eGIMBAL\u003cspan\u003e \u003c\/span\u003e\n\u003c\/h3\u003e\n\u003cdiv\u003e\n\u003cstrong\u003eConsumption:\u003c\/strong\u003e\u003cspan\u003e \u003c\/span\u003e1.2 W * Under ideal conditions with the gimbal fully balanced.\u003c\/div\u003e\n\u003cdiv\u003e\n\u003cstrong\u003eMechanical Range\u003cspan\u003e \u003c\/span\u003ePan:\u003c\/strong\u003e -161.2° to 171.95°\u003c\/div\u003e\n\u003cdiv\u003e\n\u003cstrong\u003eRoll:\u003c\/strong\u003e - 136.7° to 198°\u003c\/div\u003e\n\u003cdiv\u003e\n\u003cstrong\u003eTilt:\u003c\/strong\u003e-  106.54° to 235.5°\"\u003c\/div\u003e\n\u003cdiv\u003e\n\u003cstrong\u003eMax Control Speed:\u003c\/strong\u003e\u003cspan\u003e \u003c\/span\u003e120 °\/s\u003c\/div\u003e\n\u003cdiv\u003e\n\u003cstrong\u003eWireless:\u003c\/strong\u003e Model\u003cspan\u003e \u003c\/span\u003eBluetooth Low Energy  5.0\u003c\/div\u003e\n\u003cdiv\u003e \u003c\/div\u003e\n\u003ch3\u003eOTHER\u003cspan\u003e \u003c\/span\u003e\n\u003c\/h3\u003e\n\u003cdiv\u003e\n\u003cstrong\u003eApp:\u003c\/strong\u003e\u003cspan\u003e \u003c\/span\u003eDJI Mimo\u003c\/div\u003e\n\u003cdiv\u003e\u003cstrong\u003eTripod\u003cspan\u003e \u003c\/span\u003eDimensions:\u003c\/strong\u003e\u003c\/div\u003e\n\u003cdiv\u003e\n\u003cstrong\u003eLength:\u003c\/strong\u003e 138 mm\u003c\/div\u003e\n\u003cdiv\u003e\n\u003cstrong\u003eDiameter: \u003c\/strong\u003e32 mm\u003c\/div\u003e\n\u003cdiv\u003e\n\u003cstrong\u003eWeight:\u003c\/strong\u003e\u003cspan\u003e \u003c\/span\u003e72 g\u003c\/div\u003e\n\u003cp\u003e \u003c\/p\u003e\n\u003ch5\u003eWarranty\u003c\/h5\u003e\n\u003ch2\u003eWARRANTY DETAILS\u003c\/h2\u003e\n\u003cp\u003e\u003cstrong\u003eGimbal Camera:\u003c\/strong\u003e 12 Months\u003cbr\u003e\u003cstrong\u003eHandle:\u003c\/strong\u003e 12 Months\u003cbr\u003e\u003cstrong\u003eBattery:\u003c\/strong\u003e 6 Months and Charge Cycle less than 400 Times\u003cbr\u003e\u003cstrong\u003eBattery Charger: \u003c\/strong\u003e12 Months\u003cbr\u003e\u003cstrong\u003eBattery Charging Cable (Osmo Mobile):\u003c\/strong\u003e No Warranty\u003c\/p\u003e\n\u003cp\u003e \u003c\/p\u003e\n\u003ch5\u003eIn The Box\u003c\/h5\u003e\n\u003ch2\u003eIN THE BOX\u003c\/h2\u003e\n\u003cp\u003eMagnetic Ring Holder x 1\u003cbr\u003eMagnetic Phone Clamp x 1\u003cbr\u003eGrip Tripod x 1\u003cbr\u003ePower Cable x 1\u003cbr\u003eStorage Pouch x 1\u003cbr\u003eWrist Strap x 1\u003cbr\u003eManuals x 1\u003c\/p\u003e\n\u003cp\u003e \u003c\/p\u003e\n\u003c!-- \/TABS --\u003e"}
DJI OM 4
Magnetic Design
The magnetic phone clamp and magnetic ring holder enable effortless capture whenever inspiration strikes. Attach your smartphone to DJI OM 4 instantly, perfect for filming on the go.
Mounting and dismounting your mobile device onto a gimbal used to be a hassle due to poor design and balancing requirements. This led many users to forego gimbals as they were worried about missing the moment.
Attaching or detaching your mobile device can be done in the blink of an eye. "
Magnetic Ring Holder
With a subtle form and a sleek design, the Magnetic Ring Holder won't bother you while using your mobile device.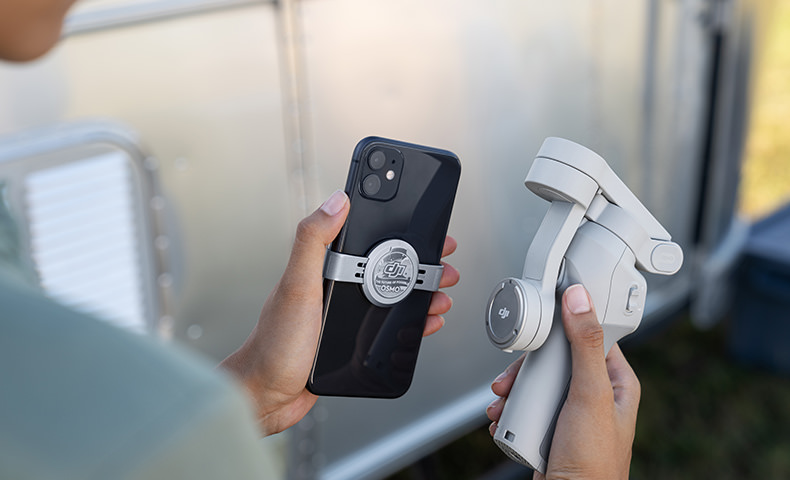 3-axis Stabilization Upgraded
Users don't know if they are balancing the gimbal correctly, but with a stronger motor, you can use it even if it's not perfectly balanced.

Foldable Design
The magnetic phone clamp and the magnetic ring holder can be detached from the gimbal, decreasing its size

Gesture Control
Now you can use gesture control to stop recording. This allows users to adjust their composition while tracking instead of only centering it by default.
Standby Mode
Mobile device can even be removed while the gimbal is in use, and it will enter standby mode automatically. Simply put the mobile device back into place press any button to begin shooting again.
Convenient Compatibility
OM 4 directly controls the shutter of most smartphone cameras and has also been specially optimized for certain brands.
PRODUCT SPECIFICATIONS
GENERAL
Dimensions:
Unfolded: 276×119.6×103.6 mm
Folded: 163×99.5×46.5 mm"
Gimbal: 390 g
Magnetic Phone Clamp: 32.6 g
Magnetic Ring Holder: 11.4 g
Compatible Phone Weight:
230 ± 60 g
Compatible Phone Thickness:
6.9-10 mm
Compatible Phone Width:
67-84 mm
BATTERY
Charging Temperature:
5 to 40 °C (41 to 104 °F)
Operating Temperature:
0 to 40 °C (32 to 104 °F)
Operating Time: 15 hrs 
* Under ideal conditions with the gimbal fully balanced."
Charging Time: 2.5 hrs * Measured with a 10W charger."
Gimbal Charging Port:
USB-C
External Device Charging Port:
USB-A
Universal Mount:
1/4" Threaded Hole
GIMBAL
Consumption:
1.2 W * Under ideal conditions with the gimbal fully balanced.
Mechanical Range

Pan:
-161.2° to 171.95°
Roll: - 136.7° to 198°
Tilt:-  106.54° to 235.5°"
Max Control Speed:
120 °/s
Wireless:
Model
Bluetooth Low Energy  5.0
OTHER
Length: 138 mm
Diameter: 32 mm
WARRANTY DETAILS
Gimbal Camera: 12 Months
Handle: 12 Months
Battery: 6 Months and Charge Cycle less than 400 Times
Battery Charger: 12 Months
Battery Charging Cable (Osmo Mobile): No Warranty
IN THE BOX
Magnetic Ring Holder x 1
Magnetic Phone Clamp x 1
Grip Tripod x 1
Power Cable x 1
Storage Pouch x 1
Wrist Strap x 1
Manuals x 1