{"id":7192558764186,"title":"Boox Leaf 7\" Eink Tablet with Free Sleeve","handle":"boox-leaf-7-eink-tablet-with-free-sleeve","description":"\u003cspan data-mce-fragment=\"1\"\u003eThe lightest 7\" eReader makes reading indoors easy and outdoors even more effortless. Meet BOOX Leaf, the reading-purposed tablet that lets you enjoy stories in any place, at any time.\u003c\/span\u003e\n\u003cp\u003e \u003c\/p\u003e\n\u003cp\u003e\u003cspan style=\"color: #ff2a00;\"\u003eAvailability: In Stock\u003c\/span\u003e\u003c\/p\u003e\n\u003c!-- split --\u003e \u003c!-- TABS --\u003e\n\u003ch5\u003eProduct Description\u003c\/h5\u003e\n\u003cdiv data-id=\"1635325917927\" data-icon=\"gpicon-row\" class=\"gf_row\" id=\"r-1635325917927\" data-key=\"row\" data-label=\"Row\"\u003e\n\u003cdiv data-id=\"1629269267823\" id=\"c-1629269267823\" class=\"gf_column gf_col-lg-12 gf_col-md-12 gf_col-sm-12 gf_col-xs-12\"\u003e\n\u003cdiv data-id=\"1635325917945\" data-ver=\"1\" data-icon=\"gpicon-heading\" class=\"element-wrap\" id=\"e-1635325917945\" data-key=\"heading\" data-label=\"Heading\"\u003e\n\u003cdiv data-exc=\"\" data-gemlang=\"en\" class=\"elm text-edit gf-elm-center gf-elm-center-md gf-elm-center-sm gf-elm-center-lg gf-elm-left-xs\"\u003e\n\u003ch1\u003eJoyful Outdoors Reading\u003c\/h1\u003e\n\u003cdiv\u003e\u003cbr\u003e\u003c\/div\u003e\n\u003c\/div\u003e\n\u003c\/div\u003e\n\u003cdiv data-id=\"1635325917905\" data-ver=\"1\" data-icon=\"gpicon-textblock\" class=\"element-wrap\" id=\"e-1635325917905\" data-key=\"text-block\" data-label=\"Text Block\"\u003e\n\u003cdiv data-exc=\"\" data-gemlang=\"en\" class=\"elm text-edit gf-elm-left gf-elm-center-lg gf-elm-center-sm gf-elm-center-md gf-elm-left-xs\"\u003e\n\u003cp\u003eThe lightest 7\" eReader makes reading indoors easy and outdoors even more effortless. Meet BOOX Leaf, the reading-purposed tablet that lets you enjoy stories in any place, at any time.\u003c\/p\u003e\n\u003c\/div\u003e\n\u003c\/div\u003e\n\u003c\/div\u003e\n\u003c\/div\u003e\n\u003cdiv data-extraclass=\"\" data-id=\"1635325918021\" data-icon=\"gpicon-row\" id=\"r-1635325918021\" class=\"gf_row\" data-label=\"Row\"\u003e\n\u003cdiv data-id=\"1629276487687\" id=\"c-1629276487687\" class=\"gf_column gf_col-md-12 gf_col-sm-12 gf_col-xs-12 gf_col-lg-12\"\u003e\n\u003cdiv data-id=\"1637217252246\" data-ver=\"1\" data-icon=\"gpicon-youtube\" class=\"module-wrap\" id=\"m-1637217252246\" data-atomgroup=\"module\" data-key=\"youtube\" data-label=\"Youtube\"\u003e\n\u003cdiv data-end=\"\" data-start=\"\" data-hd=\"\" data-rel=\"\" data-fs=\"1\" data-modestbranding=\"0\" data-showinfo=\"\" data-controls=\"1\" data-loop=\"0\" data-autoplay=\"1\" data-sound=\"1\" data-responsive=\"1\" data-height=\"\" data-width=\"\" data-url=\"https:\/\/youtu.be\/QBkFcmBguKc\" class=\"module gf_module-\"\u003e\n\u003cdiv class=\"gempage-video\"\u003e\u003ciframe id=\"378375017\" data-gtm-yt-inspected-1_19=\"true\" src=\"https:\/\/www.youtube.com\/embed\/QBkFcmBguKc?1=1\u0026amp;enablejsapi=1\" height=\"294\" width=\"500\" allowfullscreen=\"\" frameborder=\"0\"\u003e\u003c\/iframe\u003e\u003c\/div\u003e\n\u003cdiv\u003e\u003cbr\u003e\u003c\/div\u003e\n\u003c\/div\u003e\n\u003cdiv class=\"gf_youtube-overlay\"\u003e\u003cbr\u003e\u003c\/div\u003e\n\u003c\/div\u003e\n\u003c\/div\u003e\n\u003c\/div\u003e\n\u003cdiv data-row-gap=\"0px\" data-extraclass=\"\" data-id=\"1635325917908\" data-icon=\"gpicon-row\" class=\"gf_row gf_row-gap-0\" id=\"r-1635325917908\" data-key=\"row\" data-label=\"Row\"\u003e\n\u003cdiv data-id=\"1629269267823\" id=\"c-1629269267823\" class=\"gf_column gf_col-lg-12 gf_col-md-12 gf_col-sm-12 gf_col-xs-12\"\u003e\n\u003cdiv data-id=\"1635325917944\" data-ver=\"1\" data-icon=\"gpicon-heading\" class=\"element-wrap\" id=\"e-1635325917944\" data-key=\"heading\" data-label=\"Heading\"\u003e\n\u003cdiv data-exc=\"\" data-gemlang=\"en\" class=\"elm text-edit gf-elm-center gf-elm-center-md gf-elm-center-sm gf-elm-center-lg gf-elm-left-xs\"\u003e\n\u003ch1\u003eHit the Road. No Burden.\u003c\/h1\u003e\n\u003cdiv\u003e\u003cbr\u003e\u003c\/div\u003e\n\u003cdiv\u003e\u003cbr\u003e\u003c\/div\u003e\n\u003c\/div\u003e\n\u003c\/div\u003e\n\u003cdiv data-row-gap=\"15px\" data-layout-xs=\"12+12\" data-layout-sm=\"6+6\" data-layout-md=\"6+6\" data-layout-lg=\"6+6\" data-extraclass=\"\" data-id=\"1635325918022\" data-icon=\"gpicon-row\" class=\"gf_row gf_equal-height gf_row-gap-15\" id=\"r-1635325918022\" data-atomgroup=\"row\" data-key=\"row\" data-label=\"Row\"\u003e\n\u003cdiv data-id=\"1634903955575\" id=\"c-1634903955575\" class=\"gf_column gf_col-lg-6 gf_col-md-6 gf_col-sm-6 gf_col-xs-12\"\u003e\n\u003cdiv data-resolution=\"3000x3000\" data-id=\"1635325917983\" data-ver=\"1.0\" data-icon=\"gpicon-image\" class=\"element-wrap\" id=\"e-1635325917983\" data-atomgroup=\"element\" data-key=\"image\" data-label=\"Image\"\u003e\n\u003cdiv data-exc=\"\" class=\"elm gf-elm-center gf_elm-left-xs gf-elm-center-md gf-elm-center-sm gf-elm-center-xs gf-elm-center-lg\"\u003e\u003cimg data-lazy-loaded=\"750\" data-lg-size=\"3000x3000\" title=\"\" data-height=\"auto\" data-width=\"100%\" height=\"672\" width=\"956\" data-gemlang=\"en\" class=\"gf_image gf_lazyload gf_lazyloaded gf_lazyload_done\" alt=\"\" src=\"https:\/\/ucarecdn.com\/a63c3a9b-a71e-4dba-b3a3-75274b148a99\/-\/format\/auto\/-\/preview\/750x750\/-\/quality\/lighter\/Leaf%20webpage_02-1.jpg\" natural-height=\"672\" natural-width=\"956\"\u003e\u003c\/div\u003e\n\u003c\/div\u003e\n\u003c\/div\u003e\n\u003cdiv data-id=\"1634903975804\" id=\"c-1634903975804\" class=\"gf_column gf_col-lg-6 gf_col-md-6 gf_col-sm-6 gf_col-xs-12\"\u003e\n\u003cdiv data-extraclass=\"\" data-row-gap=\"15px\" data-id=\"1635325917918\" data-icon=\"gpicon-row\" class=\"gf_row gf_row-gap-15\" id=\"r-1635325917918\" data-atomgroup=\"row\" data-key=\"row\" data-label=\"Row\"\u003e\n\u003cdiv data-id=\"1634904255697\" id=\"c-1634904255697\" class=\"gf_column gf_col-lg-12 gf_col-md-12 gf_col-sm-12 gf_col-xs-12\"\u003e\n\u003cdiv data-id=\"1635325918051\" data-ver=\"1\" data-icon=\"gpicon-heading\" class=\"element-wrap\" id=\"e-1635325918051\" data-key=\"heading\" data-label=\"Heading\"\u003e\n\u003cdiv data-exc=\"\" data-gemlang=\"en\" class=\"elm text-edit gf-elm-center gf-elm-center-sm gf-elm-left-xs gf-elm-left-lg gf-elm-left-md\"\u003e\n\u003ch1\u003e\u003c\/h1\u003e\n\u003ch1\u003eLight and Thin as a Leaf\u003c\/h1\u003e\n\u003cdiv\u003e\u003cbr\u003e\u003c\/div\u003e\n\u003c\/div\u003e\n\u003c\/div\u003e\n\u003cdiv data-id=\"1635325918013\" data-ver=\"1\" data-icon=\"gpicon-textblock\" class=\"element-wrap\" id=\"e-1635325918013\" data-key=\"text-block\" data-label=\"Text Block\"\u003e\n\u003cdiv data-exc=\"\" data-gemlang=\"en\" class=\"elm text-edit gf-elm-left gf-elm-center-sm gf-elm-left-xs gf-elm-left-lg gf-elm-left-md\"\u003e\n\u003cp\u003ePack your Leaf with you wherever you head out. It's lightweight with only 170g and thin as 5.95mm. Whether you're on the road, in the camp, or on the hill, just grab it, turn it on and enjoy great stories with the lasting 2000mAh battery.\u003c\/p\u003e\n\u003c\/div\u003e\n\u003c\/div\u003e\n\u003c\/div\u003e\n\u003c\/div\u003e\n\u003c\/div\u003e\n\u003c\/div\u003e\n\u003cdiv data-row-gap=\"15px\" data-layout-xs=\"12+12\" data-layout-sm=\"6+6\" data-layout-md=\"6+6\" data-layout-lg=\"6+6\" data-extraclass=\"\" data-id=\"1636969698725\" data-icon=\"gpicon-row\" class=\"gf_row gf_equal-height gf_row-gap-15\" id=\"r-1636969698725\" data-atomgroup=\"row\" data-key=\"row\" data-label=\"Row\"\u003e\n\u003cdiv data-id=\"1634903955575\" id=\"c-1634903955575\" class=\"gf_column gf_col-lg-6 gf_col-md-6 gf_col-sm-6 gf_col-xs-12\"\u003e\n\u003cdiv data-extraclass=\"\" data-row-gap=\"15px\" data-id=\"1636969764539\" data-icon=\"gpicon-row\" class=\"gf_row gf_row-gap-15\" id=\"r-1636969764539\" data-atomgroup=\"row\" data-key=\"row\" data-label=\"Row\"\u003e\n\u003cdiv data-id=\"1634904255697\" id=\"c-1634904255697\" class=\"gf_column gf_col-lg-12 gf_col-md-12 gf_col-sm-12 gf_col-xs-12\"\u003e\n\u003cdiv data-id=\"1636969764406\" data-ver=\"1\" data-icon=\"gpicon-heading\" class=\"element-wrap\" id=\"e-1636969764406\" data-key=\"heading\" data-label=\"Heading\"\u003e\n\u003cdiv data-exc=\"\" data-gemlang=\"en\" class=\"elm text-edit gf-elm-center gf-elm-center-sm gf-elm-left-xs gf-elm-left-lg gf-elm-left-md\"\u003e\n\u003ch1\u003e\u003c\/h1\u003e\n\u003c\/div\u003e\n\u003c\/div\u003e\n\u003c\/div\u003e\n\u003c\/div\u003e\n\u003c\/div\u003e\n\u003cdiv data-id=\"1634903975804\" id=\"c-1634903975804\" class=\"gf_column gf_col-lg-6 gf_col-md-6 gf_col-sm-6 gf_col-xs-12\"\u003e\n\u003cdiv data-resolution=\"3000x3000\" data-id=\"1636969698734\" data-ver=\"1.0\" data-icon=\"gpicon-image\" class=\"element-wrap\" id=\"e-1636969698734\" data-atomgroup=\"element\" data-key=\"image\" data-label=\"Image\"\u003e\u003c\/div\u003e\n\u003c\/div\u003e\n\u003c\/div\u003e\n\u003c\/div\u003e\n\u003c\/div\u003e\n\u003cdiv data-id=\"1635325917892\" data-ver=\"1\" data-icon=\"gpicon-heading\" class=\"element-wrap\" id=\"e-1635325917892\" data-key=\"heading\" data-label=\"Heading\"\u003e\n\u003cdiv data-exc=\"\" data-gemlang=\"en\" class=\"elm text-edit gf-elm-center gf-elm-center-md gf-elm-center-sm gf-elm-center-lg gf-elm-left-xs\"\u003e\n\u003ch1\u003eSimplicity in Nature\u003c\/h1\u003e\n\u003c\/div\u003e\n\u003c\/div\u003e\n\u003cdiv data-extraclass=\"\" data-id=\"1637141401631\" data-icon=\"gpicon-row\" class=\"gf_row\" id=\"r-1637141401631\" data-atomgroup=\"row\" data-key=\"row\" data-label=\"Row\"\u003e\n\u003cdiv data-id=\"1637141401735\" id=\"c-1637141401735\" class=\"gf_column gf_col-lg-12 gf_col-md-12 gf_col-sm-12 gf_col-xs-12\"\u003e\n\u003cdiv data-id=\"1636970285669\" data-ver=\"1\" data-icon=\"gpicon-textblock\" class=\"element-wrap\" id=\"e-1636970285669\" data-key=\"text-block\" data-label=\"Text Block\"\u003e\n\u003cdiv data-exc=\"\" data-gemlang=\"en\" class=\"elm text-edit gf-elm-left gf-elm-center-lg gf-elm-center-sm gf-elm-center-md gf-elm-left-xs\"\u003e\n\u003cp\u003eDesigned with the mindset of simplicity, Leaf removes buttons on the front to reduce weight and makes your reading more immersive with only the texts on the HD screen. \u003cbr\u003e\u003c\/p\u003e\n\u003c\/div\u003e\n\u003c\/div\u003e\n\u003c\/div\u003e\n\u003c\/div\u003e\n\u003cdiv data-layout-xs=\"12+12+12\" data-layout-sm=\"4+4+4\" data-layout-md=\"4+4+4\" data-extraclass=\"\" data-layout-lg=\"4+4+4\" data-id=\"1635325918020\" data-icon=\"gpicon-row\" class=\"gf_row\" id=\"r-1635325918020\" data-atomgroup=\"row\" data-key=\"row\" data-label=\"Row\"\u003e\n\u003cdiv data-id=\"1635049084497\" id=\"c-1635049084497\" class=\"gf_column gf_col-lg-4 gf_col-md-4 gf_col-xs-12 gf_col-sm-4\"\u003e\n\u003cdiv data-resolution=\"3000x3000\" data-id=\"1635325918010\" data-ver=\"1.0\" data-icon=\"gpicon-image\" class=\"element-wrap\" id=\"e-1635325918010\" data-atomgroup=\"element\" data-key=\"image\" data-label=\"Image\"\u003e\n\u003cdiv data-exc=\"\" class=\"elm gf-elm-center gf_elm-left-xs gf-elm-center-md gf-elm-center-sm gf-elm-center-xs gf-elm-center-lg\"\u003e\u003cimg data-lazy-loaded=\"480\" data-lg-size=\"3000x3000\" height=\"566\" width=\"621\" title=\"\" data-height=\"auto\" data-width=\"100%\" data-gemlang=\"en\" class=\"gf_image gf_lazyload gf_lazyloaded gf_lazyload_done\" alt=\"\" src=\"https:\/\/ucarecdn.com\/f34bc58e-4f2f-4db1-807b-46b2cd6609dc\/-\/format\/auto\/-\/preview\/480x480\/-\/quality\/lighter\/Leaf%20webpage_03-1.jpg\" natural-height=\"566\" natural-width=\"621\"\u003e\u003c\/div\u003e\n\u003c\/div\u003e\n\u003cdiv data-extraclass=\"\" data-row-gap=\"15px\" data-id=\"1635325917922\" data-icon=\"gpicon-row\" class=\"gf_row gf_row-gap-15\" id=\"r-1635325917922\" data-atomgroup=\"row\" data-key=\"row\" data-label=\"Row\"\u003e\n\u003cdiv data-id=\"1634904255697\" id=\"c-1634904255697\" class=\"gf_column gf_col-lg-12 gf_col-md-12 gf_col-sm-12 gf_col-xs-12\"\u003e\n\u003cdiv data-id=\"1635325918068\" data-ver=\"1\" data-icon=\"gpicon-textblock\" class=\"element-wrap\" id=\"e-1635325918068\" data-key=\"text-block\" data-label=\"Text Block\"\u003e\n\u003cdiv data-exc=\"\" data-gemlang=\"en\" class=\"elm text-edit gf-elm-left gf-elm-center-sm gf-elm-left-xs gf-elm-left-lg gf-elm-left-md\"\u003e\n\u003cp\u003e \u003cbr\u003e\u003c\/p\u003e\n\u003cp\u003eThe flat-edge bezels tighten the device's surface to make it look sleek and clean.\u003c\/p\u003e\n\u003cp\u003e\u003cbr\u003e\u003c\/p\u003e\n\u003c\/div\u003e\n\u003c\/div\u003e\n\u003c\/div\u003e\n\u003c\/div\u003e\n\u003c\/div\u003e\n\u003cdiv data-id=\"1635049086796\" id=\"c-1635049086796\" class=\"gf_column gf_col-lg-4 gf_col-md-4 gf_col-xs-12 gf_col-sm-4\"\u003e\n\u003cdiv data-resolution=\"3000x3000\" data-id=\"1635325917962\" data-ver=\"1.0\" data-icon=\"gpicon-image\" class=\"element-wrap\" id=\"e-1635325917962\" data-atomgroup=\"element\" data-key=\"image\" data-label=\"Image\"\u003e\n\u003cdiv data-exc=\"\" class=\"elm gf-elm-center gf_elm-left-xs gf-elm-center-lg gf-elm-center-md gf-elm-center-sm gf-elm-center-xs\"\u003e\u003cimg data-lazy-loaded=\"480\" data-lg-size=\"3000x3000\" height=\"566\" width=\"621\" title=\"\" data-height=\"auto\" data-width=\"100%\" data-gemlang=\"en\" class=\"gf_image gf_lazyload gf_lazyloaded gf_lazyload_done\" alt=\"\" src=\"https:\/\/ucarecdn.com\/90bbf3aa-acc2-4fa8-92f7-b3e2de3242e2\/-\/format\/auto\/-\/preview\/480x480\/-\/quality\/lighter\/Leaf%20webpage_03-2.jpg\" natural-height=\"566\" natural-width=\"621\"\u003e\u003c\/div\u003e\n\u003c\/div\u003e\n\u003cdiv data-extraclass=\"\" data-row-gap=\"15px\" data-id=\"1635325917930\" data-icon=\"gpicon-row\" class=\"gf_row gf_row-gap-15\" id=\"r-1635325917930\" data-atomgroup=\"row\" data-key=\"row\" data-label=\"Row\"\u003e\n\u003cdiv data-id=\"1634904255697\" id=\"c-1634904255697\" class=\"gf_column gf_col-lg-12 gf_col-md-12 gf_col-sm-12 gf_col-xs-12\"\u003e\n\u003cdiv data-id=\"1635325917963\" data-ver=\"1\" data-icon=\"gpicon-textblock\" class=\"element-wrap\" id=\"e-1635325917963\" data-key=\"text-block\" data-label=\"Text Block\"\u003e\n\u003cdiv data-exc=\"\" data-gemlang=\"en\" class=\"elm text-edit gf-elm-left gf-elm-center-sm gf-elm-left-xs gf-elm-left-lg gf-elm-left-md\"\u003e\n\u003cp\u003e \u003cbr\u003e\u003c\/p\u003e\n\u003cp\u003eInk grey and granite white create the pure vision for displaying black and white texts.\u003c\/p\u003e\n\u003cp\u003e \u003cbr\u003e\u003c\/p\u003e\n\u003c\/div\u003e\n\u003c\/div\u003e\n\u003c\/div\u003e\n\u003c\/div\u003e\n\u003c\/div\u003e\n\u003cdiv data-id=\"1636969839220\" id=\"c-1636969839220\" class=\"gf_column gf_col-lg-4 gf_col-md-4 gf_col-xs-12 gf_col-sm-4\"\u003e\n\u003cdiv data-resolution=\"3000x3000\" data-id=\"1635325917953\" data-ver=\"1.0\" data-icon=\"gpicon-image\" class=\"element-wrap\" id=\"e-1635325917953\" data-atomgroup=\"element\" data-key=\"image\" data-label=\"Image\"\u003e\n\u003cdiv data-exc=\"\" class=\"elm gf-elm-center gf_elm-left-xs gf-elm-center-md gf-elm-center-sm gf-elm-center-xs gf-elm-center-lg\"\u003e\u003cimg data-lazy-loaded=\"480\" data-lg-size=\"3000x3000\" height=\"566\" width=\"621\" title=\"\" data-height=\"auto\" data-width=\"100%\" data-gemlang=\"en\" class=\"gf_image gf_lazyload gf_lazyloaded gf_lazyload_done\" alt=\"\" src=\"https:\/\/ucarecdn.com\/9a64f3e3-2018-4496-a524-205dca0d8561\/-\/format\/auto\/-\/preview\/480x480\/-\/quality\/lighter\/Leaf%20webpage_03-3.jpg\" natural-height=\"566\" natural-width=\"621\"\u003e\u003c\/div\u003e\n\u003cdiv data-exc=\"\" class=\"elm gf-elm-center gf_elm-left-xs gf-elm-center-md gf-elm-center-sm gf-elm-center-xs gf-elm-center-lg\"\u003e\u003cbr\u003e\u003c\/div\u003e\n\u003cdiv data-exc=\"\" class=\"elm gf-elm-center gf_elm-left-xs gf-elm-center-md gf-elm-center-sm gf-elm-center-xs gf-elm-center-lg\"\u003e300ppi HD screen can show every word with outstanding clarity and contrast.\u003c\/div\u003e\n\u003cdiv data-exc=\"\" class=\"elm gf-elm-center gf_elm-left-xs gf-elm-center-md gf-elm-center-sm gf-elm-center-xs gf-elm-center-lg\"\u003e\u003cbr\u003e\u003c\/div\u003e\n\u003cdiv data-exc=\"\" class=\"elm gf-elm-center gf_elm-left-xs gf-elm-center-md gf-elm-center-sm gf-elm-center-xs gf-elm-center-lg\"\u003e\n\u003cmeta charset=\"UTF-8\"\u003e\n\u003cdiv data-id=\"1635325918052\" data-ver=\"1\" data-icon=\"gpicon-heading\" class=\"element-wrap\" id=\"e-1635325918052\" data-key=\"heading\" data-label=\"Heading\"\u003e\n\u003cdiv data-exc=\"\" data-gemlang=\"en\" class=\"elm text-edit gf-elm-center gf-elm-center-md gf-elm-center-sm gf-elm-center-lg gf-elm-left-xs\"\u003e\n\u003ch1\u003eYour Mobile Library\u003c\/h1\u003e\n\u003cdiv\u003e\u003cbr\u003e\u003c\/div\u003e\n\u003c\/div\u003e\n\u003c\/div\u003e\n\u003cdiv data-extraclass=\"\" data-id=\"1637138635771\" data-icon=\"gpicon-row\" class=\"gf_row\" id=\"r-1637138635771\" data-atomgroup=\"row\" data-key=\"row\" data-label=\"Row\"\u003e\n\u003cdiv data-id=\"1637138635741\" id=\"c-1637138635741\" class=\"gf_column gf_col-lg-12 gf_col-md-12 gf_col-sm-12 gf_col-xs-12\"\u003e\n\u003cdiv data-id=\"1636971993036\" data-ver=\"1\" data-icon=\"gpicon-textblock\" class=\"element-wrap\" id=\"e-1636971993036\" data-key=\"text-block\" data-label=\"Text Block\"\u003e\n\u003cdiv data-exc=\"\" data-gemlang=\"en\" class=\"elm text-edit gf-elm-left gf-elm-center-lg gf-elm-center-sm gf-elm-center-md gf-elm-left-xs\"\u003e\n\u003cp\u003eThe library can be tiny but abundant. You can load many ebooks into Leaf and even enlarge its storage with a USB C flash drive. Or simply open Kindle and Kobo to read your favourite stories. \u003cbr\u003e\u003c\/p\u003e\n\u003c\/div\u003e\n\u003c\/div\u003e\n\u003c\/div\u003e\n\u003c\/div\u003e\n\u003cdiv data-id=\"1637138452427\" data-icon=\"gpicon-row\" class=\"gf_row\" id=\"r-1637138452427\" data-atomgroup=\"row\" data-key=\"row\" data-label=\"Row\"\u003e\n\u003cdiv data-id=\"1637138452407\" id=\"c-1637138452407\" class=\"gf_column gf_col-lg-12 gf_col-md-12 gf_col-sm-12 gf_col-xs-12\"\u003e\n\u003cdiv data-resolution=\"3000x3000\" data-id=\"1637137719153\" data-ver=\"1.0\" data-icon=\"gpicon-image\" class=\"element-wrap\" id=\"e-1637137719153\" data-atomgroup=\"element\" data-key=\"image\" data-label=\"Image\"\u003e\n\u003cdiv data-exc=\"\" class=\"elm gf-elm-center gf_elm-left-xs gf-elm-center-lg gf-elm-center-md gf-elm-center-sm gf-elm-center-xs\"\u003e\u003cimg data-lazy-loaded=\"1500\" data-lg-size=\"3000x3000\" title=\"\" data-height=\"auto\" data-width=\"100%\" height=\"767\" width=\"1437\" data-gemlang=\"en\" class=\"gf_image gf_lazyload gf_lazyloaded gf_lazyload_done\" alt=\"\" src=\"https:\/\/ucarecdn.com\/9881bb57-c79d-44a4-9b2c-f6f21a4d2b14\/-\/format\/auto\/-\/preview\/1500x1500\/-\/quality\/lighter\/Leaf%20webpage_05-1.jpg\" natural-height=\"767\" natural-width=\"1437\"\u003e\u003c\/div\u003e\n\u003c\/div\u003e\n\u003cdiv data-layout-xs=\"12+12+12\" data-layout-sm=\"4+4+4\" data-layout-md=\"4+4+4\" data-extraclass=\"\" data-layout-lg=\"4+4+4\" data-id=\"1637138080667\" data-icon=\"gpicon-row\" class=\"gf_row\" id=\"r-1637138080667\" data-atomgroup=\"row\" data-key=\"row\" data-label=\"Row\"\u003e\n\u003cdiv data-id=\"1637138080745\" id=\"c-1637138080745\" class=\"gf_column gf_col-lg-4 gf_col-md-4 gf_col-xs-12 gf_col-sm-4\"\u003e\n\u003cdiv data-id=\"1637138112530\" data-ver=\"1.0\" data-icon=\"gpicon-iconlist\" class=\"module-wrap\" id=\"m-1637138112530\" data-atomgroup=\"module\" data-key=\"icon-list\" data-label=\"Icon List\"\u003e\n\u003cdiv class=\"module gf_module-center gf_module-center-lg gf_module--md gf_module--sm gf_module-left-xs\"\u003e\n\u003cul class=\"gf_icon-list\"\u003e\n\u003cli\u003e\n\u003cdiv data-resolution=\"3000x3000\" data-id=\"1637138136550\" data-ver=\"1.0\" data-icon=\"gpicon-image\" class=\"element-wrap\" id=\"e-1637138136550\" data-atomgroup=\"element\" data-key=\"image\" data-label=\"Image\"\u003e\n\u003cdiv data-exc=\"\" class=\"elm gf-elm-center gf_elm-left-xs gf-elm-center-lg gf-elm-center-sm gf-elm-center-md gf-elm-center-xs\"\u003e\u003cimg data-lazy-loaded=\"120\" data-lg-size=\"3000x3000\" title=\"\" data-height=\"auto\" data-width=\"20px\" height=\"51\" width=\"51\" data-gemlang=\"en\" class=\"gf_image gf_lazyload gf_lazyloaded gf_lazyload_done\" alt=\"\" src=\"https:\/\/ucarecdn.com\/1538d163-85db-46d1-938d-9f46b193a3a9\/-\/format\/auto\/-\/preview\/120x120\/-\/quality\/lighter\/Leaf%20webpage_06-1.png\" natural-height=\"51\" natural-width=\"51\"\u003e\u003c\/div\u003e\n\u003c\/div\u003e\n\u003cdiv data-key=\"content1\" data-index=\"1\" class=\"gf-il-content item-content\"\u003e\n\u003cdiv data-id=\"1637138112530-2\" class=\"element-wrap\" id=\"e-1637138112530-2\" data-label=\"Text Block\"\u003e\n\u003cdiv data-exc=\"\" class=\"elm text-edit gf-elm-left gf-elm-left-lg gf-elm-left-md gf-elm-left-xs gf-elm-left-sm\"\u003e\n\u003cp\u003eAmple 2GB+32GB Storage\u003c\/p\u003e\n\u003c\/div\u003e\n\u003c\/div\u003e\n\u003c\/div\u003e\n\u003c\/li\u003e\n\u003c\/ul\u003e\n\u003c\/div\u003e\n\u003c\/div\u003e\n\u003c\/div\u003e\n\u003cdiv data-id=\"1637138082639\" id=\"c-1637138082639\" class=\"gf_column gf_col-lg-4 gf_col-md-4 gf_col-xs-12 gf_col-sm-4\"\u003e\n\u003cdiv data-id=\"1637138387424\" data-ver=\"1.0\" data-icon=\"gpicon-iconlist\" class=\"module-wrap\" id=\"m-1637138387424\" data-atomgroup=\"module\" data-key=\"icon-list\" data-label=\"Icon List\"\u003e\n\u003cdiv class=\"module gf_module-center gf_module-center-lg gf_module--md gf_module--sm gf_module-left-xs\"\u003e\n\u003cul class=\"gf_icon-list\"\u003e\n\u003cli\u003e\n\u003cdiv data-resolution=\"3000x3000\" data-id=\"1637138387527\" data-ver=\"1.0\" data-icon=\"gpicon-image\" class=\"element-wrap\" id=\"e-1637138387527\" data-atomgroup=\"element\" data-key=\"image\" data-label=\"Image\"\u003e\n\u003cdiv data-exc=\"\" class=\"elm gf-elm-center gf_elm-left-xs gf-elm-center-sm gf-elm-center-md gf-elm-center-xs gf-elm-center-lg\"\u003e\u003cimg data-lazy-loaded=\"120\" data-lg-size=\"3000x3000\" title=\"\" data-height=\"auto\" data-width=\"30px\" height=\"51\" width=\"51\" data-gemlang=\"en\" class=\"gf_image gf_lazyload gf_lazyloaded gf_lazyload_done\" alt=\"\" src=\"https:\/\/ucarecdn.com\/4a6d4a4f-5efa-49b4-8c2c-6d3ca553c8a4\/-\/format\/auto\/-\/preview\/120x120\/-\/quality\/lighter\/Leaf%20webpage_06-2.png\" natural-height=\"51\" natural-width=\"51\"\u003e\u003c\/div\u003e\n\u003c\/div\u003e\n\u003cdiv data-key=\"content1\" data-index=\"1\" class=\"gf-il-content item-content\"\u003e\n\u003cdiv data-id=\"1637219747324\" class=\"element-wrap\" id=\"e-1637219747324\" data-label=\"Text Block\"\u003e\n\u003cdiv data-exc=\"\" class=\"elm text-edit gf-elm-left gf-elm-left-lg gf-elm-left-md gf-elm-left-xs gf-elm-left-sm\"\u003e\n\u003cp\u003eType-C port with OTG\u003c\/p\u003e\n\u003c\/div\u003e\n\u003c\/div\u003e\n\u003c\/div\u003e\n\u003c\/li\u003e\n\u003c\/ul\u003e\n\u003c\/div\u003e\n\u003c\/div\u003e\n\u003c\/div\u003e\n\u003cdiv data-id=\"1637138082568\" id=\"c-1637138082568\" class=\"gf_column gf_col-lg-4 gf_col-md-4 gf_col-xs-12 gf_col-sm-4\"\u003e\n\u003cdiv data-id=\"1637138393885\" data-ver=\"1.0\" data-icon=\"gpicon-iconlist\" class=\"module-wrap\" id=\"m-1637138393885\" data-atomgroup=\"module\" data-key=\"icon-list\" data-label=\"Icon List\"\u003e\n\u003cdiv class=\"module gf_module-center gf_module-center-lg gf_module--md gf_module--sm gf_module-left-xs\"\u003e\n\u003cul class=\"gf_icon-list\"\u003e\n\u003cli\u003e\n\u003cdiv data-resolution=\"3000x3000\" data-id=\"1637138393852\" data-ver=\"1.0\" data-icon=\"gpicon-image\" class=\"element-wrap\" id=\"e-1637138393852\" data-atomgroup=\"element\" data-key=\"image\" data-label=\"Image\"\u003e\n\u003cdiv data-exc=\"\" class=\"elm gf-elm-center gf_elm-left-xs gf-elm-center-sm gf-elm-center-md gf-elm-center-xs gf-elm-center-lg\"\u003e\u003cimg data-lazy-loaded=\"120\" data-lg-size=\"3000x3000\" title=\"\" data-height=\"auto\" data-width=\"30px\" height=\"51\" width=\"51\" data-gemlang=\"en\" class=\"gf_image gf_lazyload gf_lazyloaded gf_lazyload_done\" alt=\"\" src=\"https:\/\/ucarecdn.com\/a2b40fcc-acec-42f5-b944-92e76e588226\/-\/format\/auto\/-\/preview\/120x120\/-\/quality\/lighter\/Leaf%20webpage_06-3.png\" natural-height=\"51\" natural-width=\"51\"\u003e\u003c\/div\u003e\n\u003c\/div\u003e\n\u003cdiv data-key=\"content1\" data-index=\"1\" class=\"gf-il-content item-content\"\u003e\n\u003cdiv data-id=\"1637138393885-2\" class=\"element-wrap\" id=\"e-1637138393885-2\" data-label=\"Text Block\"\u003e\n\u003cdiv data-exc=\"\" class=\"elm text-edit gf-elm-left gf-elm-left-lg gf-elm-left-md gf-elm-left-xs gf-elm-left-sm\"\u003e\n\u003cp\u003eRead More with Android 10\u003c\/p\u003e\n\u003cp\u003e \u003c\/p\u003e\n\u003c\/div\u003e\n\u003c\/div\u003e\n\u003c\/div\u003e\n\u003c\/li\u003e\n\u003c\/ul\u003e\n\u003c\/div\u003e\n\u003c\/div\u003e\n\u003c\/div\u003e\n\u003c\/div\u003e\n\u003c\/div\u003e\n\u003c\/div\u003e\n\u003cdiv data-row-gap=\"15px\" data-extraclass=\"\" data-id=\"1636970285571\" data-icon=\"gpicon-row\" class=\"gf_row gf_row-gap-15\" id=\"r-1636970285571\" data-key=\"row\" data-label=\"Row\"\u003e\n\u003cdiv data-id=\"1629269267823\" id=\"c-1629269267823\" class=\"gf_column gf_col-lg-12 gf_col-md-12 gf_col-sm-12 gf_col-xs-12\"\u003e\n\u003cdiv data-id=\"1636970285630\" data-ver=\"1\" data-icon=\"gpicon-heading\" class=\"element-wrap\" id=\"e-1636970285630\" data-key=\"heading\" data-label=\"Heading\"\u003e\n\u003cdiv data-exc=\"\" data-gemlang=\"en\" class=\"elm text-edit gf-elm-center gf-elm-center-md gf-elm-center-sm gf-elm-center-lg gf-elm-left-xs\"\u003e\n\u003ch1\u003eRead Near the Grill and In the Sun\u003c\/h1\u003e\n\u003c\/div\u003e\n\u003c\/div\u003e\n\u003cdiv data-extraclass=\"\" data-id=\"1637138602904\" data-icon=\"gpicon-row\" class=\"gf_row\" id=\"r-1637138602904\" data-atomgroup=\"row\" data-key=\"row\" data-label=\"Row\"\u003e\n\u003cdiv data-id=\"1637138602902\" id=\"c-1637138602902\" class=\"gf_column gf_col-lg-12 gf_col-md-12 gf_col-sm-12 gf_col-xs-12\"\u003e\n\u003cdiv data-id=\"1636971928885\" data-ver=\"1\" data-icon=\"gpicon-textblock\" class=\"element-wrap\" id=\"e-1636971928885\" data-key=\"text-block\" data-label=\"Text Block\"\u003e\n\u003cdiv data-exc=\"\" data-gemlang=\"en\" class=\"elm text-edit gf-elm-left gf-elm-center-lg gf-elm-center-sm gf-elm-center-md gf-elm-left-xs\"\u003e\n\u003cp\u003eWith the anti-glare pre-installed film, Leaf makes reading in the sun effortless. When it's getting dark out there, you can turn on and adjust the front lights to get a better view.\u003c\/p\u003e\n\u003c\/div\u003e\n\u003c\/div\u003e\n\u003c\/div\u003e\n\u003c\/div\u003e\n\u003cdiv data-row-gap=\"15px\" data-layout-xs=\"12+12\" data-layout-sm=\"6+6\" data-layout-md=\"6+6\" data-layout-lg=\"6+6\" data-extraclass=\"\" data-id=\"1636970285667\" data-icon=\"gpicon-row\" class=\"gf_row gf_row-gap-15\" id=\"r-1636970285667\" data-atomgroup=\"row\" data-key=\"row\" data-label=\"Row\"\u003e\n\u003cdiv data-id=\"1634903955575\" id=\"c-1634903955575\" class=\"gf_column gf_col-lg-6 gf_col-md-6 gf_col-sm-6 gf_col-xs-12\"\u003e\n\u003cdiv data-resolution=\"3000x3000\" data-id=\"1637138570563\" data-ver=\"1.0\" data-icon=\"gpicon-image\" class=\"element-wrap\" id=\"e-1637138570563\" data-atomgroup=\"element\" data-key=\"image\" data-label=\"Image\"\u003e\n\u003cdiv data-exc=\"\" class=\"elm gf-elm-center gf_elm-left-xs gf-elm-center-md gf-elm-center-sm gf-elm-center-xs gf-elm-center-lg\"\u003e\u003cimg data-lazy-loaded=\"1024\" data-lg-size=\"3000x3000\" title=\"\" data-height=\"auto\" data-width=\"100%\" height=\"767\" width=\"955\" data-gemlang=\"en\" class=\"gf_image gf_lazyload gf_lazyloaded gf_lazyload_done\" alt=\"\" src=\"https:\/\/ucarecdn.com\/124d4116-3ab8-4b7a-ac9f-fdc95985daec\/-\/format\/auto\/-\/preview\/1024x1024\/-\/quality\/lighter\/Leaf%20webpage_07-1.jpg\" natural-height=\"767\" natural-width=\"955\"\u003e\u003c\/div\u003e\n\u003c\/div\u003e\n\u003c\/div\u003e\n\u003cdiv data-id=\"1637138557748\" id=\"c-1637138557748\" class=\"gf_column gf_col-lg-6 gf_col-md-6 gf_col-sm-6 gf_col-xs-12\"\u003e\n\u003cdiv data-resolution=\"3000x3000\" data-id=\"1636970285664\" data-ver=\"1.0\" data-icon=\"gpicon-image\" class=\"element-wrap\" id=\"e-1636970285664\" data-atomgroup=\"element\" data-key=\"image\" data-label=\"Image\"\u003e\n\u003cdiv data-exc=\"\" class=\"elm gf-elm-center gf_elm-left-xs gf-elm-center-md gf-elm-center-sm gf-elm-center-xs gf-elm-center-lg\"\u003e\u003cimg data-lazy-loaded=\"1024\" data-lg-size=\"3000x3000\" title=\"\" data-height=\"auto\" data-width=\"100%\" height=\"767\" width=\"955\" data-gemlang=\"en\" class=\"gf_image gf_lazyload gf_lazyloaded gf_lazyload_done\" alt=\"\" src=\"https:\/\/ucarecdn.com\/1b16f74a-8811-4954-b15c-fe9503c9d291\/-\/format\/auto\/-\/preview\/1024x1024\/-\/quality\/lighter\/Leaf%20webpage_07-2.jpg\" natural-height=\"767\" natural-width=\"955\"\u003e\u003c\/div\u003e\n\u003c\/div\u003e\n\u003c\/div\u003e\n\u003c\/div\u003e\n\u003c\/div\u003e\n\u003c\/div\u003e\n\u003c\/div\u003e\n\u003c\/div\u003e\n\u003c\/div\u003e\n\u003c\/div\u003e\n\u003cp\u003e \u003c\/p\u003e\n\u003ch5\u003eProduct Specifications\u003c\/h5\u003e\n\u003cp\u003eHarware:\u003c\/p\u003e\n\u003cul\u003e\n\u003cli\u003eParameters: 7\" HD Eink Carta Screen with cover-lens\u003c\/li\u003e\n\u003cli\u003eResolution: 1680x1264 (300 dpi)\u003c\/li\u003e\n\u003cli\u003eTouch: Capacitive touch\u003c\/li\u003e\n\u003cli\u003eLight: Front light with CTM (Warm and Cold)\u003c\/li\u003e\n\u003cli\u003eCPU: Advanced octa-core processor\u003c\/li\u003e\n\u003cli\u003eRAM: 2G LPDDR4X\u003c\/li\u003e\n\u003cli\u003eROM: 32GB\u003c\/li\u003e\n\u003cli\u003eConnectivity: Wi-Fi (2.4GHz + 5GHz) + BT 5.0\u003c\/li\u003e\n\u003c\/ul\u003e\n\u003cp\u003eSoftware:\u003c\/p\u003e\n\u003cul\u003e\n\u003cli\u003eOS: Android 10.0\u003c\/li\u003e\n\u003cli\u003eDocuments Formats: PDF(reflowable), PPT,EPUB, TXT, DJVU, HTML, RTF, FB2, DOC, MOBI, CHM...\u003c\/li\u003e\n\u003cli\u003eImage Formats: PNG, JPG, TIFF, BMP\u003c\/li\u003e\n\u003cli\u003eAudio Formats: WAV, MP3\u003c\/li\u003e\n\u003cli\u003eAPP Store: BOOX Store\u003c\/li\u003e\n\u003cli\u003eSupport DRM(3 party apps)\u003c\/li\u003e\n\u003c\/ul\u003e\n\u003cp\u003eOthers:\u003c\/p\u003e\n\u003cul\u003e\n\u003cli\u003eButtons: power button\u003c\/li\u003e\n\u003cli\u003eExpansion Interface: USB Type-C (support OTG)\u003c\/li\u003e\n\u003cli\u003eSpeaker: yes\u003c\/li\u003e\n\u003cli\u003eMic: yes\u003c\/li\u003e\n\u003cli\u003eG-Sensor: yes\u003c\/li\u003e\n\u003cli\u003eBattery: 2000mAh Polymer Li-on\u003c\/li\u003e\n\u003cli\u003eDimensions: 165.6x130.8x5.95 mm\u003c\/li\u003e\n\u003cli\u003eWeight: ≤170g\u003c\/li\u003e\n\u003c\/ul\u003e\n\u003cp\u003e \u003c\/p\u003e\n\u003ch5\u003eIn The Box\u003c\/h5\u003e\n\u003cp\u003e\u003cmeta charset=\"UTF-8\"\u003e\u003cspan\u003eOnyx BOOX Leaf X1,\u003c\/span\u003e\u003c\/p\u003e\n\u003cp\u003e\u003cspan\u003eUSB-C Cable X1,\u003c\/span\u003e\u003c\/p\u003e\n\u003cp\u003e\u003cspan\u003eQuick Start Guide X1,\u003c\/span\u003e\u003c\/p\u003e\n\u003cp\u003e\u003cspan\u003eWarranty Sheet X1 \u003c\/span\u003e\u003c\/p\u003e\n\u003cp\u003e \u003c\/p\u003e\n\u003c!-- \/TABS --\u003e","published_at":"2021-12-30T13:51:38+13:00","created_at":"2021-12-30T13:51:36+13:00","vendor":"Boox","type":"Tablet","tags":["Boox Leaf","Easter22","not-on-sale"],"price":42900,"price_min":42900,"price_max":42900,"available":true,"price_varies":false,"compare_at_price":null,"compare_at_price_min":0,"compare_at_price_max":0,"compare_at_price_varies":false,"variants":[{"id":41445971230874,"title":"Default Title","option1":"Default Title","option2":null,"option3":null,"sku":"BX-LEAF","requires_shipping":true,"taxable":true,"featured_image":null,"available":true,"name":"Boox Leaf 7\" Eink Tablet with Free Sleeve","public_title":null,"options":["Default Title"],"price":42900,"weight":0,"compare_at_price":null,"inventory_management":"shopify","barcode":""}],"images":["\/\/cdn.shopify.com\/s\/files\/1\/0266\/5231\/1627\/products\/Leaf_1106x_6bd3b2c9-7e94-467c-89bb-36511b175e17.jpg?v=1640825498","\/\/cdn.shopify.com\/s\/files\/1\/0266\/5231\/1627\/products\/Leaf.jpg?v=1640825499"],"featured_image":"\/\/cdn.shopify.com\/s\/files\/1\/0266\/5231\/1627\/products\/Leaf_1106x_6bd3b2c9-7e94-467c-89bb-36511b175e17.jpg?v=1640825498","options":["Title"],"media":[{"alt":"Boox Leaf 7\" Eink Tablet with Free Sleeve - Actiontech","id":25129909452954,"position":1,"preview_image":{"aspect_ratio":1.0,"height":1000,"width":1000,"src":"https:\/\/cdn.shopify.com\/s\/files\/1\/0266\/5231\/1627\/products\/Leaf_1106x_6bd3b2c9-7e94-467c-89bb-36511b175e17.jpg?v=1640825498"},"aspect_ratio":1.0,"height":1000,"media_type":"image","src":"https:\/\/cdn.shopify.com\/s\/files\/1\/0266\/5231\/1627\/products\/Leaf_1106x_6bd3b2c9-7e94-467c-89bb-36511b175e17.jpg?v=1640825498","width":1000},{"alt":"Boox Leaf 7\" Eink Tablet with Free Sleeve - Actiontech","id":25129909518490,"position":2,"preview_image":{"aspect_ratio":1.0,"height":1000,"width":1000,"src":"https:\/\/cdn.shopify.com\/s\/files\/1\/0266\/5231\/1627\/products\/Leaf.jpg?v=1640825499"},"aspect_ratio":1.0,"height":1000,"media_type":"image","src":"https:\/\/cdn.shopify.com\/s\/files\/1\/0266\/5231\/1627\/products\/Leaf.jpg?v=1640825499","width":1000}],"content":"\u003cspan data-mce-fragment=\"1\"\u003eThe lightest 7\" eReader makes reading indoors easy and outdoors even more effortless. Meet BOOX Leaf, the reading-purposed tablet that lets you enjoy stories in any place, at any time.\u003c\/span\u003e\n\u003cp\u003e \u003c\/p\u003e\n\u003cp\u003e\u003cspan style=\"color: #ff2a00;\"\u003eAvailability: In Stock\u003c\/span\u003e\u003c\/p\u003e\n\u003c!-- split --\u003e \u003c!-- TABS --\u003e\n\u003ch5\u003eProduct Description\u003c\/h5\u003e\n\u003cdiv data-id=\"1635325917927\" data-icon=\"gpicon-row\" class=\"gf_row\" id=\"r-1635325917927\" data-key=\"row\" data-label=\"Row\"\u003e\n\u003cdiv data-id=\"1629269267823\" id=\"c-1629269267823\" class=\"gf_column gf_col-lg-12 gf_col-md-12 gf_col-sm-12 gf_col-xs-12\"\u003e\n\u003cdiv data-id=\"1635325917945\" data-ver=\"1\" data-icon=\"gpicon-heading\" class=\"element-wrap\" id=\"e-1635325917945\" data-key=\"heading\" data-label=\"Heading\"\u003e\n\u003cdiv data-exc=\"\" data-gemlang=\"en\" class=\"elm text-edit gf-elm-center gf-elm-center-md gf-elm-center-sm gf-elm-center-lg gf-elm-left-xs\"\u003e\n\u003ch1\u003eJoyful Outdoors Reading\u003c\/h1\u003e\n\u003cdiv\u003e\u003cbr\u003e\u003c\/div\u003e\n\u003c\/div\u003e\n\u003c\/div\u003e\n\u003cdiv data-id=\"1635325917905\" data-ver=\"1\" data-icon=\"gpicon-textblock\" class=\"element-wrap\" id=\"e-1635325917905\" data-key=\"text-block\" data-label=\"Text Block\"\u003e\n\u003cdiv data-exc=\"\" data-gemlang=\"en\" class=\"elm text-edit gf-elm-left gf-elm-center-lg gf-elm-center-sm gf-elm-center-md gf-elm-left-xs\"\u003e\n\u003cp\u003eThe lightest 7\" eReader makes reading indoors easy and outdoors even more effortless. Meet BOOX Leaf, the reading-purposed tablet that lets you enjoy stories in any place, at any time.\u003c\/p\u003e\n\u003c\/div\u003e\n\u003c\/div\u003e\n\u003c\/div\u003e\n\u003c\/div\u003e\n\u003cdiv data-extraclass=\"\" data-id=\"1635325918021\" data-icon=\"gpicon-row\" id=\"r-1635325918021\" class=\"gf_row\" data-label=\"Row\"\u003e\n\u003cdiv data-id=\"1629276487687\" id=\"c-1629276487687\" class=\"gf_column gf_col-md-12 gf_col-sm-12 gf_col-xs-12 gf_col-lg-12\"\u003e\n\u003cdiv data-id=\"1637217252246\" data-ver=\"1\" data-icon=\"gpicon-youtube\" class=\"module-wrap\" id=\"m-1637217252246\" data-atomgroup=\"module\" data-key=\"youtube\" data-label=\"Youtube\"\u003e\n\u003cdiv data-end=\"\" data-start=\"\" data-hd=\"\" data-rel=\"\" data-fs=\"1\" data-modestbranding=\"0\" data-showinfo=\"\" data-controls=\"1\" data-loop=\"0\" data-autoplay=\"1\" data-sound=\"1\" data-responsive=\"1\" data-height=\"\" data-width=\"\" data-url=\"https:\/\/youtu.be\/QBkFcmBguKc\" class=\"module gf_module-\"\u003e\n\u003cdiv class=\"gempage-video\"\u003e\u003ciframe id=\"378375017\" data-gtm-yt-inspected-1_19=\"true\" src=\"https:\/\/www.youtube.com\/embed\/QBkFcmBguKc?1=1\u0026amp;enablejsapi=1\" height=\"294\" width=\"500\" allowfullscreen=\"\" frameborder=\"0\"\u003e\u003c\/iframe\u003e\u003c\/div\u003e\n\u003cdiv\u003e\u003cbr\u003e\u003c\/div\u003e\n\u003c\/div\u003e\n\u003cdiv class=\"gf_youtube-overlay\"\u003e\u003cbr\u003e\u003c\/div\u003e\n\u003c\/div\u003e\n\u003c\/div\u003e\n\u003c\/div\u003e\n\u003cdiv data-row-gap=\"0px\" data-extraclass=\"\" data-id=\"1635325917908\" data-icon=\"gpicon-row\" class=\"gf_row gf_row-gap-0\" id=\"r-1635325917908\" data-key=\"row\" data-label=\"Row\"\u003e\n\u003cdiv data-id=\"1629269267823\" id=\"c-1629269267823\" class=\"gf_column gf_col-lg-12 gf_col-md-12 gf_col-sm-12 gf_col-xs-12\"\u003e\n\u003cdiv data-id=\"1635325917944\" data-ver=\"1\" data-icon=\"gpicon-heading\" class=\"element-wrap\" id=\"e-1635325917944\" data-key=\"heading\" data-label=\"Heading\"\u003e\n\u003cdiv data-exc=\"\" data-gemlang=\"en\" class=\"elm text-edit gf-elm-center gf-elm-center-md gf-elm-center-sm gf-elm-center-lg gf-elm-left-xs\"\u003e\n\u003ch1\u003eHit the Road. No Burden.\u003c\/h1\u003e\n\u003cdiv\u003e\u003cbr\u003e\u003c\/div\u003e\n\u003cdiv\u003e\u003cbr\u003e\u003c\/div\u003e\n\u003c\/div\u003e\n\u003c\/div\u003e\n\u003cdiv data-row-gap=\"15px\" data-layout-xs=\"12+12\" data-layout-sm=\"6+6\" data-layout-md=\"6+6\" data-layout-lg=\"6+6\" data-extraclass=\"\" data-id=\"1635325918022\" data-icon=\"gpicon-row\" class=\"gf_row gf_equal-height gf_row-gap-15\" id=\"r-1635325918022\" data-atomgroup=\"row\" data-key=\"row\" data-label=\"Row\"\u003e\n\u003cdiv data-id=\"1634903955575\" id=\"c-1634903955575\" class=\"gf_column gf_col-lg-6 gf_col-md-6 gf_col-sm-6 gf_col-xs-12\"\u003e\n\u003cdiv data-resolution=\"3000x3000\" data-id=\"1635325917983\" data-ver=\"1.0\" data-icon=\"gpicon-image\" class=\"element-wrap\" id=\"e-1635325917983\" data-atomgroup=\"element\" data-key=\"image\" data-label=\"Image\"\u003e\n\u003cdiv data-exc=\"\" class=\"elm gf-elm-center gf_elm-left-xs gf-elm-center-md gf-elm-center-sm gf-elm-center-xs gf-elm-center-lg\"\u003e\u003cimg data-lazy-loaded=\"750\" data-lg-size=\"3000x3000\" title=\"\" data-height=\"auto\" data-width=\"100%\" height=\"672\" width=\"956\" data-gemlang=\"en\" class=\"gf_image gf_lazyload gf_lazyloaded gf_lazyload_done\" alt=\"\" src=\"https:\/\/ucarecdn.com\/a63c3a9b-a71e-4dba-b3a3-75274b148a99\/-\/format\/auto\/-\/preview\/750x750\/-\/quality\/lighter\/Leaf%20webpage_02-1.jpg\" natural-height=\"672\" natural-width=\"956\"\u003e\u003c\/div\u003e\n\u003c\/div\u003e\n\u003c\/div\u003e\n\u003cdiv data-id=\"1634903975804\" id=\"c-1634903975804\" class=\"gf_column gf_col-lg-6 gf_col-md-6 gf_col-sm-6 gf_col-xs-12\"\u003e\n\u003cdiv data-extraclass=\"\" data-row-gap=\"15px\" data-id=\"1635325917918\" data-icon=\"gpicon-row\" class=\"gf_row gf_row-gap-15\" id=\"r-1635325917918\" data-atomgroup=\"row\" data-key=\"row\" data-label=\"Row\"\u003e\n\u003cdiv data-id=\"1634904255697\" id=\"c-1634904255697\" class=\"gf_column gf_col-lg-12 gf_col-md-12 gf_col-sm-12 gf_col-xs-12\"\u003e\n\u003cdiv data-id=\"1635325918051\" data-ver=\"1\" data-icon=\"gpicon-heading\" class=\"element-wrap\" id=\"e-1635325918051\" data-key=\"heading\" data-label=\"Heading\"\u003e\n\u003cdiv data-exc=\"\" data-gemlang=\"en\" class=\"elm text-edit gf-elm-center gf-elm-center-sm gf-elm-left-xs gf-elm-left-lg gf-elm-left-md\"\u003e\n\u003ch1\u003e\u003c\/h1\u003e\n\u003ch1\u003eLight and Thin as a Leaf\u003c\/h1\u003e\n\u003cdiv\u003e\u003cbr\u003e\u003c\/div\u003e\n\u003c\/div\u003e\n\u003c\/div\u003e\n\u003cdiv data-id=\"1635325918013\" data-ver=\"1\" data-icon=\"gpicon-textblock\" class=\"element-wrap\" id=\"e-1635325918013\" data-key=\"text-block\" data-label=\"Text Block\"\u003e\n\u003cdiv data-exc=\"\" data-gemlang=\"en\" class=\"elm text-edit gf-elm-left gf-elm-center-sm gf-elm-left-xs gf-elm-left-lg gf-elm-left-md\"\u003e\n\u003cp\u003ePack your Leaf with you wherever you head out. It's lightweight with only 170g and thin as 5.95mm. Whether you're on the road, in the camp, or on the hill, just grab it, turn it on and enjoy great stories with the lasting 2000mAh battery.\u003c\/p\u003e\n\u003c\/div\u003e\n\u003c\/div\u003e\n\u003c\/div\u003e\n\u003c\/div\u003e\n\u003c\/div\u003e\n\u003c\/div\u003e\n\u003cdiv data-row-gap=\"15px\" data-layout-xs=\"12+12\" data-layout-sm=\"6+6\" data-layout-md=\"6+6\" data-layout-lg=\"6+6\" data-extraclass=\"\" data-id=\"1636969698725\" data-icon=\"gpicon-row\" class=\"gf_row gf_equal-height gf_row-gap-15\" id=\"r-1636969698725\" data-atomgroup=\"row\" data-key=\"row\" data-label=\"Row\"\u003e\n\u003cdiv data-id=\"1634903955575\" id=\"c-1634903955575\" class=\"gf_column gf_col-lg-6 gf_col-md-6 gf_col-sm-6 gf_col-xs-12\"\u003e\n\u003cdiv data-extraclass=\"\" data-row-gap=\"15px\" data-id=\"1636969764539\" data-icon=\"gpicon-row\" class=\"gf_row gf_row-gap-15\" id=\"r-1636969764539\" data-atomgroup=\"row\" data-key=\"row\" data-label=\"Row\"\u003e\n\u003cdiv data-id=\"1634904255697\" id=\"c-1634904255697\" class=\"gf_column gf_col-lg-12 gf_col-md-12 gf_col-sm-12 gf_col-xs-12\"\u003e\n\u003cdiv data-id=\"1636969764406\" data-ver=\"1\" data-icon=\"gpicon-heading\" class=\"element-wrap\" id=\"e-1636969764406\" data-key=\"heading\" data-label=\"Heading\"\u003e\n\u003cdiv data-exc=\"\" data-gemlang=\"en\" class=\"elm text-edit gf-elm-center gf-elm-center-sm gf-elm-left-xs gf-elm-left-lg gf-elm-left-md\"\u003e\n\u003ch1\u003e\u003c\/h1\u003e\n\u003c\/div\u003e\n\u003c\/div\u003e\n\u003c\/div\u003e\n\u003c\/div\u003e\n\u003c\/div\u003e\n\u003cdiv data-id=\"1634903975804\" id=\"c-1634903975804\" class=\"gf_column gf_col-lg-6 gf_col-md-6 gf_col-sm-6 gf_col-xs-12\"\u003e\n\u003cdiv data-resolution=\"3000x3000\" data-id=\"1636969698734\" data-ver=\"1.0\" data-icon=\"gpicon-image\" class=\"element-wrap\" id=\"e-1636969698734\" data-atomgroup=\"element\" data-key=\"image\" data-label=\"Image\"\u003e\u003c\/div\u003e\n\u003c\/div\u003e\n\u003c\/div\u003e\n\u003c\/div\u003e\n\u003c\/div\u003e\n\u003cdiv data-id=\"1635325917892\" data-ver=\"1\" data-icon=\"gpicon-heading\" class=\"element-wrap\" id=\"e-1635325917892\" data-key=\"heading\" data-label=\"Heading\"\u003e\n\u003cdiv data-exc=\"\" data-gemlang=\"en\" class=\"elm text-edit gf-elm-center gf-elm-center-md gf-elm-center-sm gf-elm-center-lg gf-elm-left-xs\"\u003e\n\u003ch1\u003eSimplicity in Nature\u003c\/h1\u003e\n\u003c\/div\u003e\n\u003c\/div\u003e\n\u003cdiv data-extraclass=\"\" data-id=\"1637141401631\" data-icon=\"gpicon-row\" class=\"gf_row\" id=\"r-1637141401631\" data-atomgroup=\"row\" data-key=\"row\" data-label=\"Row\"\u003e\n\u003cdiv data-id=\"1637141401735\" id=\"c-1637141401735\" class=\"gf_column gf_col-lg-12 gf_col-md-12 gf_col-sm-12 gf_col-xs-12\"\u003e\n\u003cdiv data-id=\"1636970285669\" data-ver=\"1\" data-icon=\"gpicon-textblock\" class=\"element-wrap\" id=\"e-1636970285669\" data-key=\"text-block\" data-label=\"Text Block\"\u003e\n\u003cdiv data-exc=\"\" data-gemlang=\"en\" class=\"elm text-edit gf-elm-left gf-elm-center-lg gf-elm-center-sm gf-elm-center-md gf-elm-left-xs\"\u003e\n\u003cp\u003eDesigned with the mindset of simplicity, Leaf removes buttons on the front to reduce weight and makes your reading more immersive with only the texts on the HD screen. \u003cbr\u003e\u003c\/p\u003e\n\u003c\/div\u003e\n\u003c\/div\u003e\n\u003c\/div\u003e\n\u003c\/div\u003e\n\u003cdiv data-layout-xs=\"12+12+12\" data-layout-sm=\"4+4+4\" data-layout-md=\"4+4+4\" data-extraclass=\"\" data-layout-lg=\"4+4+4\" data-id=\"1635325918020\" data-icon=\"gpicon-row\" class=\"gf_row\" id=\"r-1635325918020\" data-atomgroup=\"row\" data-key=\"row\" data-label=\"Row\"\u003e\n\u003cdiv data-id=\"1635049084497\" id=\"c-1635049084497\" class=\"gf_column gf_col-lg-4 gf_col-md-4 gf_col-xs-12 gf_col-sm-4\"\u003e\n\u003cdiv data-resolution=\"3000x3000\" data-id=\"1635325918010\" data-ver=\"1.0\" data-icon=\"gpicon-image\" class=\"element-wrap\" id=\"e-1635325918010\" data-atomgroup=\"element\" data-key=\"image\" data-label=\"Image\"\u003e\n\u003cdiv data-exc=\"\" class=\"elm gf-elm-center gf_elm-left-xs gf-elm-center-md gf-elm-center-sm gf-elm-center-xs gf-elm-center-lg\"\u003e\u003cimg data-lazy-loaded=\"480\" data-lg-size=\"3000x3000\" height=\"566\" width=\"621\" title=\"\" data-height=\"auto\" data-width=\"100%\" data-gemlang=\"en\" class=\"gf_image gf_lazyload gf_lazyloaded gf_lazyload_done\" alt=\"\" src=\"https:\/\/ucarecdn.com\/f34bc58e-4f2f-4db1-807b-46b2cd6609dc\/-\/format\/auto\/-\/preview\/480x480\/-\/quality\/lighter\/Leaf%20webpage_03-1.jpg\" natural-height=\"566\" natural-width=\"621\"\u003e\u003c\/div\u003e\n\u003c\/div\u003e\n\u003cdiv data-extraclass=\"\" data-row-gap=\"15px\" data-id=\"1635325917922\" data-icon=\"gpicon-row\" class=\"gf_row gf_row-gap-15\" id=\"r-1635325917922\" data-atomgroup=\"row\" data-key=\"row\" data-label=\"Row\"\u003e\n\u003cdiv data-id=\"1634904255697\" id=\"c-1634904255697\" class=\"gf_column gf_col-lg-12 gf_col-md-12 gf_col-sm-12 gf_col-xs-12\"\u003e\n\u003cdiv data-id=\"1635325918068\" data-ver=\"1\" data-icon=\"gpicon-textblock\" class=\"element-wrap\" id=\"e-1635325918068\" data-key=\"text-block\" data-label=\"Text Block\"\u003e\n\u003cdiv data-exc=\"\" data-gemlang=\"en\" class=\"elm text-edit gf-elm-left gf-elm-center-sm gf-elm-left-xs gf-elm-left-lg gf-elm-left-md\"\u003e\n\u003cp\u003e \u003cbr\u003e\u003c\/p\u003e\n\u003cp\u003eThe flat-edge bezels tighten the device's surface to make it look sleek and clean.\u003c\/p\u003e\n\u003cp\u003e\u003cbr\u003e\u003c\/p\u003e\n\u003c\/div\u003e\n\u003c\/div\u003e\n\u003c\/div\u003e\n\u003c\/div\u003e\n\u003c\/div\u003e\n\u003cdiv data-id=\"1635049086796\" id=\"c-1635049086796\" class=\"gf_column gf_col-lg-4 gf_col-md-4 gf_col-xs-12 gf_col-sm-4\"\u003e\n\u003cdiv data-resolution=\"3000x3000\" data-id=\"1635325917962\" data-ver=\"1.0\" data-icon=\"gpicon-image\" class=\"element-wrap\" id=\"e-1635325917962\" data-atomgroup=\"element\" data-key=\"image\" data-label=\"Image\"\u003e\n\u003cdiv data-exc=\"\" class=\"elm gf-elm-center gf_elm-left-xs gf-elm-center-lg gf-elm-center-md gf-elm-center-sm gf-elm-center-xs\"\u003e\u003cimg data-lazy-loaded=\"480\" data-lg-size=\"3000x3000\" height=\"566\" width=\"621\" title=\"\" data-height=\"auto\" data-width=\"100%\" data-gemlang=\"en\" class=\"gf_image gf_lazyload gf_lazyloaded gf_lazyload_done\" alt=\"\" src=\"https:\/\/ucarecdn.com\/90bbf3aa-acc2-4fa8-92f7-b3e2de3242e2\/-\/format\/auto\/-\/preview\/480x480\/-\/quality\/lighter\/Leaf%20webpage_03-2.jpg\" natural-height=\"566\" natural-width=\"621\"\u003e\u003c\/div\u003e\n\u003c\/div\u003e\n\u003cdiv data-extraclass=\"\" data-row-gap=\"15px\" data-id=\"1635325917930\" data-icon=\"gpicon-row\" class=\"gf_row gf_row-gap-15\" id=\"r-1635325917930\" data-atomgroup=\"row\" data-key=\"row\" data-label=\"Row\"\u003e\n\u003cdiv data-id=\"1634904255697\" id=\"c-1634904255697\" class=\"gf_column gf_col-lg-12 gf_col-md-12 gf_col-sm-12 gf_col-xs-12\"\u003e\n\u003cdiv data-id=\"1635325917963\" data-ver=\"1\" data-icon=\"gpicon-textblock\" class=\"element-wrap\" id=\"e-1635325917963\" data-key=\"text-block\" data-label=\"Text Block\"\u003e\n\u003cdiv data-exc=\"\" data-gemlang=\"en\" class=\"elm text-edit gf-elm-left gf-elm-center-sm gf-elm-left-xs gf-elm-left-lg gf-elm-left-md\"\u003e\n\u003cp\u003e \u003cbr\u003e\u003c\/p\u003e\n\u003cp\u003eInk grey and granite white create the pure vision for displaying black and white texts.\u003c\/p\u003e\n\u003cp\u003e \u003cbr\u003e\u003c\/p\u003e\n\u003c\/div\u003e\n\u003c\/div\u003e\n\u003c\/div\u003e\n\u003c\/div\u003e\n\u003c\/div\u003e\n\u003cdiv data-id=\"1636969839220\" id=\"c-1636969839220\" class=\"gf_column gf_col-lg-4 gf_col-md-4 gf_col-xs-12 gf_col-sm-4\"\u003e\n\u003cdiv data-resolution=\"3000x3000\" data-id=\"1635325917953\" data-ver=\"1.0\" data-icon=\"gpicon-image\" class=\"element-wrap\" id=\"e-1635325917953\" data-atomgroup=\"element\" data-key=\"image\" data-label=\"Image\"\u003e\n\u003cdiv data-exc=\"\" class=\"elm gf-elm-center gf_elm-left-xs gf-elm-center-md gf-elm-center-sm gf-elm-center-xs gf-elm-center-lg\"\u003e\u003cimg data-lazy-loaded=\"480\" data-lg-size=\"3000x3000\" height=\"566\" width=\"621\" title=\"\" data-height=\"auto\" data-width=\"100%\" data-gemlang=\"en\" class=\"gf_image gf_lazyload gf_lazyloaded gf_lazyload_done\" alt=\"\" src=\"https:\/\/ucarecdn.com\/9a64f3e3-2018-4496-a524-205dca0d8561\/-\/format\/auto\/-\/preview\/480x480\/-\/quality\/lighter\/Leaf%20webpage_03-3.jpg\" natural-height=\"566\" natural-width=\"621\"\u003e\u003c\/div\u003e\n\u003cdiv data-exc=\"\" class=\"elm gf-elm-center gf_elm-left-xs gf-elm-center-md gf-elm-center-sm gf-elm-center-xs gf-elm-center-lg\"\u003e\u003cbr\u003e\u003c\/div\u003e\n\u003cdiv data-exc=\"\" class=\"elm gf-elm-center gf_elm-left-xs gf-elm-center-md gf-elm-center-sm gf-elm-center-xs gf-elm-center-lg\"\u003e300ppi HD screen can show every word with outstanding clarity and contrast.\u003c\/div\u003e\n\u003cdiv data-exc=\"\" class=\"elm gf-elm-center gf_elm-left-xs gf-elm-center-md gf-elm-center-sm gf-elm-center-xs gf-elm-center-lg\"\u003e\u003cbr\u003e\u003c\/div\u003e\n\u003cdiv data-exc=\"\" class=\"elm gf-elm-center gf_elm-left-xs gf-elm-center-md gf-elm-center-sm gf-elm-center-xs gf-elm-center-lg\"\u003e\n\u003cmeta charset=\"UTF-8\"\u003e\n\u003cdiv data-id=\"1635325918052\" data-ver=\"1\" data-icon=\"gpicon-heading\" class=\"element-wrap\" id=\"e-1635325918052\" data-key=\"heading\" data-label=\"Heading\"\u003e\n\u003cdiv data-exc=\"\" data-gemlang=\"en\" class=\"elm text-edit gf-elm-center gf-elm-center-md gf-elm-center-sm gf-elm-center-lg gf-elm-left-xs\"\u003e\n\u003ch1\u003eYour Mobile Library\u003c\/h1\u003e\n\u003cdiv\u003e\u003cbr\u003e\u003c\/div\u003e\n\u003c\/div\u003e\n\u003c\/div\u003e\n\u003cdiv data-extraclass=\"\" data-id=\"1637138635771\" data-icon=\"gpicon-row\" class=\"gf_row\" id=\"r-1637138635771\" data-atomgroup=\"row\" data-key=\"row\" data-label=\"Row\"\u003e\n\u003cdiv data-id=\"1637138635741\" id=\"c-1637138635741\" class=\"gf_column gf_col-lg-12 gf_col-md-12 gf_col-sm-12 gf_col-xs-12\"\u003e\n\u003cdiv data-id=\"1636971993036\" data-ver=\"1\" data-icon=\"gpicon-textblock\" class=\"element-wrap\" id=\"e-1636971993036\" data-key=\"text-block\" data-label=\"Text Block\"\u003e\n\u003cdiv data-exc=\"\" data-gemlang=\"en\" class=\"elm text-edit gf-elm-left gf-elm-center-lg gf-elm-center-sm gf-elm-center-md gf-elm-left-xs\"\u003e\n\u003cp\u003eThe library can be tiny but abundant. You can load many ebooks into Leaf and even enlarge its storage with a USB C flash drive. Or simply open Kindle and Kobo to read your favourite stories. \u003cbr\u003e\u003c\/p\u003e\n\u003c\/div\u003e\n\u003c\/div\u003e\n\u003c\/div\u003e\n\u003c\/div\u003e\n\u003cdiv data-id=\"1637138452427\" data-icon=\"gpicon-row\" class=\"gf_row\" id=\"r-1637138452427\" data-atomgroup=\"row\" data-key=\"row\" data-label=\"Row\"\u003e\n\u003cdiv data-id=\"1637138452407\" id=\"c-1637138452407\" class=\"gf_column gf_col-lg-12 gf_col-md-12 gf_col-sm-12 gf_col-xs-12\"\u003e\n\u003cdiv data-resolution=\"3000x3000\" data-id=\"1637137719153\" data-ver=\"1.0\" data-icon=\"gpicon-image\" class=\"element-wrap\" id=\"e-1637137719153\" data-atomgroup=\"element\" data-key=\"image\" data-label=\"Image\"\u003e\n\u003cdiv data-exc=\"\" class=\"elm gf-elm-center gf_elm-left-xs gf-elm-center-lg gf-elm-center-md gf-elm-center-sm gf-elm-center-xs\"\u003e\u003cimg data-lazy-loaded=\"1500\" data-lg-size=\"3000x3000\" title=\"\" data-height=\"auto\" data-width=\"100%\" height=\"767\" width=\"1437\" data-gemlang=\"en\" class=\"gf_image gf_lazyload gf_lazyloaded gf_lazyload_done\" alt=\"\" src=\"https:\/\/ucarecdn.com\/9881bb57-c79d-44a4-9b2c-f6f21a4d2b14\/-\/format\/auto\/-\/preview\/1500x1500\/-\/quality\/lighter\/Leaf%20webpage_05-1.jpg\" natural-height=\"767\" natural-width=\"1437\"\u003e\u003c\/div\u003e\n\u003c\/div\u003e\n\u003cdiv data-layout-xs=\"12+12+12\" data-layout-sm=\"4+4+4\" data-layout-md=\"4+4+4\" data-extraclass=\"\" data-layout-lg=\"4+4+4\" data-id=\"1637138080667\" data-icon=\"gpicon-row\" class=\"gf_row\" id=\"r-1637138080667\" data-atomgroup=\"row\" data-key=\"row\" data-label=\"Row\"\u003e\n\u003cdiv data-id=\"1637138080745\" id=\"c-1637138080745\" class=\"gf_column gf_col-lg-4 gf_col-md-4 gf_col-xs-12 gf_col-sm-4\"\u003e\n\u003cdiv data-id=\"1637138112530\" data-ver=\"1.0\" data-icon=\"gpicon-iconlist\" class=\"module-wrap\" id=\"m-1637138112530\" data-atomgroup=\"module\" data-key=\"icon-list\" data-label=\"Icon List\"\u003e\n\u003cdiv class=\"module gf_module-center gf_module-center-lg gf_module--md gf_module--sm gf_module-left-xs\"\u003e\n\u003cul class=\"gf_icon-list\"\u003e\n\u003cli\u003e\n\u003cdiv data-resolution=\"3000x3000\" data-id=\"1637138136550\" data-ver=\"1.0\" data-icon=\"gpicon-image\" class=\"element-wrap\" id=\"e-1637138136550\" data-atomgroup=\"element\" data-key=\"image\" data-label=\"Image\"\u003e\n\u003cdiv data-exc=\"\" class=\"elm gf-elm-center gf_elm-left-xs gf-elm-center-lg gf-elm-center-sm gf-elm-center-md gf-elm-center-xs\"\u003e\u003cimg data-lazy-loaded=\"120\" data-lg-size=\"3000x3000\" title=\"\" data-height=\"auto\" data-width=\"20px\" height=\"51\" width=\"51\" data-gemlang=\"en\" class=\"gf_image gf_lazyload gf_lazyloaded gf_lazyload_done\" alt=\"\" src=\"https:\/\/ucarecdn.com\/1538d163-85db-46d1-938d-9f46b193a3a9\/-\/format\/auto\/-\/preview\/120x120\/-\/quality\/lighter\/Leaf%20webpage_06-1.png\" natural-height=\"51\" natural-width=\"51\"\u003e\u003c\/div\u003e\n\u003c\/div\u003e\n\u003cdiv data-key=\"content1\" data-index=\"1\" class=\"gf-il-content item-content\"\u003e\n\u003cdiv data-id=\"1637138112530-2\" class=\"element-wrap\" id=\"e-1637138112530-2\" data-label=\"Text Block\"\u003e\n\u003cdiv data-exc=\"\" class=\"elm text-edit gf-elm-left gf-elm-left-lg gf-elm-left-md gf-elm-left-xs gf-elm-left-sm\"\u003e\n\u003cp\u003eAmple 2GB+32GB Storage\u003c\/p\u003e\n\u003c\/div\u003e\n\u003c\/div\u003e\n\u003c\/div\u003e\n\u003c\/li\u003e\n\u003c\/ul\u003e\n\u003c\/div\u003e\n\u003c\/div\u003e\n\u003c\/div\u003e\n\u003cdiv data-id=\"1637138082639\" id=\"c-1637138082639\" class=\"gf_column gf_col-lg-4 gf_col-md-4 gf_col-xs-12 gf_col-sm-4\"\u003e\n\u003cdiv data-id=\"1637138387424\" data-ver=\"1.0\" data-icon=\"gpicon-iconlist\" class=\"module-wrap\" id=\"m-1637138387424\" data-atomgroup=\"module\" data-key=\"icon-list\" data-label=\"Icon List\"\u003e\n\u003cdiv class=\"module gf_module-center gf_module-center-lg gf_module--md gf_module--sm gf_module-left-xs\"\u003e\n\u003cul class=\"gf_icon-list\"\u003e\n\u003cli\u003e\n\u003cdiv data-resolution=\"3000x3000\" data-id=\"1637138387527\" data-ver=\"1.0\" data-icon=\"gpicon-image\" class=\"element-wrap\" id=\"e-1637138387527\" data-atomgroup=\"element\" data-key=\"image\" data-label=\"Image\"\u003e\n\u003cdiv data-exc=\"\" class=\"elm gf-elm-center gf_elm-left-xs gf-elm-center-sm gf-elm-center-md gf-elm-center-xs gf-elm-center-lg\"\u003e\u003cimg data-lazy-loaded=\"120\" data-lg-size=\"3000x3000\" title=\"\" data-height=\"auto\" data-width=\"30px\" height=\"51\" width=\"51\" data-gemlang=\"en\" class=\"gf_image gf_lazyload gf_lazyloaded gf_lazyload_done\" alt=\"\" src=\"https:\/\/ucarecdn.com\/4a6d4a4f-5efa-49b4-8c2c-6d3ca553c8a4\/-\/format\/auto\/-\/preview\/120x120\/-\/quality\/lighter\/Leaf%20webpage_06-2.png\" natural-height=\"51\" natural-width=\"51\"\u003e\u003c\/div\u003e\n\u003c\/div\u003e\n\u003cdiv data-key=\"content1\" data-index=\"1\" class=\"gf-il-content item-content\"\u003e\n\u003cdiv data-id=\"1637219747324\" class=\"element-wrap\" id=\"e-1637219747324\" data-label=\"Text Block\"\u003e\n\u003cdiv data-exc=\"\" class=\"elm text-edit gf-elm-left gf-elm-left-lg gf-elm-left-md gf-elm-left-xs gf-elm-left-sm\"\u003e\n\u003cp\u003eType-C port with OTG\u003c\/p\u003e\n\u003c\/div\u003e\n\u003c\/div\u003e\n\u003c\/div\u003e\n\u003c\/li\u003e\n\u003c\/ul\u003e\n\u003c\/div\u003e\n\u003c\/div\u003e\n\u003c\/div\u003e\n\u003cdiv data-id=\"1637138082568\" id=\"c-1637138082568\" class=\"gf_column gf_col-lg-4 gf_col-md-4 gf_col-xs-12 gf_col-sm-4\"\u003e\n\u003cdiv data-id=\"1637138393885\" data-ver=\"1.0\" data-icon=\"gpicon-iconlist\" class=\"module-wrap\" id=\"m-1637138393885\" data-atomgroup=\"module\" data-key=\"icon-list\" data-label=\"Icon List\"\u003e\n\u003cdiv class=\"module gf_module-center gf_module-center-lg gf_module--md gf_module--sm gf_module-left-xs\"\u003e\n\u003cul class=\"gf_icon-list\"\u003e\n\u003cli\u003e\n\u003cdiv data-resolution=\"3000x3000\" data-id=\"1637138393852\" data-ver=\"1.0\" data-icon=\"gpicon-image\" class=\"element-wrap\" id=\"e-1637138393852\" data-atomgroup=\"element\" data-key=\"image\" data-label=\"Image\"\u003e\n\u003cdiv data-exc=\"\" class=\"elm gf-elm-center gf_elm-left-xs gf-elm-center-sm gf-elm-center-md gf-elm-center-xs gf-elm-center-lg\"\u003e\u003cimg data-lazy-loaded=\"120\" data-lg-size=\"3000x3000\" title=\"\" data-height=\"auto\" data-width=\"30px\" height=\"51\" width=\"51\" data-gemlang=\"en\" class=\"gf_image gf_lazyload gf_lazyloaded gf_lazyload_done\" alt=\"\" src=\"https:\/\/ucarecdn.com\/a2b40fcc-acec-42f5-b944-92e76e588226\/-\/format\/auto\/-\/preview\/120x120\/-\/quality\/lighter\/Leaf%20webpage_06-3.png\" natural-height=\"51\" natural-width=\"51\"\u003e\u003c\/div\u003e\n\u003c\/div\u003e\n\u003cdiv data-key=\"content1\" data-index=\"1\" class=\"gf-il-content item-content\"\u003e\n\u003cdiv data-id=\"1637138393885-2\" class=\"element-wrap\" id=\"e-1637138393885-2\" data-label=\"Text Block\"\u003e\n\u003cdiv data-exc=\"\" class=\"elm text-edit gf-elm-left gf-elm-left-lg gf-elm-left-md gf-elm-left-xs gf-elm-left-sm\"\u003e\n\u003cp\u003eRead More with Android 10\u003c\/p\u003e\n\u003cp\u003e \u003c\/p\u003e\n\u003c\/div\u003e\n\u003c\/div\u003e\n\u003c\/div\u003e\n\u003c\/li\u003e\n\u003c\/ul\u003e\n\u003c\/div\u003e\n\u003c\/div\u003e\n\u003c\/div\u003e\n\u003c\/div\u003e\n\u003c\/div\u003e\n\u003c\/div\u003e\n\u003cdiv data-row-gap=\"15px\" data-extraclass=\"\" data-id=\"1636970285571\" data-icon=\"gpicon-row\" class=\"gf_row gf_row-gap-15\" id=\"r-1636970285571\" data-key=\"row\" data-label=\"Row\"\u003e\n\u003cdiv data-id=\"1629269267823\" id=\"c-1629269267823\" class=\"gf_column gf_col-lg-12 gf_col-md-12 gf_col-sm-12 gf_col-xs-12\"\u003e\n\u003cdiv data-id=\"1636970285630\" data-ver=\"1\" data-icon=\"gpicon-heading\" class=\"element-wrap\" id=\"e-1636970285630\" data-key=\"heading\" data-label=\"Heading\"\u003e\n\u003cdiv data-exc=\"\" data-gemlang=\"en\" class=\"elm text-edit gf-elm-center gf-elm-center-md gf-elm-center-sm gf-elm-center-lg gf-elm-left-xs\"\u003e\n\u003ch1\u003eRead Near the Grill and In the Sun\u003c\/h1\u003e\n\u003c\/div\u003e\n\u003c\/div\u003e\n\u003cdiv data-extraclass=\"\" data-id=\"1637138602904\" data-icon=\"gpicon-row\" class=\"gf_row\" id=\"r-1637138602904\" data-atomgroup=\"row\" data-key=\"row\" data-label=\"Row\"\u003e\n\u003cdiv data-id=\"1637138602902\" id=\"c-1637138602902\" class=\"gf_column gf_col-lg-12 gf_col-md-12 gf_col-sm-12 gf_col-xs-12\"\u003e\n\u003cdiv data-id=\"1636971928885\" data-ver=\"1\" data-icon=\"gpicon-textblock\" class=\"element-wrap\" id=\"e-1636971928885\" data-key=\"text-block\" data-label=\"Text Block\"\u003e\n\u003cdiv data-exc=\"\" data-gemlang=\"en\" class=\"elm text-edit gf-elm-left gf-elm-center-lg gf-elm-center-sm gf-elm-center-md gf-elm-left-xs\"\u003e\n\u003cp\u003eWith the anti-glare pre-installed film, Leaf makes reading in the sun effortless. When it's getting dark out there, you can turn on and adjust the front lights to get a better view.\u003c\/p\u003e\n\u003c\/div\u003e\n\u003c\/div\u003e\n\u003c\/div\u003e\n\u003c\/div\u003e\n\u003cdiv data-row-gap=\"15px\" data-layout-xs=\"12+12\" data-layout-sm=\"6+6\" data-layout-md=\"6+6\" data-layout-lg=\"6+6\" data-extraclass=\"\" data-id=\"1636970285667\" data-icon=\"gpicon-row\" class=\"gf_row gf_row-gap-15\" id=\"r-1636970285667\" data-atomgroup=\"row\" data-key=\"row\" data-label=\"Row\"\u003e\n\u003cdiv data-id=\"1634903955575\" id=\"c-1634903955575\" class=\"gf_column gf_col-lg-6 gf_col-md-6 gf_col-sm-6 gf_col-xs-12\"\u003e\n\u003cdiv data-resolution=\"3000x3000\" data-id=\"1637138570563\" data-ver=\"1.0\" data-icon=\"gpicon-image\" class=\"element-wrap\" id=\"e-1637138570563\" data-atomgroup=\"element\" data-key=\"image\" data-label=\"Image\"\u003e\n\u003cdiv data-exc=\"\" class=\"elm gf-elm-center gf_elm-left-xs gf-elm-center-md gf-elm-center-sm gf-elm-center-xs gf-elm-center-lg\"\u003e\u003cimg data-lazy-loaded=\"1024\" data-lg-size=\"3000x3000\" title=\"\" data-height=\"auto\" data-width=\"100%\" height=\"767\" width=\"955\" data-gemlang=\"en\" class=\"gf_image gf_lazyload gf_lazyloaded gf_lazyload_done\" alt=\"\" src=\"https:\/\/ucarecdn.com\/124d4116-3ab8-4b7a-ac9f-fdc95985daec\/-\/format\/auto\/-\/preview\/1024x1024\/-\/quality\/lighter\/Leaf%20webpage_07-1.jpg\" natural-height=\"767\" natural-width=\"955\"\u003e\u003c\/div\u003e\n\u003c\/div\u003e\n\u003c\/div\u003e\n\u003cdiv data-id=\"1637138557748\" id=\"c-1637138557748\" class=\"gf_column gf_col-lg-6 gf_col-md-6 gf_col-sm-6 gf_col-xs-12\"\u003e\n\u003cdiv data-resolution=\"3000x3000\" data-id=\"1636970285664\" data-ver=\"1.0\" data-icon=\"gpicon-image\" class=\"element-wrap\" id=\"e-1636970285664\" data-atomgroup=\"element\" data-key=\"image\" data-label=\"Image\"\u003e\n\u003cdiv data-exc=\"\" class=\"elm gf-elm-center gf_elm-left-xs gf-elm-center-md gf-elm-center-sm gf-elm-center-xs gf-elm-center-lg\"\u003e\u003cimg data-lazy-loaded=\"1024\" data-lg-size=\"3000x3000\" title=\"\" data-height=\"auto\" data-width=\"100%\" height=\"767\" width=\"955\" data-gemlang=\"en\" class=\"gf_image gf_lazyload gf_lazyloaded gf_lazyload_done\" alt=\"\" src=\"https:\/\/ucarecdn.com\/1b16f74a-8811-4954-b15c-fe9503c9d291\/-\/format\/auto\/-\/preview\/1024x1024\/-\/quality\/lighter\/Leaf%20webpage_07-2.jpg\" natural-height=\"767\" natural-width=\"955\"\u003e\u003c\/div\u003e\n\u003c\/div\u003e\n\u003c\/div\u003e\n\u003c\/div\u003e\n\u003c\/div\u003e\n\u003c\/div\u003e\n\u003c\/div\u003e\n\u003c\/div\u003e\n\u003c\/div\u003e\n\u003c\/div\u003e\n\u003cp\u003e \u003c\/p\u003e\n\u003ch5\u003eProduct Specifications\u003c\/h5\u003e\n\u003cp\u003eHarware:\u003c\/p\u003e\n\u003cul\u003e\n\u003cli\u003eParameters: 7\" HD Eink Carta Screen with cover-lens\u003c\/li\u003e\n\u003cli\u003eResolution: 1680x1264 (300 dpi)\u003c\/li\u003e\n\u003cli\u003eTouch: Capacitive touch\u003c\/li\u003e\n\u003cli\u003eLight: Front light with CTM (Warm and Cold)\u003c\/li\u003e\n\u003cli\u003eCPU: Advanced octa-core processor\u003c\/li\u003e\n\u003cli\u003eRAM: 2G LPDDR4X\u003c\/li\u003e\n\u003cli\u003eROM: 32GB\u003c\/li\u003e\n\u003cli\u003eConnectivity: Wi-Fi (2.4GHz + 5GHz) + BT 5.0\u003c\/li\u003e\n\u003c\/ul\u003e\n\u003cp\u003eSoftware:\u003c\/p\u003e\n\u003cul\u003e\n\u003cli\u003eOS: Android 10.0\u003c\/li\u003e\n\u003cli\u003eDocuments Formats: PDF(reflowable), PPT,EPUB, TXT, DJVU, HTML, RTF, FB2, DOC, MOBI, CHM...\u003c\/li\u003e\n\u003cli\u003eImage Formats: PNG, JPG, TIFF, BMP\u003c\/li\u003e\n\u003cli\u003eAudio Formats: WAV, MP3\u003c\/li\u003e\n\u003cli\u003eAPP Store: BOOX Store\u003c\/li\u003e\n\u003cli\u003eSupport DRM(3 party apps)\u003c\/li\u003e\n\u003c\/ul\u003e\n\u003cp\u003eOthers:\u003c\/p\u003e\n\u003cul\u003e\n\u003cli\u003eButtons: power button\u003c\/li\u003e\n\u003cli\u003eExpansion Interface: USB Type-C (support OTG)\u003c\/li\u003e\n\u003cli\u003eSpeaker: yes\u003c\/li\u003e\n\u003cli\u003eMic: yes\u003c\/li\u003e\n\u003cli\u003eG-Sensor: yes\u003c\/li\u003e\n\u003cli\u003eBattery: 2000mAh Polymer Li-on\u003c\/li\u003e\n\u003cli\u003eDimensions: 165.6x130.8x5.95 mm\u003c\/li\u003e\n\u003cli\u003eWeight: ≤170g\u003c\/li\u003e\n\u003c\/ul\u003e\n\u003cp\u003e \u003c\/p\u003e\n\u003ch5\u003eIn The Box\u003c\/h5\u003e\n\u003cp\u003e\u003cmeta charset=\"UTF-8\"\u003e\u003cspan\u003eOnyx BOOX Leaf X1,\u003c\/span\u003e\u003c\/p\u003e\n\u003cp\u003e\u003cspan\u003eUSB-C Cable X1,\u003c\/span\u003e\u003c\/p\u003e\n\u003cp\u003e\u003cspan\u003eQuick Start Guide X1,\u003c\/span\u003e\u003c\/p\u003e\n\u003cp\u003e\u003cspan\u003eWarranty Sheet X1 \u003c\/span\u003e\u003c\/p\u003e\n\u003cp\u003e \u003c\/p\u003e\n\u003c!-- \/TABS --\u003e"}
Boox Leaf 7" Eink Tablet with Free Sleeve
Boox Leaf 7" Eink Tablet with Free Sleeve
The lightest 7" eReader makes reading indoors easy and outdoors even more effortless. Meet BOOX Leaf, the reading-purposed tablet that lets you enjoy stories in any place, at any time.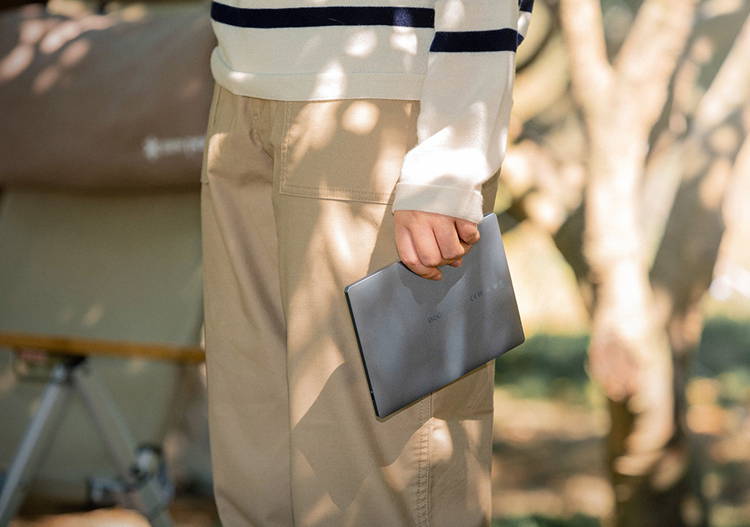 Pack your Leaf with you wherever you head out. It's lightweight with only 170g and thin as 5.95mm. Whether you're on the road, in the camp, or on the hill, just grab it, turn it on and enjoy great stories with the lasting 2000mAh battery.
Designed with the mindset of simplicity, Leaf removes buttons on the front to reduce weight and makes your reading more immersive with only the texts on the HD screen.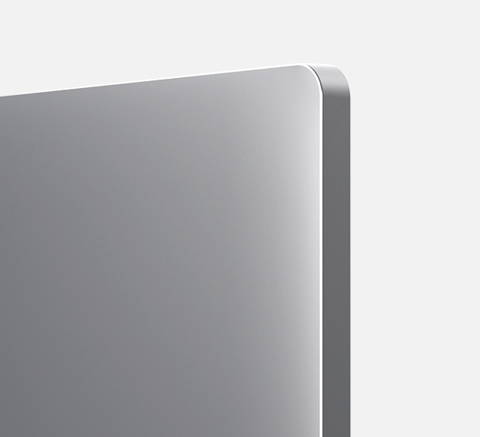 The flat-edge bezels tighten the device's surface to make it look sleek and clean.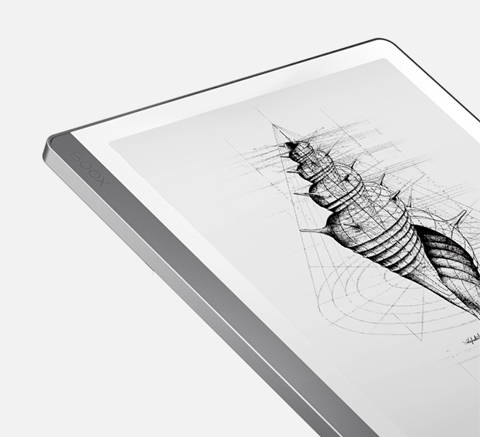 Ink grey and granite white create the pure vision for displaying black and white texts.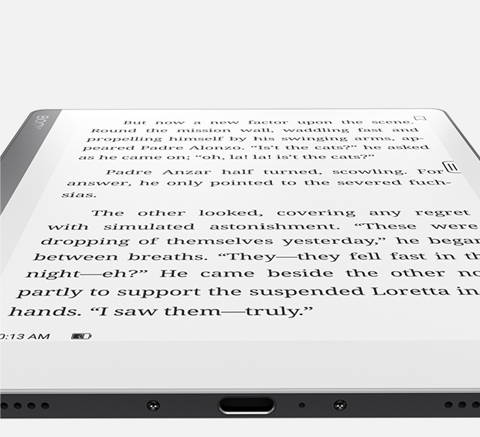 300ppi HD screen can show every word with outstanding clarity and contrast.
The library can be tiny but abundant. You can load many ebooks into Leaf and even enlarge its storage with a USB C flash drive. Or simply open Kindle and Kobo to read your favourite stories.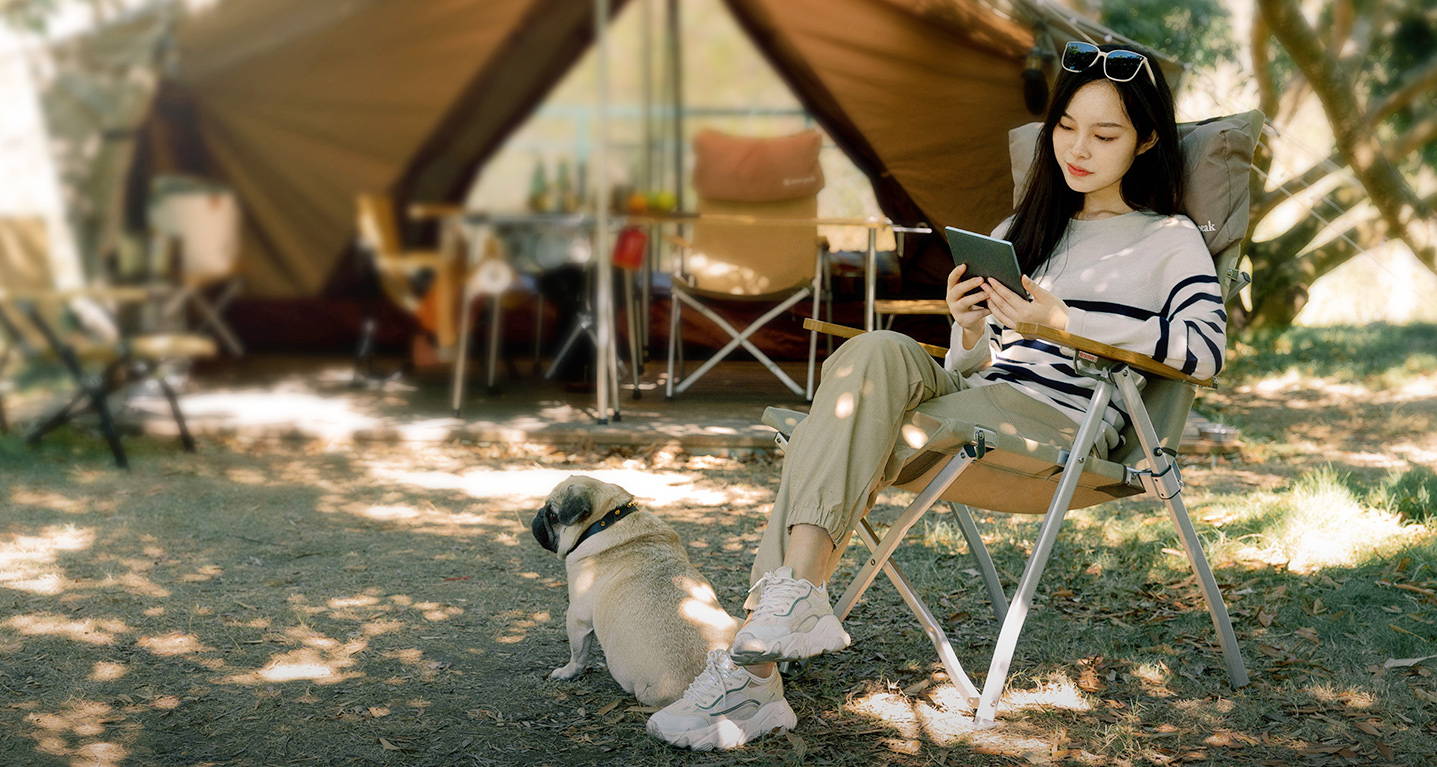 Read More with Android 10

 
Read Near the Grill and In the Sun
With the anti-glare pre-installed film, Leaf makes reading in the sun effortless. When it's getting dark out there, you can turn on and adjust the front lights to get a better view.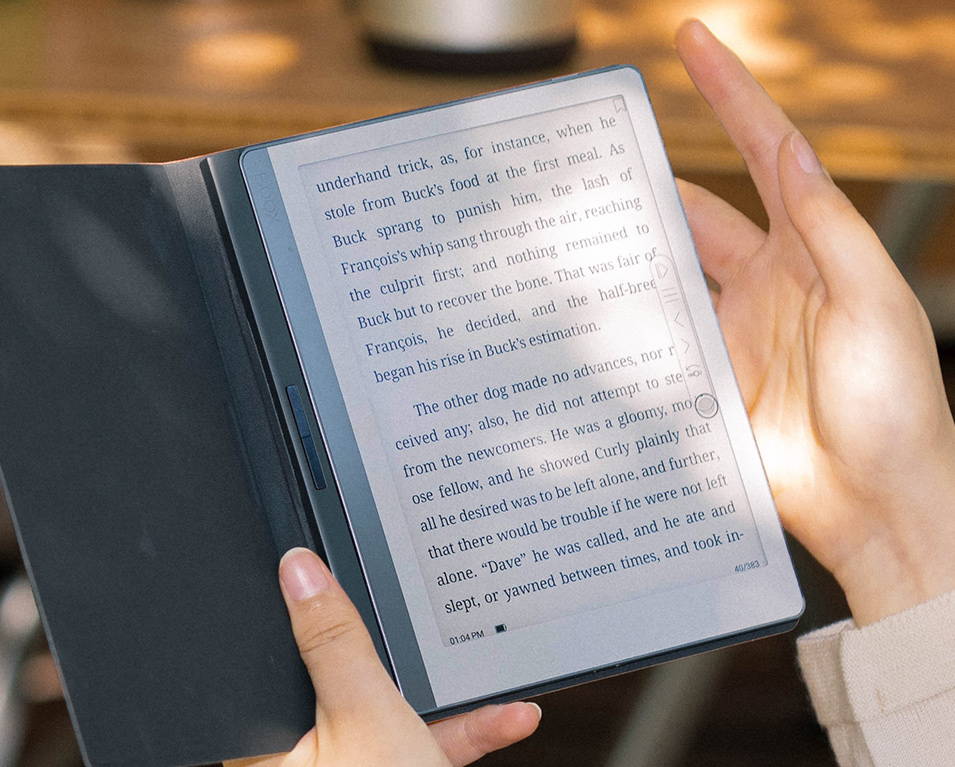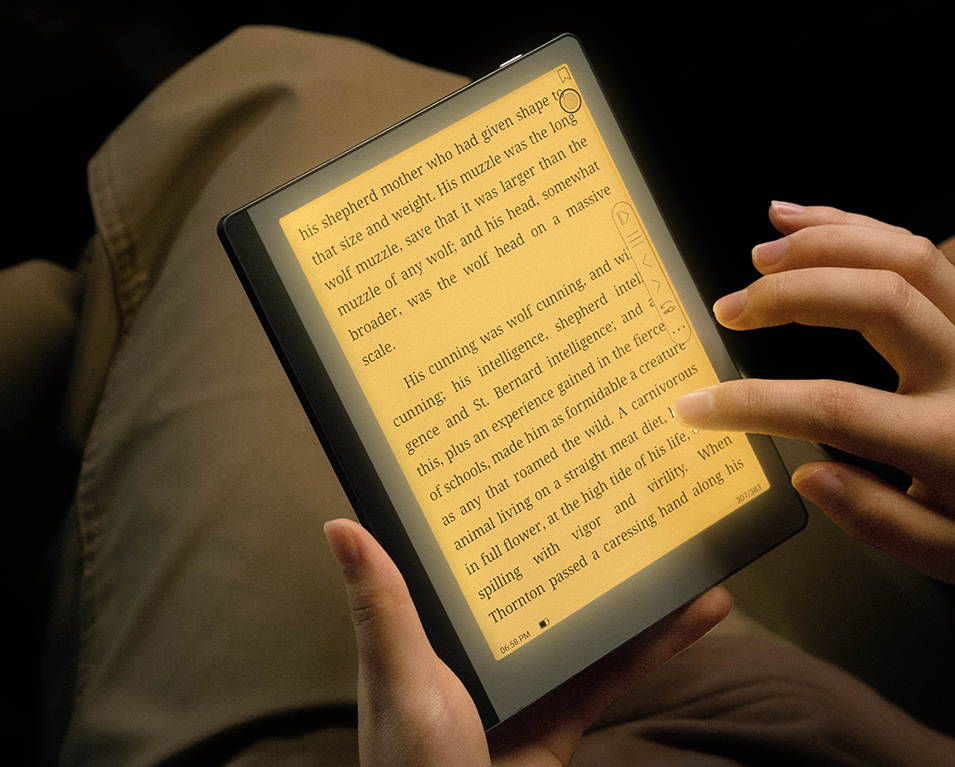 Harware:
Parameters: 7" HD Eink Carta Screen with cover-lens
Resolution: 1680x1264 (300 dpi)
Touch: Capacitive touch
Light: Front light with CTM (Warm and Cold)
CPU: Advanced octa-core processor
RAM: 2G LPDDR4X
ROM: 32GB
Connectivity: Wi-Fi (2.4GHz + 5GHz) + BT 5.0
Software:
OS: Android 10.0
Documents Formats: PDF(reflowable), PPT,EPUB, TXT, DJVU, HTML, RTF, FB2, DOC, MOBI, CHM...
Image Formats: PNG, JPG, TIFF, BMP
Audio Formats: WAV, MP3
APP Store: BOOX Store
Support DRM(3 party apps)
Others:
Buttons: power button
Expansion Interface: USB Type-C (support OTG)
Speaker: yes
Mic: yes
G-Sensor: yes
Battery: 2000mAh Polymer Li-on
Dimensions: 165.6x130.8x5.95 mm
Weight: ≤170g
Onyx BOOX Leaf X1,
USB-C Cable X1,
Quick Start Guide X1,
Warranty Sheet X1