{"id":4103263322252,"title":"GOPRO HERO7 White","handle":"gopro-hero7-white-with-free-16gb-sd-card","description":"\u003ctable width=\"100%\"\u003e\n\u003ctbody\u003e\n\u003ctr\u003e\n\u003ctd style=\"text-align: center;\"\u003e\n\u003cdiv class=\"camera-feature-ico\"\u003e\u003cimg aria-label=\"12MP feature\" src=\"https:\/\/gopro.com\/on\/demandware.static\/-\/Library-Sites-sharedGoProLibrary\/default\/dw72c7406e\/images\/pdp-fall2018\/svg\/_icon_12MP.svg\"\u003e\u003c\/div\u003e\n\u003cspan\u003e\u003c\/span\u003e\n\u003cdiv class=\"camera-feature-name\"\u003e10MP\u003c\/div\u003e\n\u003c\/td\u003e\n\u003ctd style=\"text-align: center;\"\u003e\n\u003cdiv class=\"camera-feature-ico\"\u003e\n\u003cdiv class=\"camera-feature-ico\"\u003e\u003cimg aria-label=\"12MP icon\" src=\"https:\/\/gopro.com\/on\/demandware.static\/-\/Library-Sites-sharedGoProLibrary\/default\/dwb618151a\/images\/pdp-fall2018\/svg\/_icon_4K60.svg\"\u003e\u003c\/div\u003e\n\u003cspan\u003e\u003c\/span\u003e\n\u003cdiv class=\"camera-feature-name\"\u003e\u003cspan\u003e1080p60 \u003c\/span\u003e\u003c\/div\u003e\n\u003c\/div\u003e\n\u003c\/td\u003e\n\u003ctd style=\"text-align: center;\"\u003e\n\u003cdiv class=\"camera-feature-ico\"\u003e\n\u003cdiv class=\"camera-feature-ico\"\u003e\u003cimg aria-label=\"waterproof up to 33 feet icon\" src=\"https:\/\/gopro.com\/on\/demandware.static\/-\/Library-Sites-sharedGoProLibrary\/default\/dw69e346da\/images\/pdp-fall2018\/svg\/_icon_Waterproof_silver.svg\"\u003e\u003c\/div\u003e\n\u003cspan\u003e\u003c\/span\u003e\n\u003cdiv class=\"camera-feature-name\"\u003eWaterproof\u003cbr\u003e33ft (10m)\u003c\/div\u003e\n\u003c\/div\u003e\n\u003c\/td\u003e\n\u003c\/tr\u003e\n\u003ctr\u003e\n\u003ctd style=\"text-align: center;\"\u003e\n\u003cdiv class=\"camera-feature-ico\"\u003e\u003cimg aria-label=\"touch screen icon\" src=\"https:\/\/gopro.com\/on\/demandware.static\/-\/Library-Sites-sharedGoProLibrary\/default\/dw276727c1\/images\/pdp-fall2018\/svg\/_icon_TouchScreen.svg\"\u003e\u003c\/div\u003e\n\u003cdiv class=\"camera-feature-name\"\u003eTouch Screen\u003c\/div\u003e\n\u003c\/td\u003e\n\u003ctd style=\"text-align: center;\"\u003e\n\u003cdiv class=\"camera-feature-ico\"\u003e\n\u003cdiv class=\"camera-feature-ico\"\u003e\u003cimg aria-label=\"8x slo-mo icon\" src=\"https:\/\/gopro.com\/on\/demandware.static\/-\/Library-Sites-sharedGoProLibrary\/default\/dw7b44bbbe\/images\/pdp-fall2018\/svg\/_icon_2XSlo.svg\"\u003e\u003c\/div\u003e\n\u003cspan\u003e\u003c\/span\u003e\n\u003cdiv class=\"camera-feature-name\"\u003e2x Slo-Mo\u003c\/div\u003e\n\u003c\/div\u003e\n\u003cspan\u003e\u003c\/span\u003e\n\u003c\/td\u003e\n\u003ctd style=\"text-align: center;\"\u003e\n\u003cdiv class=\"camera-feature-ico\"\u003e\n\u003cdiv class=\"camera-feature-ico\"\u003e\u003cimg aria-label=\"voice control icon\" src=\"https:\/\/gopro.com\/on\/demandware.static\/-\/Library-Sites-sharedGoProLibrary\/default\/dw75f62673\/images\/pdp-fall2018\/svg\/_icon_Voice%20Control.svg\"\u003e\u003c\/div\u003e\n\u003cspan\u003e\u003c\/span\u003e\n\u003cdiv class=\"camera-feature-name\"\u003eVoice\u003cbr\u003eControl\u003c\/div\u003e\n\u003c\/div\u003e\n\u003cspan\u003e\u003c\/span\u003e\n\u003c\/td\u003e\n\u003c\/tr\u003e\n\u003c\/tbody\u003e\n\u003c\/table\u003e\n\u003c!-- split --\u003e \u003c!-- TABS --\u003e\n\u003ch5\u003eProduct Description\u003c\/h5\u003e\n\u003cdiv class=\"inpage_selector_feature feature1 feature-bg-white flix-section-top\"\u003e\n\u003cdiv class=\"flix-conta1ner-flu1d\"\u003e\n\u003cdiv class=\"flix-r0w\"\u003e\n\u003cdiv class=\"clmn-md-12 flix-text-center\"\u003e\n\u003cdiv class=\"flix-text-center\"\u003e\u003cimg alt=\"\" src=\"https:\/\/media.flixfacts.com\/inpage\/gopro\/hero7\/img\/white\/_icon_Waterproof_silver.svg\"\u003e\u003c\/div\u003e\n\u003cdiv class=\"flix-list-text flix-text-center\"\u003eRugged + Waterproof\u003c\/div\u003e\n\u003cdiv class=\"flix-lead flix-text-center\"\u003eJump right in.\u003c\/div\u003e\n\u003cdiv class=\"flix-copy flix-text-center\"\u003eHERO7 White is built tough and waterproof to 33ft (10m).\u003c\/div\u003e\n\u003cimg alt=\"\" class=\"flix-img-responsive\" src=\"https:\/\/media.flixfacts.com\/inpage\/gopro\/hero7\/img\/white\/banner.jpg\"\u003e\n\u003c\/div\u003e\n\u003c\/div\u003e\n\u003c\/div\u003e\n\u003c\/div\u003e\n\u003cdiv class=\"inpage_selector_feature feature2 flix-section-top-bot\"\u003e\n\u003cdiv class=\"flix-conta1ner\"\u003e\n\u003cdiv class=\"flix-r0w\"\u003e\n\u003cdiv class=\"flix-r0w-table\"\u003e\n\u003cdiv class=\"clmn-md-6 clmn-sm-6 clmn-xs-12 clmn-xs-push-0 clmn-sm-push-6 clmn-md-push-6 flix-r0w-table-cell flix-currys-videohide\"\u003e\n\u003cdiv class=\"inpage_selector_video\"\u003e\n\u003cdiv id=\"block-selector-1-video\" class=\"editor-block-hide\"\u003e\n\u003cdiv class=\"flix-mod-pro-video clearfix\"\u003e\n\u003cdiv class=\"flix_mod_video\"\u003e\n\u003cdiv class=\"flix_video_wrapper\"\u003e\n\u003cdiv id=\"fullPlaylist\"\u003e\n\u003cdiv class=\"flix-videodiv \"\u003e\u003ciframe id=\"flix-iframe0\" title=\"Flix-media-video-0\" src=\"https:\/\/media.flixcar.com\/delivery\/static\/jwplayer\/jwiframe.html?fjw=%7B%22playlist%22%3A%5B%7B%22file%22%3A%22%5C%2F%5C%2Fcontent.jwplatform.com%5C%2Fvideos%5C%2FrZxPhTLM.mp4%22%2C%22image%22%3A%22%5C%2F%5C%2Fassets-jpcust.jwpsrv.com%5C%2Fthumbs%5C%2FrZxPhTLM-1280.jpg%22%2C%22mediaid%22%3A%22rZxPhTLM%22%7D%5D%2C%22listbar%22%3A%7B%22position%22%3A%22right%22%2C%22size%22%3A%22234%22%7D%7D\u0026amp;vidno=undefined\u0026amp;p=1462145\u0026amp;d=1544\u0026amp;l=nz\u0026amp;sid=EC257450-CC19-6A84-F57C-CD9A76B95209\u0026amp;mpn=HERO%207%20WHITE\u0026amp;ean=818279022995\u0026amp;base=\/\/media.flixcar.com\u0026amp;pn=https%7Cdub%7Cforwww.noelleeming.co.nz\/shop\/photography\/action-cameras\/action-cameras\/gopro-coley-7-white-hero-7-white\/prod165157.html%7Cque%7Candnst%7CisSEM%7Candgclid%7CisEAIaIQobChMIgquNiJbP5AIV1IRwCh15RQbIEAQYAyABEgKvvvD_BwE%7Candgclsrc%7Cisaw.ds\" width=\"100%\" height=\"100%\" frameborder=\"0\" scrolling=\"no\" allowfullscreen=\"\" allow=\"autoplay; fullscreen\"\u003e\u003c\/iframe\u003e\u003c\/div\u003e\n\u003c\/div\u003e\n\u003c\/div\u003e\n\u003c\/div\u003e\n\u003c\/div\u003e\n\u003c\/div\u003e\n\u003c\/div\u003e\n\u003c\/div\u003e\n\u003cdiv class=\"clmn-md-6 clmn-sm-6 clmn-xs-12 clmn-xs-pull-0 clmn-sm-pull-6 clmn-md-pull-6 retail-copy flix-r0w-table-cell secondary-bg flix_currys-fullwidth\"\u003e\n\u003cdiv class=\"flix-r0w-content\"\u003e\n\u003cdiv class=\"flix-text-center\"\u003e\u003cimg alt=\"\" src=\"https:\/\/media.flixfacts.com\/inpage\/gopro\/hero7\/img\/white\/_icon_TouchScreen.svg\"\u003e\u003c\/div\u003e\n\u003cdiv class=\"flix-list-text flix-text-center\"\u003eTouch Screen\u003c\/div\u003e\n\u003cbr\u003e\n\u003cdiv class=\"flix-lead flix-text-center\"\u003eSwipe right. Or left.\u003c\/div\u003e\n\u003cdiv class=\"flix-copy flix-text-center\"\u003eA touch screen with simplified settings\u003cspan\u003e \u003c\/span\u003emakes it fun to use.\u003c\/div\u003e\n\u003c\/div\u003e\n\u003c\/div\u003e\n\u003c\/div\u003e\n\u003c\/div\u003e\n\u003cdiv class=\"flix-r0w flix-section-top-bot\"\u003e\n\u003cdiv class=\"flix-r0w-table\"\u003e\n\u003cdiv class=\"clmn-md-6 clmn-sm-6 clmn-xs-12 flix-r0w-table-cell\"\u003e\n\u003cdiv class=\"flix-feature-image\"\u003e\u003cimg alt=\"\" class=\"flix-img-responsive\" src=\"https:\/\/media.flixfacts.com\/inpage\/gopro\/hero7\/img\/white\/feature_1.jpg\"\u003e\u003c\/div\u003e\n\u003c\/div\u003e\n\u003cdiv class=\"clmn-md-6 clmn-sm-6 clmn-xs-12 retail-copy flix-r0w-table-cell secondary-bg\"\u003e\n\u003cdiv class=\"flix-r0w-content\"\u003e\n\u003cdiv class=\"flix-text-center\"\u003e\u003cimg alt=\"\" src=\"https:\/\/media.flixfacts.com\/inpage\/gopro\/hero7\/img\/white\/_icon_4K60.svg\"\u003e\u003c\/div\u003e\n\u003cdiv class=\"flix-list-text flix-text-center\"\u003eFull HD Video\u003c\/div\u003e\n\u003cbr\u003e\n\u003cdiv class=\"flix-lead flix-text-center\"\u003eSo crisp and so clear.\u003c\/div\u003e\n\u003cdiv class=\"flix-copy flix-text-center\"\u003eShoot stunning Full HD video and unique\u003cspan\u003e \u003c\/span\u003etime lapse videos—perfect for sharing.\u003c\/div\u003e\n\u003c\/div\u003e\n\u003c\/div\u003e\n\u003c\/div\u003e\n\u003c\/div\u003e\n\u003c\/div\u003e\n\u003c\/div\u003e\n\u003cdiv class=\"inpage_selector_feature feature3 feature-bg-white flix-section-top-bot\"\u003e\n\u003cdiv class=\"flix-conta1ner-flu1d\"\u003e\n\u003cdiv class=\"flix-r0w\"\u003e\n\u003cdiv class=\"clmn-md-12 flix-text-center\"\u003e\n\u003cdiv class=\"flix-text-center\"\u003e\u003cimg alt=\"\" src=\"https:\/\/media.flixfacts.com\/inpage\/gopro\/hero7\/img\/white\/_icon_12MP.svg\"\u003e\u003c\/div\u003e\n\u003cdiv class=\"flix-list-text flix-text-center\"\u003e10MP Photos\u003c\/div\u003e\n\u003cdiv class=\"flix-lead flix-text-center\"\u003eEpic pics.\u003c\/div\u003e\n\u003cdiv class=\"flix-copy flix-text-center\"\u003eCapture killer photos and never miss a moment\u003cspan\u003e \u003c\/span\u003ewith Burst mode.\u003c\/div\u003e\n\u003c\/div\u003e\n\u003c\/div\u003e\n\u003c\/div\u003e\n\u003c\/div\u003e\n\u003cdiv class=\"inpage_selector_video\"\u003e\n\u003cdiv id=\"block-selector-1-video\" class=\"editor-block-hide\"\u003e\n\u003cdiv class=\"flix-std-container-fluid\"\u003e\n\u003cdiv class=\"flix-std-row\"\u003e\n\u003cdiv class=\"flix-grd-12\"\u003e\n\u003cdiv class=\"flix-mod-pro-video clearfix\"\u003e\n\u003cdiv class=\"flix_mod_video\"\u003e\n\u003cdiv class=\"flix_video_wrapper\"\u003e\n\u003cdiv id=\"fullPlaylist\"\u003e\n\u003cdiv class=\"flix-videodiv \"\u003e\u003ciframe id=\"flix-iframe1\" title=\"Flix-media-video-1\" src=\"https:\/\/media.flixcar.com\/delivery\/static\/jwplayer\/jwiframe.html?fjw=%7B%22playlist%22%3A%5B%7B%22file%22%3A%22%5C%2F%5C%2Fcontent.jwplatform.com%5C%2Fvideos%5C%2FBm9Zsi41.mp4%22%2C%22image%22%3A%22%5C%2F%5C%2Fassets-jpcust.jwpsrv.com%5C%2Fthumbs%5C%2FBm9Zsi41-1280.jpg%22%2C%22mediaid%22%3A%22Bm9Zsi41%22%7D%5D%2C%22listbar%22%3A%7B%22position%22%3A%22right%22%2C%22size%22%3A%22234%22%7D%7D\u0026amp;vidno=undefined\u0026amp;p=1462145\u0026amp;d=1544\u0026amp;l=nz\u0026amp;sid=EC257450-CC19-6A84-F57C-CD9A76B95209\u0026amp;mpn=HERO%207%20WHITE\u0026amp;ean=818279022995\u0026amp;base=\/\/media.flixcar.com\u0026amp;pn=https%7Cdub%7Cforwww.noelleeming.co.nz\/shop\/photography\/action-cameras\/action-cameras\/gopro-coley-7-white-hero-7-white\/prod165157.html%7Cque%7Candnst%7CisSEM%7Candgclid%7CisEAIaIQobChMIgquNiJbP5AIV1IRwCh15RQbIEAQYAyABEgKvvvD_BwE%7Candgclsrc%7Cisaw.ds\" width=\"100%\" height=\"100%\" frameborder=\"0\" scrolling=\"no\" allowfullscreen=\"\" allow=\"autoplay; fullscreen\"\u003e\u003c\/iframe\u003e\u003c\/div\u003e\n\u003c\/div\u003e\n\u003c\/div\u003e\n\u003c\/div\u003e\n\u003c\/div\u003e\n\u003c\/div\u003e\n\u003c\/div\u003e\n\u003c\/div\u003e\n\u003c\/div\u003e\n\u003c\/div\u003e\n\u003cdiv class=\"inpage_selector_feature feature2 flix-section-top\"\u003e\n\u003cdiv class=\"flix-conta1ner\"\u003e\n\u003cdiv class=\"flix-r0w flix-section-top-bot\"\u003e\n\u003cdiv class=\"flix-r0w-table\"\u003e\n\u003cdiv class=\"clmn-md-6 clmn-sm-6 clmn-xs-12 clmn-xs-push-0 clmn-sm-push-6 clmn-md-push-6 flix-r0w-table-cell\"\u003e\n\u003cdiv class=\"flix-feature-image\"\u003e\u003cimg alt=\"\" class=\"flix-img-responsive\" src=\"https:\/\/media.flixfacts.com\/inpage\/gopro\/hero7\/img\/white\/feature_2.jpg\"\u003e\u003c\/div\u003e\n\u003c\/div\u003e\n\u003cdiv class=\"clmn-md-6 clmn-sm-6 clmn-xs-12 clmn-xs-pull-0 clmn-sm-pull-6 clmn-md-pull-6 retail-copy flix-r0w-table-cell secondary-bg\"\u003e\n\u003cdiv class=\"flix-r0w-content\"\u003e\n\u003cdiv class=\"flix-text-center\"\u003e\u003cimg alt=\"\" src=\"https:\/\/media.flixfacts.com\/inpage\/gopro\/hero7\/img\/white\/_icon_Voice%20Control_silver.svg\"\u003e\u003c\/div\u003e\n\u003cdiv class=\"flix-list-text flix-text-center\"\u003eVoice Control\u003c\/div\u003e\n\u003cbr\u003e\n\u003cdiv class=\"flix-lead flix-text-center\"\u003eTalk to the cam.\u003c\/div\u003e\n\u003cdiv class=\"flix-copy flix-text-center\"\u003eHands busy? Just say "GoPro, take a\u003cspan\u003e \u003c\/span\u003ephoto" or one of 14 other voice\u003cspan\u003e \u003c\/span\u003ecommands.\u003c\/div\u003e\n\u003c\/div\u003e\n\u003c\/div\u003e\n\u003c\/div\u003e\n\u003c\/div\u003e\n\u003c\/div\u003e\n\u003c\/div\u003e\n\u003cdiv class=\"inpage_selector_feature feature2 flix-section-bot\"\u003e\n\u003cdiv class=\"flix-conta1ner\"\u003e\n\u003cdiv class=\"flix-r0w\"\u003e\n\u003cdiv class=\"flix-r0w-table\"\u003e\n\u003cdiv class=\"clmn-md-6 clmn-sm-6 clmn-xs-12 clmn-xs-push-0 clmn-sm-push-6 clmn-md-push-6 flix-r0w-table-cell flix-currys-videohide\"\u003e\n\u003cdiv class=\"inpage_selector_video\"\u003e\n\u003cdiv id=\"block-selector-1-video\" class=\"editor-block-hide\"\u003e\n\u003cdiv class=\"flix-mod-pro-video clearfix\"\u003e\n\u003cdiv class=\"flix_mod_video\"\u003e\n\u003cdiv class=\"flix_video_wrapper\"\u003e\n\u003cdiv id=\"fullPlaylist\"\u003e\n\u003cdiv class=\"flix-videodiv \"\u003e\u003ciframe id=\"flix-iframe2\" title=\"Flix-media-video-2\" src=\"https:\/\/media.flixcar.com\/delivery\/static\/jwplayer\/jwiframe.html?fjw=%7B%22playlist%22%3A%5B%7B%22file%22%3A%22%5C%2F%5C%2Fcontent.jwplatform.com%5C%2Fvideos%5C%2Fqz1wytwR.mp4%22%2C%22image%22%3A%22%5C%2F%5C%2Fassets-jpcust.jwpsrv.com%5C%2Fthumbs%5C%2Fqz1wytwR-1280.jpg%22%2C%22mediaid%22%3A%22qz1wytwR%22%7D%5D%2C%22listbar%22%3A%7B%22position%22%3A%22right%22%2C%22size%22%3A%22234%22%7D%7D\u0026amp;vidno=undefined\u0026amp;p=1462145\u0026amp;d=1544\u0026amp;l=nz\u0026amp;sid=EC257450-CC19-6A84-F57C-CD9A76B95209\u0026amp;mpn=HERO%207%20WHITE\u0026amp;ean=818279022995\u0026amp;base=\/\/media.flixcar.com\u0026amp;pn=https%7Cdub%7Cforwww.noelleeming.co.nz\/shop\/photography\/action-cameras\/action-cameras\/gopro-coley-7-white-hero-7-white\/prod165157.html%7Cque%7Candnst%7CisSEM%7Candgclid%7CisEAIaIQobChMIgquNiJbP5AIV1IRwCh15RQbIEAQYAyABEgKvvvD_BwE%7Candgclsrc%7Cisaw.ds\" width=\"100%\" height=\"100%\" frameborder=\"0\" scrolling=\"no\" allowfullscreen=\"\" allow=\"autoplay; fullscreen\"\u003e\u003c\/iframe\u003e\u003c\/div\u003e\n\u003c\/div\u003e\n\u003c\/div\u003e\n\u003c\/div\u003e\n\u003c\/div\u003e\n\u003c\/div\u003e\n\u003c\/div\u003e\n\u003c\/div\u003e\n\u003cdiv class=\"clmn-md-6 clmn-sm-6 clmn-xs-12 clmn-xs-pull-0 clmn-sm-pull-6 clmn-md-pull-6 retail-copy flix-r0w-table-cell secondary-bg flix_currys-fullwidth\"\u003e\n\u003cdiv class=\"flix-r0w-content\"\u003e\n\u003cdiv class=\"flix-text-center\"\u003e\u003cimg alt=\"\" src=\"https:\/\/media.flixfacts.com\/inpage\/gopro\/hero7\/img\/white\/_icon_Timer.svg\"\u003e\u003c\/div\u003e\n\u003cdiv class=\"flix-list-text flix-text-center\"\u003ePhoto Timer\u003c\/div\u003e\n\u003cbr\u003e\n\u003cdiv class=\"flix-lead flix-text-center\"\u003eCountdown to capture.\u003c\/div\u003e\n\u003cdiv class=\"flix-copy flix-text-center\"\u003eGrab a selfie or group shot with\u003cspan\u003e \u003c\/span\u003eyour whole crew in the frame.\u003c\/div\u003e\n\u003c\/div\u003e\n\u003c\/div\u003e\n\u003c\/div\u003e\n\u003c\/div\u003e\n\u003cdiv class=\"flix-r0w flix-section-top\"\u003e\n\u003cdiv class=\"flix-mod-overlay\"\u003e\n\u003cdiv class=\"flix-background-image\"\u003e\u003cimg alt=\"\" class=\"flix-img-responsive\" src=\"https:\/\/media.flixfacts.com\/inpage\/gopro\/hero7\/img\/white\/Module_9_Stabilization.jpg\"\u003e\u003c\/div\u003e\n\u003cdiv class=\"flix-text-block\"\u003e\n\u003cdiv class=\"flix-vertical-align-wrap\"\u003e\n\u003cdiv class=\"flix-inner-wrap\"\u003e\n\u003cdiv class=\"flix-conta1ner\"\u003e\n\u003cdiv class=\"flix-r0w\"\u003e\n\u003cdiv class=\"clmn-md-6 clmn-sm-6 clmn-xs-12 retail-copy\"\u003e\n\u003cdiv class=\"flix-r0w-content black-transparent-bg\"\u003e\n\u003cdiv class=\"flix-text-center\"\u003e\u003cimg alt=\"\" src=\"https:\/\/media.flixfacts.com\/inpage\/gopro\/hero7\/img\/white\/_icon_HyperSmooth_Silver_whiteLine.svg\"\u003e\u003c\/div\u003e\n\u003cdiv class=\"flix-list-text flix-text-light flix-text-center\"\u003eVideo Stabilization\u003c\/div\u003e\n\u003cbr\u003e\n\u003cdiv class=\"flix-lead flix-text-light flix-text-center\"\u003eAdios, shaky\u003cspan\u003e \u003c\/span\u003evideo.\u003c\/div\u003e\n\u003cdiv class=\"flix-copy flix-text-light flix-text-center\"\u003eRecord smooth, steady video whether you're skiing,\u003cspan\u003e \u003c\/span\u003ebiking or chasing your dog around the yard.\u003c\/div\u003e\n\u003c\/div\u003e\n\u003c\/div\u003e\n\u003c\/div\u003e\n\u003c\/div\u003e\n\u003c\/div\u003e\n\u003c\/div\u003e\n\u003c\/div\u003e\n\u003c\/div\u003e\n\u003c\/div\u003e\n\u003c\/div\u003e\n\u003c\/div\u003e\n\u003cdiv class=\"inpage_selector_feature feature2 flix-section-top-bot\"\u003e\n\u003cdiv class=\"flix-conta1ner\"\u003e\n\u003cdiv class=\"flix-r0w\"\u003e\n\u003cdiv class=\"flix-r0w-table\"\u003e\n\u003cdiv class=\"clmn-md-6 clmn-sm-6 clmn-xs-12 clmn-xs-push-0 clmn-sm-push-6 clmn-md-push-6 flix-r0w-table-cell flix-currys-videohide\"\u003e\n\u003cdiv class=\"inpage_selector_video\"\u003e\n\u003cdiv id=\"block-selector-1-video\" class=\"editor-block-hide\"\u003e\n\u003cdiv class=\"flix-mod-pro-video clearfix\"\u003e\n\u003cdiv class=\"flix_mod_video\"\u003e\n\u003cdiv class=\"flix_video_wrapper\"\u003e\n\u003cdiv id=\"fullPlaylist\"\u003e\n\u003cdiv class=\"flix-videodiv \"\u003e\u003ciframe id=\"flix-iframe3\" title=\"Flix-media-video-3\" src=\"https:\/\/media.flixcar.com\/delivery\/static\/jwplayer\/jwiframe.html?fjw=%7B%22playlist%22%3A%5B%7B%22file%22%3A%22%5C%2F%5C%2Fcontent.jwplatform.com%5C%2Fvideos%5C%2FLnpN0zQc.mp4%22%2C%22image%22%3A%22%5C%2F%5C%2Fassets-jpcust.jwpsrv.com%5C%2Fthumbs%5C%2FLnpN0zQc-1280.jpg%22%2C%22mediaid%22%3A%22LnpN0zQc%22%7D%5D%2C%22listbar%22%3A%7B%22position%22%3A%22right%22%2C%22size%22%3A%22234%22%7D%7D\u0026amp;vidno=undefined\u0026amp;p=1462145\u0026amp;d=1544\u0026amp;l=nz\u0026amp;sid=EC257450-CC19-6A84-F57C-CD9A76B95209\u0026amp;mpn=HERO%207%20WHITE\u0026amp;ean=818279022995\u0026amp;base=\/\/media.flixcar.com\u0026amp;pn=https%7Cdub%7Cforwww.noelleeming.co.nz\/shop\/photography\/action-cameras\/action-cameras\/gopro-coley-7-white-hero-7-white\/prod165157.html%7Cque%7Candnst%7CisSEM%7Candgclid%7CisEAIaIQobChMIgquNiJbP5AIV1IRwCh15RQbIEAQYAyABEgKvvvD_BwE%7Candgclsrc%7Cisaw.ds\" width=\"100%\" height=\"100%\" frameborder=\"0\" scrolling=\"no\" allowfullscreen=\"\" allow=\"autoplay; fullscreen\"\u003e\u003c\/iframe\u003e\u003c\/div\u003e\n\u003c\/div\u003e\n\u003c\/div\u003e\n\u003c\/div\u003e\n\u003c\/div\u003e\n\u003c\/div\u003e\n\u003c\/div\u003e\n\u003c\/div\u003e\n\u003cdiv class=\"clmn-md-6 clmn-sm-6 clmn-xs-12 clmn-xs-pull-0 clmn-sm-pull-6 clmn-md-pull-6 retail-copy flix-r0w-table-cell flix_currys-fullwidth\"\u003e\n\u003cdiv class=\"flix-r0w-content\"\u003e\n\u003cdiv class=\"flix-text-center\"\u003e\u003cimg alt=\"\" src=\"https:\/\/media.flixfacts.com\/inpage\/gopro\/hero7\/img\/white\/_icon_share.svg\"\u003e\u003c\/div\u003e\n\u003cdiv class=\"flix-list-text flix-text-center\"\u003eShare to Your Story\u003c\/div\u003e\n\u003cbr\u003e\n\u003cdiv class=\"flix-lead flix-text-center\"\u003eInstantly awesome.\u003c\/div\u003e\n\u003cdiv class=\"flix-copy flix-text-center\"\u003eCapture vertically, then add to your Instagram Story\u003cspan\u003e \u003c\/span\u003estraight from the GoPro app.\u003cspan\u003e \u003c\/span\u003e\u003csup\u003e1\u003c\/sup\u003e\n\u003c\/div\u003e\n\u003c\/div\u003e\n\u003c\/div\u003e\n\u003c\/div\u003e\n\u003c\/div\u003e\n\u003cdiv class=\"flix-r0w flix-section-top-bot\"\u003e\n\u003cdiv class=\"flix-r0w-table\"\u003e\n\u003cdiv class=\"clmn-md-6 clmn-sm-6 clmn-xs-12 flix-r0w-table-cell flix-currys-videohide\"\u003e\n\u003cdiv class=\"inpage_selector_video\"\u003e\n\u003cdiv id=\"block-selector-1-video\" class=\"editor-block-hide\"\u003e\n\u003cdiv class=\"flix-mod-pro-video clearfix\"\u003e\n\u003cdiv class=\"flix_mod_video\"\u003e\n\u003cdiv class=\"flix_video_wrapper\"\u003e\n\u003cdiv id=\"fullPlaylist\"\u003e\n\u003cdiv class=\"flix-videodiv \"\u003e\u003ciframe id=\"flix-iframe4\" title=\"Flix-media-video-4\" src=\"https:\/\/media.flixcar.com\/delivery\/static\/jwplayer\/jwiframe.html?fjw=%7B%22playlist%22%3A%5B%7B%22file%22%3A%22%5C%2F%5C%2Fcontent.jwplatform.com%5C%2Fvideos%5C%2FnYAbISwm.mp4%22%2C%22image%22%3A%22%5C%2F%5C%2Fassets-jpcust.jwpsrv.com%5C%2Fthumbs%5C%2FnYAbISwm-1280.jpg%22%2C%22mediaid%22%3A%22nYAbISwm%22%7D%5D%2C%22listbar%22%3A%7B%22position%22%3A%22right%22%2C%22size%22%3A%22234%22%7D%7D\u0026amp;vidno=undefined\u0026amp;p=1462145\u0026amp;d=1544\u0026amp;l=nz\u0026amp;sid=EC257450-CC19-6A84-F57C-CD9A76B95209\u0026amp;mpn=HERO%207%20WHITE\u0026amp;ean=818279022995\u0026amp;base=\/\/media.flixcar.com\u0026amp;pn=https%7Cdub%7Cforwww.noelleeming.co.nz\/shop\/photography\/action-cameras\/action-cameras\/gopro-coley-7-white-hero-7-white\/prod165157.html%7Cque%7Candnst%7CisSEM%7Candgclid%7CisEAIaIQobChMIgquNiJbP5AIV1IRwCh15RQbIEAQYAyABEgKvvvD_BwE%7Candgclsrc%7Cisaw.ds\" width=\"100%\" height=\"100%\" frameborder=\"0\" scrolling=\"no\" allowfullscreen=\"\" allow=\"autoplay; fullscreen\"\u003e\u003c\/iframe\u003e\u003c\/div\u003e\n\u003c\/div\u003e\n\u003c\/div\u003e\n\u003c\/div\u003e\n\u003c\/div\u003e\n\u003c\/div\u003e\n\u003c\/div\u003e\n\u003c\/div\u003e\n\u003cdiv class=\"clmn-md-6 clmn-sm-6 clmn-xs-12 retail-copy flix-r0w-table-cell flix_currys-fullwidth\"\u003e\n\u003cdiv class=\"flix-r0w-content\"\u003e\n\u003cdiv class=\"flix-text-center\"\u003e\u003cimg alt=\"\" src=\"https:\/\/media.flixfacts.com\/inpage\/gopro\/hero7\/img\/white\/_icon_toch_zoom.svg\"\u003e\u003c\/div\u003e\n\u003cdiv class=\"flix-list-text flix-text-center\"\u003eTouch Zoom\u003c\/div\u003e\n\u003cbr\u003e\n\u003cdiv class=\"flix-lead flix-text-center\"\u003eA touch closer.\u003c\/div\u003e\n\u003cdiv class=\"flix-copy flix-text-center\"\u003ePerfectly frame your photos and videos\u003cspan\u003e \u003c\/span\u003ewith just a touch.\u003cspan\u003e \u003c\/span\u003e\u003csup\u003e2\u003c\/sup\u003e\n\u003c\/div\u003e\n\u003c\/div\u003e\n\u003c\/div\u003e\n\u003c\/div\u003e\n\u003c\/div\u003e\n\u003cdiv class=\"flix-r0w flix-section-top-bot\"\u003e\n\u003cdiv class=\"flix-r0w-table\"\u003e\n\u003cdiv class=\"clmn-md-6 clmn-sm-6 clmn-xs-12 clmn-xs-push-0 clmn-sm-push-6 clmn-md-push-6 flix-r0w-table-cell flix-currys-videohide\"\u003e\n\u003cdiv class=\"inpage_selector_video\"\u003e\n\u003cdiv id=\"block-selector-1-video\" class=\"editor-block-hide\"\u003e\n\u003cdiv class=\"flix-mod-pro-video clearfix\"\u003e\n\u003cdiv class=\"flix_mod_video\"\u003e\n\u003cdiv class=\"flix_video_wrapper\"\u003e\n\u003cdiv id=\"fullPlaylist\"\u003e\n\u003cdiv class=\"flix-videodiv \"\u003e\u003ciframe id=\"flix-iframe5\" title=\"Flix-media-video-5\" src=\"https:\/\/media.flixcar.com\/delivery\/static\/jwplayer\/jwiframe.html?fjw=%7B%22playlist%22%3A%5B%7B%22file%22%3A%22%5C%2F%5C%2Fcontent.jwplatform.com%5C%2Fvideos%5C%2FahEeYfVc.mp4%22%2C%22image%22%3A%22%5C%2F%5C%2Fassets-jpcust.jwpsrv.com%5C%2Fthumbs%5C%2FahEeYfVc-1280.jpg%22%2C%22mediaid%22%3A%22ahEeYfVc%22%7D%5D%2C%22listbar%22%3A%7B%22position%22%3A%22right%22%2C%22size%22%3A%22234%22%7D%7D\u0026amp;vidno=undefined\u0026amp;p=1462145\u0026amp;d=1544\u0026amp;l=nz\u0026amp;sid=EC257450-CC19-6A84-F57C-CD9A76B95209\u0026amp;mpn=HERO%207%20WHITE\u0026amp;ean=818279022995\u0026amp;base=\/\/media.flixcar.com\u0026amp;pn=https%7Cdub%7Cforwww.noelleeming.co.nz\/shop\/photography\/action-cameras\/action-cameras\/gopro-coley-7-white-hero-7-white\/prod165157.html%7Cque%7Candnst%7CisSEM%7Candgclid%7CisEAIaIQobChMIgquNiJbP5AIV1IRwCh15RQbIEAQYAyABEgKvvvD_BwE%7Candgclsrc%7Cisaw.ds\" width=\"100%\" height=\"100%\" frameborder=\"0\" scrolling=\"no\" allowfullscreen=\"\" allow=\"autoplay; fullscreen\"\u003e\u003c\/iframe\u003e\u003c\/div\u003e\n\u003c\/div\u003e\n\u003c\/div\u003e\n\u003c\/div\u003e\n\u003c\/div\u003e\n\u003c\/div\u003e\n\u003c\/div\u003e\n\u003c\/div\u003e\n\u003cdiv class=\"clmn-md-6 clmn-sm-6 clmn-xs-12 clmn-xs-pull-0 clmn-sm-pull-6 clmn-md-pull-6 retail-copy flix-r0w-table-cell flix_currys-fullwidth\"\u003e\n\u003cdiv class=\"flix-r0w-content\"\u003e\n\u003cdiv class=\"flix-text-center\"\u003e\u003cimg alt=\"\" src=\"https:\/\/media.flixfacts.com\/inpage\/gopro\/hero7\/img\/white\/_icon_short_clips.svg\"\u003e\u003c\/div\u003e\n\u003cdiv class=\"flix-list-text flix-text-center\"\u003eShort Clips\u003c\/div\u003e\n\u003cbr\u003e\n\u003cdiv class=\"flix-lead flix-text-center\"\u003eShort +\u003cspan\u003e \u003c\/span\u003eshareable.\u003c\/div\u003e\n\u003cdiv class=\"flix-copy flix-text-center\"\u003eCapture 15 or 30 second video clips that are just the\u003cspan\u003e \u003c\/span\u003eright length for sharing.\u003c\/div\u003e\n\u003c\/div\u003e\n\u003c\/div\u003e\n\u003c\/div\u003e\n\u003c\/div\u003e\n\u003cdiv class=\"flix-r0w flix-section-top\"\u003e\n\u003cdiv class=\"flix-mod-overlay\"\u003e\n\u003cdiv class=\"flix-background-image\"\u003e\u003cimg alt=\"\" class=\"flix-img-responsive\" src=\"https:\/\/media.flixfacts.com\/inpage\/gopro\/hero7\/img\/white\/Module_9_slomo_bgimg.jpg\"\u003e\u003c\/div\u003e\n\u003cdiv class=\"flix-text-block\"\u003e\n\u003cdiv class=\"flix-vertical-align-wrap\"\u003e\n\u003cdiv class=\"flix-inner-wrap\"\u003e\n\u003cdiv class=\"flix-conta1ner\"\u003e\n\u003cdiv class=\"flix-r0w\"\u003e\n\u003cdiv class=\"clmn-md-6 clmn-sm-6 clmn-xs-12 retail-copy\"\u003e\n\u003cdiv class=\"flix-r0w-content black-transparent-bg\"\u003e\n\u003cdiv class=\"flix-text-center\"\u003e\u003cimg alt=\"\" src=\"https:\/\/media.flixfacts.com\/inpage\/gopro\/hero7\/img\/white\/_icon_2XSlo_White.svg\"\u003e\u003c\/div\u003e\n\u003cdiv class=\"flix-list-text flix-text-light flix-text-center\"\u003e2x Slo-Mo\u003c\/div\u003e\n\u003cbr\u003e\n\u003cdiv class=\"flix-lead flix-text-light flix-text-center\"\u003eTake it slow.\u003c\/div\u003e\n\u003cdiv class=\"flix-copy flix-text-light flix-text-center\"\u003eSlo-mo makes everything look awesome. Slow things\u003cspan\u003e \u003c\/span\u003edown by 2x to relive epic moments in all their glory.\u003c\/div\u003e\n\u003c\/div\u003e\n\u003c\/div\u003e\n\u003c\/div\u003e\n\u003c\/div\u003e\n\u003c\/div\u003e\n\u003c\/div\u003e\n\u003c\/div\u003e\n\u003c\/div\u003e\n\u003c\/div\u003e\n\u003cdiv class=\"flix-r0w flix-section-top-bot\"\u003e\n\u003cdiv class=\"flix-r0w-table\"\u003e\n\u003cdiv class=\"clmn-md-6 clmn-sm-6 clmn-xs-12 flix-r0w-table-cell\"\u003e\n\u003cdiv class=\"flix-feature-image\"\u003e\u003cimg alt=\"\" class=\"flix-img-responsive\" src=\"https:\/\/media.flixfacts.com\/inpage\/gopro\/hero7\/img\/white\/Module_9_autotransfer.jpg\"\u003e\u003c\/div\u003e\n\u003c\/div\u003e\n\u003cdiv class=\"clmn-md-6 clmn-sm-6 clmn-xs-12 retail-copy flix-r0w-table-cell\"\u003e\n\u003cdiv class=\"flix-r0w-content\"\u003e\n\u003cdiv class=\"flix-text-center\"\u003e\u003cimg alt=\"\" src=\"https:\/\/media.flixfacts.com\/inpage\/gopro\/hero7\/img\/white\/_icon_autoTransfer.svg\"\u003e\u003c\/div\u003e\n\u003cdiv class=\"flix-list-text flix-text-center\"\u003eAuto Transfer to Phone\u003c\/div\u003e\n\u003cbr\u003e\n\u003cdiv class=\"flix-lead flix-text-center\"\u003eTo your phone. Fast.\u003c\/div\u003e\n\u003cdiv class=\"flix-copy flix-text-center\"\u003eEverything moves right to the GoPro app, so you can\u003cspan\u003e \u003c\/span\u003epost, text, tweet or Snapchat with the quickness.\u003csup\u003e3\u003c\/sup\u003e\n\u003c\/div\u003e\n\u003c\/div\u003e\n\u003c\/div\u003e\n\u003c\/div\u003e\n\u003c\/div\u003e\n\u003c\/div\u003e\n\u003c\/div\u003e\n\u003ch5\u003eProduct Specifications\u003c\/h5\u003e\n\u003cp\u003e\u003cspan\u003eKey Specs + Features\u003c\/span\u003e\u003c\/p\u003e\n\u003cp\u003e\u003cspan\u003eVideo: 1440p60, 1440p30 \/ 15, 30 sec clips \/ 2x slo-mo\u003c\/span\u003e\u003c\/p\u003e\n\u003cp\u003e\u003cspan\u003ePhoto: 10MP \/ 15 fps burst\u003c\/span\u003e\u003c\/p\u003e\n\u003cp\u003e\u003cspan\u003eTime Lapse Video: 0.5 sec intervals\u003c\/span\u003e\u003c\/p\u003e\n\u003cp\u003e\u003cspan\u003eWaterproof to 33ft (10m) without a housing\u003c\/span\u003e\u003c\/p\u003e\n\u003cp\u003e\u003cspan\u003e2-inch touch screen with touch zoom2\u003c\/span\u003e\u003c\/p\u003e\n\u003cp\u003e\u003cspan\u003e2-axis video stabilization\u003c\/span\u003e\u003c\/p\u003e\n\u003cp\u003e\u003cspan\u003ePortrait orientation\u003c\/span\u003e\u003c\/p\u003e\n\u003cp\u003e\u003cspan\u003ePhoto timer • Voice control\u003c\/span\u003e\u003c\/p\u003e\n\u003cp\u003e\u003cspan\u003eAuto transfer to your phone1\u003c\/span\u003e\u003c\/p\u003e\n\u003cp\u003e\u003cspan\u003eQuikStories enabled3\u003c\/span\u003e\u003c\/p\u003e\n\u003cp\u003e\u003cspan\u003eAuto cloud backup with GoPro Plus4\u003c\/span\u003e\u003c\/p\u003e\n\u003cp\u003e\u003cspan\u003e2 microphones with wind noise suppression\u003c\/span\u003e\u003c\/p\u003e\n\u003cp\u003e\u003cspan\u003eWi-Fi + Bluetooth® technology • Built-in rechargeable battery\u003c\/span\u003e\u003c\/p\u003e\n\u003ch5\u003eWarranty\u003c\/h5\u003e\n\u003cp\u003e12 Months\u003c\/p\u003e\n\u003ch5\u003eIn The Box\u003c\/h5\u003e\n\u003cp\u003e\u003cspan\u003eWhat's Included\u003c\/span\u003e\u003c\/p\u003e\n\u003cp\u003e\u003cspan\u003eHERO7 White Camera\u003c\/span\u003e\u003c\/p\u003e\n\u003cp\u003e\u003cspan\u003eBuilt-In Rechargeable Battery\u003c\/span\u003e\u003c\/p\u003e\n\u003cp\u003e\u003cspan\u003eThe Frame\u003c\/span\u003e\u003c\/p\u003e\n\u003cp\u003e\u003cspan\u003eCurved Adhesive Mount\u003c\/span\u003e\u003c\/p\u003e\n\u003cp\u003e\u003cspan\u003eFlat Adhesive Mount\u003c\/span\u003e\u003c\/p\u003e\n\u003cp\u003e\u003cspan\u003eMounting Buckle\u003c\/span\u003e\u003c\/p\u003e\n\u003cp\u003e\u003cspan\u003eUSB-C Cable\u003c\/span\u003e\u003c\/p\u003e\n\u003c!-- \/TABS --\u003e","published_at":"2019-09-14T13:14:06+12:00","created_at":"2019-09-14T13:41:47+12:00","vendor":"GoPro","type":"Action Camera","tags":["Hero7 White"],"price":32900,"price_min":32900,"price_max":32900,"available":true,"price_varies":false,"compare_at_price":34999,"compare_at_price_min":34999,"compare_at_price_max":34999,"compare_at_price_varies":false,"variants":[{"id":30149894307980,"title":"Default Title","option1":"Default Title","option2":null,"option3":null,"sku":"CHDHB-601-RW","requires_shipping":true,"taxable":true,"featured_image":null,"available":true,"name":"GOPRO HERO7 White","public_title":null,"options":["Default Title"],"price":32900,"weight":0,"compare_at_price":34999,"inventory_management":"shopify","barcode":""}],"images":["\/\/cdn.shopify.com\/s\/files\/1\/0266\/5231\/1627\/products\/1537433449_1430474.jpg?v=1568425307","\/\/cdn.shopify.com\/s\/files\/1\/0266\/5231\/1627\/products\/1537434145_IMG_1055204.jpg?v=1568425307","\/\/cdn.shopify.com\/s\/files\/1\/0266\/5231\/1627\/products\/1537434145_IMG_1055205.jpg?v=1568425307","\/\/cdn.shopify.com\/s\/files\/1\/0266\/5231\/1627\/products\/1537434145_IMG_1055206.jpg?v=1568425307","\/\/cdn.shopify.com\/s\/files\/1\/0266\/5231\/1627\/products\/1537434145_IMG_1055207.jpg?v=1568425307","\/\/cdn.shopify.com\/s\/files\/1\/0266\/5231\/1627\/products\/1537434145_IMG_1055208.jpg?v=1568425307"],"featured_image":"\/\/cdn.shopify.com\/s\/files\/1\/0266\/5231\/1627\/products\/1537433449_1430474.jpg?v=1568425307","options":["Title"],"media":[{"alt":null,"id":916792672396,"position":1,"preview_image":{"aspect_ratio":1.0,"height":500,"width":500,"src":"https:\/\/cdn.shopify.com\/s\/files\/1\/0266\/5231\/1627\/products\/1537433449_1430474.jpg?v=1569086914"},"aspect_ratio":1.0,"height":500,"media_type":"image","src":"https:\/\/cdn.shopify.com\/s\/files\/1\/0266\/5231\/1627\/products\/1537433449_1430474.jpg?v=1569086914","width":500},{"alt":null,"id":916792705164,"position":2,"preview_image":{"aspect_ratio":1.0,"height":500,"width":500,"src":"https:\/\/cdn.shopify.com\/s\/files\/1\/0266\/5231\/1627\/products\/1537434145_IMG_1055204.jpg?v=1569086914"},"aspect_ratio":1.0,"height":500,"media_type":"image","src":"https:\/\/cdn.shopify.com\/s\/files\/1\/0266\/5231\/1627\/products\/1537434145_IMG_1055204.jpg?v=1569086914","width":500},{"alt":null,"id":916792737932,"position":3,"preview_image":{"aspect_ratio":1.0,"height":500,"width":500,"src":"https:\/\/cdn.shopify.com\/s\/files\/1\/0266\/5231\/1627\/products\/1537434145_IMG_1055205.jpg?v=1569086914"},"aspect_ratio":1.0,"height":500,"media_type":"image","src":"https:\/\/cdn.shopify.com\/s\/files\/1\/0266\/5231\/1627\/products\/1537434145_IMG_1055205.jpg?v=1569086914","width":500},{"alt":null,"id":916792770700,"position":4,"preview_image":{"aspect_ratio":1.0,"height":500,"width":500,"src":"https:\/\/cdn.shopify.com\/s\/files\/1\/0266\/5231\/1627\/products\/1537434145_IMG_1055206.jpg?v=1569086914"},"aspect_ratio":1.0,"height":500,"media_type":"image","src":"https:\/\/cdn.shopify.com\/s\/files\/1\/0266\/5231\/1627\/products\/1537434145_IMG_1055206.jpg?v=1569086914","width":500},{"alt":null,"id":916792803468,"position":5,"preview_image":{"aspect_ratio":1.0,"height":500,"width":500,"src":"https:\/\/cdn.shopify.com\/s\/files\/1\/0266\/5231\/1627\/products\/1537434145_IMG_1055207.jpg?v=1569086914"},"aspect_ratio":1.0,"height":500,"media_type":"image","src":"https:\/\/cdn.shopify.com\/s\/files\/1\/0266\/5231\/1627\/products\/1537434145_IMG_1055207.jpg?v=1569086914","width":500},{"alt":null,"id":916792836236,"position":6,"preview_image":{"aspect_ratio":1.0,"height":500,"width":500,"src":"https:\/\/cdn.shopify.com\/s\/files\/1\/0266\/5231\/1627\/products\/1537434145_IMG_1055208.jpg?v=1569086914"},"aspect_ratio":1.0,"height":500,"media_type":"image","src":"https:\/\/cdn.shopify.com\/s\/files\/1\/0266\/5231\/1627\/products\/1537434145_IMG_1055208.jpg?v=1569086914","width":500}],"content":"\u003ctable width=\"100%\"\u003e\n\u003ctbody\u003e\n\u003ctr\u003e\n\u003ctd style=\"text-align: center;\"\u003e\n\u003cdiv class=\"camera-feature-ico\"\u003e\u003cimg aria-label=\"12MP feature\" src=\"https:\/\/gopro.com\/on\/demandware.static\/-\/Library-Sites-sharedGoProLibrary\/default\/dw72c7406e\/images\/pdp-fall2018\/svg\/_icon_12MP.svg\"\u003e\u003c\/div\u003e\n\u003cspan\u003e\u003c\/span\u003e\n\u003cdiv class=\"camera-feature-name\"\u003e10MP\u003c\/div\u003e\n\u003c\/td\u003e\n\u003ctd style=\"text-align: center;\"\u003e\n\u003cdiv class=\"camera-feature-ico\"\u003e\n\u003cdiv class=\"camera-feature-ico\"\u003e\u003cimg aria-label=\"12MP icon\" src=\"https:\/\/gopro.com\/on\/demandware.static\/-\/Library-Sites-sharedGoProLibrary\/default\/dwb618151a\/images\/pdp-fall2018\/svg\/_icon_4K60.svg\"\u003e\u003c\/div\u003e\n\u003cspan\u003e\u003c\/span\u003e\n\u003cdiv class=\"camera-feature-name\"\u003e\u003cspan\u003e1080p60 \u003c\/span\u003e\u003c\/div\u003e\n\u003c\/div\u003e\n\u003c\/td\u003e\n\u003ctd style=\"text-align: center;\"\u003e\n\u003cdiv class=\"camera-feature-ico\"\u003e\n\u003cdiv class=\"camera-feature-ico\"\u003e\u003cimg aria-label=\"waterproof up to 33 feet icon\" src=\"https:\/\/gopro.com\/on\/demandware.static\/-\/Library-Sites-sharedGoProLibrary\/default\/dw69e346da\/images\/pdp-fall2018\/svg\/_icon_Waterproof_silver.svg\"\u003e\u003c\/div\u003e\n\u003cspan\u003e\u003c\/span\u003e\n\u003cdiv class=\"camera-feature-name\"\u003eWaterproof\u003cbr\u003e33ft (10m)\u003c\/div\u003e\n\u003c\/div\u003e\n\u003c\/td\u003e\n\u003c\/tr\u003e\n\u003ctr\u003e\n\u003ctd style=\"text-align: center;\"\u003e\n\u003cdiv class=\"camera-feature-ico\"\u003e\u003cimg aria-label=\"touch screen icon\" src=\"https:\/\/gopro.com\/on\/demandware.static\/-\/Library-Sites-sharedGoProLibrary\/default\/dw276727c1\/images\/pdp-fall2018\/svg\/_icon_TouchScreen.svg\"\u003e\u003c\/div\u003e\n\u003cdiv class=\"camera-feature-name\"\u003eTouch Screen\u003c\/div\u003e\n\u003c\/td\u003e\n\u003ctd style=\"text-align: center;\"\u003e\n\u003cdiv class=\"camera-feature-ico\"\u003e\n\u003cdiv class=\"camera-feature-ico\"\u003e\u003cimg aria-label=\"8x slo-mo icon\" src=\"https:\/\/gopro.com\/on\/demandware.static\/-\/Library-Sites-sharedGoProLibrary\/default\/dw7b44bbbe\/images\/pdp-fall2018\/svg\/_icon_2XSlo.svg\"\u003e\u003c\/div\u003e\n\u003cspan\u003e\u003c\/span\u003e\n\u003cdiv class=\"camera-feature-name\"\u003e2x Slo-Mo\u003c\/div\u003e\n\u003c\/div\u003e\n\u003cspan\u003e\u003c\/span\u003e\n\u003c\/td\u003e\n\u003ctd style=\"text-align: center;\"\u003e\n\u003cdiv class=\"camera-feature-ico\"\u003e\n\u003cdiv class=\"camera-feature-ico\"\u003e\u003cimg aria-label=\"voice control icon\" src=\"https:\/\/gopro.com\/on\/demandware.static\/-\/Library-Sites-sharedGoProLibrary\/default\/dw75f62673\/images\/pdp-fall2018\/svg\/_icon_Voice%20Control.svg\"\u003e\u003c\/div\u003e\n\u003cspan\u003e\u003c\/span\u003e\n\u003cdiv class=\"camera-feature-name\"\u003eVoice\u003cbr\u003eControl\u003c\/div\u003e\n\u003c\/div\u003e\n\u003cspan\u003e\u003c\/span\u003e\n\u003c\/td\u003e\n\u003c\/tr\u003e\n\u003c\/tbody\u003e\n\u003c\/table\u003e\n\u003c!-- split --\u003e \u003c!-- TABS --\u003e\n\u003ch5\u003eProduct Description\u003c\/h5\u003e\n\u003cdiv class=\"inpage_selector_feature feature1 feature-bg-white flix-section-top\"\u003e\n\u003cdiv class=\"flix-conta1ner-flu1d\"\u003e\n\u003cdiv class=\"flix-r0w\"\u003e\n\u003cdiv class=\"clmn-md-12 flix-text-center\"\u003e\n\u003cdiv class=\"flix-text-center\"\u003e\u003cimg alt=\"\" src=\"https:\/\/media.flixfacts.com\/inpage\/gopro\/hero7\/img\/white\/_icon_Waterproof_silver.svg\"\u003e\u003c\/div\u003e\n\u003cdiv class=\"flix-list-text flix-text-center\"\u003eRugged + Waterproof\u003c\/div\u003e\n\u003cdiv class=\"flix-lead flix-text-center\"\u003eJump right in.\u003c\/div\u003e\n\u003cdiv class=\"flix-copy flix-text-center\"\u003eHERO7 White is built tough and waterproof to 33ft (10m).\u003c\/div\u003e\n\u003cimg alt=\"\" class=\"flix-img-responsive\" src=\"https:\/\/media.flixfacts.com\/inpage\/gopro\/hero7\/img\/white\/banner.jpg\"\u003e\n\u003c\/div\u003e\n\u003c\/div\u003e\n\u003c\/div\u003e\n\u003c\/div\u003e\n\u003cdiv class=\"inpage_selector_feature feature2 flix-section-top-bot\"\u003e\n\u003cdiv class=\"flix-conta1ner\"\u003e\n\u003cdiv class=\"flix-r0w\"\u003e\n\u003cdiv class=\"flix-r0w-table\"\u003e\n\u003cdiv class=\"clmn-md-6 clmn-sm-6 clmn-xs-12 clmn-xs-push-0 clmn-sm-push-6 clmn-md-push-6 flix-r0w-table-cell flix-currys-videohide\"\u003e\n\u003cdiv class=\"inpage_selector_video\"\u003e\n\u003cdiv id=\"block-selector-1-video\" class=\"editor-block-hide\"\u003e\n\u003cdiv class=\"flix-mod-pro-video clearfix\"\u003e\n\u003cdiv class=\"flix_mod_video\"\u003e\n\u003cdiv class=\"flix_video_wrapper\"\u003e\n\u003cdiv id=\"fullPlaylist\"\u003e\n\u003cdiv class=\"flix-videodiv \"\u003e\u003ciframe id=\"flix-iframe0\" title=\"Flix-media-video-0\" src=\"https:\/\/media.flixcar.com\/delivery\/static\/jwplayer\/jwiframe.html?fjw=%7B%22playlist%22%3A%5B%7B%22file%22%3A%22%5C%2F%5C%2Fcontent.jwplatform.com%5C%2Fvideos%5C%2FrZxPhTLM.mp4%22%2C%22image%22%3A%22%5C%2F%5C%2Fassets-jpcust.jwpsrv.com%5C%2Fthumbs%5C%2FrZxPhTLM-1280.jpg%22%2C%22mediaid%22%3A%22rZxPhTLM%22%7D%5D%2C%22listbar%22%3A%7B%22position%22%3A%22right%22%2C%22size%22%3A%22234%22%7D%7D\u0026amp;vidno=undefined\u0026amp;p=1462145\u0026amp;d=1544\u0026amp;l=nz\u0026amp;sid=EC257450-CC19-6A84-F57C-CD9A76B95209\u0026amp;mpn=HERO%207%20WHITE\u0026amp;ean=818279022995\u0026amp;base=\/\/media.flixcar.com\u0026amp;pn=https%7Cdub%7Cforwww.noelleeming.co.nz\/shop\/photography\/action-cameras\/action-cameras\/gopro-coley-7-white-hero-7-white\/prod165157.html%7Cque%7Candnst%7CisSEM%7Candgclid%7CisEAIaIQobChMIgquNiJbP5AIV1IRwCh15RQbIEAQYAyABEgKvvvD_BwE%7Candgclsrc%7Cisaw.ds\" width=\"100%\" height=\"100%\" frameborder=\"0\" scrolling=\"no\" allowfullscreen=\"\" allow=\"autoplay; fullscreen\"\u003e\u003c\/iframe\u003e\u003c\/div\u003e\n\u003c\/div\u003e\n\u003c\/div\u003e\n\u003c\/div\u003e\n\u003c\/div\u003e\n\u003c\/div\u003e\n\u003c\/div\u003e\n\u003c\/div\u003e\n\u003cdiv class=\"clmn-md-6 clmn-sm-6 clmn-xs-12 clmn-xs-pull-0 clmn-sm-pull-6 clmn-md-pull-6 retail-copy flix-r0w-table-cell secondary-bg flix_currys-fullwidth\"\u003e\n\u003cdiv class=\"flix-r0w-content\"\u003e\n\u003cdiv class=\"flix-text-center\"\u003e\u003cimg alt=\"\" src=\"https:\/\/media.flixfacts.com\/inpage\/gopro\/hero7\/img\/white\/_icon_TouchScreen.svg\"\u003e\u003c\/div\u003e\n\u003cdiv class=\"flix-list-text flix-text-center\"\u003eTouch Screen\u003c\/div\u003e\n\u003cbr\u003e\n\u003cdiv class=\"flix-lead flix-text-center\"\u003eSwipe right. Or left.\u003c\/div\u003e\n\u003cdiv class=\"flix-copy flix-text-center\"\u003eA touch screen with simplified settings\u003cspan\u003e \u003c\/span\u003emakes it fun to use.\u003c\/div\u003e\n\u003c\/div\u003e\n\u003c\/div\u003e\n\u003c\/div\u003e\n\u003c\/div\u003e\n\u003cdiv class=\"flix-r0w flix-section-top-bot\"\u003e\n\u003cdiv class=\"flix-r0w-table\"\u003e\n\u003cdiv class=\"clmn-md-6 clmn-sm-6 clmn-xs-12 flix-r0w-table-cell\"\u003e\n\u003cdiv class=\"flix-feature-image\"\u003e\u003cimg alt=\"\" class=\"flix-img-responsive\" src=\"https:\/\/media.flixfacts.com\/inpage\/gopro\/hero7\/img\/white\/feature_1.jpg\"\u003e\u003c\/div\u003e\n\u003c\/div\u003e\n\u003cdiv class=\"clmn-md-6 clmn-sm-6 clmn-xs-12 retail-copy flix-r0w-table-cell secondary-bg\"\u003e\n\u003cdiv class=\"flix-r0w-content\"\u003e\n\u003cdiv class=\"flix-text-center\"\u003e\u003cimg alt=\"\" src=\"https:\/\/media.flixfacts.com\/inpage\/gopro\/hero7\/img\/white\/_icon_4K60.svg\"\u003e\u003c\/div\u003e\n\u003cdiv class=\"flix-list-text flix-text-center\"\u003eFull HD Video\u003c\/div\u003e\n\u003cbr\u003e\n\u003cdiv class=\"flix-lead flix-text-center\"\u003eSo crisp and so clear.\u003c\/div\u003e\n\u003cdiv class=\"flix-copy flix-text-center\"\u003eShoot stunning Full HD video and unique\u003cspan\u003e \u003c\/span\u003etime lapse videos—perfect for sharing.\u003c\/div\u003e\n\u003c\/div\u003e\n\u003c\/div\u003e\n\u003c\/div\u003e\n\u003c\/div\u003e\n\u003c\/div\u003e\n\u003c\/div\u003e\n\u003cdiv class=\"inpage_selector_feature feature3 feature-bg-white flix-section-top-bot\"\u003e\n\u003cdiv class=\"flix-conta1ner-flu1d\"\u003e\n\u003cdiv class=\"flix-r0w\"\u003e\n\u003cdiv class=\"clmn-md-12 flix-text-center\"\u003e\n\u003cdiv class=\"flix-text-center\"\u003e\u003cimg alt=\"\" src=\"https:\/\/media.flixfacts.com\/inpage\/gopro\/hero7\/img\/white\/_icon_12MP.svg\"\u003e\u003c\/div\u003e\n\u003cdiv class=\"flix-list-text flix-text-center\"\u003e10MP Photos\u003c\/div\u003e\n\u003cdiv class=\"flix-lead flix-text-center\"\u003eEpic pics.\u003c\/div\u003e\n\u003cdiv class=\"flix-copy flix-text-center\"\u003eCapture killer photos and never miss a moment\u003cspan\u003e \u003c\/span\u003ewith Burst mode.\u003c\/div\u003e\n\u003c\/div\u003e\n\u003c\/div\u003e\n\u003c\/div\u003e\n\u003c\/div\u003e\n\u003cdiv class=\"inpage_selector_video\"\u003e\n\u003cdiv id=\"block-selector-1-video\" class=\"editor-block-hide\"\u003e\n\u003cdiv class=\"flix-std-container-fluid\"\u003e\n\u003cdiv class=\"flix-std-row\"\u003e\n\u003cdiv class=\"flix-grd-12\"\u003e\n\u003cdiv class=\"flix-mod-pro-video clearfix\"\u003e\n\u003cdiv class=\"flix_mod_video\"\u003e\n\u003cdiv class=\"flix_video_wrapper\"\u003e\n\u003cdiv id=\"fullPlaylist\"\u003e\n\u003cdiv class=\"flix-videodiv \"\u003e\u003ciframe id=\"flix-iframe1\" title=\"Flix-media-video-1\" src=\"https:\/\/media.flixcar.com\/delivery\/static\/jwplayer\/jwiframe.html?fjw=%7B%22playlist%22%3A%5B%7B%22file%22%3A%22%5C%2F%5C%2Fcontent.jwplatform.com%5C%2Fvideos%5C%2FBm9Zsi41.mp4%22%2C%22image%22%3A%22%5C%2F%5C%2Fassets-jpcust.jwpsrv.com%5C%2Fthumbs%5C%2FBm9Zsi41-1280.jpg%22%2C%22mediaid%22%3A%22Bm9Zsi41%22%7D%5D%2C%22listbar%22%3A%7B%22position%22%3A%22right%22%2C%22size%22%3A%22234%22%7D%7D\u0026amp;vidno=undefined\u0026amp;p=1462145\u0026amp;d=1544\u0026amp;l=nz\u0026amp;sid=EC257450-CC19-6A84-F57C-CD9A76B95209\u0026amp;mpn=HERO%207%20WHITE\u0026amp;ean=818279022995\u0026amp;base=\/\/media.flixcar.com\u0026amp;pn=https%7Cdub%7Cforwww.noelleeming.co.nz\/shop\/photography\/action-cameras\/action-cameras\/gopro-coley-7-white-hero-7-white\/prod165157.html%7Cque%7Candnst%7CisSEM%7Candgclid%7CisEAIaIQobChMIgquNiJbP5AIV1IRwCh15RQbIEAQYAyABEgKvvvD_BwE%7Candgclsrc%7Cisaw.ds\" width=\"100%\" height=\"100%\" frameborder=\"0\" scrolling=\"no\" allowfullscreen=\"\" allow=\"autoplay; fullscreen\"\u003e\u003c\/iframe\u003e\u003c\/div\u003e\n\u003c\/div\u003e\n\u003c\/div\u003e\n\u003c\/div\u003e\n\u003c\/div\u003e\n\u003c\/div\u003e\n\u003c\/div\u003e\n\u003c\/div\u003e\n\u003c\/div\u003e\n\u003c\/div\u003e\n\u003cdiv class=\"inpage_selector_feature feature2 flix-section-top\"\u003e\n\u003cdiv class=\"flix-conta1ner\"\u003e\n\u003cdiv class=\"flix-r0w flix-section-top-bot\"\u003e\n\u003cdiv class=\"flix-r0w-table\"\u003e\n\u003cdiv class=\"clmn-md-6 clmn-sm-6 clmn-xs-12 clmn-xs-push-0 clmn-sm-push-6 clmn-md-push-6 flix-r0w-table-cell\"\u003e\n\u003cdiv class=\"flix-feature-image\"\u003e\u003cimg alt=\"\" class=\"flix-img-responsive\" src=\"https:\/\/media.flixfacts.com\/inpage\/gopro\/hero7\/img\/white\/feature_2.jpg\"\u003e\u003c\/div\u003e\n\u003c\/div\u003e\n\u003cdiv class=\"clmn-md-6 clmn-sm-6 clmn-xs-12 clmn-xs-pull-0 clmn-sm-pull-6 clmn-md-pull-6 retail-copy flix-r0w-table-cell secondary-bg\"\u003e\n\u003cdiv class=\"flix-r0w-content\"\u003e\n\u003cdiv class=\"flix-text-center\"\u003e\u003cimg alt=\"\" src=\"https:\/\/media.flixfacts.com\/inpage\/gopro\/hero7\/img\/white\/_icon_Voice%20Control_silver.svg\"\u003e\u003c\/div\u003e\n\u003cdiv class=\"flix-list-text flix-text-center\"\u003eVoice Control\u003c\/div\u003e\n\u003cbr\u003e\n\u003cdiv class=\"flix-lead flix-text-center\"\u003eTalk to the cam.\u003c\/div\u003e\n\u003cdiv class=\"flix-copy flix-text-center\"\u003eHands busy? Just say "GoPro, take a\u003cspan\u003e \u003c\/span\u003ephoto" or one of 14 other voice\u003cspan\u003e \u003c\/span\u003ecommands.\u003c\/div\u003e\n\u003c\/div\u003e\n\u003c\/div\u003e\n\u003c\/div\u003e\n\u003c\/div\u003e\n\u003c\/div\u003e\n\u003c\/div\u003e\n\u003cdiv class=\"inpage_selector_feature feature2 flix-section-bot\"\u003e\n\u003cdiv class=\"flix-conta1ner\"\u003e\n\u003cdiv class=\"flix-r0w\"\u003e\n\u003cdiv class=\"flix-r0w-table\"\u003e\n\u003cdiv class=\"clmn-md-6 clmn-sm-6 clmn-xs-12 clmn-xs-push-0 clmn-sm-push-6 clmn-md-push-6 flix-r0w-table-cell flix-currys-videohide\"\u003e\n\u003cdiv class=\"inpage_selector_video\"\u003e\n\u003cdiv id=\"block-selector-1-video\" class=\"editor-block-hide\"\u003e\n\u003cdiv class=\"flix-mod-pro-video clearfix\"\u003e\n\u003cdiv class=\"flix_mod_video\"\u003e\n\u003cdiv class=\"flix_video_wrapper\"\u003e\n\u003cdiv id=\"fullPlaylist\"\u003e\n\u003cdiv class=\"flix-videodiv \"\u003e\u003ciframe id=\"flix-iframe2\" title=\"Flix-media-video-2\" src=\"https:\/\/media.flixcar.com\/delivery\/static\/jwplayer\/jwiframe.html?fjw=%7B%22playlist%22%3A%5B%7B%22file%22%3A%22%5C%2F%5C%2Fcontent.jwplatform.com%5C%2Fvideos%5C%2Fqz1wytwR.mp4%22%2C%22image%22%3A%22%5C%2F%5C%2Fassets-jpcust.jwpsrv.com%5C%2Fthumbs%5C%2Fqz1wytwR-1280.jpg%22%2C%22mediaid%22%3A%22qz1wytwR%22%7D%5D%2C%22listbar%22%3A%7B%22position%22%3A%22right%22%2C%22size%22%3A%22234%22%7D%7D\u0026amp;vidno=undefined\u0026amp;p=1462145\u0026amp;d=1544\u0026amp;l=nz\u0026amp;sid=EC257450-CC19-6A84-F57C-CD9A76B95209\u0026amp;mpn=HERO%207%20WHITE\u0026amp;ean=818279022995\u0026amp;base=\/\/media.flixcar.com\u0026amp;pn=https%7Cdub%7Cforwww.noelleeming.co.nz\/shop\/photography\/action-cameras\/action-cameras\/gopro-coley-7-white-hero-7-white\/prod165157.html%7Cque%7Candnst%7CisSEM%7Candgclid%7CisEAIaIQobChMIgquNiJbP5AIV1IRwCh15RQbIEAQYAyABEgKvvvD_BwE%7Candgclsrc%7Cisaw.ds\" width=\"100%\" height=\"100%\" frameborder=\"0\" scrolling=\"no\" allowfullscreen=\"\" allow=\"autoplay; fullscreen\"\u003e\u003c\/iframe\u003e\u003c\/div\u003e\n\u003c\/div\u003e\n\u003c\/div\u003e\n\u003c\/div\u003e\n\u003c\/div\u003e\n\u003c\/div\u003e\n\u003c\/div\u003e\n\u003c\/div\u003e\n\u003cdiv class=\"clmn-md-6 clmn-sm-6 clmn-xs-12 clmn-xs-pull-0 clmn-sm-pull-6 clmn-md-pull-6 retail-copy flix-r0w-table-cell secondary-bg flix_currys-fullwidth\"\u003e\n\u003cdiv class=\"flix-r0w-content\"\u003e\n\u003cdiv class=\"flix-text-center\"\u003e\u003cimg alt=\"\" src=\"https:\/\/media.flixfacts.com\/inpage\/gopro\/hero7\/img\/white\/_icon_Timer.svg\"\u003e\u003c\/div\u003e\n\u003cdiv class=\"flix-list-text flix-text-center\"\u003ePhoto Timer\u003c\/div\u003e\n\u003cbr\u003e\n\u003cdiv class=\"flix-lead flix-text-center\"\u003eCountdown to capture.\u003c\/div\u003e\n\u003cdiv class=\"flix-copy flix-text-center\"\u003eGrab a selfie or group shot with\u003cspan\u003e \u003c\/span\u003eyour whole crew in the frame.\u003c\/div\u003e\n\u003c\/div\u003e\n\u003c\/div\u003e\n\u003c\/div\u003e\n\u003c\/div\u003e\n\u003cdiv class=\"flix-r0w flix-section-top\"\u003e\n\u003cdiv class=\"flix-mod-overlay\"\u003e\n\u003cdiv class=\"flix-background-image\"\u003e\u003cimg alt=\"\" class=\"flix-img-responsive\" src=\"https:\/\/media.flixfacts.com\/inpage\/gopro\/hero7\/img\/white\/Module_9_Stabilization.jpg\"\u003e\u003c\/div\u003e\n\u003cdiv class=\"flix-text-block\"\u003e\n\u003cdiv class=\"flix-vertical-align-wrap\"\u003e\n\u003cdiv class=\"flix-inner-wrap\"\u003e\n\u003cdiv class=\"flix-conta1ner\"\u003e\n\u003cdiv class=\"flix-r0w\"\u003e\n\u003cdiv class=\"clmn-md-6 clmn-sm-6 clmn-xs-12 retail-copy\"\u003e\n\u003cdiv class=\"flix-r0w-content black-transparent-bg\"\u003e\n\u003cdiv class=\"flix-text-center\"\u003e\u003cimg alt=\"\" src=\"https:\/\/media.flixfacts.com\/inpage\/gopro\/hero7\/img\/white\/_icon_HyperSmooth_Silver_whiteLine.svg\"\u003e\u003c\/div\u003e\n\u003cdiv class=\"flix-list-text flix-text-light flix-text-center\"\u003eVideo Stabilization\u003c\/div\u003e\n\u003cbr\u003e\n\u003cdiv class=\"flix-lead flix-text-light flix-text-center\"\u003eAdios, shaky\u003cspan\u003e \u003c\/span\u003evideo.\u003c\/div\u003e\n\u003cdiv class=\"flix-copy flix-text-light flix-text-center\"\u003eRecord smooth, steady video whether you're skiing,\u003cspan\u003e \u003c\/span\u003ebiking or chasing your dog around the yard.\u003c\/div\u003e\n\u003c\/div\u003e\n\u003c\/div\u003e\n\u003c\/div\u003e\n\u003c\/div\u003e\n\u003c\/div\u003e\n\u003c\/div\u003e\n\u003c\/div\u003e\n\u003c\/div\u003e\n\u003c\/div\u003e\n\u003c\/div\u003e\n\u003c\/div\u003e\n\u003cdiv class=\"inpage_selector_feature feature2 flix-section-top-bot\"\u003e\n\u003cdiv class=\"flix-conta1ner\"\u003e\n\u003cdiv class=\"flix-r0w\"\u003e\n\u003cdiv class=\"flix-r0w-table\"\u003e\n\u003cdiv class=\"clmn-md-6 clmn-sm-6 clmn-xs-12 clmn-xs-push-0 clmn-sm-push-6 clmn-md-push-6 flix-r0w-table-cell flix-currys-videohide\"\u003e\n\u003cdiv class=\"inpage_selector_video\"\u003e\n\u003cdiv id=\"block-selector-1-video\" class=\"editor-block-hide\"\u003e\n\u003cdiv class=\"flix-mod-pro-video clearfix\"\u003e\n\u003cdiv class=\"flix_mod_video\"\u003e\n\u003cdiv class=\"flix_video_wrapper\"\u003e\n\u003cdiv id=\"fullPlaylist\"\u003e\n\u003cdiv class=\"flix-videodiv \"\u003e\u003ciframe id=\"flix-iframe3\" title=\"Flix-media-video-3\" src=\"https:\/\/media.flixcar.com\/delivery\/static\/jwplayer\/jwiframe.html?fjw=%7B%22playlist%22%3A%5B%7B%22file%22%3A%22%5C%2F%5C%2Fcontent.jwplatform.com%5C%2Fvideos%5C%2FLnpN0zQc.mp4%22%2C%22image%22%3A%22%5C%2F%5C%2Fassets-jpcust.jwpsrv.com%5C%2Fthumbs%5C%2FLnpN0zQc-1280.jpg%22%2C%22mediaid%22%3A%22LnpN0zQc%22%7D%5D%2C%22listbar%22%3A%7B%22position%22%3A%22right%22%2C%22size%22%3A%22234%22%7D%7D\u0026amp;vidno=undefined\u0026amp;p=1462145\u0026amp;d=1544\u0026amp;l=nz\u0026amp;sid=EC257450-CC19-6A84-F57C-CD9A76B95209\u0026amp;mpn=HERO%207%20WHITE\u0026amp;ean=818279022995\u0026amp;base=\/\/media.flixcar.com\u0026amp;pn=https%7Cdub%7Cforwww.noelleeming.co.nz\/shop\/photography\/action-cameras\/action-cameras\/gopro-coley-7-white-hero-7-white\/prod165157.html%7Cque%7Candnst%7CisSEM%7Candgclid%7CisEAIaIQobChMIgquNiJbP5AIV1IRwCh15RQbIEAQYAyABEgKvvvD_BwE%7Candgclsrc%7Cisaw.ds\" width=\"100%\" height=\"100%\" frameborder=\"0\" scrolling=\"no\" allowfullscreen=\"\" allow=\"autoplay; fullscreen\"\u003e\u003c\/iframe\u003e\u003c\/div\u003e\n\u003c\/div\u003e\n\u003c\/div\u003e\n\u003c\/div\u003e\n\u003c\/div\u003e\n\u003c\/div\u003e\n\u003c\/div\u003e\n\u003c\/div\u003e\n\u003cdiv class=\"clmn-md-6 clmn-sm-6 clmn-xs-12 clmn-xs-pull-0 clmn-sm-pull-6 clmn-md-pull-6 retail-copy flix-r0w-table-cell flix_currys-fullwidth\"\u003e\n\u003cdiv class=\"flix-r0w-content\"\u003e\n\u003cdiv class=\"flix-text-center\"\u003e\u003cimg alt=\"\" src=\"https:\/\/media.flixfacts.com\/inpage\/gopro\/hero7\/img\/white\/_icon_share.svg\"\u003e\u003c\/div\u003e\n\u003cdiv class=\"flix-list-text flix-text-center\"\u003eShare to Your Story\u003c\/div\u003e\n\u003cbr\u003e\n\u003cdiv class=\"flix-lead flix-text-center\"\u003eInstantly awesome.\u003c\/div\u003e\n\u003cdiv class=\"flix-copy flix-text-center\"\u003eCapture vertically, then add to your Instagram Story\u003cspan\u003e \u003c\/span\u003estraight from the GoPro app.\u003cspan\u003e \u003c\/span\u003e\u003csup\u003e1\u003c\/sup\u003e\n\u003c\/div\u003e\n\u003c\/div\u003e\n\u003c\/div\u003e\n\u003c\/div\u003e\n\u003c\/div\u003e\n\u003cdiv class=\"flix-r0w flix-section-top-bot\"\u003e\n\u003cdiv class=\"flix-r0w-table\"\u003e\n\u003cdiv class=\"clmn-md-6 clmn-sm-6 clmn-xs-12 flix-r0w-table-cell flix-currys-videohide\"\u003e\n\u003cdiv class=\"inpage_selector_video\"\u003e\n\u003cdiv id=\"block-selector-1-video\" class=\"editor-block-hide\"\u003e\n\u003cdiv class=\"flix-mod-pro-video clearfix\"\u003e\n\u003cdiv class=\"flix_mod_video\"\u003e\n\u003cdiv class=\"flix_video_wrapper\"\u003e\n\u003cdiv id=\"fullPlaylist\"\u003e\n\u003cdiv class=\"flix-videodiv \"\u003e\u003ciframe id=\"flix-iframe4\" title=\"Flix-media-video-4\" src=\"https:\/\/media.flixcar.com\/delivery\/static\/jwplayer\/jwiframe.html?fjw=%7B%22playlist%22%3A%5B%7B%22file%22%3A%22%5C%2F%5C%2Fcontent.jwplatform.com%5C%2Fvideos%5C%2FnYAbISwm.mp4%22%2C%22image%22%3A%22%5C%2F%5C%2Fassets-jpcust.jwpsrv.com%5C%2Fthumbs%5C%2FnYAbISwm-1280.jpg%22%2C%22mediaid%22%3A%22nYAbISwm%22%7D%5D%2C%22listbar%22%3A%7B%22position%22%3A%22right%22%2C%22size%22%3A%22234%22%7D%7D\u0026amp;vidno=undefined\u0026amp;p=1462145\u0026amp;d=1544\u0026amp;l=nz\u0026amp;sid=EC257450-CC19-6A84-F57C-CD9A76B95209\u0026amp;mpn=HERO%207%20WHITE\u0026amp;ean=818279022995\u0026amp;base=\/\/media.flixcar.com\u0026amp;pn=https%7Cdub%7Cforwww.noelleeming.co.nz\/shop\/photography\/action-cameras\/action-cameras\/gopro-coley-7-white-hero-7-white\/prod165157.html%7Cque%7Candnst%7CisSEM%7Candgclid%7CisEAIaIQobChMIgquNiJbP5AIV1IRwCh15RQbIEAQYAyABEgKvvvD_BwE%7Candgclsrc%7Cisaw.ds\" width=\"100%\" height=\"100%\" frameborder=\"0\" scrolling=\"no\" allowfullscreen=\"\" allow=\"autoplay; fullscreen\"\u003e\u003c\/iframe\u003e\u003c\/div\u003e\n\u003c\/div\u003e\n\u003c\/div\u003e\n\u003c\/div\u003e\n\u003c\/div\u003e\n\u003c\/div\u003e\n\u003c\/div\u003e\n\u003c\/div\u003e\n\u003cdiv class=\"clmn-md-6 clmn-sm-6 clmn-xs-12 retail-copy flix-r0w-table-cell flix_currys-fullwidth\"\u003e\n\u003cdiv class=\"flix-r0w-content\"\u003e\n\u003cdiv class=\"flix-text-center\"\u003e\u003cimg alt=\"\" src=\"https:\/\/media.flixfacts.com\/inpage\/gopro\/hero7\/img\/white\/_icon_toch_zoom.svg\"\u003e\u003c\/div\u003e\n\u003cdiv class=\"flix-list-text flix-text-center\"\u003eTouch Zoom\u003c\/div\u003e\n\u003cbr\u003e\n\u003cdiv class=\"flix-lead flix-text-center\"\u003eA touch closer.\u003c\/div\u003e\n\u003cdiv class=\"flix-copy flix-text-center\"\u003ePerfectly frame your photos and videos\u003cspan\u003e \u003c\/span\u003ewith just a touch.\u003cspan\u003e \u003c\/span\u003e\u003csup\u003e2\u003c\/sup\u003e\n\u003c\/div\u003e\n\u003c\/div\u003e\n\u003c\/div\u003e\n\u003c\/div\u003e\n\u003c\/div\u003e\n\u003cdiv class=\"flix-r0w flix-section-top-bot\"\u003e\n\u003cdiv class=\"flix-r0w-table\"\u003e\n\u003cdiv class=\"clmn-md-6 clmn-sm-6 clmn-xs-12 clmn-xs-push-0 clmn-sm-push-6 clmn-md-push-6 flix-r0w-table-cell flix-currys-videohide\"\u003e\n\u003cdiv class=\"inpage_selector_video\"\u003e\n\u003cdiv id=\"block-selector-1-video\" class=\"editor-block-hide\"\u003e\n\u003cdiv class=\"flix-mod-pro-video clearfix\"\u003e\n\u003cdiv class=\"flix_mod_video\"\u003e\n\u003cdiv class=\"flix_video_wrapper\"\u003e\n\u003cdiv id=\"fullPlaylist\"\u003e\n\u003cdiv class=\"flix-videodiv \"\u003e\u003ciframe id=\"flix-iframe5\" title=\"Flix-media-video-5\" src=\"https:\/\/media.flixcar.com\/delivery\/static\/jwplayer\/jwiframe.html?fjw=%7B%22playlist%22%3A%5B%7B%22file%22%3A%22%5C%2F%5C%2Fcontent.jwplatform.com%5C%2Fvideos%5C%2FahEeYfVc.mp4%22%2C%22image%22%3A%22%5C%2F%5C%2Fassets-jpcust.jwpsrv.com%5C%2Fthumbs%5C%2FahEeYfVc-1280.jpg%22%2C%22mediaid%22%3A%22ahEeYfVc%22%7D%5D%2C%22listbar%22%3A%7B%22position%22%3A%22right%22%2C%22size%22%3A%22234%22%7D%7D\u0026amp;vidno=undefined\u0026amp;p=1462145\u0026amp;d=1544\u0026amp;l=nz\u0026amp;sid=EC257450-CC19-6A84-F57C-CD9A76B95209\u0026amp;mpn=HERO%207%20WHITE\u0026amp;ean=818279022995\u0026amp;base=\/\/media.flixcar.com\u0026amp;pn=https%7Cdub%7Cforwww.noelleeming.co.nz\/shop\/photography\/action-cameras\/action-cameras\/gopro-coley-7-white-hero-7-white\/prod165157.html%7Cque%7Candnst%7CisSEM%7Candgclid%7CisEAIaIQobChMIgquNiJbP5AIV1IRwCh15RQbIEAQYAyABEgKvvvD_BwE%7Candgclsrc%7Cisaw.ds\" width=\"100%\" height=\"100%\" frameborder=\"0\" scrolling=\"no\" allowfullscreen=\"\" allow=\"autoplay; fullscreen\"\u003e\u003c\/iframe\u003e\u003c\/div\u003e\n\u003c\/div\u003e\n\u003c\/div\u003e\n\u003c\/div\u003e\n\u003c\/div\u003e\n\u003c\/div\u003e\n\u003c\/div\u003e\n\u003c\/div\u003e\n\u003cdiv class=\"clmn-md-6 clmn-sm-6 clmn-xs-12 clmn-xs-pull-0 clmn-sm-pull-6 clmn-md-pull-6 retail-copy flix-r0w-table-cell flix_currys-fullwidth\"\u003e\n\u003cdiv class=\"flix-r0w-content\"\u003e\n\u003cdiv class=\"flix-text-center\"\u003e\u003cimg alt=\"\" src=\"https:\/\/media.flixfacts.com\/inpage\/gopro\/hero7\/img\/white\/_icon_short_clips.svg\"\u003e\u003c\/div\u003e\n\u003cdiv class=\"flix-list-text flix-text-center\"\u003eShort Clips\u003c\/div\u003e\n\u003cbr\u003e\n\u003cdiv class=\"flix-lead flix-text-center\"\u003eShort +\u003cspan\u003e \u003c\/span\u003eshareable.\u003c\/div\u003e\n\u003cdiv class=\"flix-copy flix-text-center\"\u003eCapture 15 or 30 second video clips that are just the\u003cspan\u003e \u003c\/span\u003eright length for sharing.\u003c\/div\u003e\n\u003c\/div\u003e\n\u003c\/div\u003e\n\u003c\/div\u003e\n\u003c\/div\u003e\n\u003cdiv class=\"flix-r0w flix-section-top\"\u003e\n\u003cdiv class=\"flix-mod-overlay\"\u003e\n\u003cdiv class=\"flix-background-image\"\u003e\u003cimg alt=\"\" class=\"flix-img-responsive\" src=\"https:\/\/media.flixfacts.com\/inpage\/gopro\/hero7\/img\/white\/Module_9_slomo_bgimg.jpg\"\u003e\u003c\/div\u003e\n\u003cdiv class=\"flix-text-block\"\u003e\n\u003cdiv class=\"flix-vertical-align-wrap\"\u003e\n\u003cdiv class=\"flix-inner-wrap\"\u003e\n\u003cdiv class=\"flix-conta1ner\"\u003e\n\u003cdiv class=\"flix-r0w\"\u003e\n\u003cdiv class=\"clmn-md-6 clmn-sm-6 clmn-xs-12 retail-copy\"\u003e\n\u003cdiv class=\"flix-r0w-content black-transparent-bg\"\u003e\n\u003cdiv class=\"flix-text-center\"\u003e\u003cimg alt=\"\" src=\"https:\/\/media.flixfacts.com\/inpage\/gopro\/hero7\/img\/white\/_icon_2XSlo_White.svg\"\u003e\u003c\/div\u003e\n\u003cdiv class=\"flix-list-text flix-text-light flix-text-center\"\u003e2x Slo-Mo\u003c\/div\u003e\n\u003cbr\u003e\n\u003cdiv class=\"flix-lead flix-text-light flix-text-center\"\u003eTake it slow.\u003c\/div\u003e\n\u003cdiv class=\"flix-copy flix-text-light flix-text-center\"\u003eSlo-mo makes everything look awesome. Slow things\u003cspan\u003e \u003c\/span\u003edown by 2x to relive epic moments in all their glory.\u003c\/div\u003e\n\u003c\/div\u003e\n\u003c\/div\u003e\n\u003c\/div\u003e\n\u003c\/div\u003e\n\u003c\/div\u003e\n\u003c\/div\u003e\n\u003c\/div\u003e\n\u003c\/div\u003e\n\u003c\/div\u003e\n\u003cdiv class=\"flix-r0w flix-section-top-bot\"\u003e\n\u003cdiv class=\"flix-r0w-table\"\u003e\n\u003cdiv class=\"clmn-md-6 clmn-sm-6 clmn-xs-12 flix-r0w-table-cell\"\u003e\n\u003cdiv class=\"flix-feature-image\"\u003e\u003cimg alt=\"\" class=\"flix-img-responsive\" src=\"https:\/\/media.flixfacts.com\/inpage\/gopro\/hero7\/img\/white\/Module_9_autotransfer.jpg\"\u003e\u003c\/div\u003e\n\u003c\/div\u003e\n\u003cdiv class=\"clmn-md-6 clmn-sm-6 clmn-xs-12 retail-copy flix-r0w-table-cell\"\u003e\n\u003cdiv class=\"flix-r0w-content\"\u003e\n\u003cdiv class=\"flix-text-center\"\u003e\u003cimg alt=\"\" src=\"https:\/\/media.flixfacts.com\/inpage\/gopro\/hero7\/img\/white\/_icon_autoTransfer.svg\"\u003e\u003c\/div\u003e\n\u003cdiv class=\"flix-list-text flix-text-center\"\u003eAuto Transfer to Phone\u003c\/div\u003e\n\u003cbr\u003e\n\u003cdiv class=\"flix-lead flix-text-center\"\u003eTo your phone. Fast.\u003c\/div\u003e\n\u003cdiv class=\"flix-copy flix-text-center\"\u003eEverything moves right to the GoPro app, so you can\u003cspan\u003e \u003c\/span\u003epost, text, tweet or Snapchat with the quickness.\u003csup\u003e3\u003c\/sup\u003e\n\u003c\/div\u003e\n\u003c\/div\u003e\n\u003c\/div\u003e\n\u003c\/div\u003e\n\u003c\/div\u003e\n\u003c\/div\u003e\n\u003c\/div\u003e\n\u003ch5\u003eProduct Specifications\u003c\/h5\u003e\n\u003cp\u003e\u003cspan\u003eKey Specs + Features\u003c\/span\u003e\u003c\/p\u003e\n\u003cp\u003e\u003cspan\u003eVideo: 1440p60, 1440p30 \/ 15, 30 sec clips \/ 2x slo-mo\u003c\/span\u003e\u003c\/p\u003e\n\u003cp\u003e\u003cspan\u003ePhoto: 10MP \/ 15 fps burst\u003c\/span\u003e\u003c\/p\u003e\n\u003cp\u003e\u003cspan\u003eTime Lapse Video: 0.5 sec intervals\u003c\/span\u003e\u003c\/p\u003e\n\u003cp\u003e\u003cspan\u003eWaterproof to 33ft (10m) without a housing\u003c\/span\u003e\u003c\/p\u003e\n\u003cp\u003e\u003cspan\u003e2-inch touch screen with touch zoom2\u003c\/span\u003e\u003c\/p\u003e\n\u003cp\u003e\u003cspan\u003e2-axis video stabilization\u003c\/span\u003e\u003c\/p\u003e\n\u003cp\u003e\u003cspan\u003ePortrait orientation\u003c\/span\u003e\u003c\/p\u003e\n\u003cp\u003e\u003cspan\u003ePhoto timer • Voice control\u003c\/span\u003e\u003c\/p\u003e\n\u003cp\u003e\u003cspan\u003eAuto transfer to your phone1\u003c\/span\u003e\u003c\/p\u003e\n\u003cp\u003e\u003cspan\u003eQuikStories enabled3\u003c\/span\u003e\u003c\/p\u003e\n\u003cp\u003e\u003cspan\u003eAuto cloud backup with GoPro Plus4\u003c\/span\u003e\u003c\/p\u003e\n\u003cp\u003e\u003cspan\u003e2 microphones with wind noise suppression\u003c\/span\u003e\u003c\/p\u003e\n\u003cp\u003e\u003cspan\u003eWi-Fi + Bluetooth® technology • Built-in rechargeable battery\u003c\/span\u003e\u003c\/p\u003e\n\u003ch5\u003eWarranty\u003c\/h5\u003e\n\u003cp\u003e12 Months\u003c\/p\u003e\n\u003ch5\u003eIn The Box\u003c\/h5\u003e\n\u003cp\u003e\u003cspan\u003eWhat's Included\u003c\/span\u003e\u003c\/p\u003e\n\u003cp\u003e\u003cspan\u003eHERO7 White Camera\u003c\/span\u003e\u003c\/p\u003e\n\u003cp\u003e\u003cspan\u003eBuilt-In Rechargeable Battery\u003c\/span\u003e\u003c\/p\u003e\n\u003cp\u003e\u003cspan\u003eThe Frame\u003c\/span\u003e\u003c\/p\u003e\n\u003cp\u003e\u003cspan\u003eCurved Adhesive Mount\u003c\/span\u003e\u003c\/p\u003e\n\u003cp\u003e\u003cspan\u003eFlat Adhesive Mount\u003c\/span\u003e\u003c\/p\u003e\n\u003cp\u003e\u003cspan\u003eMounting Buckle\u003c\/span\u003e\u003c\/p\u003e\n\u003cp\u003e\u003cspan\u003eUSB-C Cable\u003c\/span\u003e\u003c\/p\u003e\n\u003c!-- \/TABS --\u003e"}
GOPRO HERO7 White
GOPRO HERO7 White
Rugged + Waterproof
Jump right in.
HERO7 White is built tough and waterproof to 33ft (10m).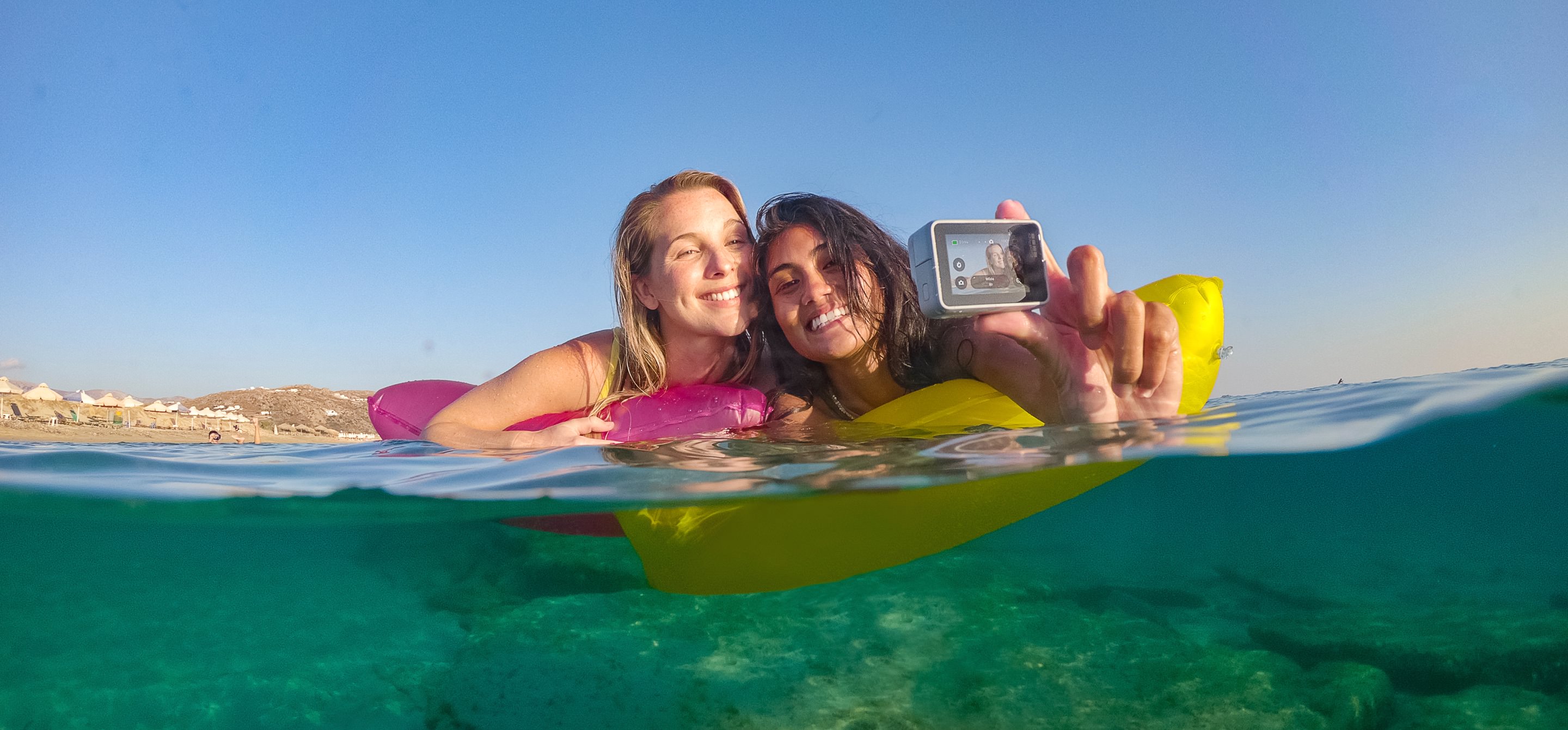 Touch Screen
Swipe right. Or left.
A touch screen with simplified settings
makes it fun to use.
Full HD Video
So crisp and so clear.
Shoot stunning Full HD video and unique
time lapse videos—perfect for sharing.
10MP Photos
Epic pics.
Capture killer photos and never miss a moment
with Burst mode.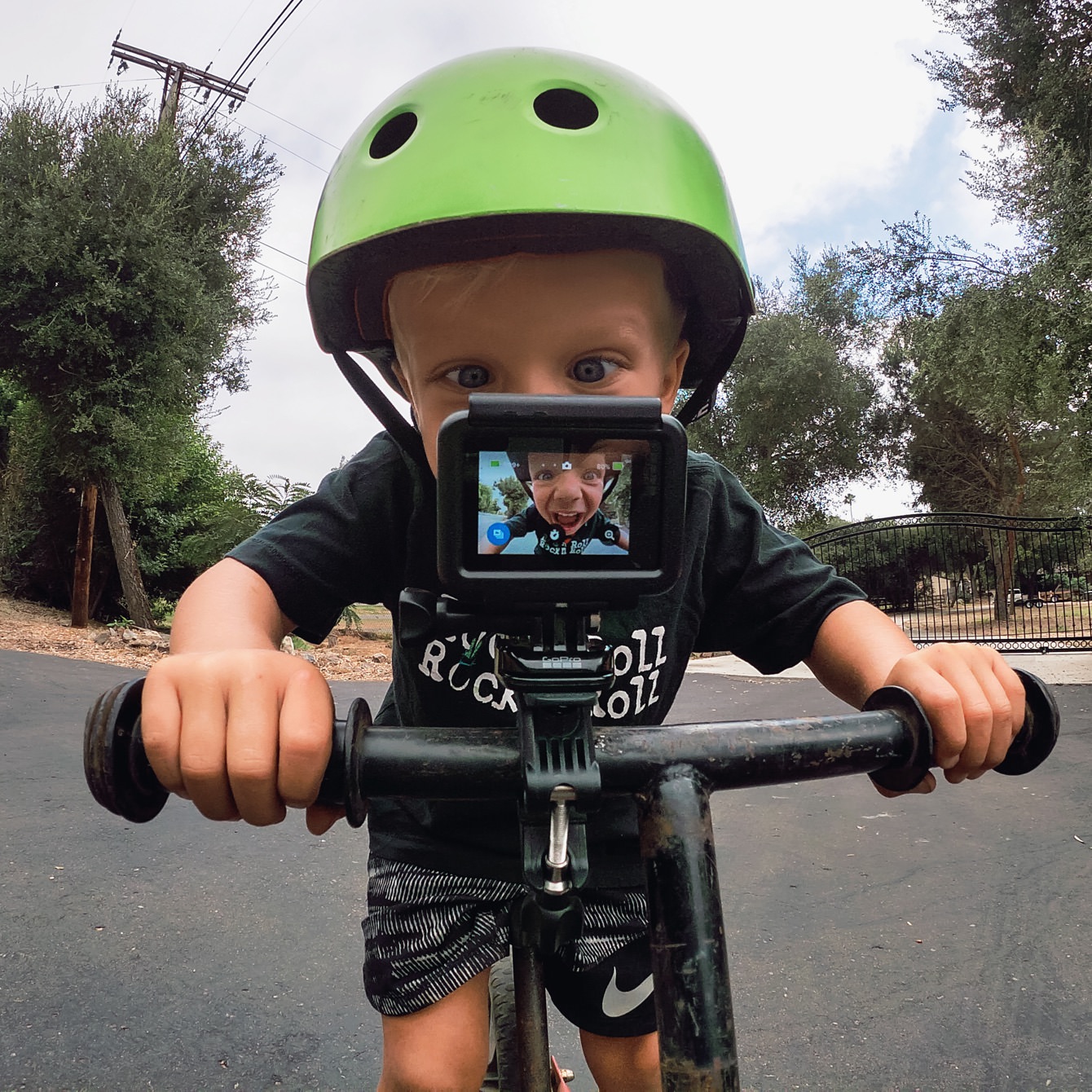 Voice Control
Talk to the cam.
Hands busy? Just say "GoPro, take a
photo" or one of 14 other voice
commands.
Photo Timer
Countdown to capture.
Grab a selfie or group shot with
your whole crew in the frame.
Share to Your Story
Instantly awesome.
Capture vertically, then add to your Instagram Story
straight from the GoPro app.
1
Touch Zoom
A touch closer.
Perfectly frame your photos and videos
with just a touch.
2
Short Clips
Capture 15 or 30 second video clips that are just the
right length for sharing.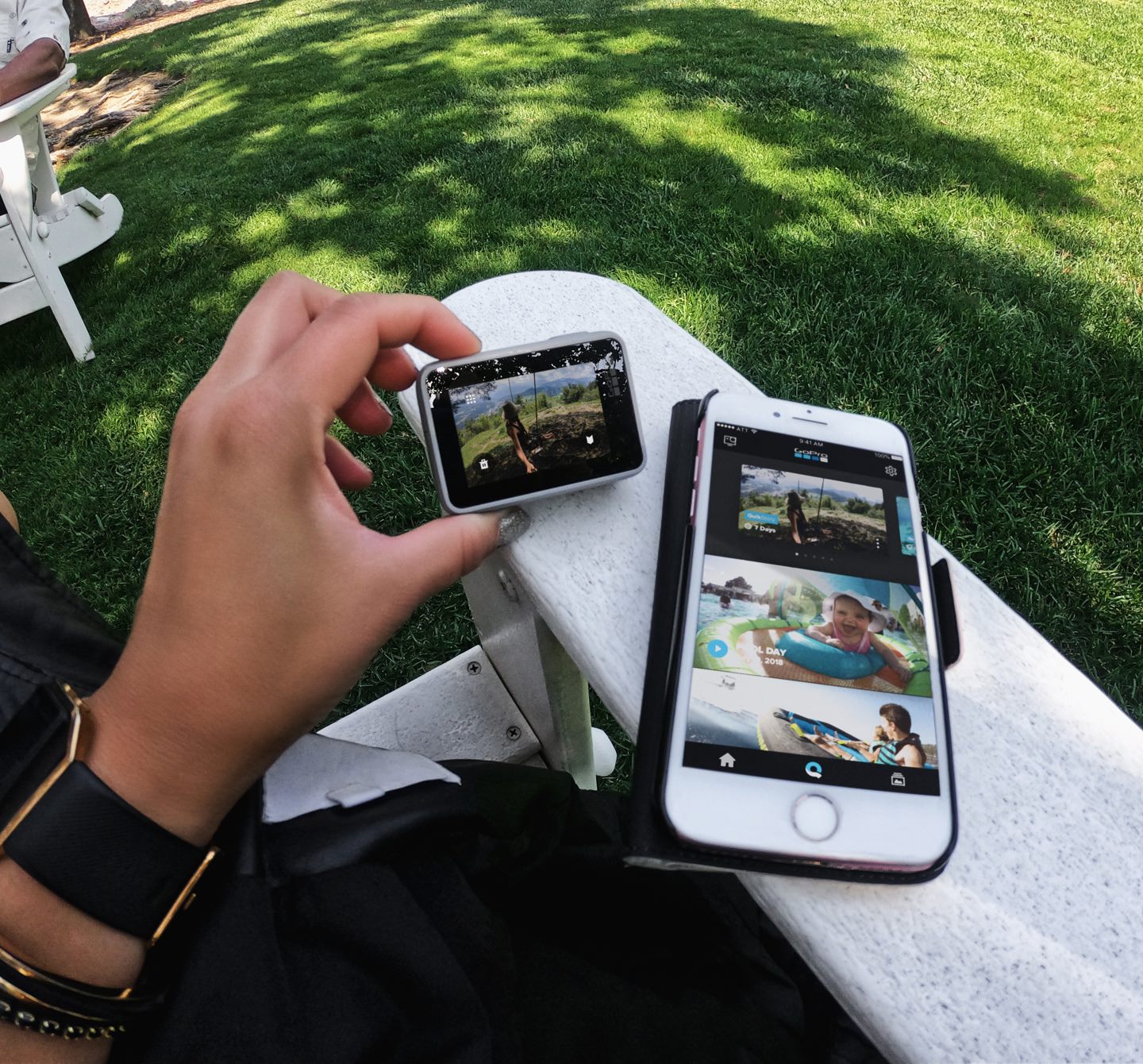 Auto Transfer to Phone
To your phone. Fast.
Everything moves right to the GoPro app, so you can
post, text, tweet or Snapchat with the quickness.
3
Key Specs + Features
Video: 1440p60, 1440p30 / 15, 30 sec clips / 2x slo-mo
Photo: 10MP / 15 fps burst
Time Lapse Video: 0.5 sec intervals
Waterproof to 33ft (10m) without a housing
2-inch touch screen with touch zoom2
2-axis video stabilization
Portrait orientation
Photo timer • Voice control
Auto transfer to your phone1
QuikStories enabled3
Auto cloud backup with GoPro Plus4
2 microphones with wind noise suppression
Wi-Fi + Bluetooth® technology • Built-in rechargeable battery
What's Included
HERO7 White Camera
Built-In Rechargeable Battery
The Frame
Curved Adhesive Mount
Flat Adhesive Mount
Mounting Buckle
USB-C Cable